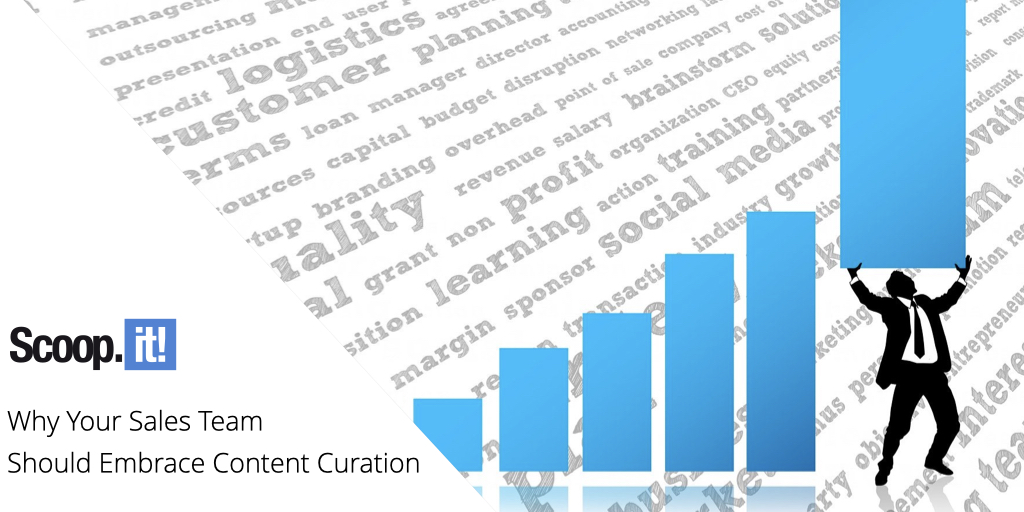 Content can make us smile. It can make us think. It can teach us something we didn't already know.
But from a business perspective, one purpose stands head and shoulders above the rest: making money.
HubSpot research shows that total sales is the most common measurement for determining the success of content marketing strategies. Brands don't invest in content for the sake of it – they do it to drive results, and the result they care most about is selling more.
However, not every business has the in-house resources to create a bunch of sales collateral, the budget to retain an agency, or the time and knowledge to manage freelance creatives. Three-quarters of companies employ one to three content specialists – enough to deliver some of the content your sales team needs, but probably not all of it.
The answer? Content curation: the practice of finding and sharing high-quality, relevant content that adds value for your audience and your brand. Here's why it's such a valuable weapon in your sales team's arsenal:
1. Lead Nurturing
Not all leads are ready to buy when you first reach out to them. They might be interested in your product, but a host of reasons could prevent them from signing on the dotted line right now.
Maybe they don't currently have the budget.
Maybe they're contracted to use another solution.
Or maybe they need signoff from a bunch of senior decision-makers who currently have other things on their plates.
Either way, these leads are still extremely valuable. It's up to your sales team to keep your product front of mind until your lead is ready to pull the trigger.
Curated content is a great lead nurturing tool. Run training for your sales team to help them track down relevant content that speaks to their leads' pain points and helps them to overcome common stumbling blocks in the sales process.
And there's another benefit to using curated content vs. "homegrown" content for lead nurturing. Just 7% of buyers say they "frequently" trust branded content, compared to a staggering 64% who say the same about content from third-party sources.
In other words, if you can find the right third-party content, it can play a big role in convincing your leads to buy.
2. Social Selling
Social media is an invaluable tool for reaching prospects. And in the world of B2B marketing, LinkedIn is in a league of its own. Of the platform's more than 630 million professional users, about 10% are decision-makers – the people your sales team needs to reach.
But salespeople are busy. So busy that they only spend 37% of their time on revenue-generating activities. The last thing you want is to give them even more to do such as social selling.
With content curation, they don't need to spend valuable hours every week crafting perfectly written social posts. And they don't need to be in constant contact with all of their prospects.
Instead, when they find helpful informational content, they can let it do the talking for them. Sharing things like market reports, trends-based insights, and forecasts via social media helps position your sales team as experts with their fingers on the pulse of your industry, which in turn makes them more trustworthy to buyers.
3. Brand Building
We've already discussed how curated third-party content is more likely to be trusted by your prospects than collateral produced in-house.
With that in mind, you need to start viewing content curation as a way to extend and build trust in your brand and broaden your reach.
By finding and sharing the right content to your audience, you can effectively communicate your value, vision, and USPs without ever feeling like you're shoving your message down your prospects' throats.
For instance, let's say you're a SaaS company. Your product helps department heads by automating a particular labor-intensive that eats up a big chunk of their average working week, freeing them up to focus on the bigger picture.
You want to highlight that particular pain point to your audience, so you share a third-party study discussing how senior managers in your target industry are busy and stressed. Or perhaps a podcast featuring a respected figure within that same industry talking about how department leaders frequently find themselves too bogged down by admin to add real value to their business.
It perfectly aligns with the value that your product adds, without ever feeling like a sales pitch.
4. Networking
Networking is another valuable way to remind prospects that your product exists. By keeping the conversation flowing, you can move your prospect through the buyer cycle without giving the impression that you're constantly selling to them.
But there needs to be a reason to keep talking to a prospect. If you're constantly sliding into their InMail or email inbox to ask how their weekend was or what they're planning to do on their holidays, don't expect them to keep responding for long.
Any additional context and value that your salesperson supplies can help them to build stronger relationships with prospects – and content curation can provide the answer.
Jack Wilson, Head of Sales at Right Inbox recommends finding something relevant – a state-of-the-market report, a new piece of legislation that affects their industry, or maybe even a piece of news specific to their company, like a new senior hire or an office move – then share it with your prospect and ask what they make of it.
Will it have a direct impact on their role?
Will they do anything differently as a result?
Have other decision-makers in your network reacted to it already?
Again, it's about positioning your team as trusted experts with a genuine interest in their prospects, rather than money-hungry salespeople who are just desperate to get the deal over the line.
5. Share Information with Marketing
Throughout this article, we've spoken about the value of sharing curated content vs. branded content. But the two aren't in competition. Done well, your content curation strategy should inform your content creation strategy.
Did you share a particular piece of third-party content that resonated especially well with your audience? Something that got a ton of traction and engagement?
Feed that information to your marketing department. Tell them what worked so well about that specific piece of content, the conversations you've had as a result of sharing it, and why your audience found it so valuable.
It's not about persuading your marketers to churn out identical versions of existing content. It's about taking what's worked before and using it to create something just as good, if not better.
Let's say you shared a market report that went down especially well with your network. Your marketing team can expand on it by speaking to thought leaders within your industry and asking for their reaction. Package it up as a series of explainer videos or a downloadable pdf, and just like that you've got a piece of content that you know will add real value.
Conclusion
It's easy to dismiss content curation as lazy or taking shortcuts. If you have to share other people's content, it's because you can't produce your own, right?
Wrong. Curated content can be every bit as valuable – or perhaps even more so – when it comes to moving leads down the sales funnel.
You just need to educate your sales team on what sort of content they should be finding, where they should be sharing it, and how they can most effectively introduce it to spark valuable conversations.