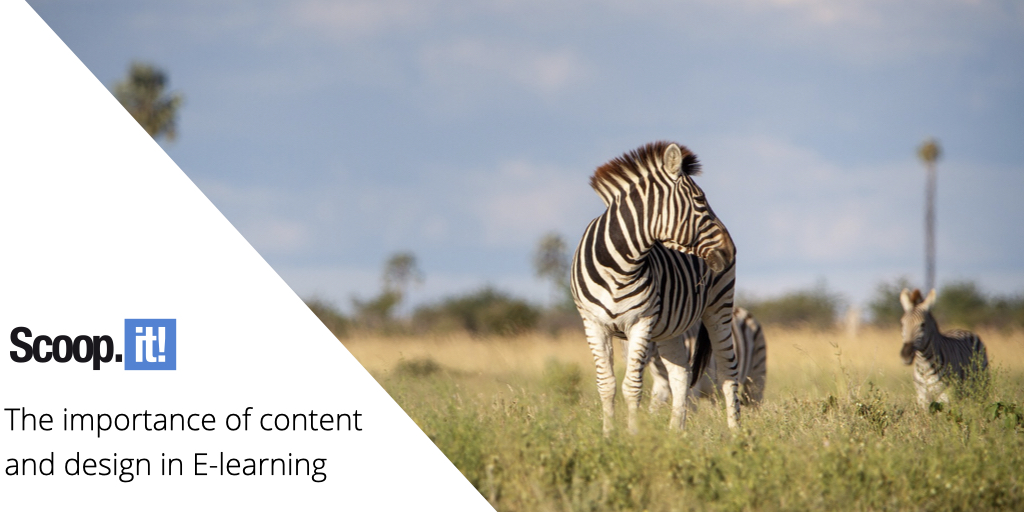 The sudden outbreak of Covid-19 has shaken the entire world severely, forcing the global shutdown of several activities. And educational activities are no exception. The centuries-old traditional classroom-based education industry witnessed a paradigm shift, and online learning became the new normal overnight. Many academic institutions and training centers that were earlier reluctant to change their traditional approach of imparting learning had no option other than transitioning entirely to online platforms. Though the novel coronavirus brought new challenges for educators, it has opened new avenues for eLearning and online teaching.
All thanks to technology that has made remote learning possible by combating the distance barriers. With an increasing number of academic institutions (both private and public) shifting to eLearning, the effectiveness and quality of content and delivery hold top priority. Here the instructional designers must understand that both content and visual design play a crucial role in delivering a better learning experience for learners and making eLearning a huge success.
Let's discuss in detail the significance of design and content in creating an engaging eLearning course.
A Picture is Worth a Thousand Words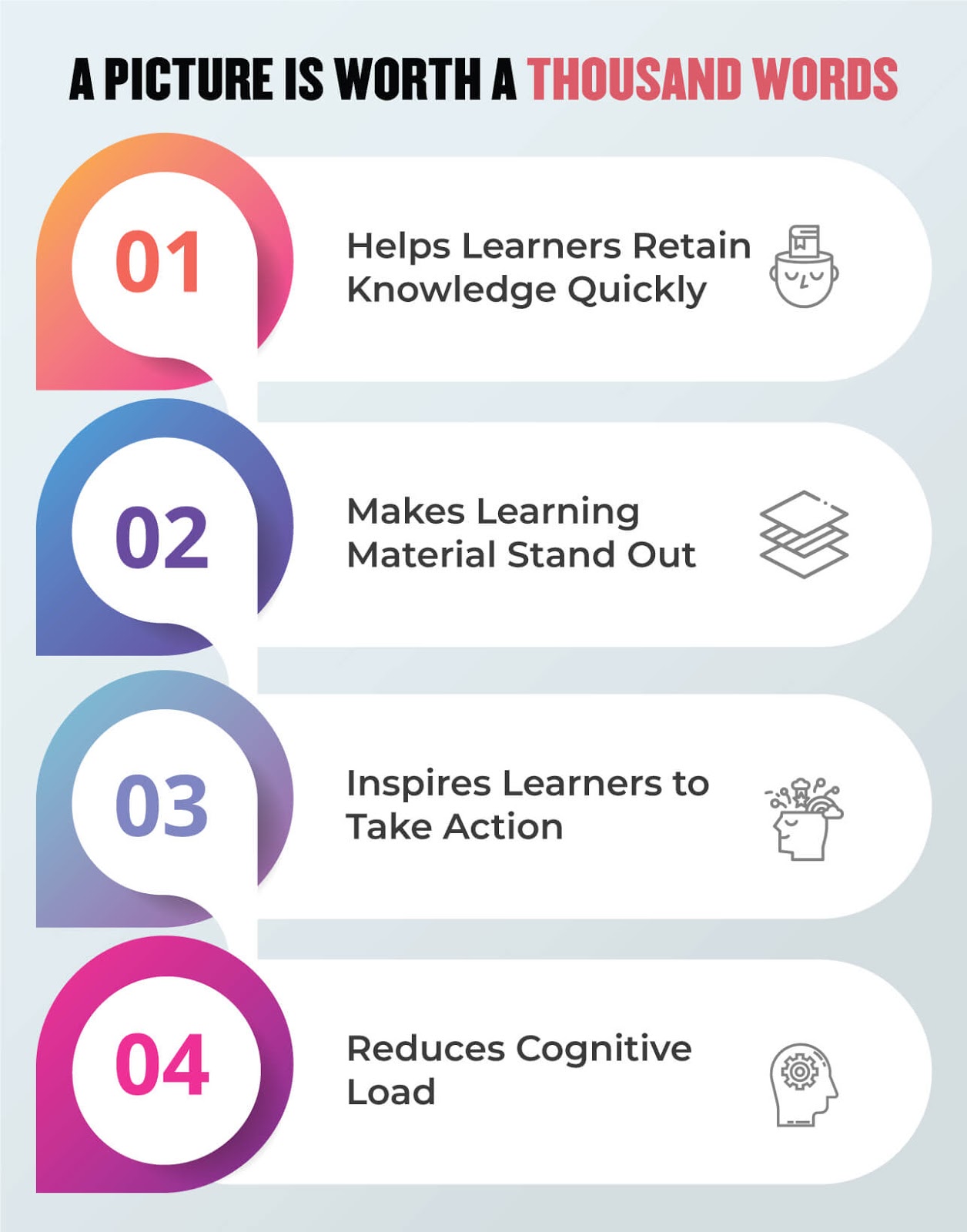 Images convey a stronger message than words and bring content to life. Further, graphic designs improve the comprehension of highly complex and technical topics. Let's dig deep into the importance of design in preparing eLearning courses.
Helps Learners Retain Knowledge Quickly
If not presented well, even the most gripping content may repulse keen readers. The use of relevant pictorial elements, audio-visual clips, charts & graphs, and infographics makes the complex theories or concepts easy to understand and makes learning fun.
Makes Learning Material Stand Out
A good design helps you save a lot of space and avoid wordiness, making the course look appealing and outstanding. Moreover, thoughtfully-designed coursework draws the attention of a learner towards the content and helps reshape their perception.
Inspires Learners to Take Action
The role of a good design is paramount in eLearning as it addresses the specific challenges of the learners and encourages them to act and achieve more knowledge than expected.
Reduces Cognitive Load
Well-designed, visually-interesting, interactive, and personalized eLearning content helps engage different parts of the learners' brain, thus reducing the cognitive load and making students more attentive.
It's the Content that Counts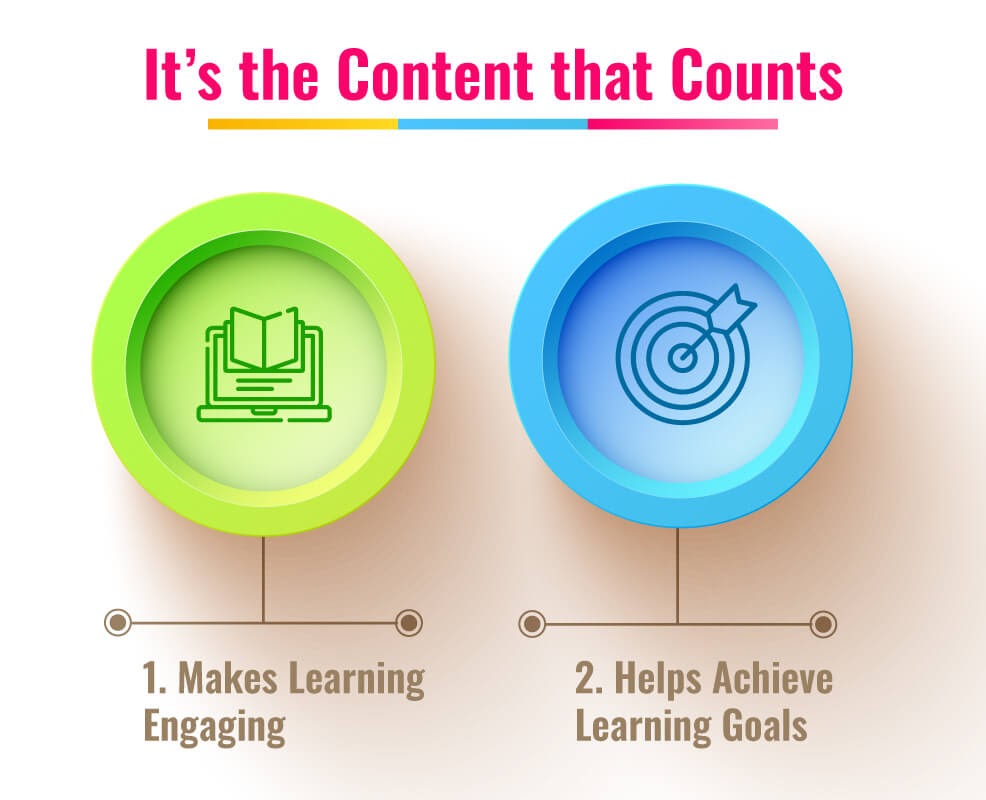 Unlike traditional classrooms, online training programs are self-paced, and teachers/coaches facilitate rather than drive the learning process in virtual learning. In such a scenario, the significance of content is high in drawing and retaining the attention of learners. Let's explore in detail how content can help make a huge difference in eLearning.
Makes Learning Engaging
For making the learning experience more meaningful, it is important to keep them engaged throughout the learning process. The relevant, concise, and visually appealing content ignites the curiosity of learners and encourages them to explore the concept further.
Helps Achieve Learning Goals
Whether you want to make your employees understand the safety precautions that they must observe while operating equipment or you want to make your staff learn various techniques to increase the customer base, all these objectives can be achieved through well-organized and structured content presented in an easy-to-comprehend language in the learning material.
The Bottom Line
Today's learners are smarter; they believe in authenticity and relevance. They also have the curiosity to learn new things and gain knowledge. Instructional designers can tap these attributes by designing eLearning courses that appeal to the learners. eLearning has the power and potential to bring world-class education and learning to any part of the globe. To leave a lasting impression on learners, a great learning experience is important. Engaging content and aesthetically-pleasing design add to your eLearning approach and garner commitment from learners towards the learning material, instructor, and other learners.
Find the blog post insightful? Do share it on your social media handles and let us know your thoughts in the "Comment" section below.