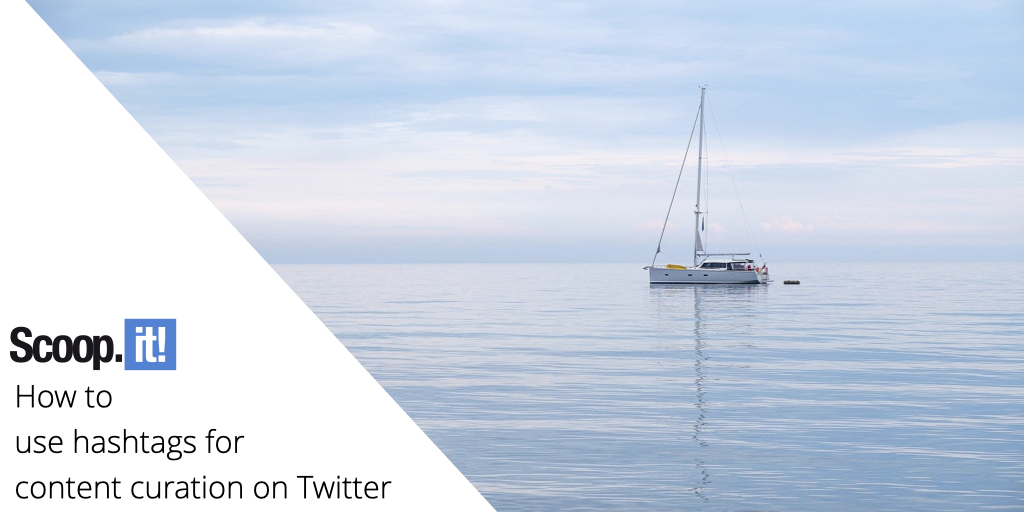 Curating content for your audience can add a lot of value to your Twitter marketing efforts. Besides allowing you to demonstrate versatility, curated content shows you have inside industry awareness that your audience is in search of. And as an added bonus, content curation means you don't always have to feel pressured to produce unique content.
While curating content on Twitter can expose your brand to a lot of potential new customers, it can be hard getting started. In this blog post I'm going to break down the steps you need to take, from using hashtags correctly, to scheduling your content and making sure your Tweets are optimally engaging.
Let's get started.
What is Content Curation?
In a nutshell, content curation is the method of gathering helpful information from a variety of industry sources and presenting it to your readers. Just about everywhere you look on the internet, you'll find examples of content curation. People curate content on their social media pages, add RSS feeds to their blogs, and you'll find this type of content presented on social bookmarking sites such as Digg.
The process of content curation can be used by anyone, but it's a particularly useful tool for marketers, who can use curated content to increase the value of their marketing efforts. To simplify things, just think of content curation as a way in which you go out into the vast Internet and find the absolute best and most relevant information that will bring value to your tribe.
Content curation is a great way to engage your twitter followers. When done correctly, content curation will have a direct positive impact on your Twitter growth rate as well as your website traffic and business.
"But why would I want to expose my audience to someone else's content and website? Won't I lose followers or, gulp, sales??"
No, that's a myth. The reality is, you don't know everything. We'd all love to have all the answers, but that's just not realistic. And when you're running a business, you just don't have the time to constantly be creating unique content.
The truth is, when you direct your readers to the answers they seek, it doesn't matter that someone else gives them the answers. They'll remember that you facilitated the information exchange. You just need to find great content that works for your social media audience.
The bottom line is, while you are sharing other people's content with your audience, you are providing your readers will a lot of value, and this will increase engagement on your Twitter profile.
Why are hashtags important while curating content?
Social media sites like Twitter encourage users to use hashtags within their posts. This allows users to easily find content that may interest them. Hashtags will also expose prospective customers and followers to your brand.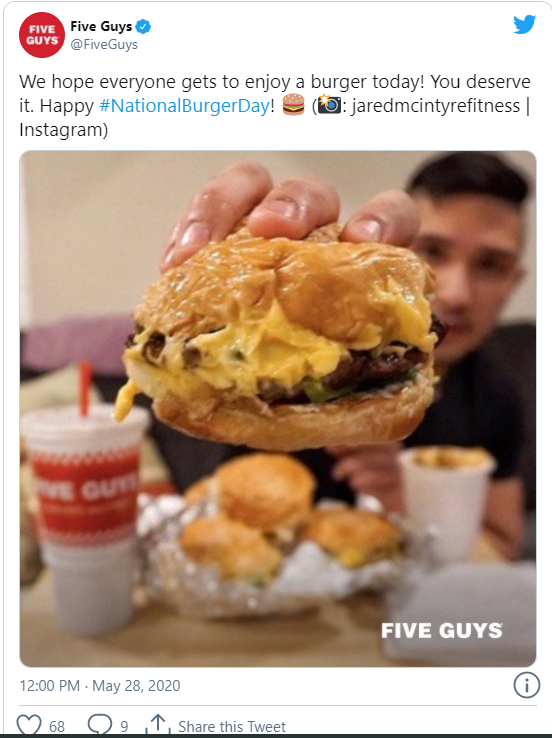 When curating content, you want to be sure you segment that content so it will resonate with specific groups of people, much like you might segment your email subscribers to ensure you send them the MOST relevant messaging. Hashtags are how you split content up into categories so it can be found by people who are interested.
For instance, you may own a catering company and would want to use different hashtags such as #DeliciousVeganRecipes or #BestComfortFoods to ensure the right people see your specific tweets.
How do you select the right hashtags?
Where do you start when it comes to selecting hashtags that will offer you the most bang for your marketing buck? Hashtag research.
Using twitter analytics tools like socialert, ritekit, hashtagify will allow you to see what hashtags your competitors are using successfully. Since you are both speaking to the same demographic, there's a very good chance those same hashtags will work for you!
How to select content and schedule tweets
In order to do content curation, the right way, it's vitally important that you KNOW YOUR AUDIENCE. Audience research should be your very first step, if you haven't done it already. You can't share content that your audience will view as valuable and relevant if you don't know who they are, what they need and what they may be struggling with.
As the person who is going to curate content, your role is to choose THE MOST RELEVANT content for your audience. Don't hit that TWEET button until you are sure if your content will be helpful to your audience.
Once you've shared curated content with your audience, you'll want to track those tweets to gauge the levels of twitter engagement. Doing this will help you to understand the kind of content that really resonates with your followers. Socialert will help you track your hashtag campaigns.
One final thing: be sure to add your own personal take on the content you are sharing. Your followers want to know what YOU think and why YOU feel they will benefit from this piece of curated content.
Schedule curated posts in advance
To make your life easier and to help you ensure you are constantly dripping out great content, scheduling your curated posts in advance using a tool like Hootsuite and Agorapulse.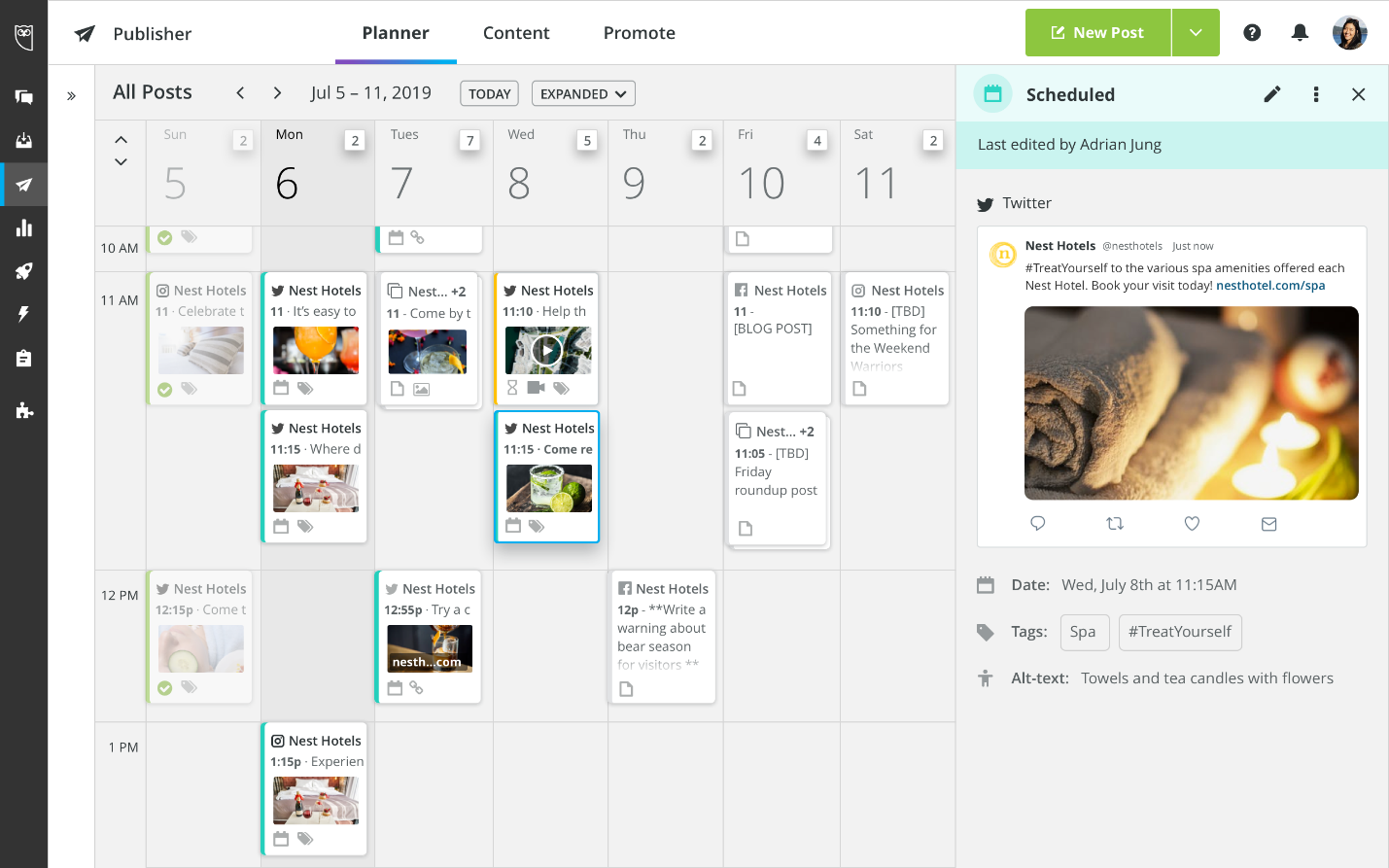 How can you create engaging tweets?
So, you've done some research and you know who your target audience is, you know the kind of content they want, and you know what hashtags to use. You're almost there. Now you've got to ensure your tweets are as engaging as possible.
Here are a few ways to make your curated posts engaging:
Make them visually attractive

– Visual Tweets attract more attention and retain it. So don't just past an external link in your post, write a few lines and think you're done. Try and add an attractive image, infographic, video clip or GIF that supports the content.

Tag your audience

– Why not get more followers by mentioning some well-known influencers in your industry? If they find the content you've shared valuable, they may retweet it or reply to you. This, in turn, will boost your overall reach.
For example, Neil Patel is a big social media influencer.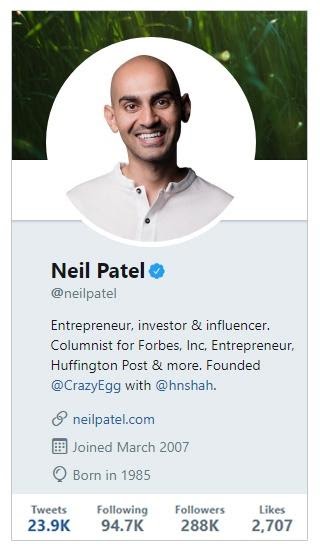 If you were posting curated content about social media marketing and you tagged him in your Tweet, he may share it with his followers, helping you to grow your fanbase. For this to work with curated content, be SURE that you add your own viewpoint or take on what you're sharing.
Always use a call-to-action

– You've gone through the trouble of finding really great content you believe will add value to your followers and help them in some way. You have GIVEN and now it's time for you to RECEIVE. So ASK your followers to share, like and retweet your posts.
Here's a great example of a creative all-to-action.
Some ecards is an online e-card company that puts a BIG call-to-action right in their cover image. It's funny and clever, and it helps them turn visitors into followers.
Use the right language

– If you want to generate more

twitter impressions

on your curated Tweets, you'll need to use language your readers understand and relate to. This will help you get more likes and shares. You can use Twitter analytics tools like twitonomy, socialert to help you discover the topics that are most popular with your audience.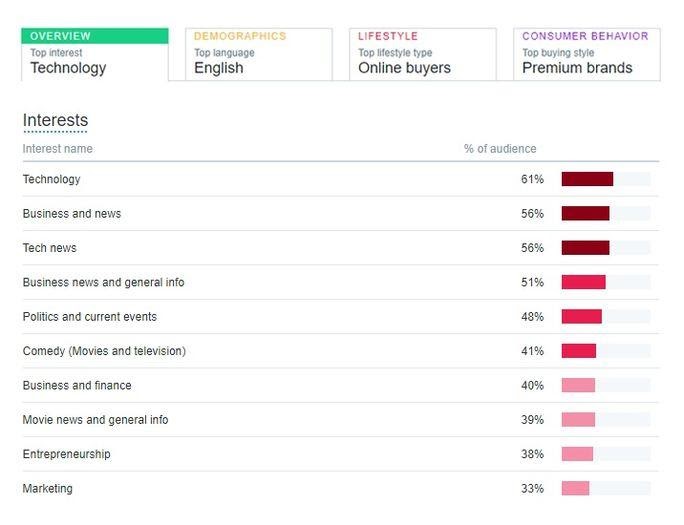 This will give you insight into the kinds of words and phrases that might resonate best with them.
Measure and Track Engagement
Once you've sent out a perfectly engaging curated Tweet, you'll want to track it and measure its engagement levels. Use hashtag tracking tools to track your tweets to measure hashtag reach and metrics including twitter hashtag impressions, sentiments, most retweeted tweets and more. This will give you an idea of what's working and what's not so you can tweak your campaigns and see better results in the future.
Conclusion
I hope you now understand how powerful content curation can be for your brand's marketing efforts and audience engagement. If you find the right content, keeping your audience in mind, use hashtags you KNOW have worked for your competitors, and taken every step to make sure your Tweets are engaging, your campaigns have no choice but to help you reach your overall business objectives!