SERP is volatile. Staying on top of these fluctuations can take up as much time as any other marketing process. Worse, a lot of these efforts to improve SEO have become overused.
It's a harsh reality but it's the truth. So, what can marketers do?
Our marketing team has tried numerous different methods over the years to improve our SERP. Out of all of them, one method has consistently proven successful—offering Guestographics.
What is a Guestographic? It's a term we coined internally but it's catching on. Essentially, it's an infographic we create for guests or partners.
The process is collaborative. We offer to design an exclusive Guestographic for a site. All we ask for is credit for designing it and a link of our choice.
Sounds simple? Most of this process is. And that's why we want to share it with other marketers.
We've had so much success with this technique over the years. For instance, Guestographics have directly contributed to 200,000 of our organic sessions a month.
So, what does a Guestographic look like? Here's one we made for Mention around their study on social sentiment.

Source: Venngage
Now you know what a Guestographic is, let's explain why you should create one to improve your website SEO.
Why Should You Use Guestographics to Improve SEO?
As a design solution, we've learned one crucial thing—people love visuals, as you can see from these visual marketing stats.
https://www.linkedin.com/posts/venngage_5-visual-marketing-statistics-for-2020-activity-6654042308683665408-OrM7
Visuals are great for breaking up text and they also share complex information at a glance.
There's so much content available online that a well-designed and well-placed visual arrests the user's attention.
That's why our Guestographics strategy has worked so well. Marketers want their content to        stand out in the crowd and visuals can help them do that.
But there's yet another reason why Guestographics work—they make for great backlink opportunities.
Let's break down the backlink process. You send your cold outreach to hundreds of sites asking if they can link back to you, and you promise to do the same for them.
Guess what? Dozens of other sites are doing the same thing. Why should any site prioritize you over someone else?
This is where value-addition comes in. When you reach out to sites and offer them more than just a link—say, a Guestographic—you make your offer more attractive than everyone else's.
We also found that, by designing Guestographics for sites, we were able to get links on hard-to-place anchor text. It's a win-win.
There are so many benefits to using this strategy to get more backlinks, improve your website SEO, and increase your contacts database. But how can you create Guestographics?
How Can You Create a Guestographic to Improve SEO?
Now you know why you need to offer Guestographics. But how do you go about this process? We've tried different methods and these five steps worked best for us.
Choose the Right Content to Improve SEO
Not all content makes for a great infographic. We found that out the hard way in the early days of offering Guestographics.
If a blog post has multiple subheadings or different sets of data, it becomes impossible to pack them all into one infographic. The final product becomes confusing and won't win you any links.
On the other hand, if your data can be categorized into a few subsets, you can create a data infographic like the one below.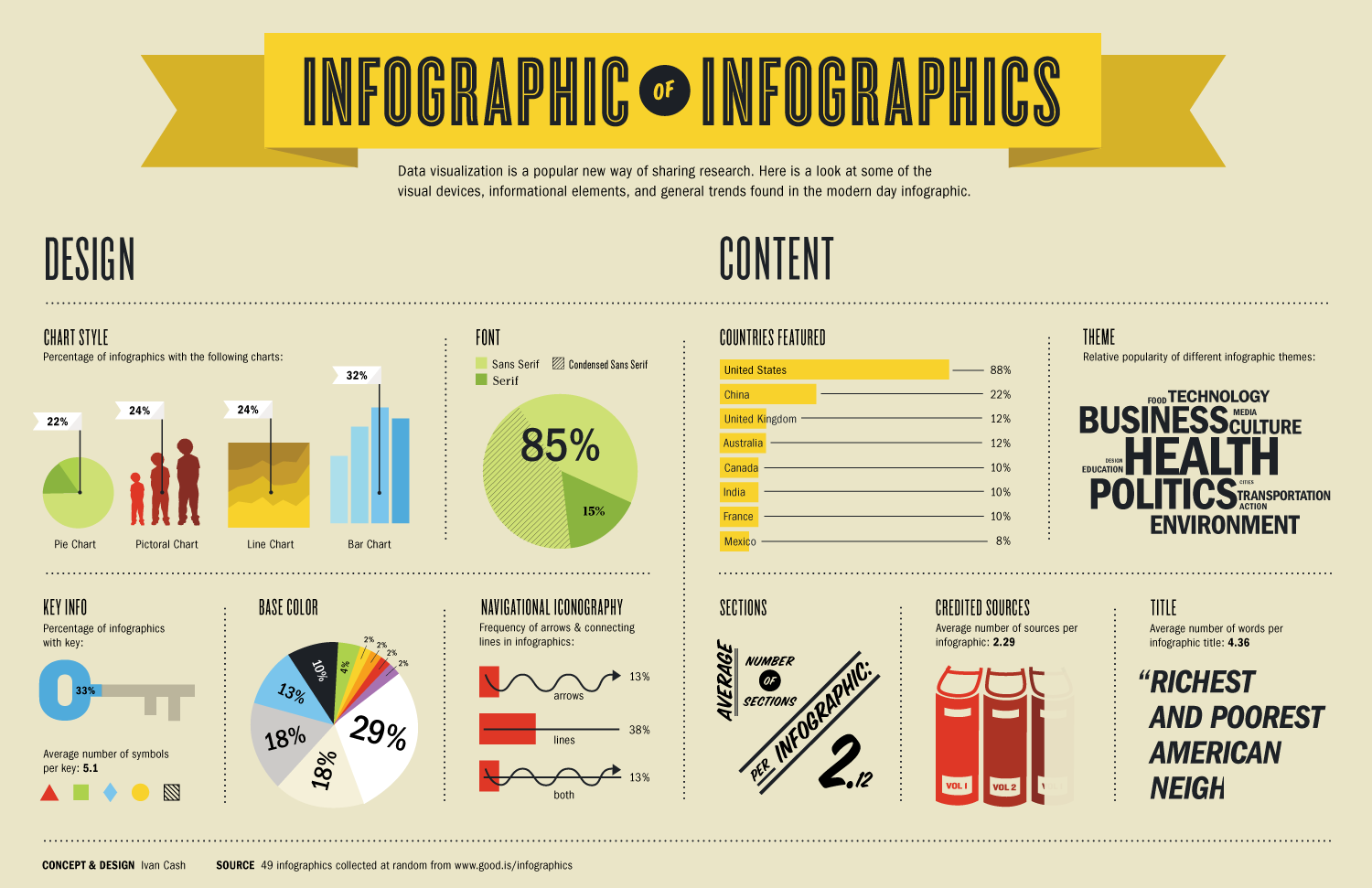 There's a lot of information in the infographic but it's not overwhelming and it follows one theme. That's the kind of overlap you're looking for when you offer to design Guestographics.
We recommend that beginners start with simple topics like lists. For example, we reached out to Hubspot to turn their lead generation list into this simple infographic.
Source: Hubspot
How do you find articles with lists that you can potentially turn into Guestographics?
We use Ahrefs for most of our SEO planning. Their Content Explorer is easy to use—search for your topic and export the list as a CSV.
For example, if you're looking for lead generation tips, you'll see a page like this one.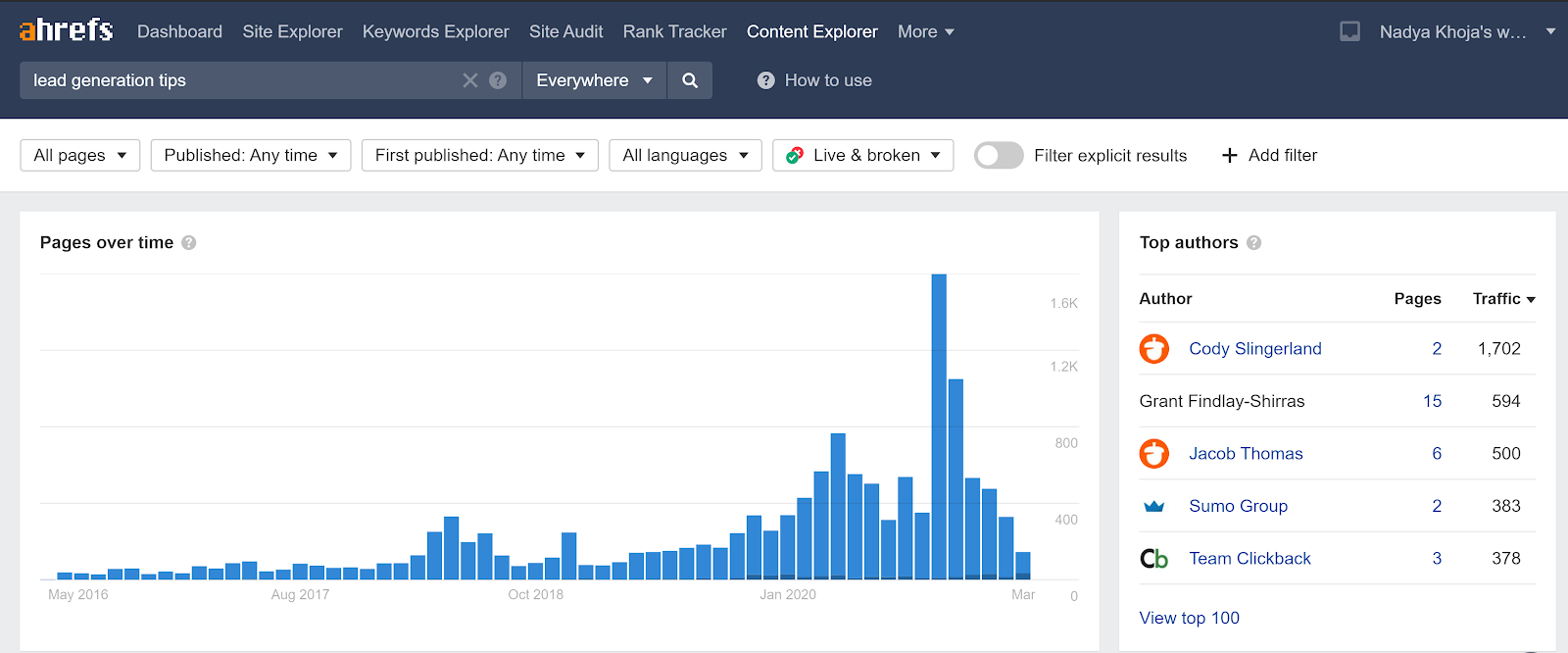 Once you have a list of topics, sort them by relevance. The site and topic must have some connection to your brand.
If Google notices that your backlinks are coming from random sites, you won't appear as an authority in your space. Rather than improving your SEO, you could end up hurting it.
Also, look for articles that lack visuals but have clear formatting. This makes it easier to adapt them into an infographic.
Determine Who the Guestographic is For
As we mentioned before, the Guestographic you create needs to be for a site in your niche. This helps build brand authority and awareness, and improves your SEO, of course.
Let's not forget, designing a Guestographic requires some work. You want to expend effort for a purpose.
The best way to do this is by studying your current customers and their journey. Who are they? Why would more users like them support your brand? What are their interests and pain points?
By answering those questions, you can get crucial demographic information, but more importantly, you can learn what your users are interested in.
This will help you narrow down your list of potential sites that will have the largest impact on your audience and your SEO.
Improve SEO with the Right Guestographic Keywords
Keywords are a crucial element of SEO. The Guestographic process won't be successful if you haven't determined your keywords.
As we've mentioned a few times now, you want to get backlinks on sites that are in your niche. They can direct the right customers to your brand.
Go to Google Keyword Planner or other popular keyword tools and look for a seed/ primary keyword. Also, note the related keywords and long-tail keywords.
This will help you search for topics in the Ahrefs Content Explorer.
The great thing about keyword research is that you don't need to think about what sites to search for—you already have the topics, so now you just need to filter by relevancy.
Once you have these keywords, you can plug them into Ahrefs and find content that you could pitch a Guestographic for.
But don't throw the list of keywords away once you're done.
You can always use them in the alt-tags of your Guestographic. Visuals rank on Google Image Search, so that's a lucrative area to target.
I know this sounds like a lot of work, but you will get the hang of it with some practice.
Pitching Your Guestographic
Once your research into your audience, keywords, and relevant sites is complete, you can move on to pitching your Guestographic.
It's important to get to the point with your pitch. Nobody has time to read 300 words about why your company is great.
Let the contact know why you're getting in touch, what you're offering, and what you would like in return. Schedule 2-3 reminder emails and if you don't get a response by then, move on.
Now, pitching is always going to be a thorny process. You can write the best pitch in the world and someone will still find a reason to come back with a rude response.
Ignore those emails and concentrate on the positive replies.
There's one thing we've learned while collaborating with other sites: there are a lot of emails exchanged in this process.
It takes up so much time that we had to make adjustments. First up, ask for an outline from your contact. Don't offer to create the outline because the review process is long-winded.
Instead, ask the contact to condense their article into headers and one-liners. Since they've written the piece, they know which points are the most important to readers.
Always ask for brand colors, fonts, and their logo. Don't try and match it yourself because that could cause errors.
Simplify the process further by giving them design options. That way, everyone's expectations are limited and the contact is happy with the final product.
It usually takes about two or three drafts of the Guestographic to reach final approval. Then the contact can publish their brand new infographic.
Design Your Guestographic
You have all the information you need to design the Guestographic. As a design solution, we know how to create infographics. Not all sites have this resource.
However, there are online platforms that make creating infographics easier—Venngage is one such solution.
If you're creating designs from scratch, keep graphic design and infographic layout rules in mind.
For example, there are visual hierarchies that designers need to adhere to. Z patterns and F patterns, as you can see below, are how the human eye moves over an image.
Source: Venngage
Once the design is complete, send it for final approval. As we mentioned, there will be edits but it shouldn't take long to get the design approved and ready to publish.
At this point, let the contact know how you want to be credited and what link and anchor text you want them to include on their page.
And there you have it, a potential long-term partnership with a site in your niche, and a backlink.
Improve SEO Ranking with Guestographic Promotions
Publishing a Guestographic doesn't mean that the process has ended. You want the collaboration to continue so you can earn more backlink opportunities.
Once the infographic is live, you have to start promoting it. Let people know that you've created a Guestographic for the site by sharing it on your social channels.
Divide the graphic up into smaller content pieces—this makes it easier to share on social media. Ask the contact to share the posts on their platforms, as well.
Share the graphic with your existing contact list. You may even get some people in your database interested in creating a Guestographic of their own.
You can also write to other sites in your niche, letting them know that you've successfully published a Guestographic and would love to offer them the same service.
The point isn't just to create one Guestographic; it's to use each Guestographic to earn multiple backlink opportunities.
Start Improving Your SEO with Guestographics
Marketers have exhausted their methods of improving SEO. Especially since brands have become used to receiving outreach emails.
You have to stand out from the crowd to get your content noticed and to earn backlinks. That's why we're suggesting you use the Guestographic approach.
In this guide, we've shown you how to improve your backlink process by creating and offering Guestographics.
This is the kind of strategy that adds value to your contacts and creates long-lasting relationships for your business.