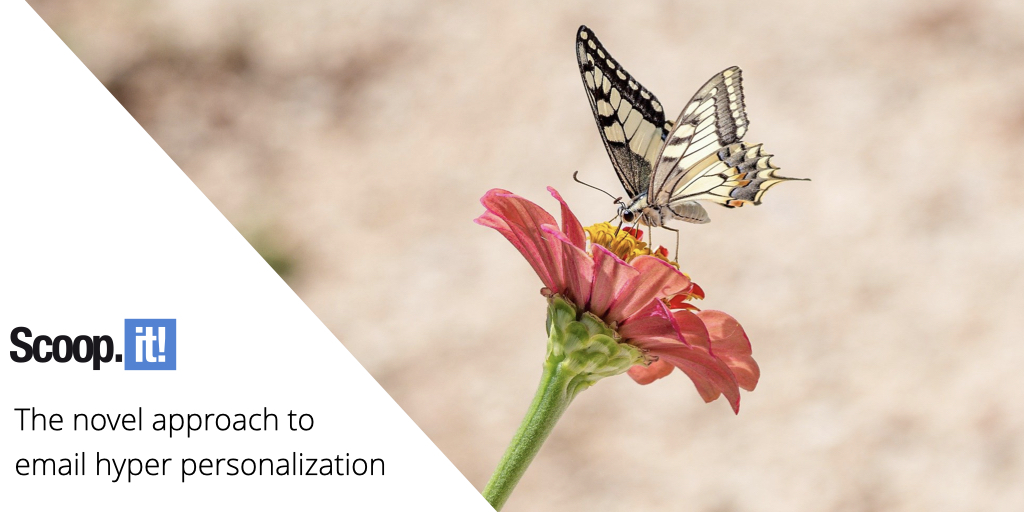 Let me share a really long email subscription form to start off…
When I signed up to Formaggio Kitchen's email list, I was asked to fill this exhaustive sign-up form.

While this can be a straight-forward and effective way to collect data and send out hyper-personalized emails, it might not go well with all subscribers.
So, how will you go about with email hyper-personalization?
It all starts with data collection…
Collection of data
The first step to send out hyper-personalized emails is to collect all the relevant information from the subscribers.
Here are some data collection tips that can come in handy for you.
Website analytics

tools like Google Analytics and Hotjar can give you a detailed insight into how the users are engaging with your content.

Mobile application analytics

will provide you subscriber information collected through mobile apps. For example: Mxpanel and Countly.

Sentiment analysis platforms

will enable you to figure out the feeling in text-based conversations. Advanced CRM tools like Salesforce come with a feature known as Salesforce Einstein that can help you with this.

Social listening tools

such as Hootsuite and Buffer are extensively used to understand what your customers feel for your brand.

You can take the help of your welcome emails to collect subscriber data like Office has done.
They have sent a clever email asking for the subscriber's birthday to send them a personalized email on the special day.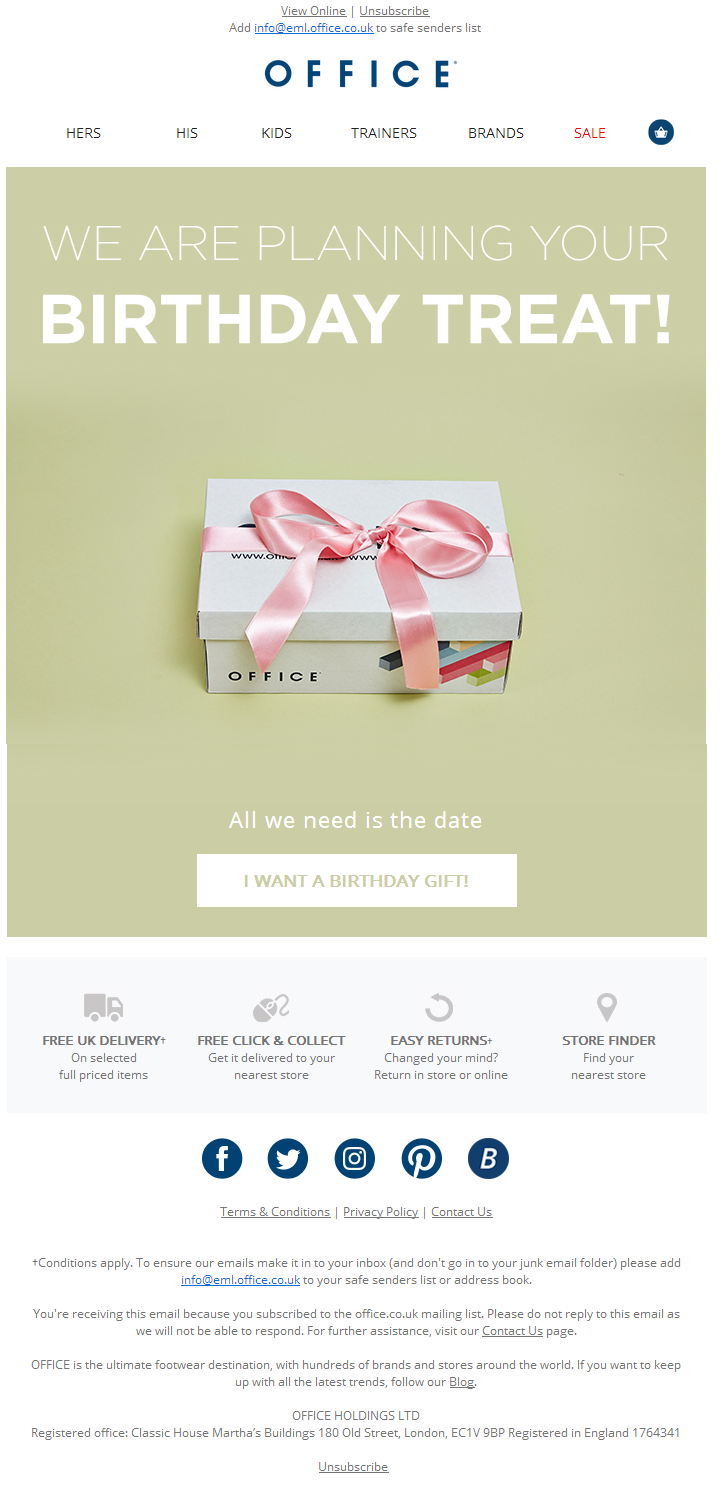 Many brands are leveraging interactive emails to gather subscriber data.
Here's how GoDaddy has done it.
Live link:
https://reallygoodemails.com/emails/take-our-super-short-quiz-to-find-your-ideal-site-builder/live
Redirect the users to a preference center so that they can let you know what kind of emails they expect from you.
Bespoke Post has followed the same trick in their email.
Now that you have understood the data collection strategy, we shall discuss how you can use this information to hyper-personalize emails.
Advanced Tactics to Hyper-personalize Emails
Dynamic content in emails
Dynamic content refers to including dynamic blocks in the email. The content and images in these blocks will change according to the personalization parameters you have set. It can either be the subscriber's gender, location, demographic data, or past purchases.
Take a look at this email template example in which they have used dynamic image block and CTA button to personalize the email for two different segments based on the gender.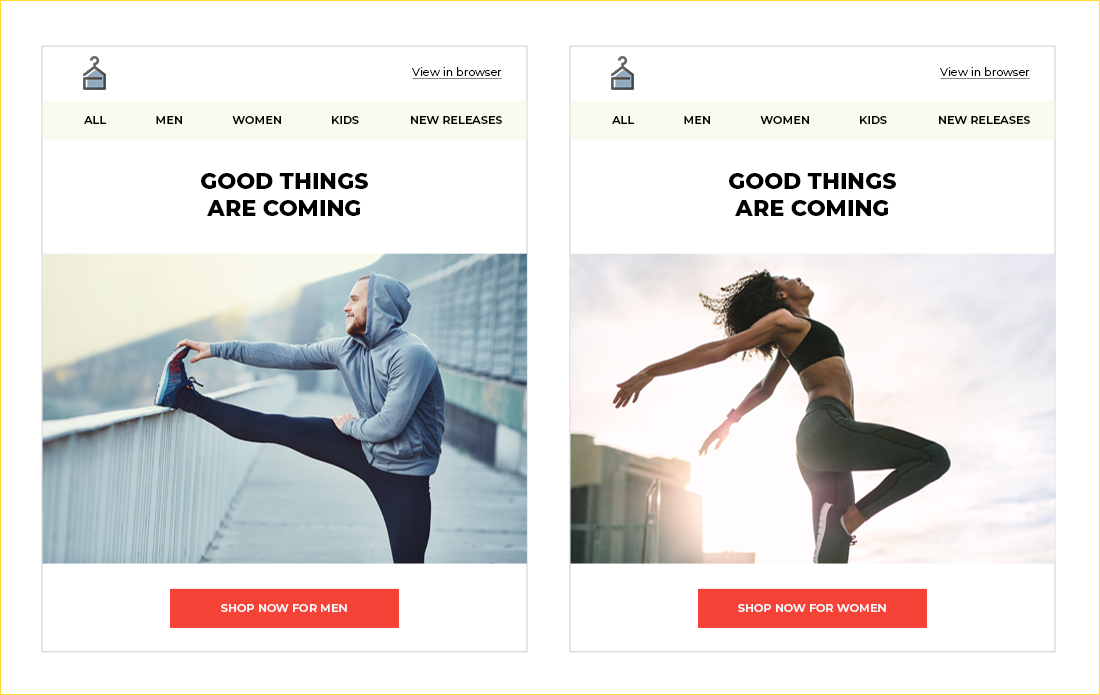 You can use the same idea to send out dynamic product recommendations in line with the subscriber's past purchases. eCommerce stores can send out latest arrivals and best-sellers using these content blocks.
Artificial Intelligence to create hyper-personalized emails
Most of the marketers have started using AI to send out targeted emails to their subscribers. For instance: According to the past purchases of a customer, they will receive a triggered email suggesting relevant products.
Amazon and Netflix have religiously incorporated this technology in their email marketing strategy.
If a user has purchased a mobile phone from Amazon recently, they would receive another email sharing mobile accessories to go with it.
Similarly, if someone has watched thriller movies on Netflix, they will receive an email suggesting movies of the same genre.
Take a look at this email from Netflix.
If you want to send out relevant newsletters to your subscribers with curated, personalized content, you can use tools like Scoop.it and explore the feasibility of combining it with AI software.
Predictive analytics
Sometimes I wish I could show my subscriber list to an astrologer and he would let me know what kind of strategy I should follow.
Do you wish so too?
If yes, Marketo and Salesforce can be of great help to you.
They offer this feature with their predictive analytics and lead scoring model.
The kind of data it can help you with are:
Purchase intent
These tools will let you know which users have a high purchase intent and which ones don't. Accordingly you can send out nurturing emails to the people with low purchase intent. Contrarily, the high purchase intent customers would engage well with your routine promotional emails as they are keen to buy from you.
Preferred product category
If you are sending out emails showcasing your sports accessories, it is a good idea to use real photos of people using those products. Preferred product category serves the same purpose since you can design customized emails based on the usage of the products you want to promote.
Predicted date of next order
Put together different data points like past purchases, total purchase value, and kind of products purchased or searched for. According to this combined information, the CRM or ESP tool will trigger an email at the right time promoting the right products.
Brand engagement data
Make your subscribers feel special with an email that shares how they have interacted with your brand over the past one year. Such emails will enhance customer loyalty and strengthen the rapport with them.
Send out "Your year in review" emails and recap the number of times the subscriber has used your services. Also, let them know what they achieved through them.
Eventbrite sets the perfect example of how to use the subscriber's historical data and present it in emails.

Source: https://reallygoodemails.com/emails/your-2019-year-in-review
Wrapping Up
Sending hyper-personalized emails is a tricky affair, mainly because you should not come off as a stalker or a creepy brand. Your emails should not reflect that you are tracking each and every activity done by the user. Just subtly deliver what your subscribers could be looking for and send out feedback emails at regular intervals to understand how your customers are perceiving your communications.