Sometimes, your ideas can feel like a never-ending river, and writing your thoughts down on paper can seem like the most natural thing. Other times, you will find yourself staring at a blank page for hours with no relief in sight.
Dealing with writer's block? While there is no shame in that, as a professional, learning how to break through that wall and get your creative juices flowing is a necessary skill. There is no point in bellowing in agony; there are plenty of ways to make sure you never run out of content ideas ever again.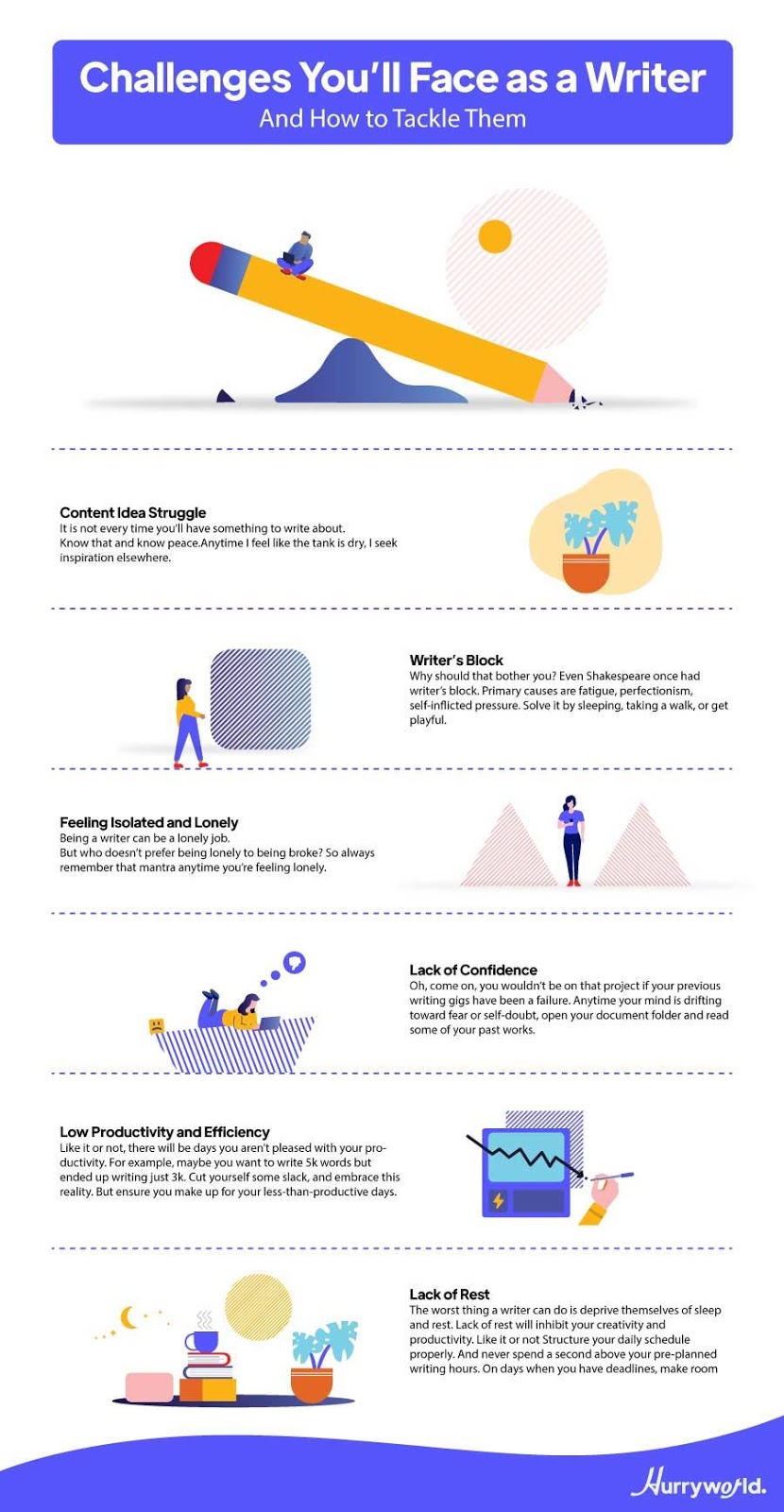 Source: Hurryworld
Neat Tricks to Ignite Your Creativity
To keep your audience engaged and entertained, consistency is very important. And by that, we mean rolling out high-quality content on the regular. It is not always easy, but it is certainly doable with the right mindset.
Here are a few tricks to help you get it done:
1. Revamp Old Content Ideas into New Resources
If your site already has good content, even those from a few years back, you can use that and turn it into new resources. For example, you can try writing fresh posts on the same topics by updating the content and making sure it caters to what's relevant today.
Alternatively, you can turn previously written content into podcasts, videos, or infographics. This way, it would be easier for you to attract new visitors to your site and increase conversions.
Perhaps you don't like the idea of republishing content similar to those you've published in the past. No problem, you can still revamp those old posts and buy a guest post service to publish them on other relevant blogs. Either way, you're still bringing traffic to your site.
2. Revisit Best-Performing Posts for Insight
You probably already know that fresh content is the key to more traffic and conversions. However, you can also try and revisit your old posts to analyze why your audience loved them. If something works, then there is really no reason to change it, right?
Watch out for specific patterns present in all of your best-performing posts. Once you're aware, you would then be able to use that knowledge to recreate something similar.
To do this, you can try using Google Analytics. This powerful platform tracks how your online content performs, giving you an idea as to the behavior of your audience. Simply go to Behavior > Site Content > All Pages.
If you find a content idea but find that you still lack the spark to turn it into a masterpiece, you can use one of the best AI-powered content creation tools out there to get the work done. There is no crime in that.
3. Review Industry-Relevant Sites
Aside from browsing through your own posts, it would also help to look at your competitors' sites and their top-ranking content. Not only will it guide you into making decisions regarding your own content, but it will also inspire you to come up with new ideas.
Check how often they upload new content as well as how they interact with their audience. The key is finding out what worked for them and trying to incorporate that into your own website.
4. Open Reddit and Use "Sort By Top" to Find Interesting Topics
The great thing about Reddit is that you won't have a hard time finding a community interested in any given topic. There, you will come across valuable information from real people based on their personal achievements and experiences.
Utilize the search bar to look for subjects relevant to your niche. Then, by ticking on the "Top" button, you'd be able to find out the latest issues that the internet is talking about.
You can also use free tools, like Keyworddit. This reliable tool searches through subreddits and lets you know which keywords get the highest search volumes.
5. Search Industry-Relevant Keywords or Use Keyword Research Tools
Another way to gauge which topics spark the curiosity of your target audience is to use keyword research tools. By learning about the top keyword searches relevant to your specific niche, you'd be able to provide the high-quality content you are sure would get plenty of views.
So, how can you find out which topics your target audience is interested in? In case you don't know yet, every search query entered on Google passes through its Webmaster Tools. Use this to your advantage to get an idea of which topics are generating the most search traffic.
6. Use Tools Like GetCrate.co for Inspiration
When trying to come up with fresh content ideas, it's very important that you understand what your target audience wants. To help with this, you can try using tools like GetCrate.co or something similar.
What can these tools do? As a content curation site, Crate has a collection of hundreds of thousands of articles covering any given topic. With that many possible content ideas, you can easily find one that fits your interest and that of your target audience.
7. Follow Trends
One way to kickstart your content ideation process is to look at the latest industry trends. Armed with the topics currently trending in your specific niche, you'd be able to create content that your audience will find relevant.
There are two ways to go about this. You can use Google Trends to search for trending keywords or utilize Twitter Trends. With the latter, you can easily customize the results and find out the latest trends based on your location.
8. Seek the Help of Your Audience
As mentioned, your goal is to know what topics your target audience is interested in. And what better way is there to find out than to ask them directly, right? Fortunately, it's quite easy to do now more than ever because of the internet.
To get an insight into what your audience wants, try and connect with them via forums, group discussions, and social media platforms. You can also conduct surveys and polls to help you develop a list of engaging ideas.
Final Words
Of course, the hard work does not end with you knowing what your audience wants. Equally as important is learning how to turn that knowledge into engaging content for your site. You already know how to write, but is there a writing trick that can make your content more engaging?
This is where content outlines come in.
Having a content outline not only improves how you present your ideas but also makes your entire writing process easier. It ensures you come up with comprehensive content that encompasses the most important subtopics of a given subject.