Best Practices for Social Media Content Marketing in 2021
At the dawn of the social media boom, the CEO of Comscore Byan Weiner famously said: "Social marketing eliminates the middlemen, providing brands the unique opportunity to have a direct relationship with their customers." Years later, Weiner's quote is truer than ever before.
According to research from JungleScout, 54% of American consumers have purchased a product or service that they discovered through social media. Customers also use social media when hunting for brands and products. A whopping 21% and 31% of consumers search for products on Instagram and Facebook, respectively.
Looking at these figures, it's safe to say that developing an excellent social media strategy is critical in driving sales and engaging with customers. But what do you need for a great social media marketing strategy? The answer is best practices.
In this article, you'll learn 16 social media marketing best practices.
2021 Social Media Content Marketing Best Practices
General social media best practices
Claim your handles and usernames
Maintain a healthy content mix
Install "Pin It" buttons on your website
Post industry-specific content
General social media best practices
While each social media platform has a unique culture, you can apply some basic principles to each platform. Here are four of those basic principles.
Know your audience
Globally, over 3.8 billion people use social media. With such a large potential audience, you'll need to know your audience to engage with them on an intimate level.
The best way to understand your audience is through building a customer profile. A customer profile represents your average customer's interests, needs, desires, and habits.
Building a profile allows you to get "inside the minds" of your target audience, helping you understand how they respond to your social media content (and thus, which content will be most effective).
You can build a customer profile by following these steps:
Gather demographic information on your customers (i.e., age, location, education, gender, family status, and income).

Conduct market research with a small group of customers to obtain psychographic information on your customer's lifestyles, goals, pains, habits, interests, and values.

Take this data and sort your customers into segments. Segments are groups of customers who share similar traits (for example, customers with a shared goal of saving money on insurance).

Design a customer profile for each segment (see the template below for inspiration).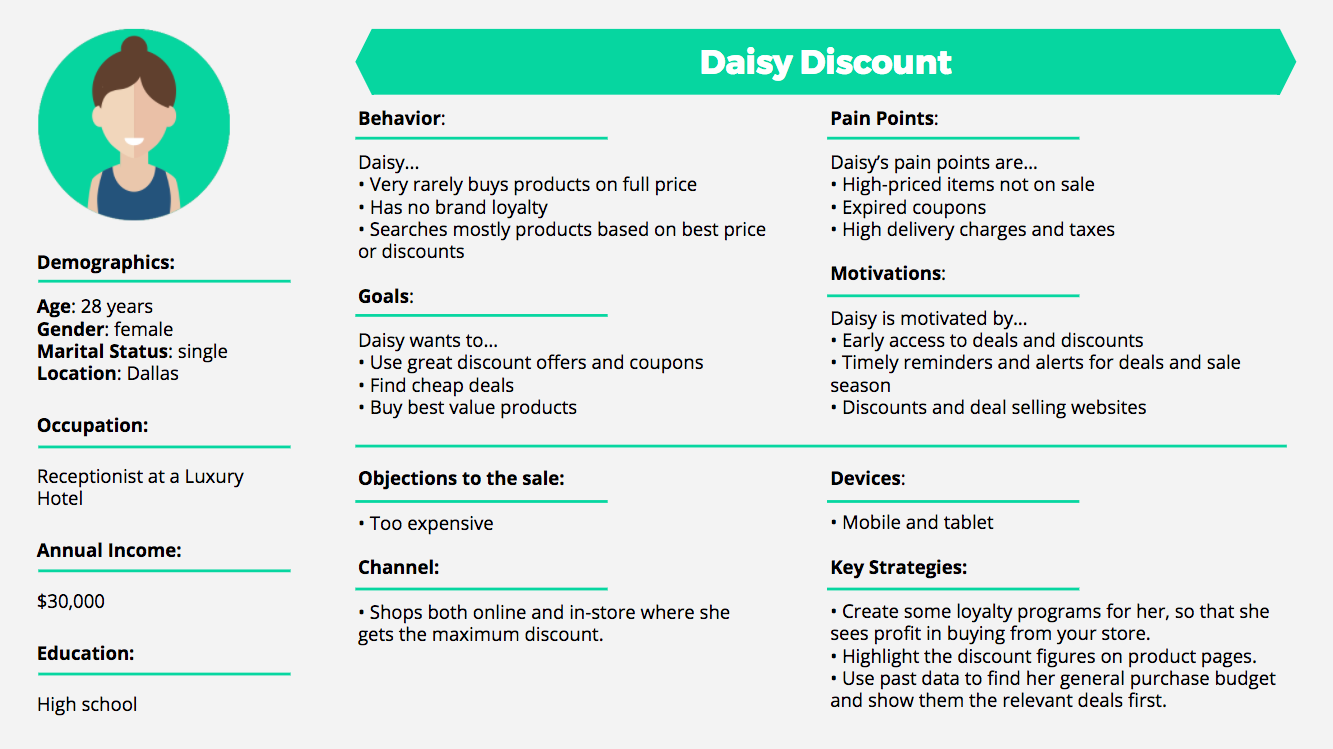 Source: Samba.ai
Once you have this profile, update it as your customers change and use it to visualize what your customers want.
Don't use every platform
While it may be tempting to launch an extensive social media campaign that stretches across all major social platforms, experts caution against this approach. Stretching yourself thin across each platform will deplete your work time and marketing budget quickly.
Instead, use social media to build a niche community. As there is always time to expand your marketing efforts across multiple platforms later, start your strategy on 1 – 3 platforms used by your customers.
When selecting your social media platforms, focus on platforms that will complement your content. For example, if you run a design firm, you should market your work through a platform that supports high-quality image sharing like Pinterest or Instagram.
Claim your handles and usernames
Don't let your competitors claim your usernames. When starting your strategy, always start an account on every major platform (including Facebook, Twitter, Instagram, LinkedIn, and Pinterest). As mentioned in the previous section, you don't need to keep these social media accounts active as you are simply saving your username for later.
When selecting a username, make sure you adhere to these three rules.
Don't use numbers and symbols excessively (i.e. 'thecontentqueen' instead of 'th3c0nt3ntqu33n').

Make sure it's easy to spell and search (i.e., 'contentqueen' instead of 'connntenttqueean').

Make sure it represents your brand (i.e., use 'contentqueen' for a copywriting business rather than a pet grooming business).
Once you have your username on all platforms, hide your profile and post a hidden post every 2 – 3 months to prevent the social media platforms from disabling your account for account squatting.
Answer questions
If somebody asks your brand a question, you're going to need to answer it.  Answering customer questions on social media has many benefits. You can help customers with their queries while boosting your engagement rate, increasing your sales, and educating other customers who follow you.
If a team of people runs your social media accounts, you should create a brand identity to answer questions consistently. A brand identity is a cohesive image that represents your brand. Using a brand identity will keep your content consistent across multiple authors.
To implement a brand guide, follow these steps.
Choose a brand personality (if you are stuck for inspiration, try one of the big five brand personality traits: excitement, sincerity, ruggedness, competence, or sophistication).

Outline the types of words, phrases, and language your brand uses.

Gather examples of good and bad responses to customers.

Build a 'frequently asked questions' list for social media staff.

Put this information into a guide for future reference.
Next, let's discuss some best practices for specific platforms.
Facebook best practices
With over 2.85 billion monthly active users, Facebook is the world's most popular social media platform. But what best practices should you use on Facebook?
Don't overuse hashtags
First, you'll need to ensure you use Facebook hashtags sparingly. Hashtags allow users to sort through your content, but using too many hashtags is counterintuitive (and, frankly, spammy).
For best results, work your hashtags into the body of your posts. For example, write content around trending hashtags like "#rideordie" or create a brand hashtag like "#CQ2021" for an event. Here's an example of great hashtag use by Elise Joan Fitness.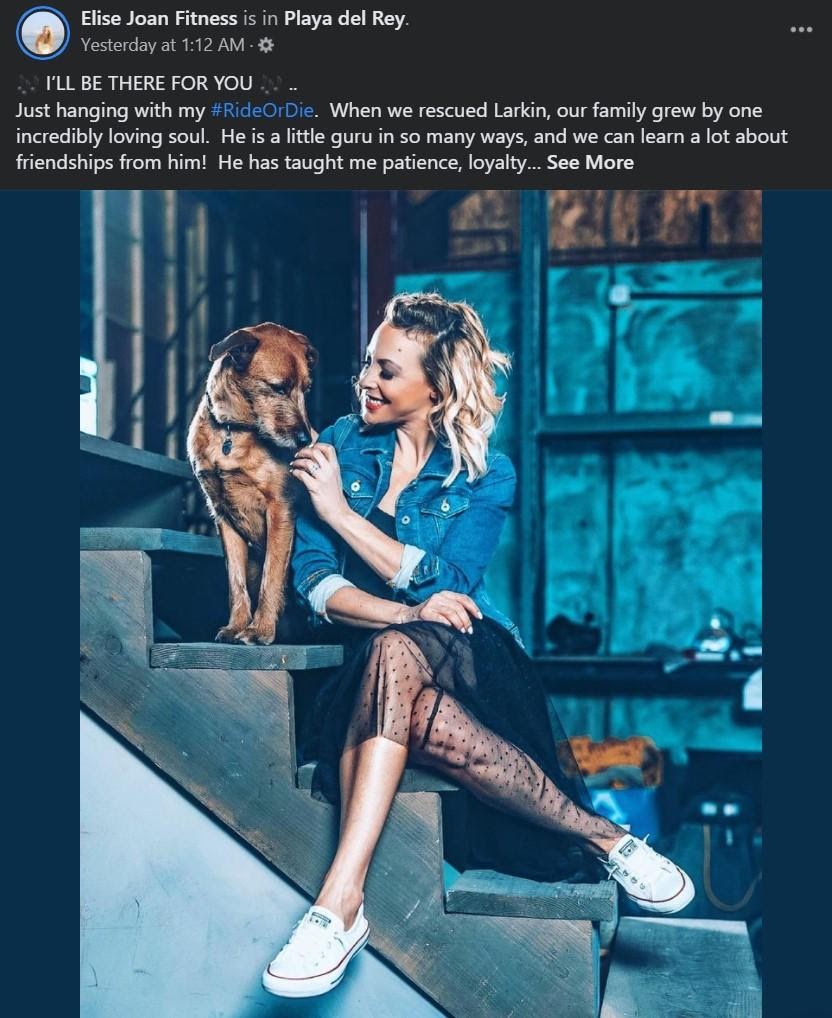 Source: Elise Joan Fitness
Use more videos
Next, you'll need to use more video content. As humans are visual animals, we retain 90% of the information we see, compared to just 20% of what we read and 10% of what we hear. Thus, posting short videos will help keep your Facebook content memorable.
When it comes to video production, there are five types of video content you can post on Facebook. This includes:
Commercials

Social media videos

Explainer videos

How-to videos

Testimonials
For best results, use the type of video that aligns with your brand voice.
Pro-tip: If you're interested in creating explainer videos, check out these explainer video examples for inspiration.
Maintain a healthy content mix
While some social media platforms are more text or image-oriented, Facebook supports six different types of content (videos, photos, links, questions, events, and text). To keep your audience engaged, make sure you use a healthy mix of each post. You should also supplement your posts with any user-generated content your audience creates.
Next, let's explore some of Instagram's best practices.
Instagram best practices
In 2021, Instagram had roughly one billion monthly active users. Compared to Facebook, Instagram's user base is younger. Currently, over two-thirds of Instagram users are younger than 34. Roughly 33% of the platform's users are 25 and 43 years old.
So what best practices do you need to engage with this audience?
Use the right hashtags
Instagram is the perfect platform for hashtags. Currently, Instagram allows you to include 30 hashtags in each post. But choosing the right hashtag can be tricky.
The best hashtags have a high enough traffic volume to bring your post to new potential customers but a low enough post volume for your post to stand out. Ideally, this means you should choose Instagram hashtags with 10,000 – 50,000 posts. To find great hashtags for your content, use one of these hashtag generator tools.
The hashtags you choose should be easy to read, memorable, and brand-suitable (i.e. 'askthecontentqueen'). You should also make sure your hashtag won't be misconstrued with an unexpected second meaning, like Susan Boyle's #susanalbumparty.

Source: Joe
Work with influencers
In 2022, the influencer marketing industry will be worth $15 billion. So naturally, Instagram influencers have a lot to offer brands. Working with them can earn you more followers, give you social credibility, and introduce your products and services to a larger audience.
Influencers also heavily influence Instagram trends like meme content, collaboration content, video trends, podcast trends, and product trends. So if you want to engage with these trends, sponsoring an influencer is a surefire way to pay your way in.
Tip: When planning an influencer campaign, always schedule your posts in advance to take advantage of the traffic boost the partnership will give you.
Geotag your content
Finally, you'll want to geotag content tied to a specific or memorable location. When you geotag content, you mark it with your current location. This helps people nearby see your post.
Geotagging your posts is a great Instagram practice for brick-and-mortar businesses (especially cafes and restaurants), but it's also a great way to draw attention to new products. If you want to see a great example of Geotagged product content in action, check out this post from @GoPro.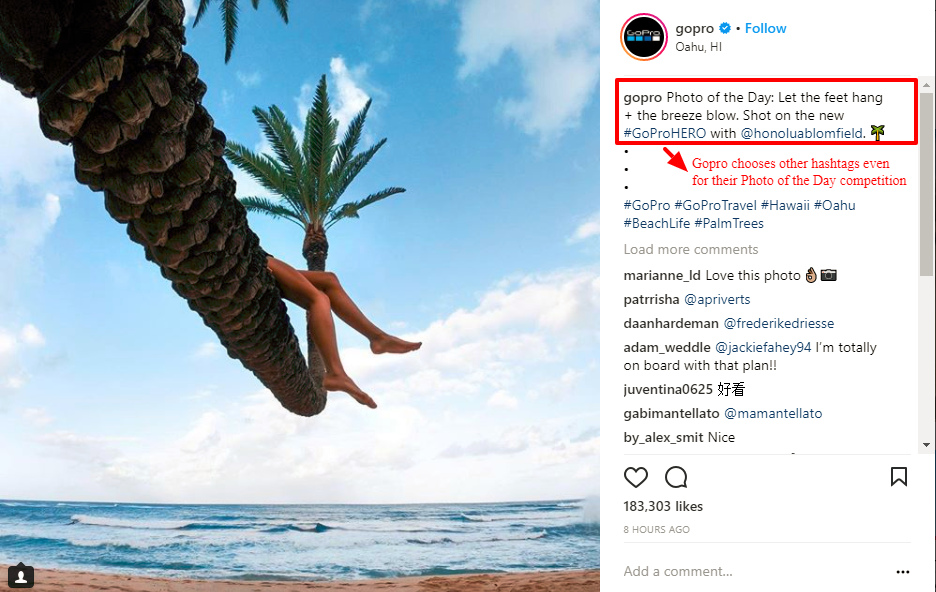 Source: Wishpond
Now that we've covered Instagram, let's talk about Twitter.
Twitter best practices
While Twitter isn't as popular as Facebook and Instagram, it still has an enormous user base. In 2021, Twitter currently has over 187 million daily active users worldwide. Here are two best practices for engaging with this audience.
Use a posting schedule
To get the best engagement on Twitter, you'll need to use a posting schedule. A posting schedule allows you to plan when you release your content, allowing you to make posts at peak times (usually between 11 am – 1 pm).
Storytelling through threads
As Twitter has a 280 character limit, you should also use longer Twitter threads to tell stories. In-thread storytelling may seem like a very out-of-left-field tip, but it's a best practice for a reason: humans love stories.
Telling stories is a fantastic way to engage with your audience, as our brains are wired to remember information in story format. While you should use your brand's unique style in your story, follow these tips to create a good story:
Bring your characters to life

Use suspense

Immerse your story with imagery

Show, don't tell

Use a STAR moment (Something They'll Always Remember)

Conclude on a positive note
Tip: Don't forget to use relevant hashtags to expand the reach of your Twitter stories.
Next, let's discuss Pinterest.
Pinterest best practices
While marketers often overlook Pinterest in favor of Instagram, Pinterest is still a fantastic social media marketing platform. Pinterest currently has over 459 million monthly active users. Roughly one-fifth of this user base (approximately 98 million people) live within the United States – making it the perfect platform for selling to a domestic audience.
Here are two best practices to keep in mind for Pinterest.
Repin the right content
Pinterest allows you to 'repin' other people's content to your boards (similar to retweeting on Twitter). Repinning content is a great way to get more Pinterest followers, as repinning will increase your prevalence in hashtags and give Pinterest users more to see on your profile. It will also give followers regular content to enjoy.
Install "Pin It" buttons on your website
To get the most out of Pinterest, add a "Pin It" button to your website. Adding a "Pin It" button allows users to share your content with a single click. For best results, make sure you create high-quality visual content that is worth pinning. For example, you could create:
Animations

How-to guides

Comins

Memes

Presentations

Quotes

Branded images

Aesthetically-pleasing product shots

Infographics

Photography
Now, onto LinkedIn.
LinkedIn best practices
LinkedIn is a titan of the professional world. In 2021, LinkedIn has over 675 million monthly active users, and up to 40% of these people use the platform daily. So if your business has a large professional presence in your industry, LinkedIn is a great platform to use.
Here are two best practices for LinkedIn.
Maintain professionalism
As LinkedIn is a professional platform, you should treat it like a virtual business conference or event rather than a social platform. Therefore, when designing LinkedIn content, choose work-related content like how-to articles, informational videos, and news content over more casual content.
You should also optimize your profile for a professional audience. This means using high-quality profile pictures, filling out your profile correctly, and using work-related hashtags on posts.
If you're looking for inspiration on a good LinkedIn profile, look at how Shapr filled out their profile.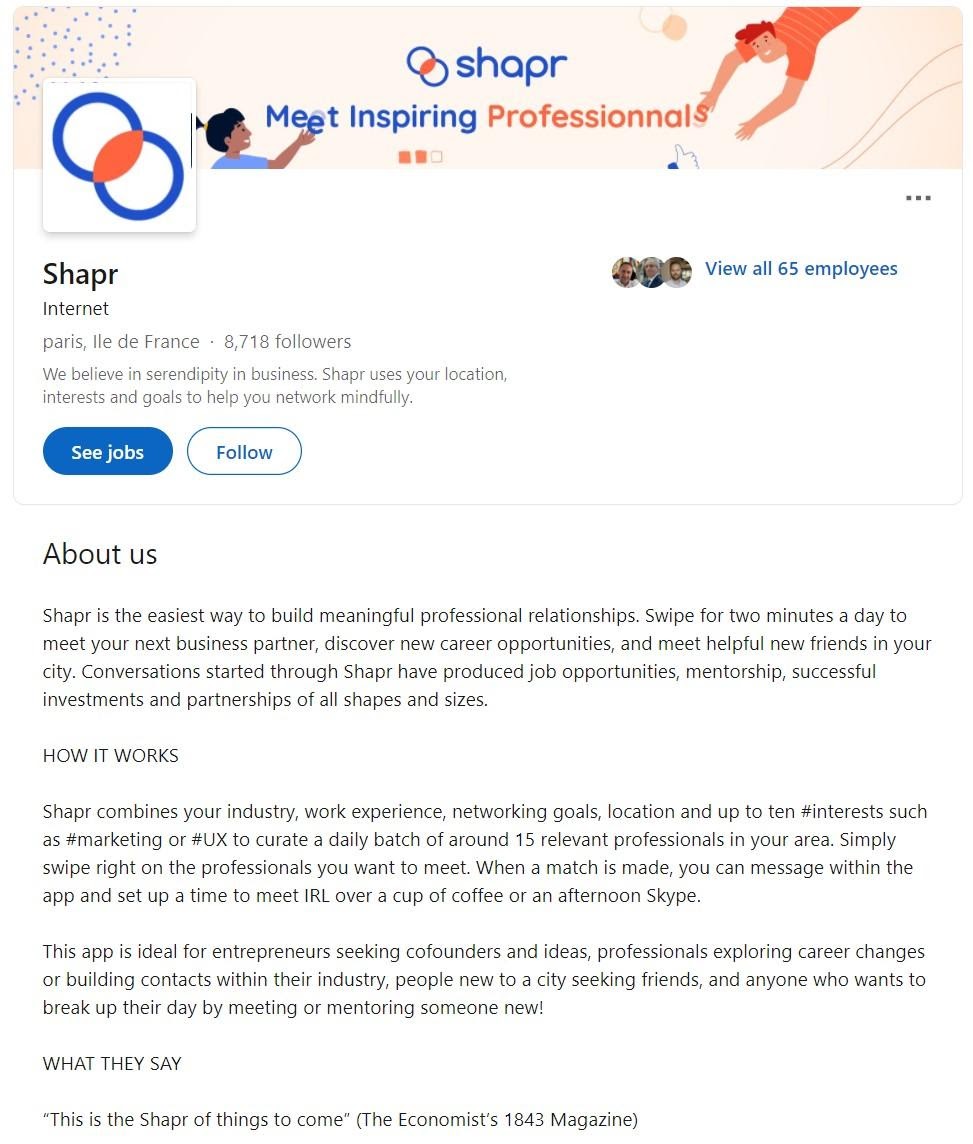 Source: '@Shapr' on LinkedIn
Post industry-specific content
Posting industry-specific content is also a great Linkedin lead generation strategy. To generate leads on LinkedIn, produce high-quality lead magnets that are shareable (for example, you could create a guestographic.) Then, market your guestographic with search engine optimization (SEO) and LinkedIn ads. The further your post gets, the more potential leads your business could generate.
When generating leads on LinkedIn, focus on building trust, educating people on your niche, and explaining how your business can meet people's needs. You can also enhance the quality of your lead magnets with online marketing resources like link tracking tools and grammar checkers.
Social media best practices
It was author David Alston who said: "social media is not a media. The key is to listen, engage, and build relationships." And he was absolutely right.
Social media is a unique world with its own rules and best practices. So naturally, you'll need to adhere to these social media best practices to engage with your audience authentically.
When building your brand's social media presence, the easiest way to succeed is by focusing on the culture of the platform you choose. Then, get creative and inspire your customers one well-planned post at a time.