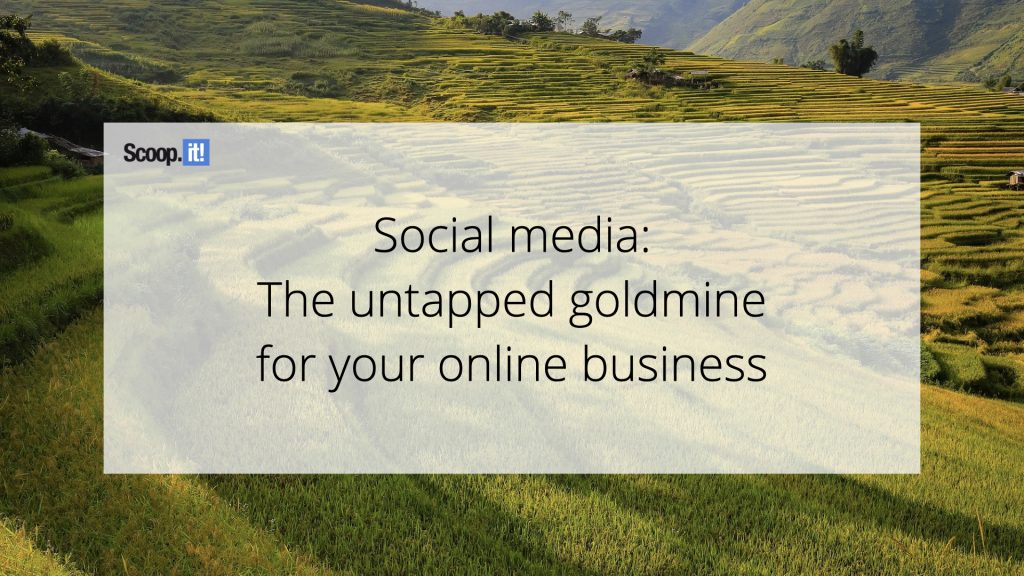 Are you eliminating the use of social channels? Then you are missing out on numerous opportunities for your business. If you are looking for inexpensive and adequate ways to reach 50% of the world's population, it becomes essential for you to include social within your digital strategy.
Every type and size of a brand can get numerous advantages by considering investing in social media strategy. According to a Statista report, around 3.6 billion people globally used social media in 2020; the number is predicted to grow and reach around 4.41 billion in 2025.
Image: (Source)
Today the internet has become a prime means to promote your business and capture a broader market base. People don't even take a second to identify popular social media logos because it has become mainstream in daily life. Using social media to influence the audience is the speediest way to improve the business presence. Today, most sizes and types of businesses consider social media marketing a big deal, and customers expect to connect with various brands they are interested in.
Those who can perform well with social media can leverage numerous advantages. There are numerous sectors, including the transportation sector who are taking advantage of social media.
It's a natural and straightforward outgrowth of an organized marketing strategy, and few others have done a fabulous job by harnessing the power of social media. Social media advertising can do wonders for your business and helps you get ROI for brands. Hence, it's evident that social media marketing is engaging the majority of the world's citizenry.
Role of Social Media in the Business Sector
Creating and developing your branded solution is not sufficient for any business; along with having a digital solution, you need to expand your online business outreach to social media channels. Social networking sites like Instagram, Twitter, and Facebook are crucial for maintaining a competitive edge. Ride-hailing brands that don't have active social accounts missing out on numerous marketing opportunities.
Social media marketing (SMM) plays a vital role in the ride-hailing business to get a more customer base and reach the global market. Many brands use social media tools to attract targeted traffic, and there are well-known social channels that individuals commonly utilize to connect online socially. The critical role of social media for different sectors includes:
Connecting Business to Target Audience;
Giving a Boost on Business Marketing;
Increasing Brand Value and Giving Huge Recognition;
Social media marketing is all about promoting a transportation business on various platforms, helping them boost their sales, and build brand authenticity. Every social media user is increasing with each passing day; the number of social media users in 2018 was 3.196 million, which increased by 9% and reached around 3.48 billion active social media users.
Image: (Source)
Most people use social channels mainly because of informative content. Though social media users search to stay connected with their friends and family, the number is expected to grow steadily.
Image: (Source)
With many transportation brands competing to get more traffic, having an outstanding social media marketing strategy can perform a long way in guaranteeing that you stay ahead of other competitions. Effective social media marketing mainly depends on core pillars like:
Social Strategy
Planning & Publishing
Listening & Engagement
Analytics and Reporting
Advertising.
For large-scale brands, social media is considered to be the perfect platform for improving brand awareness. By creating a comprehensive social media strategy, you can quickly boost your brand's visibility, develop a healthy relationship with your potential, and practice adequate customer communication.
Social Media Statistics: Have Deep Insight into!
The global social penetration rate is estimated to value 49%, with North American and East Asia having the highest penetration rate. Brands can use different platforms to build a strong business presence.
Facebook is a social network that has surpassed around 1 billion monthly active user mark and 2020. It has around 2.6 billion MAU worldwide; the social platform ranks as the most popular social network globally.
Other social platforms include the video and image sharing platform Instagram, which has over 1 billion monthly active users and recently reported 500 million daily active users for its Stories feature. Messaging apps including WhatsApp, Facebook Messenger, and WeChat are also popular social channels for online users.
Image: (Source)
The ubiquity of social networks' potential is growing rapidly; users figures and user engagement are also increasing rapidly. On average, it's found that internet users spend around 144 minutes per day on one or other social networks. Promoting transportation businesses to reach customers can provide users with a screen space to promote different ride-hailing services through social media advertising.
Image: (Source)
Social Media Marketing: How it Benefit Your Online Business
Social media marketing is the perfect way to use social platforms to search and connect with audiences, drive revenue, develop brand awareness, and much more. To eliminate social media marketing failure, brands need to create engaging content helping you satisfy your targeted viewers' views.
Also, make sure to track the engagement rate ensuring continuous improvement. In today's competitive market, brands practice social media to drive users towards their brand; social media content must be designed and published for other social media platforms to enhance user engagement.
Enhance Trustworthiness and Brand Recognition
The internet is dangerous; the eCommerce world has made it a veritable playground for hackers and scammers. According to the European Commission, around 56% of surveyed people experienced at least one type of fraud/scam during the last few years as customers become better versed in trading with privacy and security threats online. Most look for demarcations of loyalty before continuing with transactions with a previously unknown business.
Image: (Source)
More than 54% of social browsers check brands' social media pages. Hence, developing your transportation business page can help you improve your presence on social networks, ensure organic, and present a consistent view of branding that can enhance customer trust.
Ensure Customer Satisfaction
One of the crucial benefits of social media for brands is to provide a direct line to the audience. It opens up opportunities for consumers to communicate with brands in real-time. For transportation brands, this interaction can be both positive as well as harmful.
The transportation sector can leverage the advantage of real-time feedback provided by different social channels. You can listen to followers to know what they feel about your taxi app services, what you need to improve, how quickly you respond to your customer's queries, and much more. Transportation businesses need to understand the advantage of effective interaction to grab opportunities.
Boost Organic Visibility
There is much inherent value to be unlocked through social media, apart from the partnership and networking-produced backlinks. Additionally, the SEO value obtained by adding quality backlinks to a brand's website, social media accelerates relevancy signals as well as other signals to search engines, ensuring content is visible and shareable. It would help if you recognized how social media helps get the best SEO result.
Tips to Get Started with Social Media Marketing Strategy
Today, around 7 in 10 Americans use social media, compared with 5% growth in 2005. Both startup and well-established transportation brands prefer to use social media channels to generate leads, increase sales, and much more. Developing transportation brands using social media might appear as a massive effort with all of the platforms available to you. But it's more straightforward than ever to use social media channels to connect with people and increase your brand organically.
Image: (Source)
Whether you are starting or have an active social channel, there is always room for improvement. Each social platform can provide you with different users. You need to build practical tips for curating content and build social media exposure efficiently. Check a few tips and tricks to optimize your marketing strategy and make the most out of each social media platform.
Define Your Social Media Marketing Goal
What do you aim to achieve if you don't have any target? You need to understand why you must take essential action to achieve the desired success. Your targeted goals must be the driving force of the social media marketing strategy. There are few things you must keep in mind while purpose setting:
Be specific;
Set actionable goals;
make sure your targeted goals are measurable.
Content Curation
"Content is King," Bill Gates's pen essay explains. While Andrea Fryrear says, "Our job is not to create content, it is to change the world of people who consume it."
Undoubtedly it's a difficult task to come up with fresh content to share with customers every day. Content curation can help you with it; social media content posting is the art of sharing quality posts from different social media platforms. It's an effective way to offer value for followers and keep them interested.
Use Right Tools
You can use social media marketing tools to help you find and organize content to share. You can easily search for the right social media marketing tools to use social media systematically. It's to take advantage of tools that automate or interpret much of the work. Different tools are helping you boost productivity; this means you can begin social media for business without having a social media team.
Create Social Media Calendar
A social platform calendar makes it easier for you to use the proper social channels at the right time. You must include a plan for the content mix. You can consider the 80:20 rule for your transportation business, helping you inform and entertain the audience. It also helps you to promote the brand and services, helping you drive sales for your business.
Know Everything About Your Targeted Audience
You can have different goals for your ride-hailing business. But without the support of the audience, your social media strategy is in vain. Drawing the social media marketing strategy around the audience is a must. Your target audience helps you figure out everything, starting from choosing social media channels to every measure of content you have ever created.
Choose Social Channel Wisely
It's not essential to have your presence on every social media platform, but what matters the most is creating an impression on a few you present on. It's one of the effective ways to leverage social media marketing. It's not the quantity that means; it's the feature that counts.
Develop Winning Game
Transportation businesses that document their strategy can quickly achieve success. However, penning down on social marketing is key to turning your vision into reality. While you can prepare a strategy, consider the appropriate social channels you will be posting on. Make sure to post appealing content keeping your target audience in mind and align with your goals.
Social media advertising can be challenging, but the advantage is quite challenging to ignore. If you do not take it seriously, you will undoubtedly miss out on the customers, sales, and online visibility. Using the above social media advertising tips helps you fine-tune the strategy until you have created a winning strategy.
Grow Your Business with Phenomenal Social Media Marketing Opportunity
As the owner of your transportation business, you have to choose what kind of social media strategy you need to support your business. The choice has tremendous implications for digital marketing strategies. A taxi brand is similar to the transportation business, and you can choose anything for growing your business.