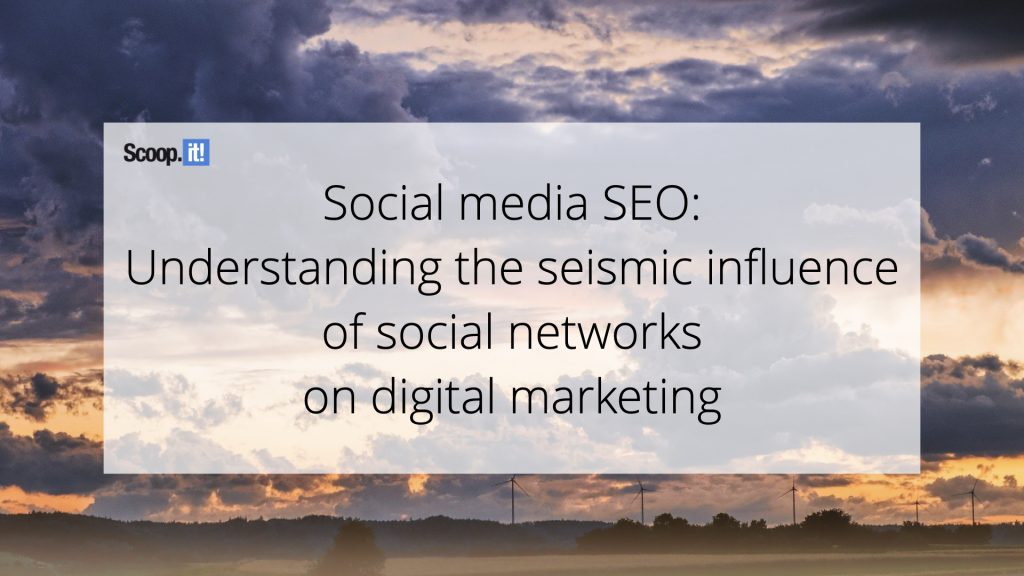 Social media SEO involves the combination of social media networks and search engine optimization practises in order for individuals to bolster their position on the results pages of Google.
Although social media campaigns and SEO campaigns are generally undertaken by two different parts of a business, both have the power to complement each other dramatically when it comes to building a business' prominence online.
By utilizing data-oriented digital marketing strategies that combine the power of social media and SEO, it's possible to deliver a significant ROI and deliver a steady stream of conversions for your business.
Blending the Power of Social Media and SEO
Social media can significantly influence your SEO output in many advantageous ways. Some of the most significant benefits of combining social media and SEO are laid out below:
It's possible to bolster your traffic through content amplification. Whether you're using text, audio or visual content, by using social media to amplify it, you'll reach more people.
The greater levels of engagement that your site generates can also help to positively influence your search engine ranking positions for optimized pages.
Added exposure on social media also helps your link building efforts in generating more inbound backlinks as your content gets discovered and reused by other websites.
Bolstering your online presence via the use of social media can also help to create better levels of trust for users looking for more brand credibility.
By sharing your content strategically on social media, it's possible to also improve your local SEO presence.
All areas have the ability to deliver a powerful effect on the influence of your website and the content you publish on it – aiding the rise of your position across Google's SERPs. With this in mind, social media SEO is essential for all businesses large or small across a wide range of industries.
(Image: Semrush)
As we can see from the image above, social media SEO operates as a cycle in attracting new custom whilst also ensuring that your business retains them long into the future.
Whilst Google has a monopoly on the world of search engines and queries, it's worth considering the power that YouTube holds in a much similar field. The video-based platform is not only a social media network in its own right but also the world's second-largest search engine. This effectively means that your business could miss out on valuable link building through publishing video content and generating new traffic.
This shows just how diverse and rich the world of social media SEO really can be – though it can also indicate just how influential the landscape is for your ROI. To delve further into the matter of how businesses can use social media SEO to their advantage, let's explore five key considerations to take into account before optimizing your approach to marketing:
Generating Links
Possibly the most significant aspect of social media SEO happens to also be one of the most tricky to incorporate into a functioning marketing strategy. Despite this, link building isn't hard for businesses to pick up, although it generally relies on external sites to pick up and link to your content.
This is a largely passive form of marketing and requires others to enjoy your content enough to reference or pick up your text, infographics, visualizations or video without you having to broker a deal with them.
Simply speaking, generating links revolves around utilizing social media to promote your content. Site owners and creators won't be able to refer back to pages that they don't know exist – so social platforms make for the best way to amplify your content accordingly.
Both organic and paid promotional content across social media can help to make your business more discoverable to users. They may not be the only ways to get your brand out there but should be prioritized by marketers who are seriously looking to boost their brand awareness online.
By creating value-adding content and promoting it in a social media post, you effectively broadcasting your most valuable information across the world in a way that can get picked up by other users and shared further. This means it can find itself linked within external blog posts, online columns or referenced in other social media statuses – helping to boost exposure further.
Utilize Video Content Effectively
Video marketing has become highly popular of late, particularly as technology continues to develop and platforms like YouTube has made it far easier for anyone to publish HD-quality well-edited content with minimal friction involved.
This breaking down of barriers can lead to significant growth in terms of brand awareness. "All websites can rank in the video tab, but not all can rank in universal search with a video," explained Phil Nottingham, a video SEO expert at Wistia. "It's become a lot harder to get whitelisted than it was about 3 years ago, but easier to get your video indexed on the video tab".
As the screenshot above shows, there's a strong advantage for businesses that opt to upload video content to YouTube also – owing to Google's algorithms generally favouring videos ahead of text-based results for certain queries.
In the above examples, we can see that a general query focusing on 'how to improve your golf swing' returns 19.1 million results. However, the exact same query run in Google's video search engine returns 710,000 results – a 96.2% decrease in the volume of competitors aiming for that all-important top spot among Google's SERPs.
Data suggests that social videos are shared 1,200% more frequently than both text-based content and images put together – indicating that there's plenty of value to be found in embracing video content. In terms of the content you create, it's worth staying true to your business model, and looking to demonstrate your knowledge of certain products or services by tunning tutorials, troubleshooting and setting up product walkthroughs that can be easily shared online.
Create Content that's Built to Share
The backbone of social media is shared experiences. For marketers, this presents a great opportunity in which to reach more customers with various campaigns. By creating content that's easy to share, it's possible to reach far more people and to grow your brand accordingly.
The task of building a shareable message can be hard. In the wide world of social media SEO, businesses can't simply rely on blog posts or videos to go viral with a standard description attached. The right elements need to be added to give your content the best chance of success – such as social share widgets and visible calls-to-action.
(Image: Social Media Week)
In the example above, we can see that shareable content can also be highly engaging. Here, Walkers Crisps looks to spark engagement among its followers by asking which flavour they prefer – and to tweet and hashtag their answers.
Acting on Actionable Insights
By utilizing the help of analytical engines, it's possible to treat social media traffic as an entirely separate entity to your SEO approach. This means that you can effectively monitor the development of your campaigns respectively based on which social network you're choosing to look into.
This means that it's possible to learn about your respective social strategies, and how different users of various platforms interact with your message. Through the help of analytical platforms like Google Analytics and Finteza, it's possible to highlight significant actionable insights like:
How well your traffic from certain social networks is engaging with your content in comparison to other social platforms.
Measuring how your social traffic is compared to your organic, email and other sources of traffic.
(Image: Finteza)
As we can see from the above example from Finteza, it's possible to see how traffic sources can be compartmentalized by the various social media platform referral links from which they arrive. This insight helps businesses to better learn about who's arriving from where, and how these different arrivals spend their time on sight – helping to pave the way for the fine-tuning of campaigns and adapting their efforts accordingly.
Curate Your Content Accordingly
It's also worth creating a content curation strategy in which you can build greater engagement in a more time-efficient manner.
Content curation refers to the act of taking existing content and sharing it on your channels to generate more engagement. While this approach may seem as though you're promoting the work of someone else and thus driving more traffic away from your own organic content – well-curated content can work to share your own industry expertise while creating discourse among your followers.
Curated content can come in many forms. Perhaps you see the benefit of sharing your thoughts on a news article that's relevant to your industry, or maybe you simply want to let your audience know about a great video that's been published elsewhere. Such actions can help to show your followers that you care about helping them as much as promoting your own company.
You can also curate content that's produced by your followers. By considering approaches like encouraging your customers to take selfies with your products or outside your stores, you have the power to generate limitless volumes of content without the need for dedicating hours to creating it yourself.
Fundamentally, social media is a place for a global community to come together and engage with each other. This means that embracing the power of socials should be an absolute top priority for your company. In setting up strategies to generate content that's bound to get you noticed online, the benefits of social media SEO are certainly going to be felt in the conversions you receive.