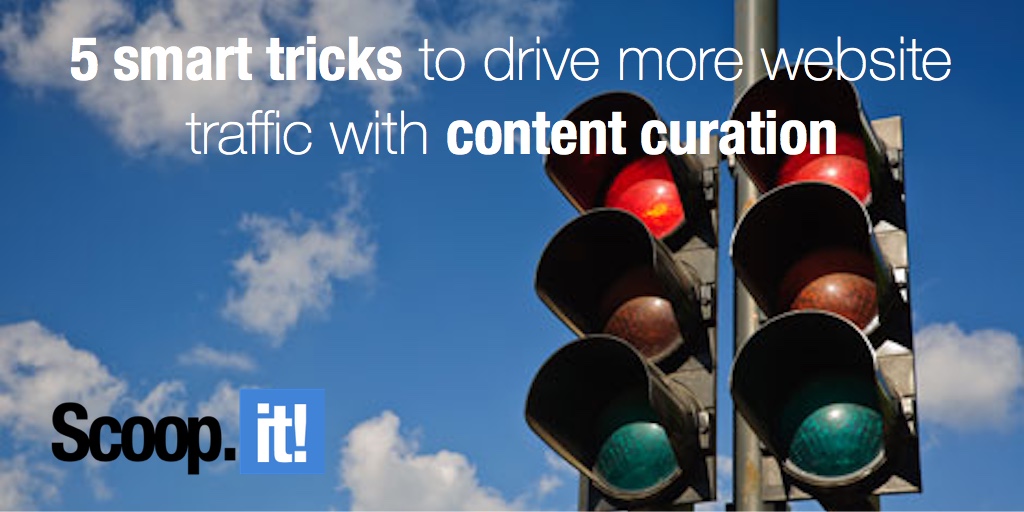 A lot of people turn to curation to help with their content creation workload. But that's not the only thing content curation is good for. It's actually every bit as good for generating traffic as regular in-house content is, especially if you know a few tricks.
But before we get into the nitty gritty, let's talk traffic quality. It's important to know where the traffic you'll generate with content curation will come from. We took at look at this a few years ago, based on the traffic Scoop.It users were generating. Here's how those traffic streams broke out: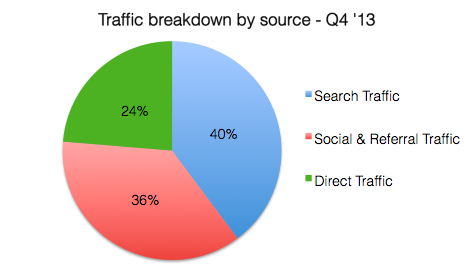 This is important information to know. Why? Because each of those different traffic streams tends to perform differently. For example, social media traffic often has a low conversion rate. Social is fantastic for reaching new audiences, and for engaging with an existing audience. But it's not known for it's "buy this now" sort of mindset. People are surfing and sharing and, of course, being social on social media. You wouldn't want to cut it out of your traffic mix, but it's important to accept its limitations.
Search vs. direct traffic
Search and direct traffic are a bit different. In the case of search traffic, people have specifically felt a need for something – and felt that need strongly enough to go search for an answer. They're not necessarily intending to buy (though some of them are), but they're far more focused on what they want than the people on social media.
Direct traffic is even more focused. These are people who are obviously more tuned into your company. They've specifically searched for your site or directly typed it in. These are the people who are most likely to be in buying mode.
Mapping different types of traffic to the funnel
In a way these different types of traffic represent different stages of the buying cycle. The social media users are the top of the funnel folks. The search engine users are middle of the funnel. The end of the funnel users are the ones directly typing your company website into their browser bar.
It's good to have a blend of traffic sources like that. It means you've got all stages of the buyer's journey in play. That makes for steady sales.
That's not the only good news. As it turns out, content curation can sometimes even outperform original content in the SERPS. Here's the case study:
Bruce Clay proves content curation works for search engine rankings
The Bruce Clay team took one of their posts that had been doing well in the search results. It had been stable in the SERPS for some time, so they felt they had a good baseline for a test.
The team replaced that with three different versions of curated posts. Here's how those different posts performed:
This shows curated content can perform just as well as original content. But it's also a powerful illustration of why it's so important to curate content properly.
Notice how one of the curated posts didn't do very well at all. It was in the 10th place of the search results. That's the post that was basically just aggregated content. "Aggregated" content is when you (or a machine) just grabs content that fits a particular algorithm or criteria. That content stream is then just mashed into a feed, and maybe it has some meta descriptions pulled to explain what the content is about.
Aggregated content isn't necessarily bad, but it's not content "curation" in the way we use the term. What we advocate is selecting very high-quality content and arranging it in a way that adds to the meaning and usefulness of the individual content pieces. It's yet another example of "the whole is greater than the sum of its parts". Once you've got the valuable pieces assembled, then add you own commentary about why each of those individual pieces of content matters. That's what the two curated posts in the Bruce Clay test did. Interestingly enough, the one that performed best had both the 200-word descriptions and excerpts from the original articles.
Learning from Bruce Clay
This is exactly what you need to do in your curation. And don't just do it for search engine traffic (though that's definitely a good thing). Do it for your readers, too. They want your opinion and insights about the content you're sharing. That's why they're reading your blog post (or social share, or whatever the format is). The added commentary is where you deliver your value to the reader. So don't skip that. Even when you're curating, we want your opinion!
Now that you know how to curate for more traffic, here are several ways to go about it. Just remember – include some of your own commentary. And (of course) always give the original content creators credit for their work, including a link back to their sites.
If you do all that, there's no need to worry about duplicate content issues. We've seen plenty of evidence that duplicate content is not something good curators need to worry about.
Here are just a few of the ways small businesses are using content curation to generate website traffic. Hopefully at least one of these will spark some ideas for you. None of them are very complicated. They don't require any special skills or content marketing software.
1. Round up posts from influencers
These are blog posts where you ask a group of influencers their opinion on something. These types of posts often do very well in terms of shares – and even for inbound links.
Why? Because influencers have big social media followings. If you let them know you've featured them in a post (and they like your post) they're far more likely to share your post with their audience. No surprise really – you've made them look good.
Influencer round-up posts can use quotes that have already been published, but you'll do even better if you reach out to ten to twenty influencers to get a unique, never-before-published quote from them. Just choose your question carefully – you don't want to ask them something that's totally a beginner topic, or it'll be boring for them. Pick something both your readers and the influencers will want to talk about.
2. Resource lists
These can be blog posts or even an ebook. They're designed to be the go-to source for everything you could want to know about a given subject.
Sometimes resource lists end up being lists of must-use tools, or must-know online services. They could also be a list of "whos-who" in a given industry. They're a great content marketing format because pretty any topic in any industry can benefit from an exhaustive resource list.
3. Best of the week
Ever seen those "Best post of the week" posts? Sometimes they're referred to as "This Week's Must-Read List". They're an ideal content curation format. Know why? Because if your audience likes them, then you've got one day a week where you know exactly what kind of content you're going to create.
These types of "best of the week" lists can also do well for shares and making friends. Let everyone who made the cut for your weekly list know about it. Most of them will share it with their audience. And if their audience happens to be half a million Twitter followers… so much the better.
4. Social media posts
Okay, who hasn't heard about curating content for social media? But with tools like Scoop.It, you can take those shares of third-party content and make them into a content hub.
That hub can be hosted on your own website, which helps attract people to your site. Content hubs also add more content to your site, which helps substantially with SEO. Learn more about how to publish a Scoop.It topic page on your own site here.
5. Email newsletters
Want to know a secret? Email newsletters drive a bunch of traffic. That's just one reason smart marketers are always looking to build their lists – they see traffic reports with a big spike every week when the email goes out.
Curated newsletters are quite in vogue right now – and there's no reason you can't ride the style. Just do an email version of any of the round-up, resource or "This week's must read" blog posts mentioned above. But just send them via email. Some very prominent companies get great results with this. Even though they have content creators in-house working full-time.
Conclusion
Don't leave content curation out of your plans for building website traffic. It can deliver all the traffic that original content can – with just a fraction of the content creation costs.
Back to you
Are you using content curation to drive traffic to your site? How well is it working? Do any particular content formats or channels appear to work best? Share your thoughts in the comments.
And if you'd like to see how content curation can help you improve SEO, you should read this eBook!