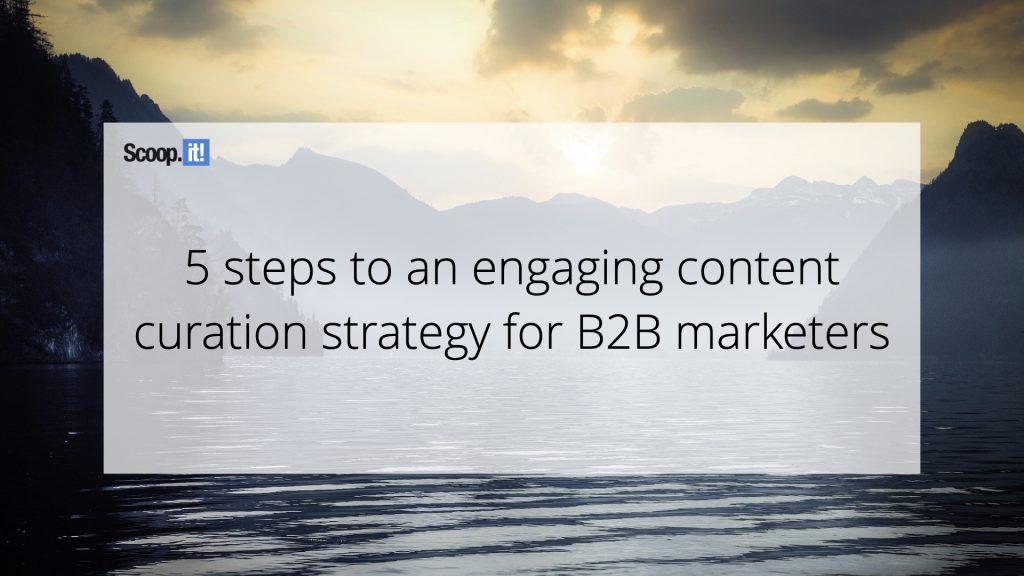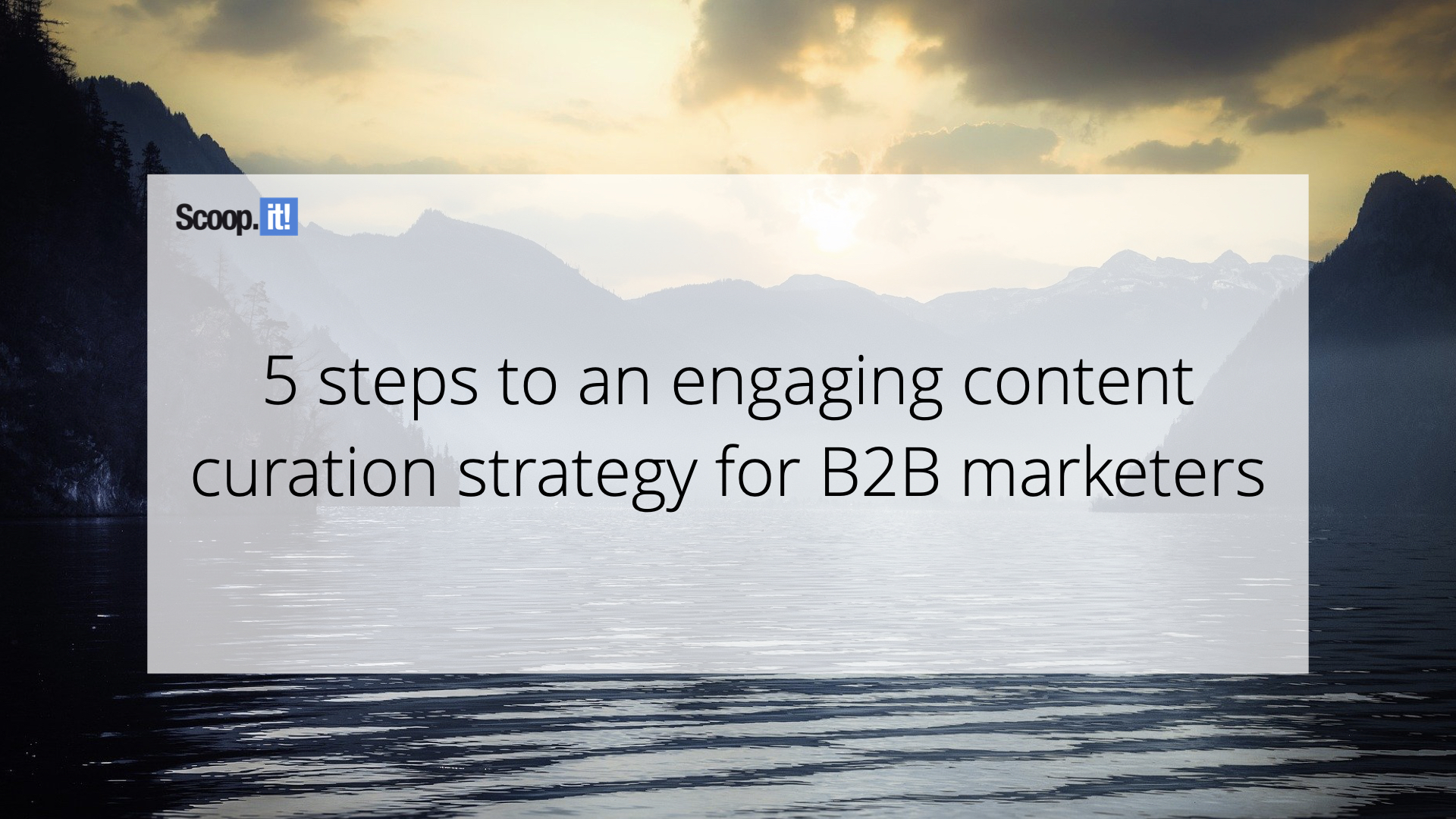 All B2B marketers know the importance of high-quality online content, whether it's on a brand's own website or on social media. But producing it from scratch costs time and money—plus it can be hard to come up with fresh new ideas.
That's where content curation comes in. Yes, it can also be time-consuming, but the many advantages make it well worth the effort. And you can use automation to streamline the process.
Let's take a look at exactly what content curation means, why it benefits your brand, and how you can make a content curation strategy work for you.
What does content curation mean for B2B marketing?
Content curation isn't just about gathering a stack of other people's content from around the web—that's called content aggregation, and is a very different thing. With content curation, you still collate material on a certain topic, but you present it to the audience in a new way.
This includes adding references and connections to other resources (and crediting them), providing your own comments and analysis, or repurposing your own existing content. It's more cost-effective than creating brand-new content, and it gives you more opportunity to engage your audience. And an engaging content curation strategy is super-useful in B2B marketing.
In the same way that sales automation helps you engage with more customers, automating content curation reduces the time spent on sourcing material and frees you up to build relationships with other brands and influencers. However, you still need to check that all curated content is credible!
Advantages of content curation for B2B marketing
The advantages of a well-designed content curation strategy as part of your B2B marketing are multi-faceted:
It helps increase your visibility without churning out too much content
Generating ideas and writing new content is time-consuming, especially if your strategy commits you to posting daily or weekly to ensure maximum visibility. If you're running low on time or inspiration, there's no need to disappoint your readers—content curation is a great way to ensure a continuous flow of high-quality content.
You just have to find suitable content, include your own messaging, and add it to your schedule. Automated content discovery tools can help you find relevant content quickly.
It helps you gain credibility due to association
By referencing other companies and sharing their opinions, you're positioning yourself as a thought leader. With information from multiple sources, you're trusting the audience to make up their own minds (and proving yourself trustworthy in return).
As long as you choose content from reputable companies, you'll take on some of their credibility and authority by association. It also demonstrates that you have a strong network of industry partners, which will strengthen your reputation.
It helps you widen your reach
A smart content curation strategy lets you piggyback on the online presence of other brands, and tap into their ready-made audiences. If they're leaders in the industry with legions of followers, so much the better.
When you share their content, credit the source with a tag or @mention to make your post visible to followers of those profiles. Your brand will benefit from increased exposure to users who are interested in similar subjects.
Even better, the original source might "like" your message and give you a shout-out, which boosts your own social profile (and your credibility).
It gives you diverse content and lends you different voices
If every piece of content is written in the same style and "voice", your audience will eventually grow bored and stop reading your posts—even if the content itself is relevant. Sometimes it's good to have a new perspective.
A strong content curation strategy gives you the opportunity to introduce more diversity, in terms of written style and the people and companies who produce it. Mix things up by using different article styles such as news roundups and listicles alongside long-form pieces.
It helps raise awareness and engagement
The more content you post, the bigger your audience will be. Content curation enables you to post more often, as you don't have to wait for brand-new content to be produced. However, it has to be highly engaging and give your audience a reason to read it.
On social media in particular, engagement is a two-way street—when you engage with others, they'll engage with you. You're building connections every time you share or reply to someone else's content, which is a great way to begin a relationship with other brands.
5 Steps to create an engaging content curation strategy for your B2B marketing
Create a structured content strategy and stay as consistent as possible
Just like you would with new content creation, it's important to implement a structured process for curating content. Decide how often you're going to share it, and define how long you need to spend on research, collation, repurposing, and approval.
You also need to think about where you're going to get your content. To narrow the focus, it's helpful to make a list of relevant sources such as partners, news outlets, and businesses in your industry, so you can turn to them first.
Curated content should also fit with your existing content strategy and with your brand values. Make sure that the topic is relevant to your company, and is something your audience is interested in. That way, it won't seem out of place.
Ensure your content curation includes only credible sources and collaborate with equally credible thought leaders
As we mentioned, credibility is vital if you want people to see you as a trusted leader in your field. You might be keen to use a particularly interesting article, but don't be tempted to post it without validation. Even if you unwittingly share misinformation, your brand will be tainted by association. Check out the source's website and social profiles to find out as much as you can.
Always read the article carefully to identify any red flags, such as claims without stats to back them up. You also don't want content that focuses heavily on one company, or pushes too hard to sell a product. Try collating quotes, tips, and statistics from a range of sources in one new article.
It's a good idea to have two queues for managing curated content. The first would be a compilation of potentially suitable content. When it has been reviewed and approved by a manager, it can enter the outgoing queue ready for posting.
Use integrations and other relevant tools for personalization
With so much content available and so many outlets to choose from, your audience needs a good reason to seek yours out—and although you can't provide bespoke content to each individual, you can make it seem that way!
One survey found 80% of consumers were more likely to use a company offering personalized experiences. You want readers to feel like the content has been handpicked just for them, so get to know your audience and figure out what they need to make life easier or more interesting.
For example, automated tools help you segment the audience and send tailored content or links directly to their inbox. If your office is using a smart VoIP (Voice over IP) phone system, it'll likely include integrations with useful apps like CRMs, which tell you all about customer preferences.
With careful curation, you can find articles that address specific pain points—and personalize them by adding an opinion or a different angle to make it more relevant.
Participate and engage with your audience
Posting content as often as possible will increase your visibility and generate more engagement by helping you stay top of mind with your audience. Another tip is to invite them to participate by leaving comments, perhaps in a forum for discussing the article.
In fact, if you encourage feedback, the audience will actually give you ideas for future content. Consider the relationship between social media and retail companies, where users leave comments and reviews that the retailer can act upon.
You can also use social listening to see which topics gain the most engagement, and pick content that relates to those topics. Look out for useful images, videos, GIFs, and memes, as these will make your posts more eye-catching.
Add value and show consistent branding
Whether your content is created or curated, the main point is that it provides value to your audience. If it doesn't entertain, educate, or inspire, then why should they spend their time reading it?
When you know your audience well, you can deliver articles that will help them solve a problem or enhance their life in some way. For example, for an article about Microsoft Teams Phone, you could help the readers out by linking to online reviews or compiling a comparison list.
The content also needs to be relevant to your own brand. Use your own fonts and layouts to reproduce content in your house style, to ensure consistency with the rest of your online presence.
Ready for content curation in your B2B strategy?
While creating your own content will always be important, a robust content curation strategy enables you to provide a more diverse range of articles to engage your audience.
If you implement a structured strategy, it can also save you a chunk of time (but remember you've got to check the content carefully!). With automated tools to help you, curation can become a highly-effective element of your B2B content marketing.