"If a tree falls in a forest and no one is around to hear it, does it make a sound?"
When we talk about content marketing, this thought experiment makes a lot of sense. If we create a piece of content, but it wasn't seen by many people—or any at all—can it make any impact at all?
When it comes to original content, one survey revealed bloggers spend about half the time promoting an article as they do writing it. After several hours of hard work to put an article out into the world, this feels like a wasted opportunity.
So when we talk about curated content, it's even more likely to completely skip out on content promotion efforts. After all, it's not your content, so why would you turn your audience's attention to it instead of your own content?
The truth is: you can only see the benefits of content curation if you make a conscious effort to get it in front of your ideal audience.
So far, we've shown you how to use Scoop.it to discover and curate content, as well as how to organize it. In this guide, we'll take you through ways you can promote your curated content so you can consistently get it in front of the right people.
Scoop.it topic: your online magazine
Just like you can use your blog or your YouTube channel to host your own, original content, Scoop.it helps you host all the content you want to curate.
Scoop.it topics are the main building blocks of content curation—each of them represents your curated content hub.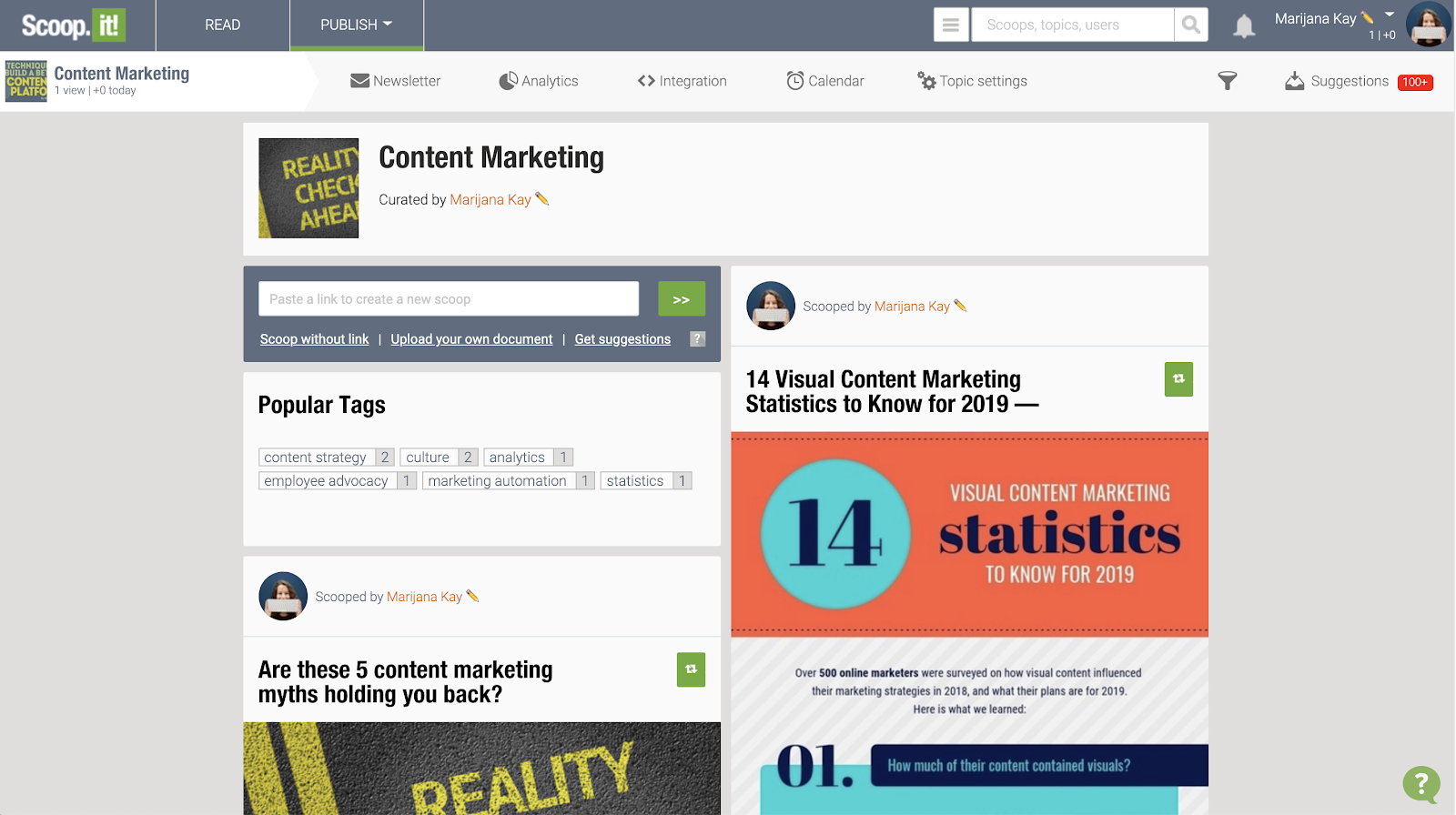 You can see them as your online magazine, a controlled way in which you can put together your thoughts and insights on topics that matter to your audience.
By doing this, you become seen as an expert. Each of your topic pages comes with its own URL you can share on any public or private channel that helps you reach relevant people.
Scoop.it users on Pro and Plus plans also have an option to customize their Scoop.it topic pages through elements such as:
Background image and color

Header logo and text color

Header background image and color

Colors, font family and sizes, backgrounds, and more for individual scoops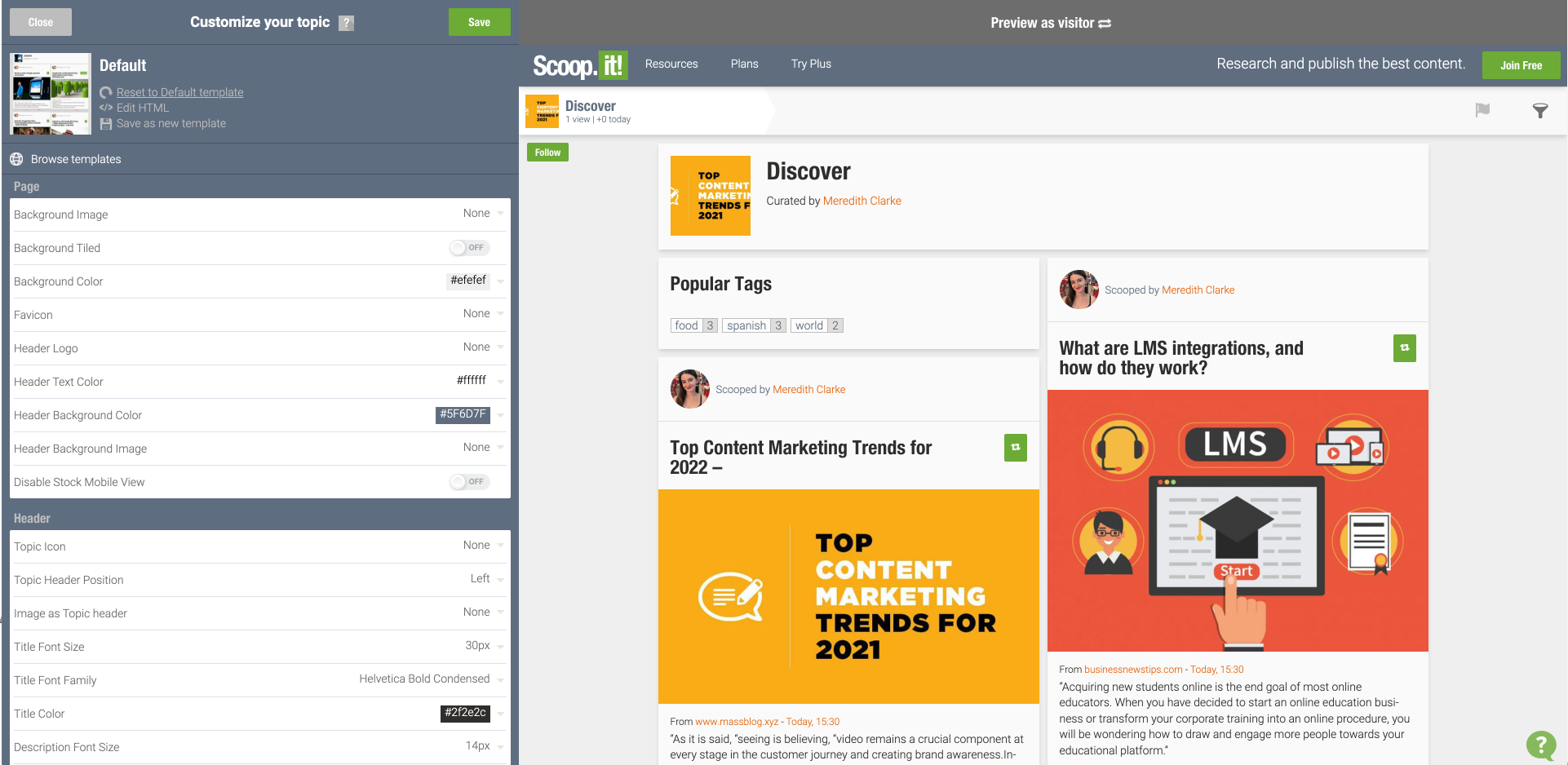 These plans also give you an option to pick from a library of templates with various layouts.
Enterprise customers can also fully customize their Scoop.it topics with advanced design and privacy options, as well as avail of our white label design service.
Built-in social media sharing and social features
Once you start building out your topics and content hubs on Scoop.it, there are several ways you can spark meaningful interactions and engagement around your curated pieces of content.
One way to drive conversations around a piece of content in a Scoop.it topic page is to react to it directly on the platform. You'll find this by hovering over a scoop—a Reaction section will pop up below that scoop, allowing you to leave a comment inside Scoop.it.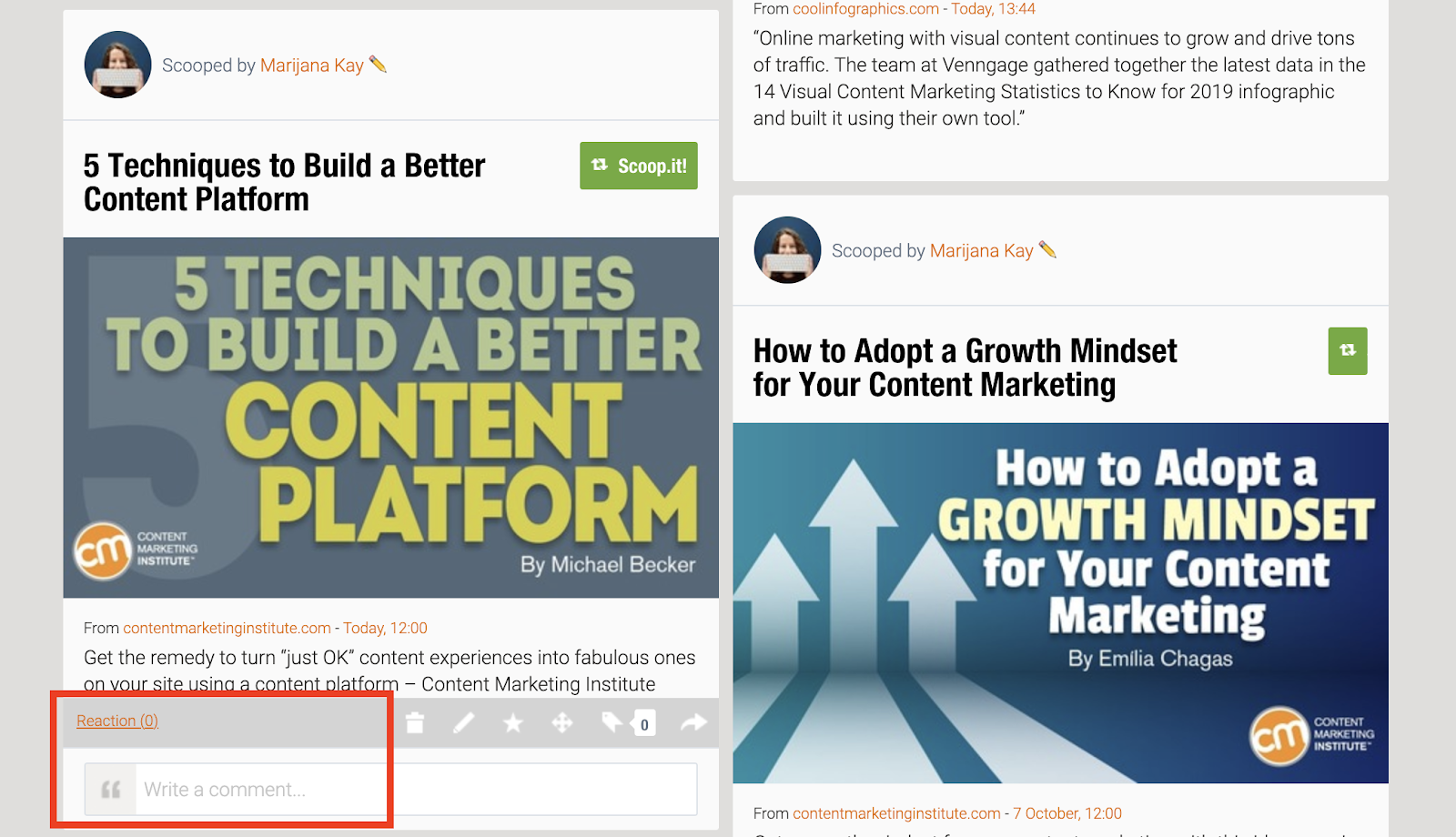 Another way you can share is found in the same place, just under a different button. The share arrow at the far right of the scoop lets you share this scoop:
On Pinterest, Mix (formerly StumbleUpon), Hootsuite, GaggleAMP, and in an email

Through your connected social accounts (more on that below)

Using a direct link you can copy and paste anywhere you want

By embedding an HTML code snippet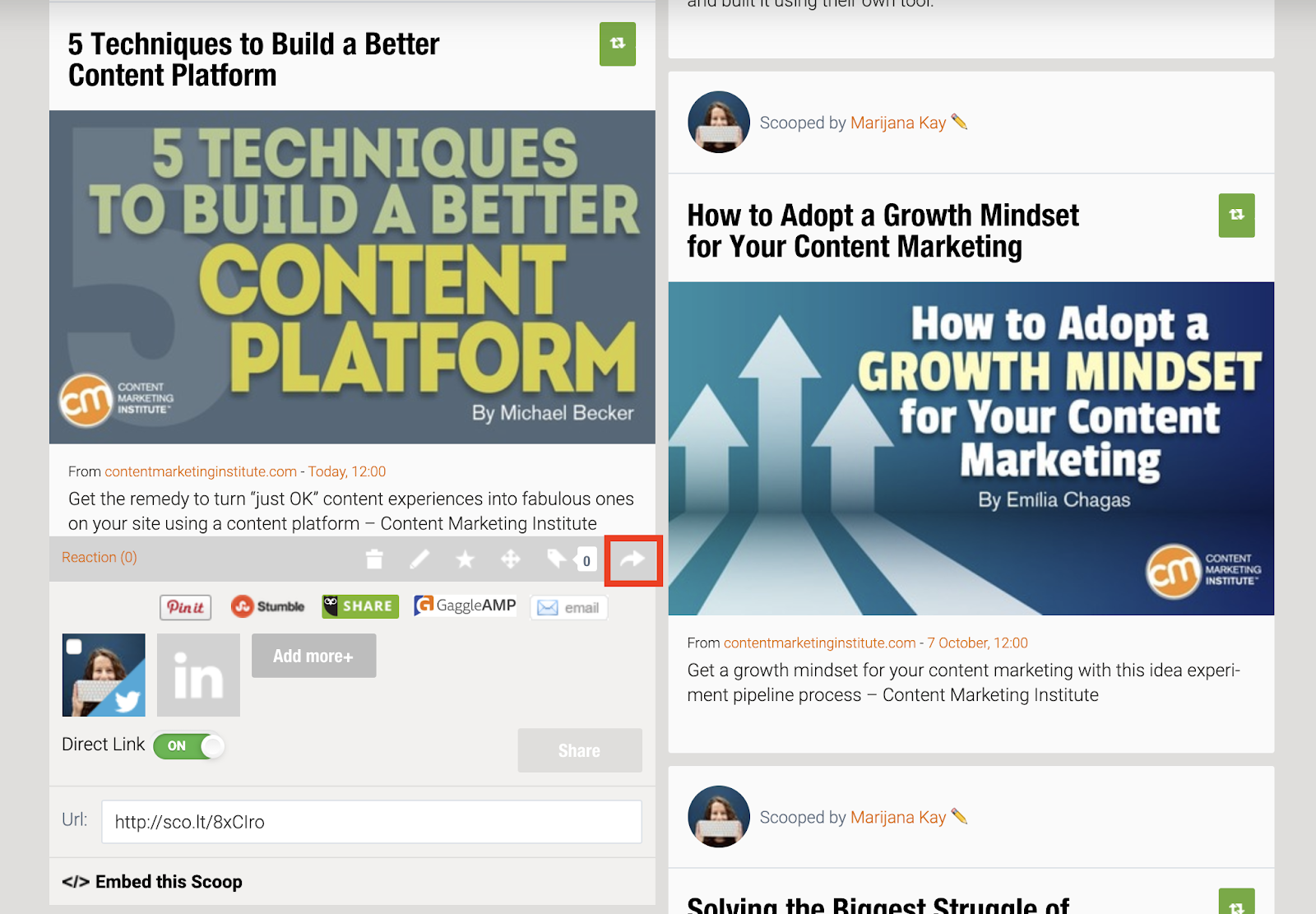 The above methods are excellent for pieces of content you've already scooped to your topics.
For those you're just about to add to your Scoop.it topics, you can connect your social channels and share on them automatically from this modal window: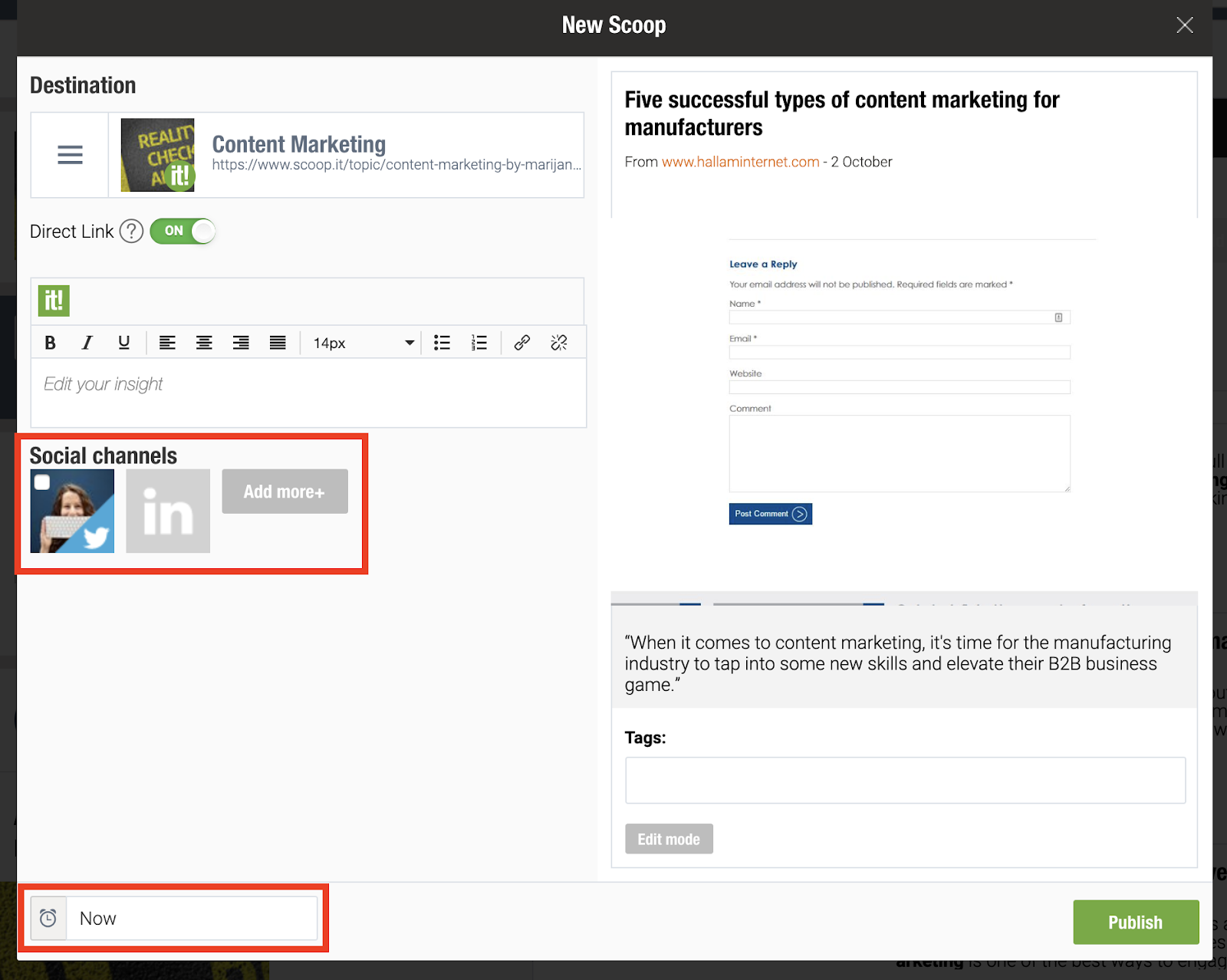 Pro accounts lets you add up to 5, Plus plan up to 10, and Enterprise more than 10 accounts. You can also choose to share right away or schedule for later on the Plus plan or higher.
Accounts you can connect to include:
Twitter

LinkedIn profiles and company pages

Facebook pages

Buffer

Pinterest

Tumblr

Yammer and Yammer groups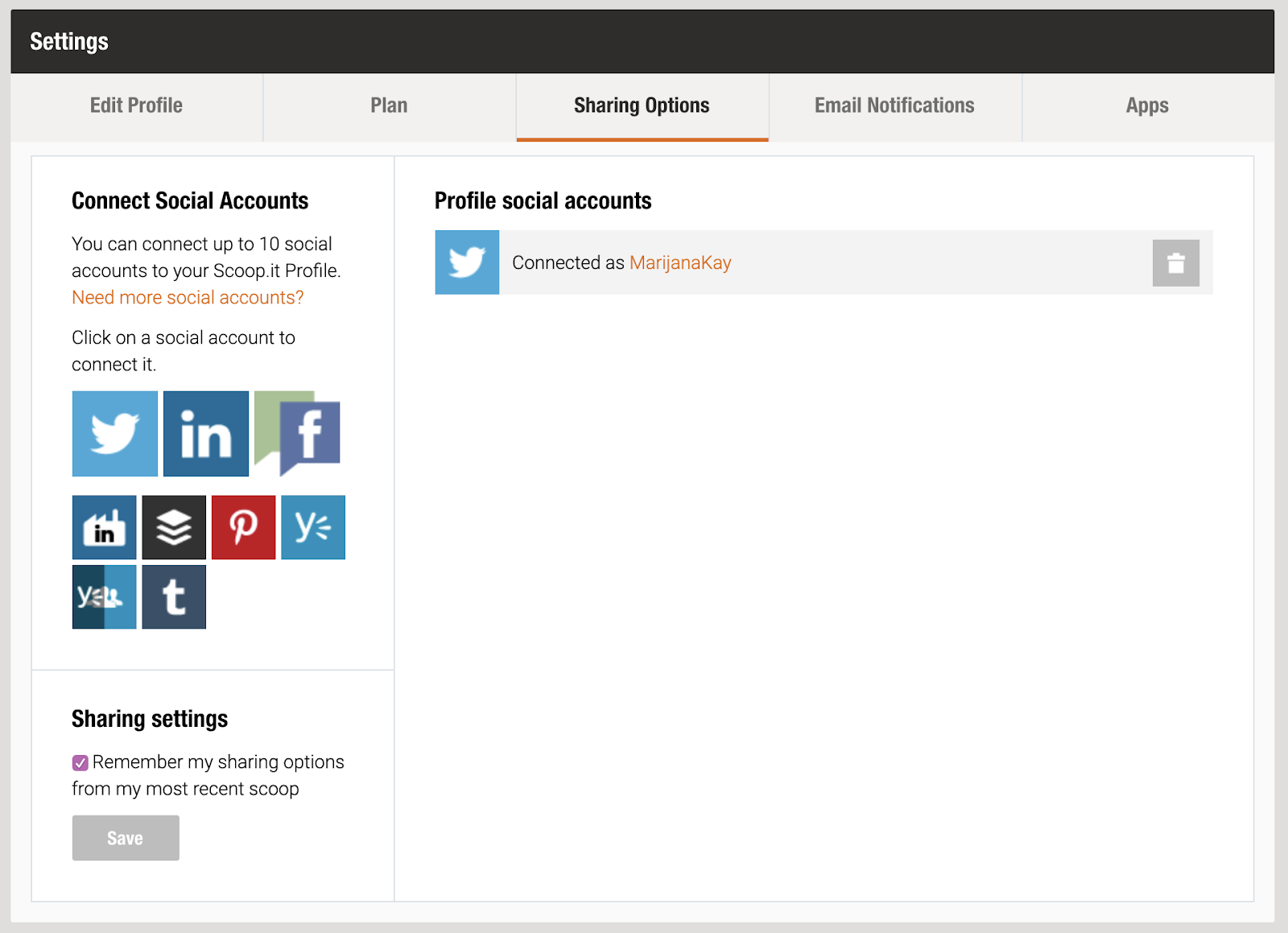 Turn your curated content into regular email newsletter
One of the best ways to build deeper relationships with your audience is to show up in a place they have the most control over: their email inbox.
Unlike on social media and other public channels, our email inboxes are extremely personal, guarded communication channels. So if someone grants you access to it (i.e. they subscribe to your newsletter), you better show up and meet their expectations.
Scoop.it's Plus plan lets you turn your topic pages into an email newsletter.
Inside your topic of choice, simply click the Newsletter tab at the top menu.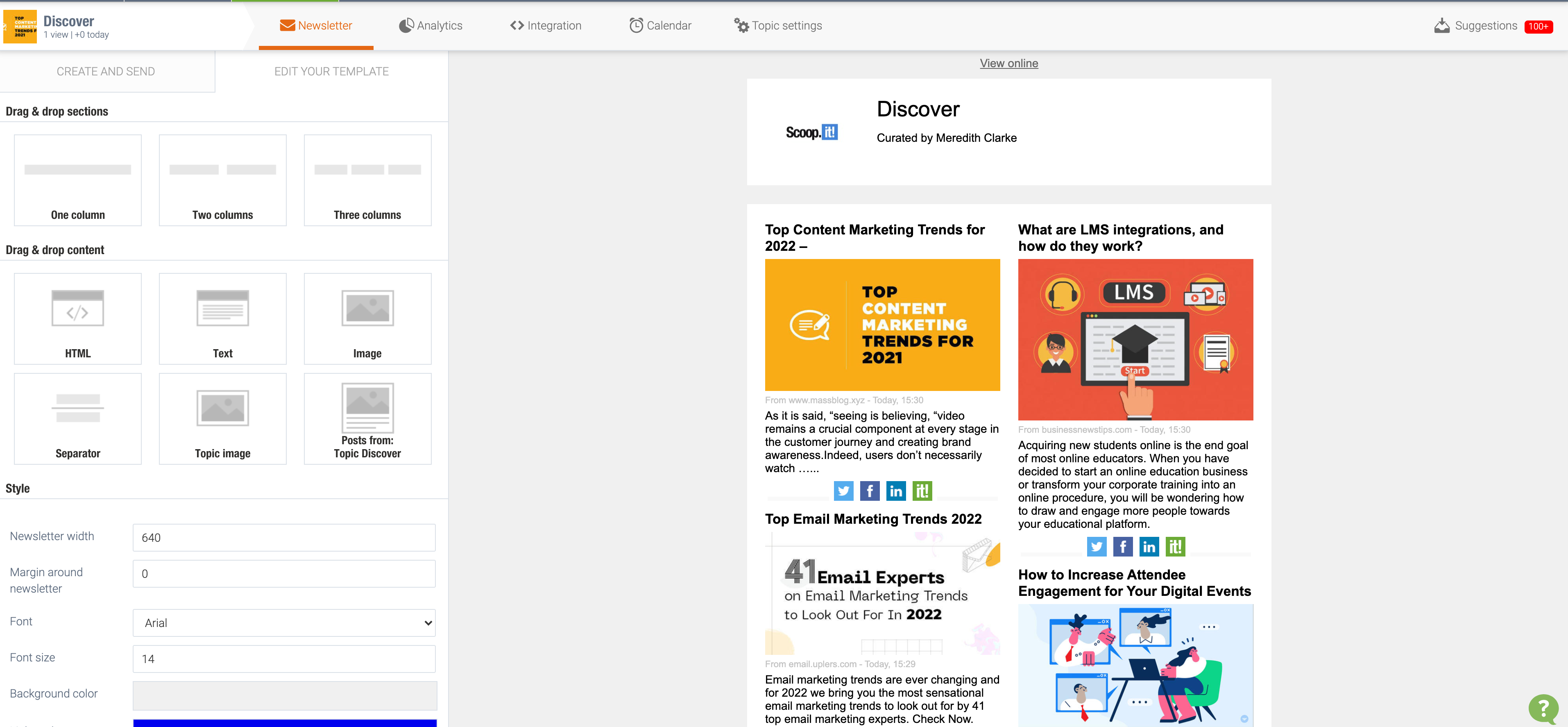 From here, you can customize your newsletter in many ways:
Choose posts to include

Define the number of posts included

Customize your template in just a few clicks
You can also download your newsletter to upload to a different email platform, as well as connect your Mailchimp account.
Scoop.it Enterprise users can take this to the next level. They can have our team create a fully custom-made email newsletter layout based on their requirements.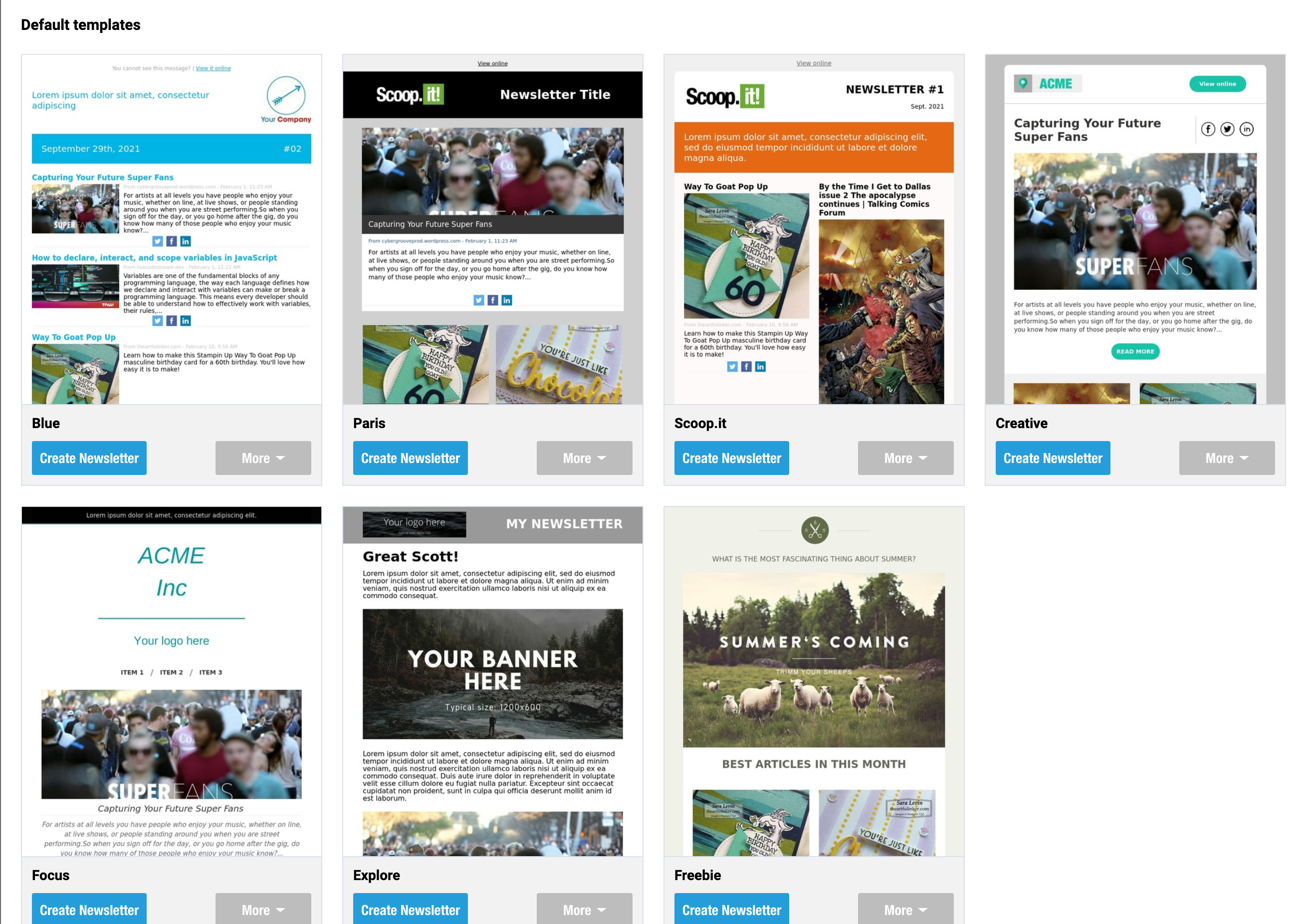 Enterprise users can also create their own email layout from scratch using predefined widgets, select posts they want to include, and customize any other detail.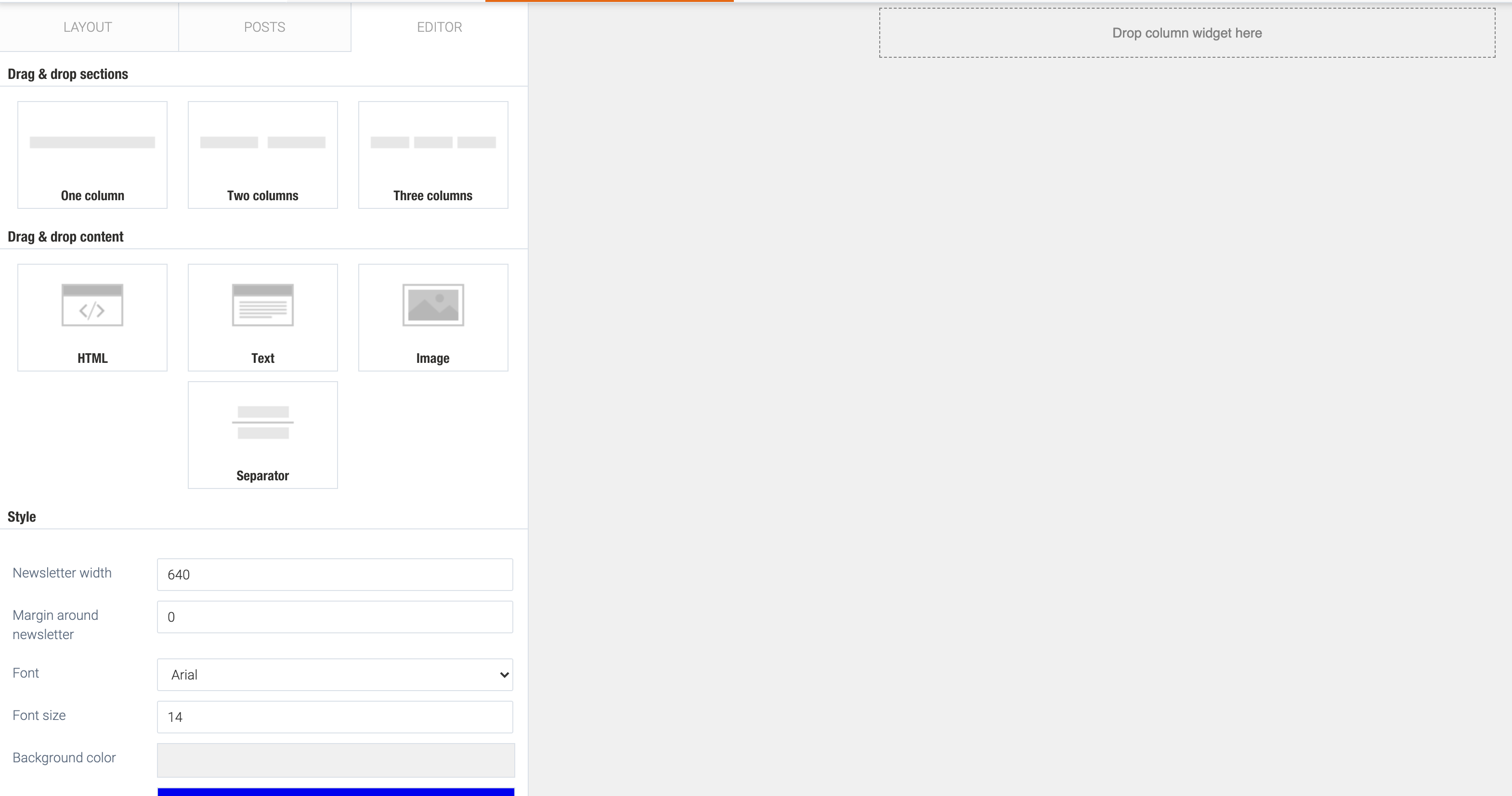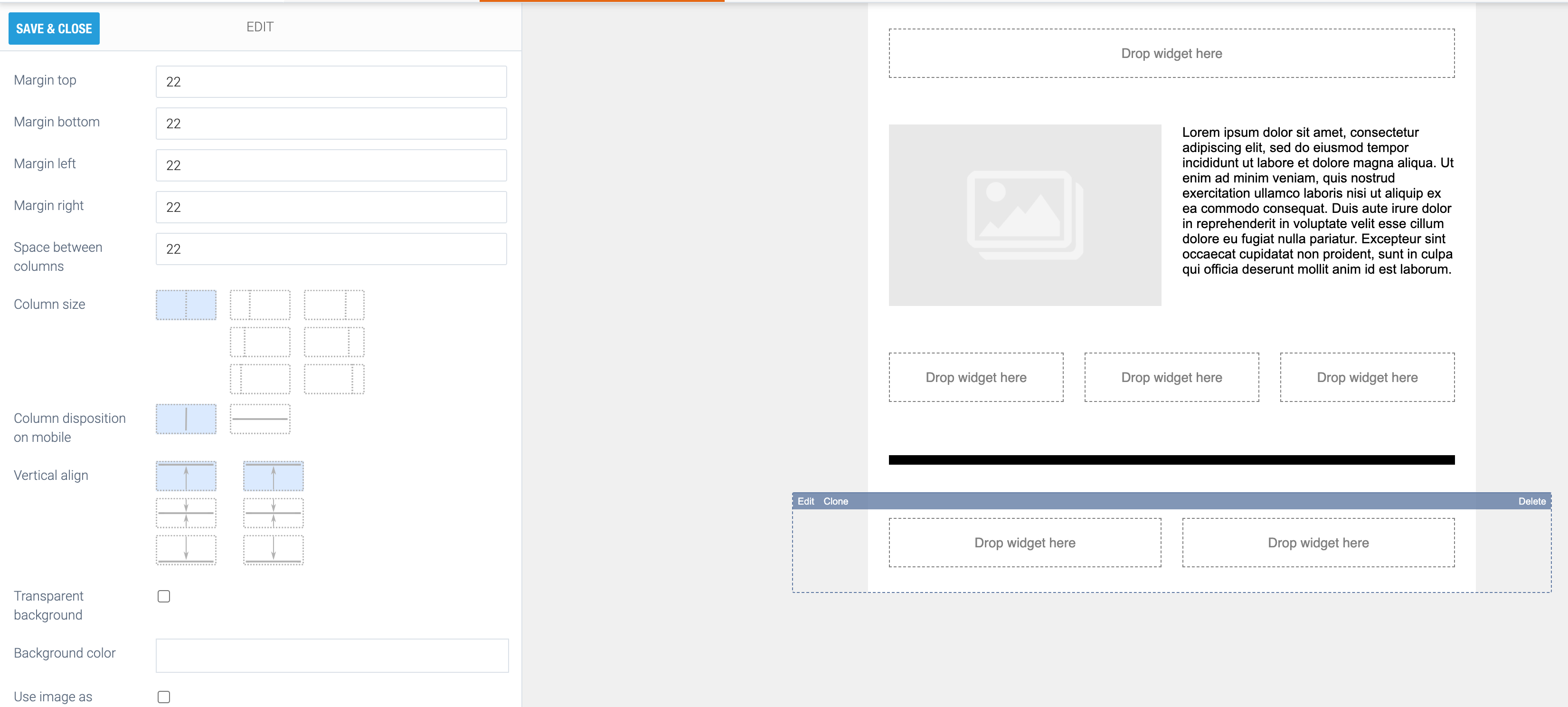 They can also choose to automate the creation of their newsletter, on the day and time of their choice: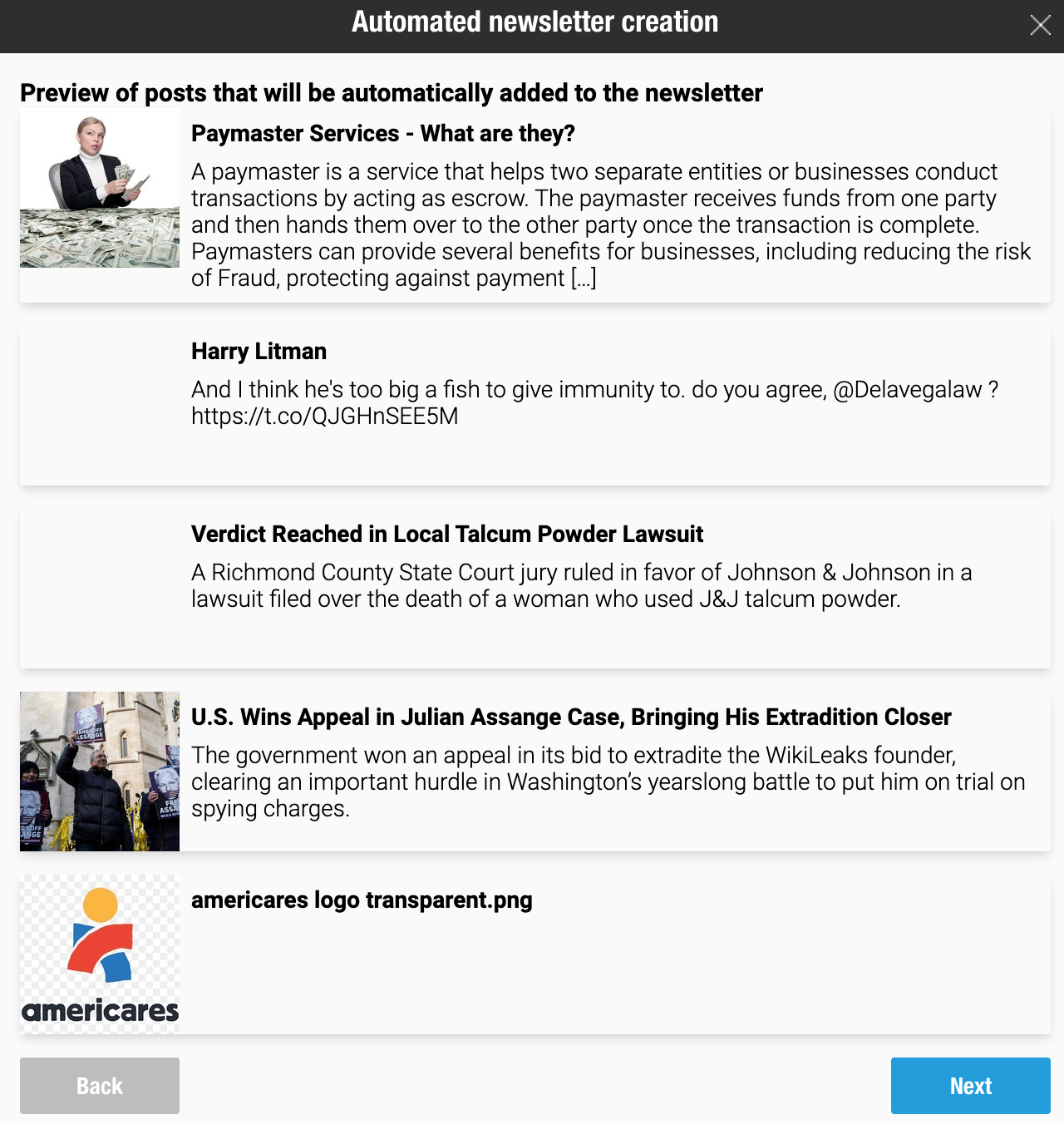 Integrate your Scoop.it content with your website and other assets
Your curated content doesn't have to (and shouldn't!) live in a vacuum, separate from your original content.
That's why Scoop.it Plus gives our users the chance to integrate their Scoop.it topic pages to their website.
All of the integration options are easy to access from your topic page, by clicking the Integration tab at the top menu.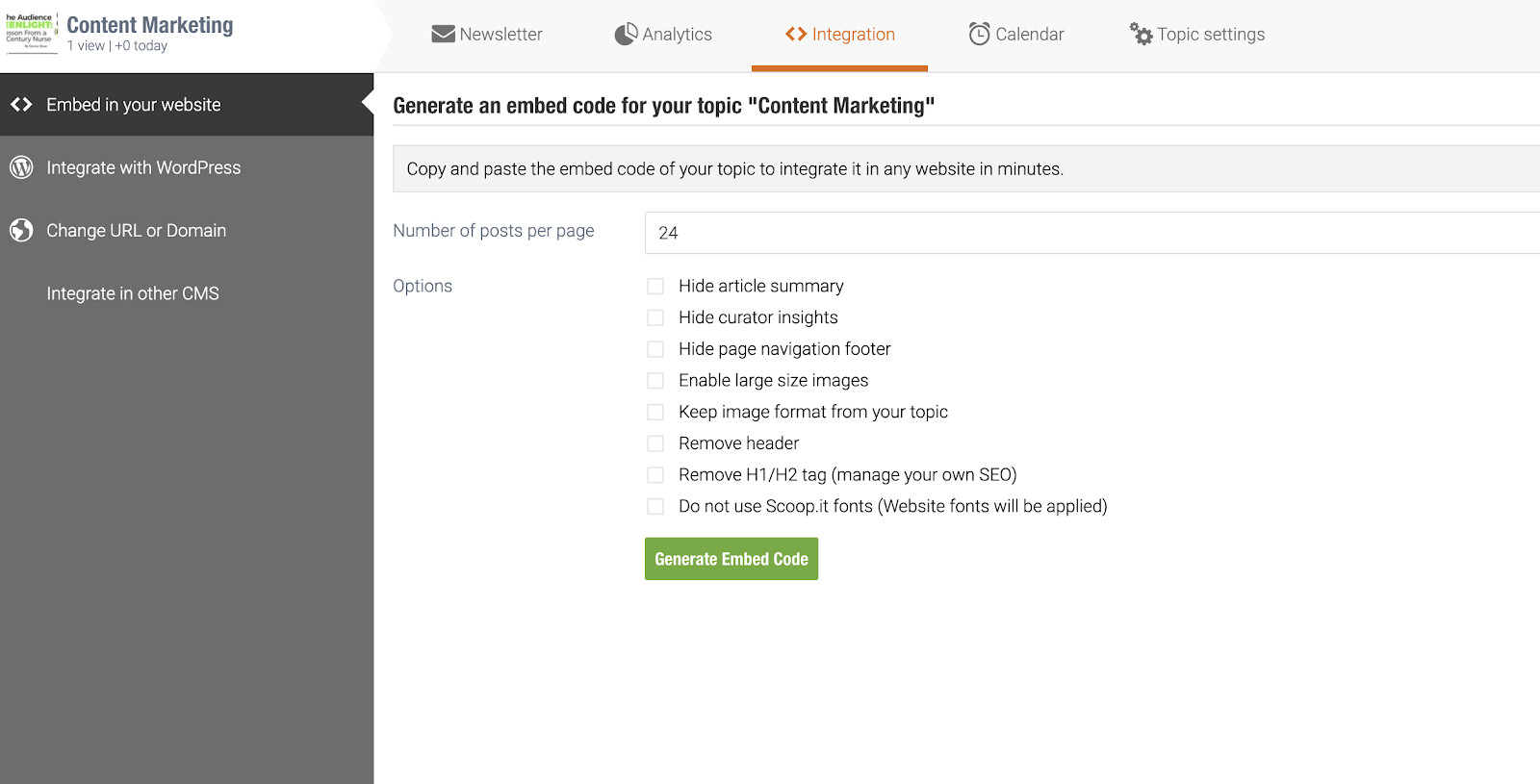 From here, you can:
Generate an embed code to copy and paste to any of your site's pages or your blog. You can choose between a responsive grid, a minimalist list or a carousel: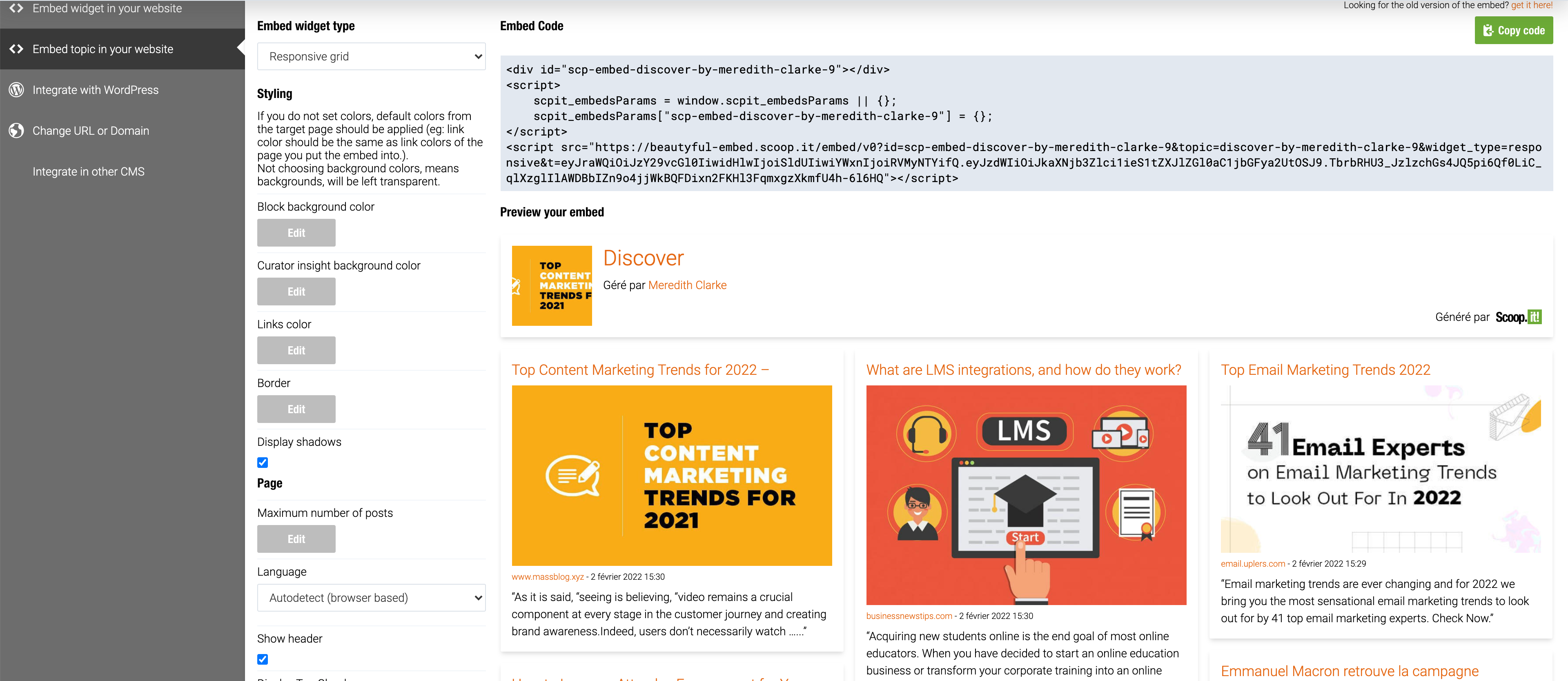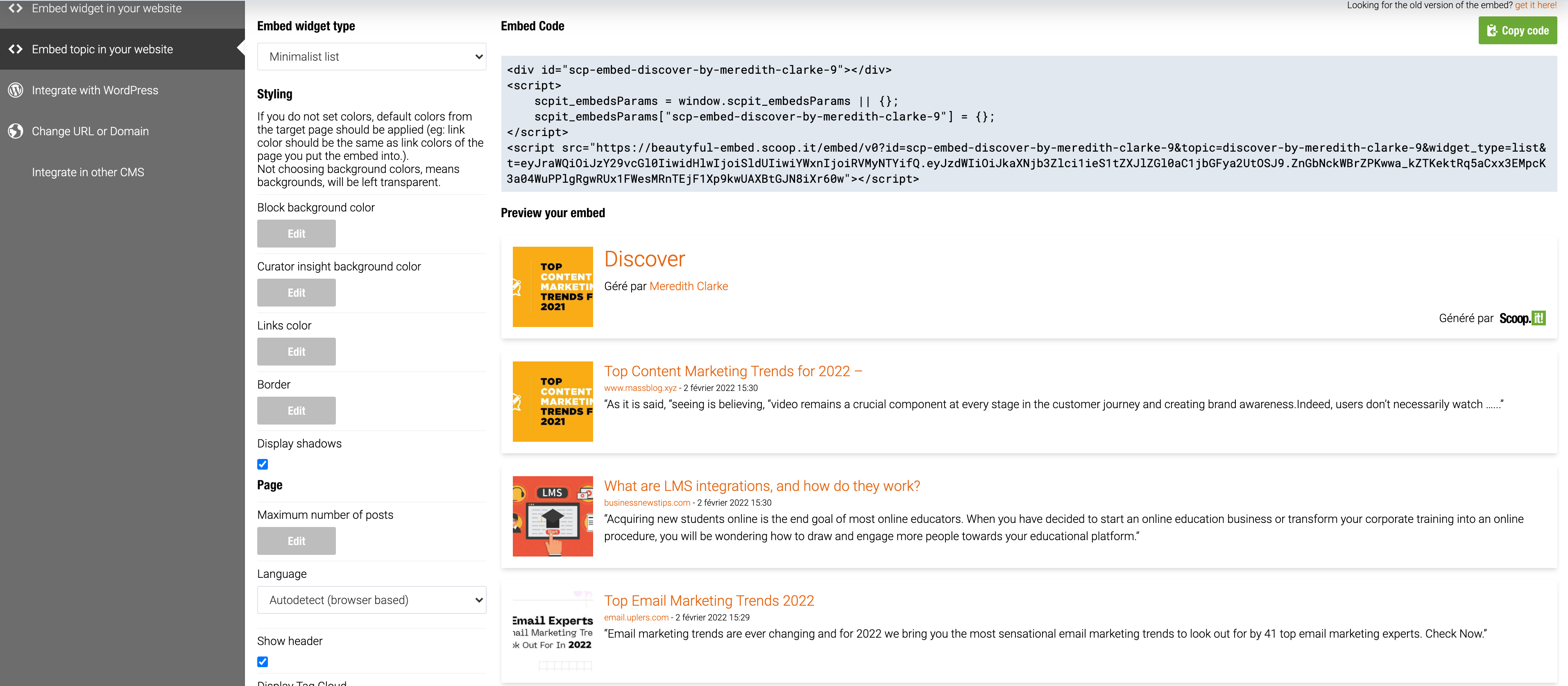 Integrate your Scoop.it topic with WordPress in a few clicks

Host your Scoop.it topic on your own domain to enrich your SEO and grow your own website traffic with curated content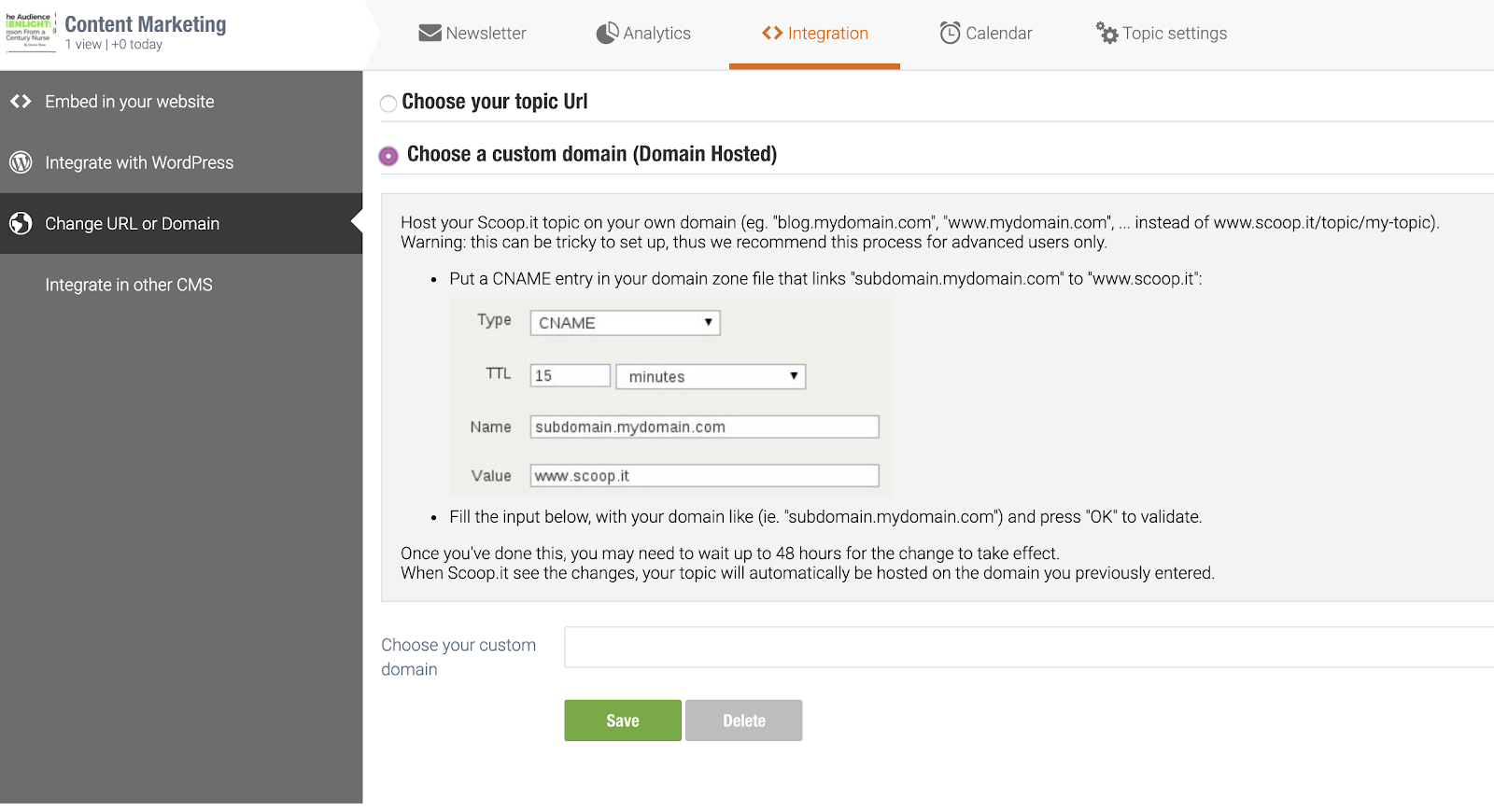 Scoop.it Enterprise users can fully white label and brand their embedded Scoop.it content, as well as use our powerful API, integrate with multiple websites, and more.
Provide an excellent experience for your readers
Scoop.it allows you to provide a great reading experience for your employees, customers, and anyone else you're distributing your content to.
First, they can define their own reading journey by searching for any topic they're interested in by using the search bar: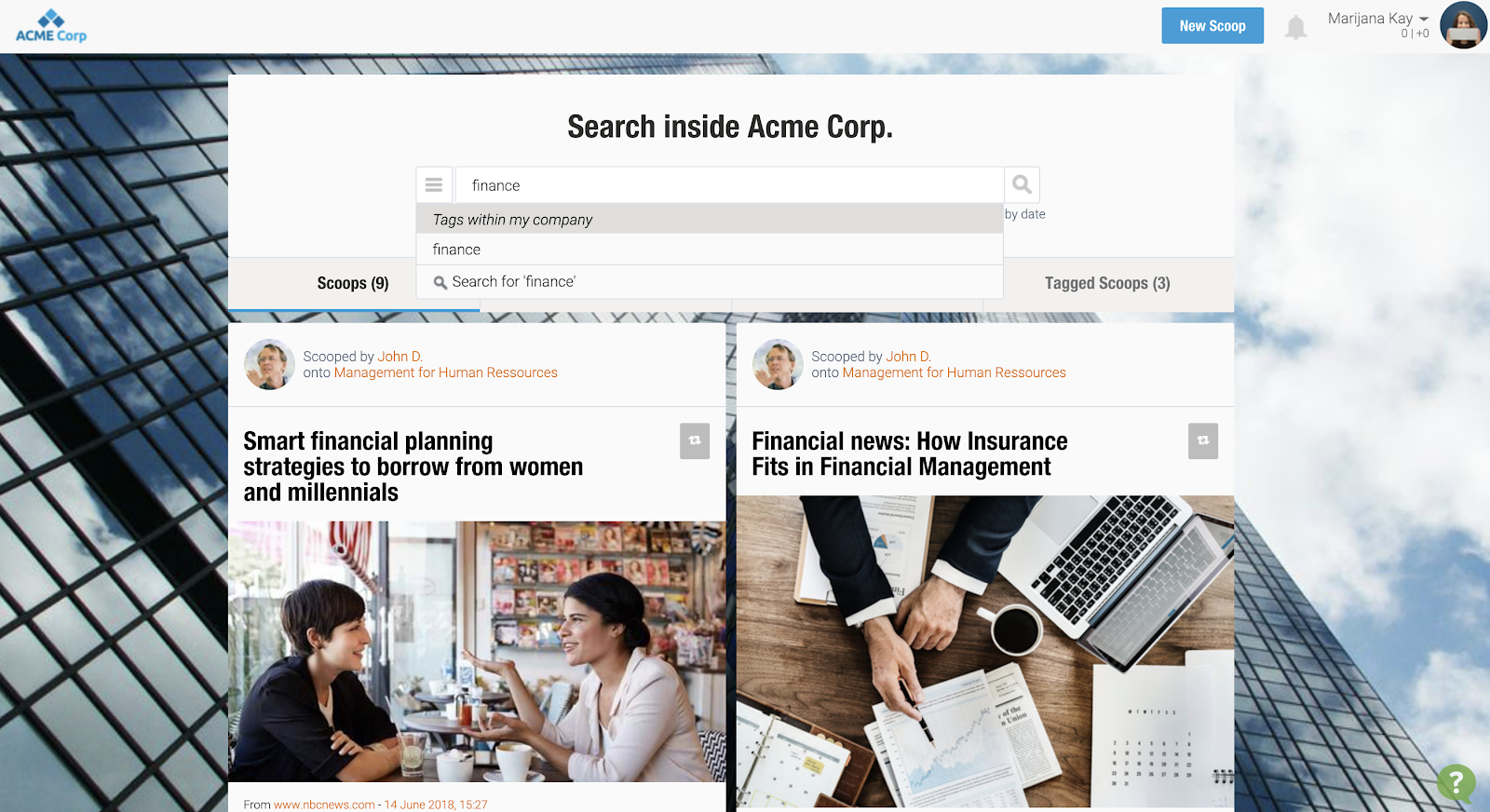 More importantly, they can engage with your content and interact not only with you, but with each other. Thanks to Scoop.it's Reaction section we mentioned earlier, your Scoop.it users can tag each other, making their comments even more impactful:
Finally, your readers can also receive your curated content straight to their inbox. This is useful if they want to stay in the loop with everything that's happening, but maybe don't have the time right now to visit your topic pages and keep up with everything you're adding to them.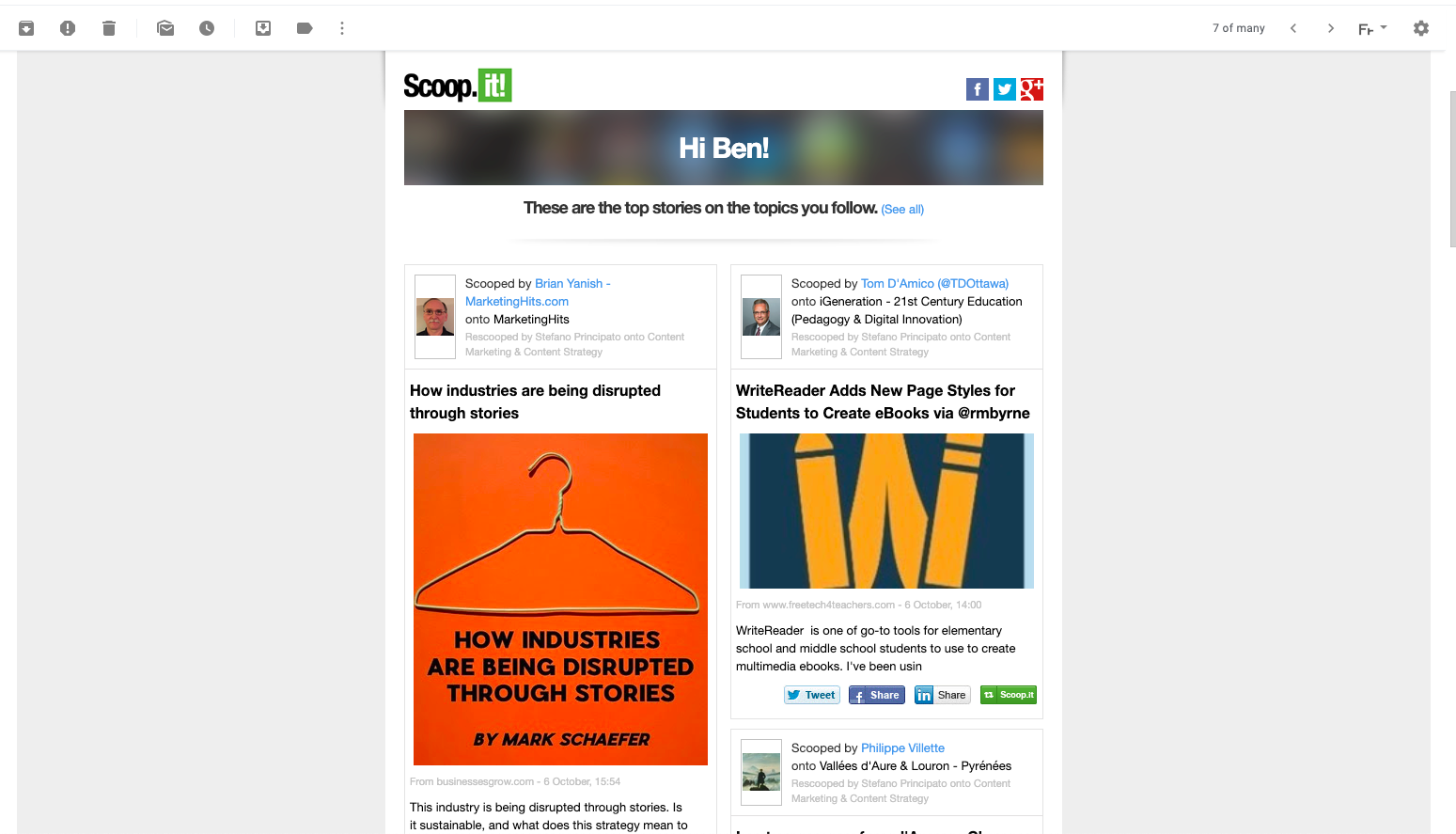 This way, they'll get alerted and be sure they're up to speed on industry news and developments. Scoop.it users can also pick the frequency of these updates and pick what works best for their schedule.

Get your content in front of the right people with Scoop.it
With these Scoop.it features, you'll grow a loyal audience that will get used to seeing high-quality content from you, both original and curated.
As a result, your reach, online engagement, lead generation, and sales will grow as well. You will build a sustainable, long-term content marketing strategy that will help you reach and exceed your business goals.
Sounds like what you need? Make sure to get a free trial of Scoop.it or talk to us if you want a demo of Scoop.it Enterprise.