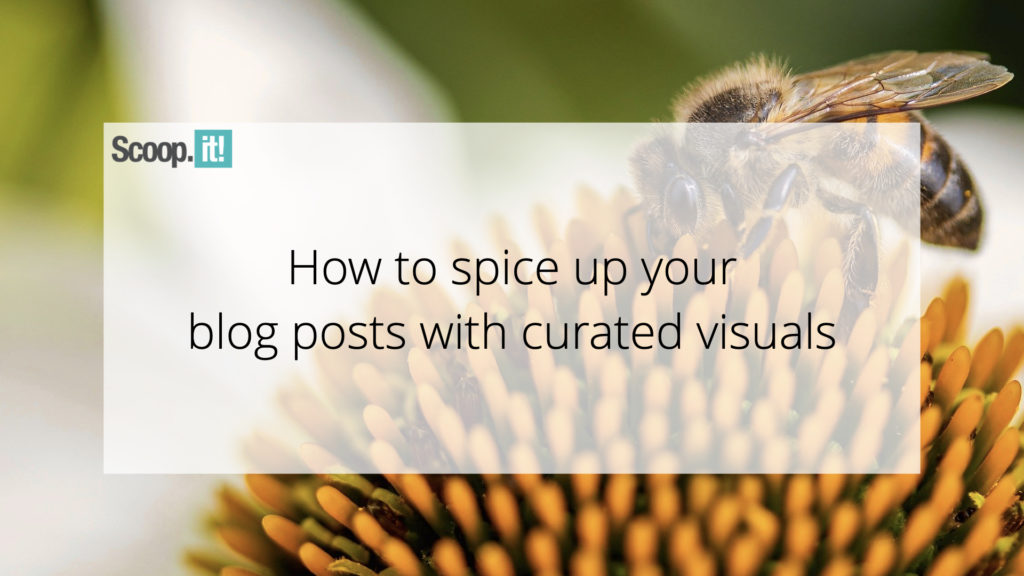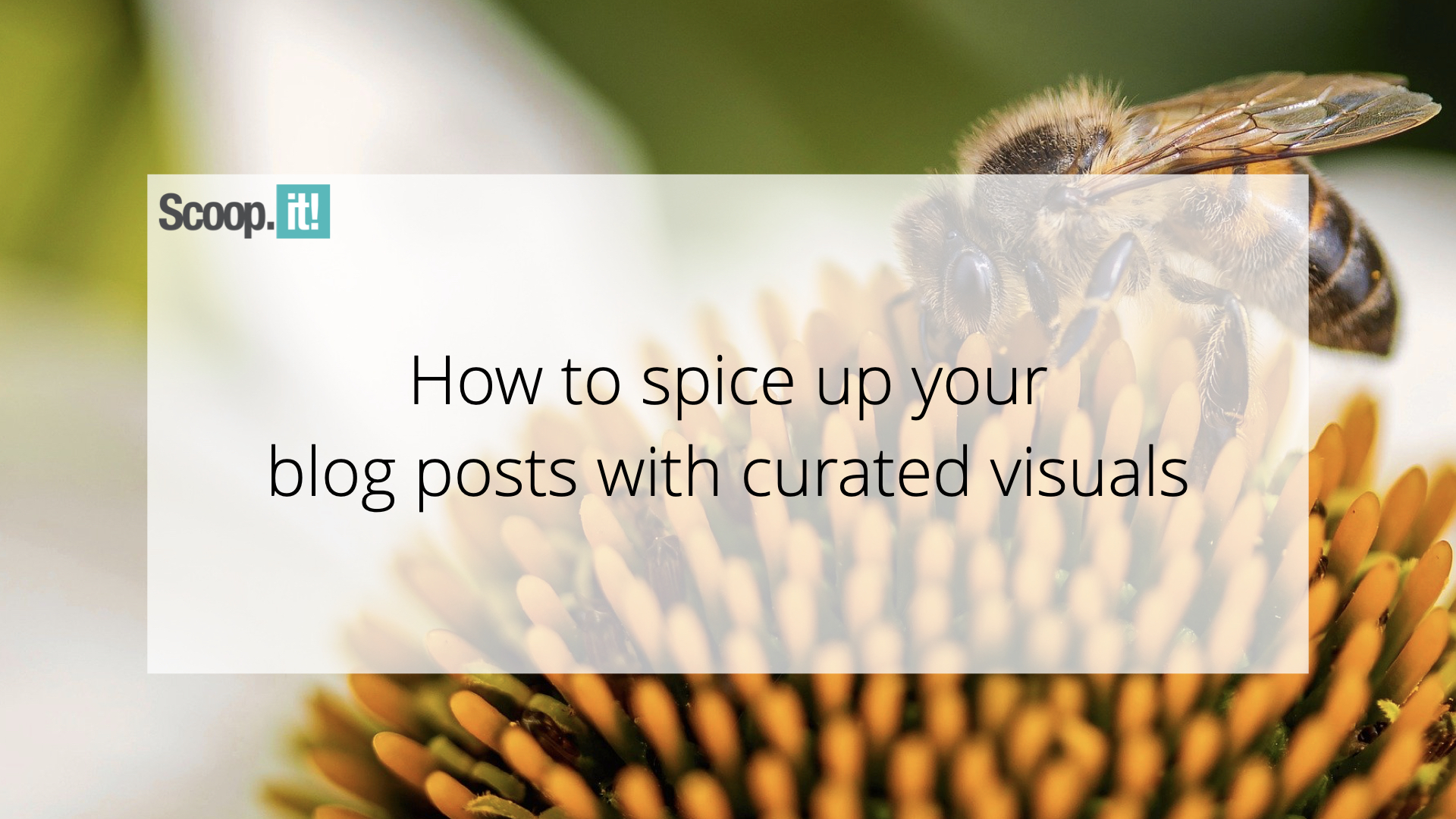 It can be hard to keep readers interested when writing about complex topics. Adding visuals to your content is a great way to keep things fresh and engage readers. Unfortunately, however, producing compelling visual content takes time, thought, and skill.
But what if you could tap into the best visual content that's already out there?
Curating visual content from others is a great way to add value to your blog or a social media post. You're not just reposting something that someone else has created — you're interpreting it, adding context, and making it relevant for your audience.
Here are some ways to spice up your blog content and elevate your content marketing efforts with curated visuals.
What is content curation?
Content curation is the process of finding and selecting the best (and often, the most relevant) content to share with your target audience.
Unlike creating high-quality content from scratch (which can be challenging), curating content simply involves cutting through the enormous amount of clutter out there in the informational world and spending time to find the best content in your niche.
It involves gathering and organizing links, quotes, messages, information, and media relating to a specific topic that you are passionate about.
And curating visual content is equally, if not more, essential than curating text-based content.
The possibilities are nearly limitless, but here are a few key points and suggestions on types of visuals you could curate:
Before and after pictures of your products or services (especially if they're used in home renovation projects)
Customer reviews or testimonials with an accompanying photo
Photos of your products and services in action
Images that show the "behind-the-scenes" aspects of your business
Photos related to upcoming events or promotions
Infographics to support your text-based content
Screenshots of products you mention in your blog posts
Quotes from industry experts, historical figures, and business leaders
Videos to demonstrate your points
How to find curated visuals
So, how do you find visuals to curate?
1. Search Google Images
Consider doing a quick Google search if you're looking for images to use in your social media posts or blog.
Yes, you can find a lot of stock imagery on Google Images by searching "stock photography." But you can also find curated visual content from other sources that could be just what you need for your next post.
To find images, enter a keyword or phrase in the search bar at the top of any page.
For example, if you search for the word "iPhone," you'll get thousands of results instantly. Click on the thumbnail to view the image in a larger size, and visit the image's page to copy it.
The search results will only show images that you can use commercially, meaning they'll have a Creative Commons license of some kind. Helpfully, you can filter images based on their license type and usage rights, so you don't have to sift through the ones that aren't relevant to your project.
You can also filter images based on their size, color, usage, and time. If you're not proficient in designing and editing, you can also turn to a blogging tool like Canva to edit your images beyond what you get from Google.
2. Browse stock photo websites
If you're not ready to invest in a professional photographer or photo equipment, stock photo sites are a great resource. You'll find millions of images on these sites, including many that are free to use for commercial purposes.
You can get free business stock photos from sites like Vecteezy, Gratisography, and Pixabay. Pixabay also offers vectors and illustrations.
For high-quality and royalty-free stock photos, go for sites like iStock and Getty Images. Not only are the images high-quality, but they are available in various sizes and can be used for any project type.
Source: Shotkit.com
If you want to use an image from a stock photo website, be sure to check the license. Most site licenses allow you to use images for commercial purposes, but some only allow editorial usage or usage on personal websites.
3. Browse related social media hashtags
Considering that an average Instagram post contains 10.7 hashtags, there is a good chance that you will find the visuals you are looking for by browsing related social media hashtags.
Search for a niche hashtag on Instagram, Pinterest, and Twitter to pull up a feed of relevant content. You can also use this feature in both Instagram and Pinterest to discover new accounts that may offer valuable content. Or, on Twitter, check out the "top" tab under your search results to see what's popular.
4. Search databases
Whether you're looking for iconic images from the past or simply something valuable and free, official databases will help give your products the visual boost they need.
For instance, If you visit the Texas University Libraries, you will find a list of image databases related to art and design. It also has medical, historical, and multicultural images.
Similarly, the image databases at Yale University Libraries have millions of images related to art, architecture, visual, visual culture, and more.
There is more to curate than just images. You can also curate high-quality audio and video datasets for your next project using sources like TIMIT, Mivia Audio Events Dataset, EmoFilm, and more.
5. Take screenshots "in the wild"
The internet is a big place, and you're bound to find some beautiful images with good insight that complement your blog posts. This involves going to Instagram, Pinterest, Google Images, and other articles with relevant topics and taking screenshots of inspiring things.
It's a perfect strategy if you're writing about design, fashion trends, or highlighting any feature in your blog post. As they say, "show, don't tell."
Just don't forget to credit the source you're taking your screenshot from.
Content curation best practices
1. Always cite your sources
Not only do you want to be transparent about where content comes from, but also you want your readers to know that you're acting as a filtering agent. You're not just piling on more content — you're helping them get to the best stuff, and the best stuff sometimes comes from credible sources.
You can use hyperlinks to cite your sources if you have taken an idea from somewhere and rewrote it in your own words. Look at the example below:
Source: Commit Agency
If you are adding a direct quote, include quotation marks, the author's name, and add a link to the article source. Like this:
Source: Commit Agency
When quoting a book within your blog post, include the author's name, book title, and the statement in quotation marks. Like this:
Source: Commit Agency
These practices will also help you build relationships with other bloggers and increase your chances of getting your own content shared via those same links.
Not citing your sources is a big content curation mistake. You could be accused of plagiarism or upset the person who created the original article. The author may then ask for the link to be removed, or worse, they could request that Google remove you from their search results for copyright infringement.
2. Never breach someone's copyright
If you're using external content without permission, there's a chance you'll get caught by the copyright holder and sued for damages. Even if you're not found out, it can still affect the quality of your work.
You may unknowingly be using low-quality content, or someone else may have used that same image before, which can make your work look unprofessional and less original.
If you're curating visual content for your blog, be sure to use images that come from the original source or that you have their consent to use it. If you're outsourcing work to a third party, see that the copyright is transferred to you.
Or, if you are crafting your own material but taking ideas from another source, see that you are making unique content that is different from the source material.
3. Don't cut out watermarks
You should never cut out watermarks from visuals. This is the equivalent of shoplifting. If the creator has used a watermark, they're deliberately trying to protect their work. If you use their image without the watermark, then it defeats the purpose of having one in the first place.
Cutting out watermarks is also an amateur move and will make your content look cheap and unprofessional.
You can also face dire repercussions. As a matter of fact, if you remove the watermark from a photo and you are caught, you can be fined up to $25,000 in addition to attorney's fees in the United States.
You might also want to consider making a special watermark logo yourself. Add it every time you use your own visuals in your content.
Luckily, there are tons of logo makers that make it easier to create and set up a brand identity for your blog, business, or brand.
4. Optimize the image for search engines
Images are essential to your website's success and ranking higher in search engine results pages. They help you create a positive and memorable first impression, convey your brand identity, and ultimately influence your customers' purchase decisions. However, they also take up valuable page space, often significantly slowing down page loading times.
In order to reap the benefits of images on your site without sacrificing its performance or SEO, you need to optimize images for both search engines and users.
Here's everything you can do to optimize your images for search engines:

Use the correct file name. Add the main subject of the image and article at the start of the file name.
Pick the right format. For instance, use JPEG for larger images or illustrations, PNG to preserve the transparency of the background, JPEG and PNG for high-quality results with smaller file sizes, and SVG for icons and logos.
Consider resizing the image using resizing tools.
Add alt text to the image for even more clarity. Google can't crawl the image itself, but it does read the alt text and uses it to help understand the context of the page better.
Additionally, support your images with ToFu content strategies that generate brand visibility on Google and social media. Good images and good content are a combination for success.
5. Pull from a range of sources
Find and leverage authoritative sources. Look for an original source rather than citing random blogs or wiki to find these. For best results, try to use information published in the past two years.
You can also carry out a targeted site search. For instance, typing "cancer medication site: gov" returns pages about cancer medication from only .gov sites.
6. Check the validity of the image
The first step when using any image is to check its validity. You can do this by verifying statistics and checking any sources cited in the infographic. A good infographic will always have a detailed source list.
The second step is to verify that there is no misleading information. For example, if an infographic talks about 15% of Americans being obese, then a pie chart representing this statistic should show 15% of the people as obese. If it shows any other statistic, then it's a misleading infographic.
Thirdly, check for valid images because there are a lot of fake images on the internet. You need to make sure you are using authentic information.
Lastly, you need to verify that the visual is clear and concise in its communication and that it isn't overwhelming with information.
7. Keep a log of the visuals you use
To ensure you're not duplicating your visuals, keep a log of what you use. That way, if you blog about the same subject more than once, you can be sure that the visuals you use are different. Consider using an automated tool to file images automatically.
Treat your blog readers to a visual treat with curated content
Finding and using quality visuals is essential for any successful blog post.
It is easy to look at popular blogs and think they struck gold with their particular blog design, but they did not do so accidentally. They work hard and look far and wide to curate content like images, videos, or infographics related to their content. You can do the same.