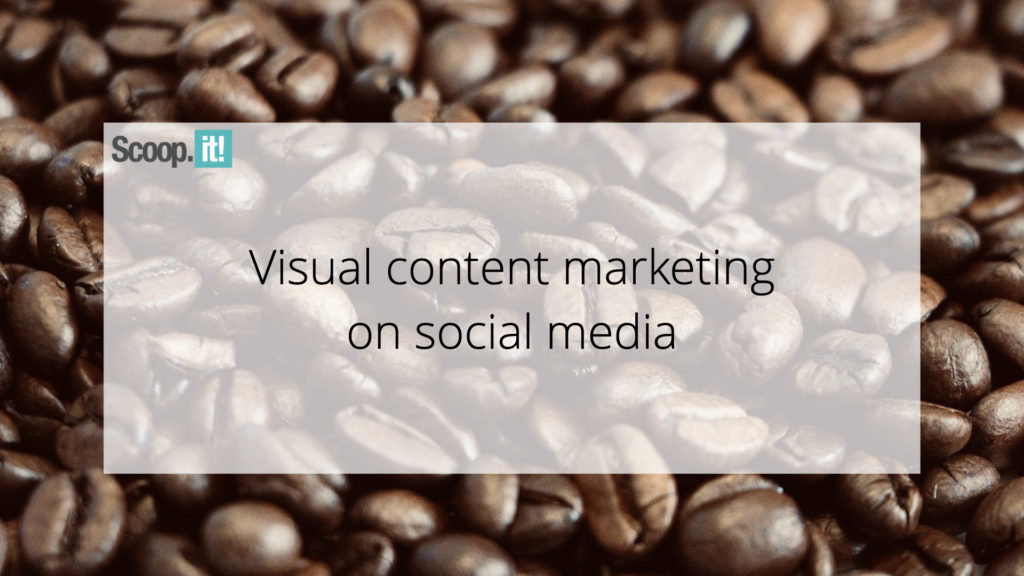 Anyone who has ever shared a meme, posted a photo on Twitter Instagram, or even commented or liked one because it felt relatable can tell you that visuals can convey all kinds of messages even without one word accompanying them.
Ask the people who write and read blogs, ebooks, newsletters, and infographics, and they will all admit that imagery can even transform text-centric content and create a more memorable, absorbable, and enjoyable reading experience.
No matter what messages you want to communicate or the social media channels you're using to distribute them, your content marketing efforts will go further and be more compelling when you use visuals to deliver them.
In this post, we'll cover how you can leverage visual content to tell your company's story, boost brand awareness and recognition, raise audience engagement, and ultimately generate more conversions for your business.
Why is visual content important for social media success?
More than 95 million posts make it to Instagram every day. Combine that with the 2 million posts that get published on LinkedIn daily, the 500 million tweets sent each day on Twitter, the 4.75 billion items on average shared by Facebook users every day, and you've got a storm of content raining down on your target audience every minute of the day.
That's what you have to compete with every time they come online on their favorite networks. You have to do something to get their attention and make your brand stand out. This is where an awesome visual content strategy comes into play.
Regardless of how much your followers love you, they're going to get bored if all you do is post text without any imagery accompanying it. They will start to skip over your posts to watch some video or engage with a pretty image.
Whether you're selling a book, software, hairstyling services, or electric cars, visuals make it easier to describe your products and get people interested enough to want to visit your shop or website and purchase something.
Source: Venngage
Images and short videos can also make it easy for your audience to share your content with their network.
In addition, branding elements like your logo, company name, and website URL can be added to infographics, images, videos, and other visuals you share on social media to increase brand awareness.
Ultimately, the value of visual content and how it positively impacts consumers and businesses can be deduced from these digital marketing trends and statistics:
Popular types of visual content
Designing and creating visual content consistently is one of the biggest challenges for many content marketers. Running out of ideas is perfectly normal, but you don't have to get stuck in that rut or stick to sharing only static images alone.
There are all kinds of visual content that you can incorporate into your social media marketing strategy to build and engage your audience and set your posts apart from your competitors. Here are some social media visuals that you can begin exploring right away:
Video – Whether it's tutorials, a look behind the scenes of your business operations, interviews with your customers, or moving shots featuring your products, videos are guaranteed to leave a stronger imprint on your audience. They don't have to be overly produced either, just valuable, relevant, and visually pleasing.
Images – Customers do not like generic or irrelevant photos. If you want to stand out, you need to create original images of products, company events, team members, and customer testimonials. Then, edit them creatively to make them more captivating and unique.
Screenshots – Use screen capture software to take screenshots of your product pages and cool features to give your audience a sense of how it looks and works before they invest their money in it. This type of visual can also come in handy when creating quick reviews or how-to posts for social media, and you can annotate them to highlight specific parts or sections.
Live streaming – As sports games, reality shows, and news reports have proven, again and again, audiences love the thrill of watching an event unfold live. Hosting a live stream on social media works wonders for engaging your followers in real-time. You can use this format for behind-the-scenes content, Q&A sessions, launching new products, showing how your services work, and more.
GIFs and Memes – If you want to keep things light even when talking about complex or serious topics, GIFs and memes can get you there. Since they're usually a part of popular culture, they're instantly recognizable and can increase the chances of your content going viral on social media.
Interactive visuals – Polls, quizzes, and other interactive content that your followers can actually click on, take an action, or make a decision to affect their outcome can do wonders for engagement. You can create polls on Twitter or Instagram Stories asking people to choose between one of your products or the other or ask them fun questions to learn more about them or test their knowledge.
Animations and Illustrations – If you can't find the right visual for your content, you can draw one for yourself. Illustrations and animations add a unique, creative, and original touch to your visuals and can grab attention right away. You can use them for any type of content to convey any message — the only limit is your imagination.
Infographics – These allow you to break down complex information into easily digestible bits. You can use them to convey anything from statistics to practical tips, expert advice, motivational speeches, product features, and step-by-step instructions.
Data visualizations – Whether it's histograms, pictographs, radials, bar graphs, donut charts, line graphs, pie charts, progress bars, or area charts, this content type is excellent for creating an engaging visual representation of data such as statistics, percentages, and research findings.
Creative ways to use visuals on social media
Visual content marketing is all about using good imagery to tell a story, and there are many ways you can go about doing this on social media. Here are some proven visual content techniques that you can apply to your social feed to get impressive results:
Repost UGC
It is well established that consumers trust content created by customers more than content from the brand itself, so it's time to make that trust work for your brand.
Chances are, your customers are already taking and sharing photos or videos of your products that they love on their social media pages. You can show them that you appreciate them and increase your brand's authenticity, engagement, and conversion rates in one swoop by sharing this user-generated content on your company's channels.
You can even create branded hashtags and encourage your customers to use them when sharing their content to make it easier for you to search, find, and promote them. Starbucks is a shining example of a brand that regularly uses content created by its customers to showcase its products to its target audience by reposting them to their page and giving credit to the creators.
Including the creative work of your fans and users in your visual content marketing can also save you the time and the trouble of having to come up with content ideas and produce them by yourself from scratch.
Embed visuals in a meme
Whether it's a joke, concept, catchphrase, or iconic moment from a film, cartoon, TV show, sports event, award ceremony, or news report, you can find a way to make a meme out of it that relates to your brand, product, or audience.
The great thing about making visual content out of memes beyond how funny and engaging they are is that you don't have to create anything from scratch. You just need to tweak them to suit the vision you have in mind, and they're good to go.
Many brands are leveraging and redesigning popular memes to boost their social interactions, including Netflix, which is well known for turning its content into memes or referencing them on other cool memes.
Create an Instagram carousel
Instagram carousels are a goldmine if you know how to use them well. Instead of sharing a single image, you can share up to 10 slides featuring photos, videos, GIFs, and anything else you need to get your message across.
In this Instagram post from the World Health Organization, carousels are used to inform and educate their audience about childhood cancers. But rather than sharing photos of sick children with long, depressing statistics in the captions, WHO grabs attention by sharing multiple illustrated and colorful images packed with vital information about the subject.
This way, you're forced to keep scrolling through the carousel because you're already invested in it. You just have to see what comes next and how the story ends.
Craft a visual story
Great visuals are fantastic, but when you use them to tell a compelling story, they become so much better, meaningful, and authentic.
Think about the narrative you want to sell, what you're hoping to achieve by sharing it, and the feeling you want to stir in your audience when they see it. If you're looking for inspiration, consider this viral video from the New York Times about Simone Biles, the most decorated gymnast in history.
The video features her performing her moves from her early beginnings to her latest stunts with bursts of commentary in between. Every second of it held my attention. Every flip, twirl, and movement filled me with complete awe and admiration all the way to the very end. And because of it, I ended up watching about a dozen other videos on the channel before signing out.
Visual marketing tips
To grow your audience, drive more traffic, build awareness and trust, land more leads, drive them through the customer journey, and get optimal results from your visual content marketing efforts, you have to be intentional with your strategy and actions.
Here are some great practices and tips that can help you create excellent visual content to rev up your social media pages.
1. Build a brand aesthetic
When users see your social media posts on any platform, you want them to recognize your brand. The best way to ensure this is by including your brand aesthetics — fonts, colors, style, and personality — and keeping them consistent in your visual content.
You can also create brand guidelines that your team members can always consult when designing digital content to maintain seamless aesthetics across any visual assets they create.
For example, if you go through Shopify's Instagram feed, you'll notice that almost all their posts contain variations and gradients of the brand's color—lime green. Amazon's trademark orange color is all over their social media pages, and you can't scroll through Coca-cola's account for even a second without seeing the color red.
All these brands know the value of aligning their social media visuals with their brand aesthetic and personality. The moment you see their content, you know who it belongs to right away.
2. Use a variety of formats
The beautiful thing about visual content is that there are so many ways to go about using them, so you don't have to get stuck using one format over and over.
For example, today, you can share photos of the products you want to promote or screenshots/screencasts of tutorials to teach your followers how to do something. Tomorrow, you can use illustrations to showcase processes or add context to your posts.
Next week, you can turn some interesting statistics, facts, or procedures into videos, infographics, or animations. If you want to share an article on social media, you can design a graphical checklist or summary of it to go with your post.
It's just good sense to use dynamic visuals on social media and keep your audience on their toes so they never get too comfortable or bored with your posts.
3. Optimize visuals for search engines
Search queries are not reserved for only text anymore. Year after year, searches for visuals like images and videos are increasing, and search engines are being improved so they can better understand the elements that make up an image and provide more accurate results.
When sharing visual content on social media, you have to think about the bigger picture — taking advantage of SEO. This means ensuring your videos, photos, and other images are optimized with hashtags, descriptions, and keywords that make their content, meaning, and context apparent.
This will make it easier for search engines like Google to interpret and present them in relevant search results.
4. Watermark your visuals and observe copyright laws
As long as you're sharing great content on social media, your posts are going to get retweeted, reposted, repinned, and shared across different mediums or with people from all walks of life. You want everyone who sees your visual content on other channels beyond your company's social pages to know where it came from, so you must add an unobtrusive watermark such as your logo to a corner of your visual content.
You can use a logo maker to create specially branded logos to use for your visuals without having to hire a professional to design them for you. Remember that you don't always have to use your logo in its original color on every asset. If the color crowds the visual, you can opt for a monotone variant.
Be mindful of copyrights when sharing visuals that don't belong to you because infringing on someone else's rights, even if it's done innocently, can land you in a lot of trouble. To avoid this, stick to using visuals that you created or own the copyright to, and make sure you credit the rightful owner, secure a license, or obtain written permission when using visuals that belong to someone else.
5. Choose complementary captions
Yes, visual content can take you very far, but it doesn't eliminate the need for strong and compelling captions. Adding a caption can add more context to your visuals and prevent you from making one of the most common design mistakes — including too much text in your visuals.
Overcrowding your visuals with text can reduce their appeal and potency. Save any extra information or details that your followers might need to better understand the image or video, your purpose for sharing it, and why they should care for the caption accompanying the asset.
Captions are also helpful for adding relevant hashtags to your posts to increase their reach and visibility.
6. Embrace diversity
No matter what you're selling, chances are people of different backgrounds — races, ethnicities, gender, age groups, economic class, etc. — use your product or service, so it's a good idea to celebrate and reflect diversity in your marketing materials.
Try as much as possible to show representation in your visuals so that you don't eliminate an entire section of your followers and customers by making them feel like you don't care about them.
Pay attention to your market demographics reports, social media audience analytics, and the composition of society in general, then use the insights you glean to construct visuals that are beautifully and wonderfully diverse.
Keep your social media audience engaged
Good visual content is the first step to winning people's scarce attention, showing off your organization's personality, making your content more fascinating, and achieving your social marketing goals. It's time to make visual assets an integral part of your marketing strategies.
If you can create visuals that resonate with your audience and set your content and brand apart from everything else out there, you'll be on your way to big things and greater success.