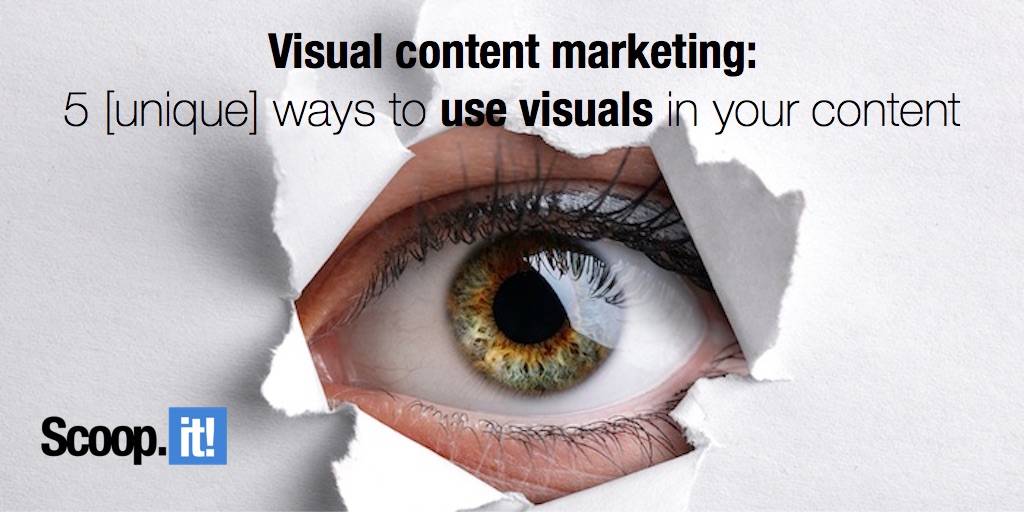 Visual content is a powerful way to make your content more engaging. Adding images to blog articles and social media posts are just a few proven ways to substantially boost engagement. While widely viewed as an add-on strategy meant to supplement or enhance written content, visual content marketing goes beyond simply including a stock photo in your blog or social media posts.
Visual content can take a number of different forms, including the following:
Relevant images and videos don't just make a piece of content more attractive, however. Research seems to suggest that they can actually help us remember content longer. According to prominent developmental molecular biologist John Medina, only 10% of people who hear information remember it 3 days later. When you combine that information with an image, however, 65% of people will remember it.
Given the powerful nature of images, how can we not only incorporate visuals, but use them as the very foundation of our content? This article outlines 5 ways to use visuals to build meaningful and dynamic content for your audience.
1. Visual note taking
Visual note taking, also sometimes referred to as sketchnoting or graphic recording, is a strategy often used at conferences to summarize ideas, turning them into an easily digestible visual format. However, this strategy can also be used as a way to illustrate online events, making them more accessible for your website readers.
When holding a webinar, consider enlisting the help of an illustrator to take visual notes, then share them with your website visitors and social media followers. These visual notes are far more likely to get traction than, for instance, a page of regular, text-based notes.
Don't typically hold online events? You can also use sketchnoting to unpack and simplify difficult concepts, making them more interesting and more accessible to your audience (particularly to any visual learners in the group). 
2. Image roundups
Businesses with small or non-existent marketing budgets can also utilize visuals in a powerful way. An easy strategy that many small businesses use with great success is to create a piece of content based exclusively on displaying and summarizing graphics – either their own or images found elsewhere online.
Two popular formats for these types of blog posts are "best of" type roundups (e.g., The Best Winter Salad Recipe Roundup) and numbered list-type posts (e.g., 22 Fantastic Mudroom Ideas With Storage Lockers & Benches).
A word of warning: Use caution when incorporating other people's images into your content. While infographics are generally created with the intention that others will use and share them (with attribution), you'll need to either use creative commons photos or ask the owners for permission to use most other types of images.
3. Visual guides
Visual guides are similar to infographics in that they often summarize and unpack difficult concepts, making them easier to read and understand. However, visual guides tend to be longer and more in-depth than infographics.
Neil Patel, while certainly not the first to use this strategy, is well known for his use of visual guides (e.g. The Complete Guide to Understanding Consumer Psychology). Don't expect guides of this caliber to come cheap, however; given the amount of illustrating involved, as well as the cost of the writing and researching, expect to invest a fair chunk of change when using this strategy.
4. Branded images
These are images that are most commonly shared on social media with the goal of increasing brand recognition. They are largely non-promotional in nature, and typically consist of a graphic overlayed with a humorous, inspirational or motivational quote, and a company watermark in the corner.
While branded images may not directly lead to conversions, sales or traffic, when done right, they can work well to reinforce your brand.
Some best practices to keep in mind when creating your own branded images include:
Use consistent colors and fonts: keep the colors and fonts in line with those of your other brand and marketing materials
Select reinforcing images: choose images that emphasize the feeling or message you want associated with your brand
Use similar layouts and themes for all of your branded images to make them instantly recognizable
Incorporate your products into your images: integrate your products into your images subtly and naturally rather than in an obvious or promotional way
Use your logo or business name: include your logo in the image, but not in a way that detracts from the message of your image. Most successful brands include a simple white logo, website URL, or business name in the bottom right-hand corner of the image.
5. Data visualizations
Data visualizations take data and present it in a visual format. Infographics often employ this technique, however pure data visualization isn't necessarily meant to be shared by others online. Rather, it's a tool to be used alongside or within existing content (e.g., Castlight Health's US Employees' Health Search Patterns).
Data visualization is often used internally to help organizations identify patterns or trends within data. However, any business can use this strategy to turn data into a story: something easy to understand, and far more memorable than a list of numbers.
Data visualizations work beautifully alongside any type of research study, poll, or survey. The next time you engage in any type of research, consider using data visualization to turn your raw numbers into something that's easier to understand, and far more likely to be shared. Here's one we created from a recent survey we did on content marketing best practices: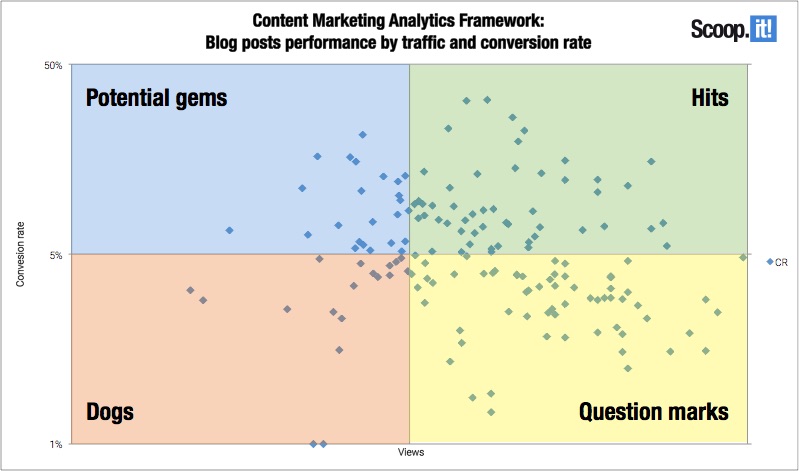 Need more inspiration?
If you're looking for visual inspiration and new ways to incorporate images into your content, you can also curate content to see how others are using visuals in innovative ways.
Conclusion
As you can see, visual content marketing is far more than just using eye-catching images in your blog posts. When done right, visual content can be a powerful tool for reinforcing your brand's message and increasing brand recognition. It can also be used to simplify difficult concepts and inform and inspire your audience in a way that text-only content never can.
Don't be afraid to explore new strategies for using visuals in your content. Images and video are powerful mediums, and shouldn't be relegated to the category of "supplemental content." The strategies above will help your visual content shine, while informing and entertaining your audience.
Are you using visuals as the foundation of your content? If so, we'd love to know how. Feel free to share in the comments below! 
If you want to get 30 effective techniques to master content marketing along with valuable insights from 10+ influencers like Mark Schaefer, Rebecca Lieb, Lee Odden, Jason Miller or Ian Cleary, download our free eBook now!

Image by Kait Van Pelt.