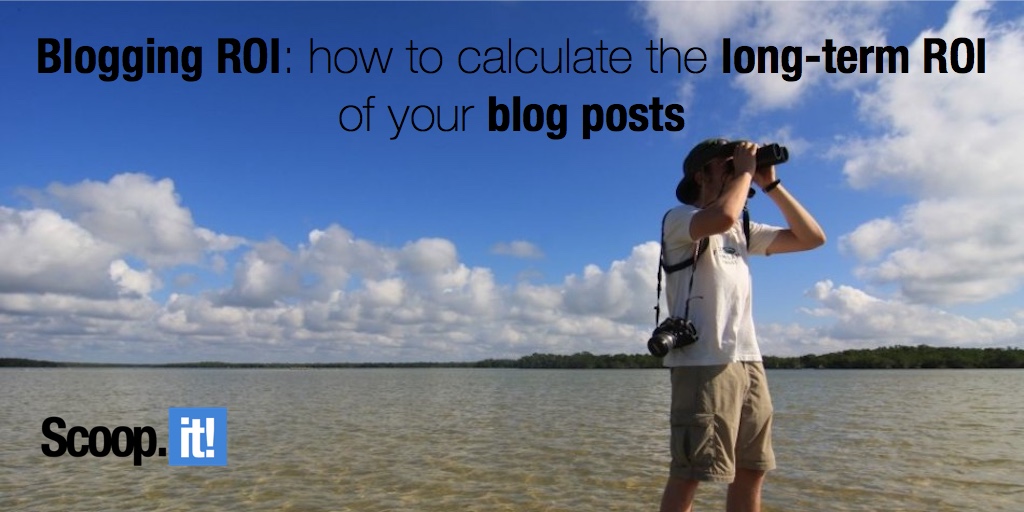 ROI is the preeminent measure of success for any business. The vital role ROI plays is indisputable as it provides concrete, measurable proof of the effectiveness of any marketing program against the cost of the program. Evaluating ROI can determine how budgets are allocated, how a business plan for an organization is developed and can help guide the overarching priorities of a business.
What is ROI?
ROI is best defined as: the return of an investment divided by the cost of the investment.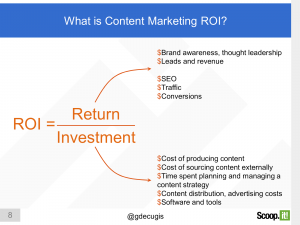 Content is the fuel of marketing. It helps generate SEO and traffic, build brand awareness, generate leads, nurture prospects down the funnel and engage existing customers. But it's a struggle for many marketers, who are faced with the challenge of being able to tie their content directly to concrete ROI. 
When it comes to measuring the ROI of blogs, many businesses claim that they just don't see a need. Too often, companies are satisfied with just posting blog entries without measuring their effectiveness. But without metrics, it is impossible to understand whether the ROI of a blogging program is adding to your bottom line or just eating up your budget. The ultimate goal is to have a high level of ROI for the long-term.
What to measure
You will want to use the following metrics or KPIs (key performance indicators) to assess the effectiveness of your blog posts to determine their long-term ROI and potential revenue:
Leads generated: this is the key objective for most marketers with their content marketing, and is vital to justifying the ROI of any piece of content you produce. You can use Scoop.it Content Director to measure how many leads generated from your blog posts so that you have a better sense of the types of content that convert.
Unique page visits: one simple measure of your content success is the traffic it's receiving. Review your unique page visits on a weekly or monthly basis to get a sense of how many people are visiting your post.
Conversion rate: this measurement reflects the number of valuable leads generated by your post that resulted in a sale.
Social shares/views: these metrics indicate the ability of your post to grow subscribers and increase brand awareness.
Here's a helpful content marketing analytics framework we put together based on findings from our own research that identifies which specific KPIs to use to measure the ROI of each individual piece of content you produce. Additional questions pertaining to your specific industry should also be developed. The process of creating long-term ROI for blog posts, however, is often not as simple.
Here are a few simple steps to follow for your blog entries that will lead to positive ROI and ensure that your financial investment is well-spent:
1. Create evergreen content for your blog
Just about every company with a website has a section for their blogs. These informational and casual writings play a significant role in obtaining and maintaining traffic to your site. Evergreen content represents the blog entries that have longevity and relevance to your audience, compared to topics that may change over time. The benefits of evergreen content blogs include:
Consistent traffic over a long period of time that provides opportunities to convert the reader into a purchaser for your service or product
Development into a reliable, trusted source of the topics that your demographic is searching for, allowing them to return to your site over and over again
Long-term sharing as your readers pass the blog around to others
2. Provide detailed information
The blogs that last the longest and produce long-term ROI are those that are substantial, lengthy and detailed, and are those articles that supply the most relevant information to your readers. A blog that rambles on without clearly communicating or providing relevant information will be immediately dismissed. The post must be solid, enduring and useful. It should also be updated to remain current. 
3. Develop trust
The posts that enjoy long-term ROI are honest and truthful. This type of style will build a community of loyal users. These faithful readers will help distribute your blog posts with confidence.
4. Take comments to heart
Responding to the comments on blog post entries is a simple yet powerful method of connecting with your audience. Not only does it show that you are listening to them, but it demonstrates that you are actively involved in the community and that you care. The best process is to set up a notification system that notifies you when new comments have been added to a blog post. If the subject matter is a central topic to your demographic, you can increase the interest of an older blog post by requesting that visitors update their experiences on the topic since it was first posted. To enjoy long-term ROI of a blog post, ask yourself, "When was the last time you took time to review the comment section on some of your older blog posts?"
5. Update your content
If your company has already implemented a long-term blog program, you'll know that when searching, Google favors fresh content. But the changes must be substantial in order to have an impact on traffic. It can also be beneficial to link content on new blogs. You may notice this results in a bit more traffic to your site. Remember, Google likes content with plenty of value, and with it, plenty of length.
6. Curate and re-purpose content
Curating content is a highly effective lean content marketing strategy that helps to dramatically improve the ROI of content marketing with significantly less of an investment. Content curation involves sourcing, enriching and publishing 3rd-party content relevant to your audience, and is a great way to publish more quality content consistently while adding credibility and building valuable relationships with influencers in the process. Re-purposing content is another powerful lean content marketing technique to create more quality content that drives ROI with less resources.
7. Promote your content
Blogging can be challenging. Too often marketers create great content and blog posts that are left to die- meaning they don't get promoted after they are published and thus they don't get seen by nearly as many people as they could have been if shared or promoted properly. A great way to maximize reach and get more ROI out of your blog posts is to promote them (responsibly) across your social networks over time.
Conclusion
Long-term ROI requires patience. It is completely understandable to want results from your blog entries immediately. But being shortsighted in this situation is ill-advised. If your goal is long-term ROI from your blog posts, take time to research and produce relevant content for your blog that is useful for your readers.
If you're interested in learning more about how to measure the ROI of your content to ensure you're on the track to success, take our 5 minute test using our content marketing grader for ROI, and check out these tip-filled articles:
If you want to get 30 effective techniques to master content marketing along with valuable insights from 10+ influencers like Mark Schaefer, Rebecca Lieb, Lee Odden, Jason Miller or Ian Cleary, download our free eBook now!
Image by Jonathan Vigh