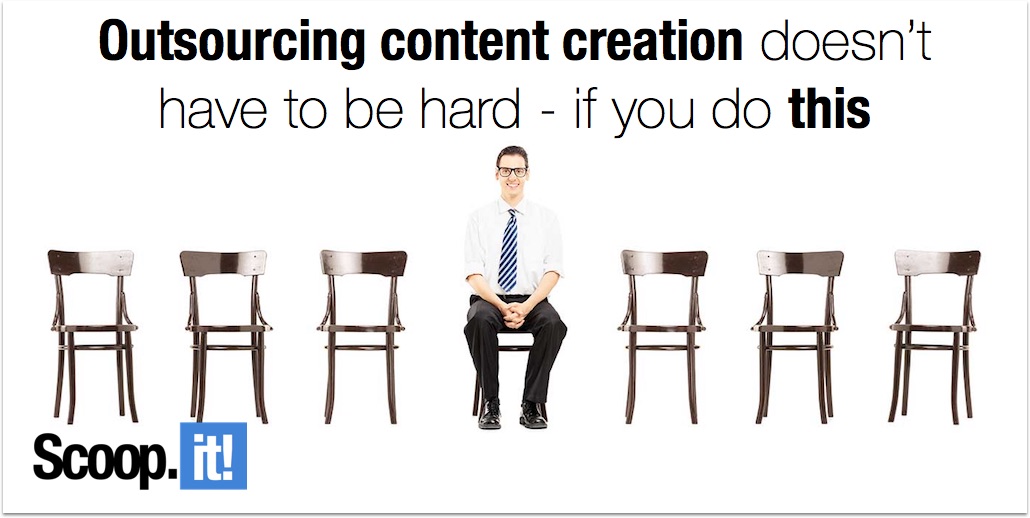 A long time ago, I managed up to 20 freelance writers at a time. They helped me create content for a series of niche websites. I learned a lot hiring them and working with them. If you're struggling to create enough content in-house, it might be time to consider hiring some freelance content creators. If so, this post is for you.
While this post is mostly focused on hiring freelance writers, I'll also touch on hiring graphic designers. And while we won't go into too much depth about content repurposing or content curation here, please remember those deserve a prominent place in your content creation strategy. You should keep them in mind even as you hire content creators.
Five ways to find a freelance writer
There are plenty of ways to find freelance writers. Each one of these approaches can also be applied to finding freelance designers:
Browse through industry blogs and publications. See who's written a guest post you like. Or find a paid freelancer contributing to a blog you like. For designers, look to see if a site includes any information about who designed it. Don't see any information about who designed something? Contact the site and ask.
Visit a "content shop". These are companies that screen and manage writers – and buy content for an agreed-upon fee. Scripted is one example of this. So is WriterAccess. There are dozens of content companies that offer pre-defined prices and deliverables now. The quality they offer can vary by a lot. For design work, try Visual.ly, DesignPickle and Undullify.
Hire a content marketing/ad agency to create your content. This is probably the most expensive way to get content created, but some companies do have the budget and do need the expertise of an agency. Please note: Content creation shops are a bit different than agencies. An agency offers broader services like content strategy, social media management, and advertising support.
Research small one-person blogs and websites in your industry. This is basically looking for influencers and subject matter experts. It's a less talked about approach, but can be really effective. Anyone who is already maintaining a website or a blog in your industry could be an ideal choice for a content creator. One caveat: Because of their expertise, think of these people more like content partners or content strategists. They may not respond well to just being assigned articles and to being treating like "just a freelancer".
Before you hire
Do not contract content without first establishing a solid content strategy from which to build. Do not place one ad or send one contact email until you have completed the 4-step list below. Without proper consideration of the below steps, every dime you spend on content runs the risk of a wasted budget:
Find out as much as possible about your audience. Your freelancers must create content your audience cares about. So do your research, and take detailed notes while you're at it. Aim for a 5-10 page document, with links and charts and anything else that's relevant. This will serve as a theoretical blueprint of who your audience is and what they care about. If this seems too overwhelming, minimize the work by creating a list of 10-15 resources in your niche that you really like – and why.
Identify 2-5 buyer personas. Map out their buyer journeys (i.e., their paths to purchase) and what content you want to create for each of those steps. Use persona mapping to define which personas may be more valuable than others, and then outline the respective varied content formats necessary to create (videos, ebooks, blog posts, social media posts, surveys, whitepapers, case studies, infographics, quizzes, polls, etc) for each step of their journey. As you assign new, original content to each stage, be cognizant of how you plan to repurpose the content into other formats down the line.
Identify your content strategy and how it supports your business goals. Then write it down. Strategizing your content is an essential first step of the content marketing lifecycle, and critical for success. Without properly strategizing your content, you risk wasting money on content that doesn't convert. Content that never drives leads, never moves the needle for your business in any significant way. Remember: Only about 30% of content marketers say their content marketing is effective. But the likelihood that a marketer will say their content marketing is effective literally doubles once they have a documented content strategy. Hint: Now's a good time to define your content promotion strategy, too.
Spell out which pieces of written content you need. Define your themes and topics. Use an editorial calendar and start brainstorming blog post titles. You don't have to plan a whole year ahead. 3-4 months is fine. It's good to leave some room for flexibility. New topics will arise in the future that you'll want to jump on so your content stays newsy and fresh. Content planned a full year in advance often has a staleness to it.
Having completed these four critical steps, you are now authorized to hire a freelancer. It may take some time, but it's well worth the effort if you want to more than double your odds of success. You also probably just saved yourself thousands to tens of thousands of dollars.
Now, back to hiring freelancers.
What is a "good" freelancer?
Defining what you are looking for will help you write job board listings. It also gives you a way to effectively evaluate the freelancers you find. Here are the qualities you should look for when considering hiring a freelancer:
Timely: they turn in their work on time.
Reliable: they are not flakes.
Compliant: they follow directions and are understanding of whatever work you task them with.
Flexible: they can handle edits without freaking out.
Curious: they ask thoughtful questions that go beyond showing they understand the immediate task at hand that reflect a deeper understanding of the larger goals of your business.
Experienced: they are either experts themselves in your subject matter, or at the very least have expertise and experience.
Great writing skills: they can communicate with your audience clearly, intelligently, and in a way that your audience will pay attention to your content and derive value from it.
Ethical: they do not submit content that has copyright issues.
SEO-savvy: they know how to format their work for online readers. They include images and graphics with their content, and incorporate relevant links to other content you have published.
"Train two, hire one"
This concept is one inspired from author Dan Kennedy. It's the idea that you hire two people, train both of them, and then hire the better of the two. The reasons behind this principle are twofold: good talent is hard to come by, and a great candidate is better than an adequate candidate.
This is not to say you should be a proponent of getting free work out of people. Even if someone is doing trial work for you, you must pay them. Why? Freelancers don't have it that easy as it is. And good freelancers certainly don't work for free. They are savvy enough to avoid low-paying clients who might waste their time.
So while you train and test out these freelancers, it's in everyone's best interests to compensate them.
If you are discovering freelance writers from job boards or via industry publications for whom they write, the following steps apply:
Use ads: place a detailed ad on 2-3 high-quality freelancer job boards. Be explicit about what the writing involves, who it's for, what the content formats are, what the pay is and what characteristics you're looking for in a writer. Mention there will be 2-3 paid assignments before there's long-term work.
Gather responses: to find 1-2 good freelancers, you'll need about 10-15 people to reply to your ad. Use a spreadsheet to rank the responses.
Get in touch: once you've collected 10-15 responses, send out your first contact. Allot one simple blog post for each writer.
Use examples: include three examples of blog posts you really like. Give them three reasons you like each post.
Resources: 4-5 different resources they could include in the post. Don't necessarily require them to use information from these resources… unless that makes sense for your content marketing goals.
Use sub-headers and bullet points.
Include links: use 3-4 highly relevant links to existing pages on your website.
Give a [specific] deadline: provide an explicit and concrete deadline for when the post is due. Be as specific as possible, including both the day and the hour, as well as the time zone.
Format: what format the post is due in. WordPress doc? Google Drive?
Images: how many images there should be, and what size and file format they should be in.
Audience: include a paragraph about who the audience is for the post.
Goal: the purpose of the post.
Compensation: when and how you will pay (ideally this takes place after the post has been approved)
Keep track of what you've assigned, when it's due, and who it's been assigned to in a spreadsheet. Then sit back and see what happens. With 10-15 writers, here's what I expect:
2-3 will disappear, never to be heard from again
2-3 will ask strange questions and expect a lot of hand-holding
2-3 will turn in their work, but so-so work several days late
2-3 will turn in their work on time, but it will be so-so
2-3 will turn in good to very good work on time
Okay – it's not always that bad. But sometimes it is. These estimates give you a realistic sense of what to expect. That way you can be pleasantly surprised when I'm wrong. Be sure to pay everyone who turns in their work, even if it's late. Thank everyone and bid them adieu – except the writers who turned in very good work on time.
Review the articles from those who turned in good work on time. Praise what you like, then offer 2-3 suggestions for what you'd like them to change in their posts. They should turn around those changes within a week, max, and preferably within 72 hours. You may run into trouble with the re-writes. That's why you hired more than one writer.
After the hire
As you continue your relationship with these writers, always be sure to pay them on time. Few things build trust and goodwill more than paying people promptly. Also be sure that you pay them well. How well depends on them – it's up to them to ask for raises. But if they do ask, try to make it work. Finding good people is hard. But again, so is writing great content.
Keep an eye out for any changes in the quality of their work. Watch out for:
Plagiarism. Run all new copy through Copyscape until you trust them completely.
Rewriting content from one article. Make sure your writers use at least 3-4 sources for every piece of content they write. Just grabbing someone's article and rewriting it is not okay.
Statistics, ideas or images that aren't properly cited. If you quote a piece of research, use an image, or cite someone else's work, then it's polite editorial practice to include a link back to the source.
Copyrighted images being used without permission. This happens more than we'd all like. Just one mistake can cost hundreds of dollars.
Conclusion
Hiring freelance content creators becomes much easier when you have a system in place. But you need two systems: one to screen the content creators, then one to manage their work. Tools like Scoop.it Content Director are ideal for managing the work.
If you'd like additional insight and personal experience on the power of outsourcing content to freelancers and how it can help you scale your content marketing efforts, check out this article: How we addressed our main content marketing pain by outsourcing to freelancers
What do you think?
Are you outsourcing any of your company's content creation right now? How's it going? If you've got any tips, please share them in the comments.
If you want to get 30 effective techniques to master content marketing along with valuable insights from 10+ influencers like Mark Schaefer, Rebecca Lieb, Lee Odden, Jason Miller or Ian Cleary, download our free eBook now!

Image by Envato