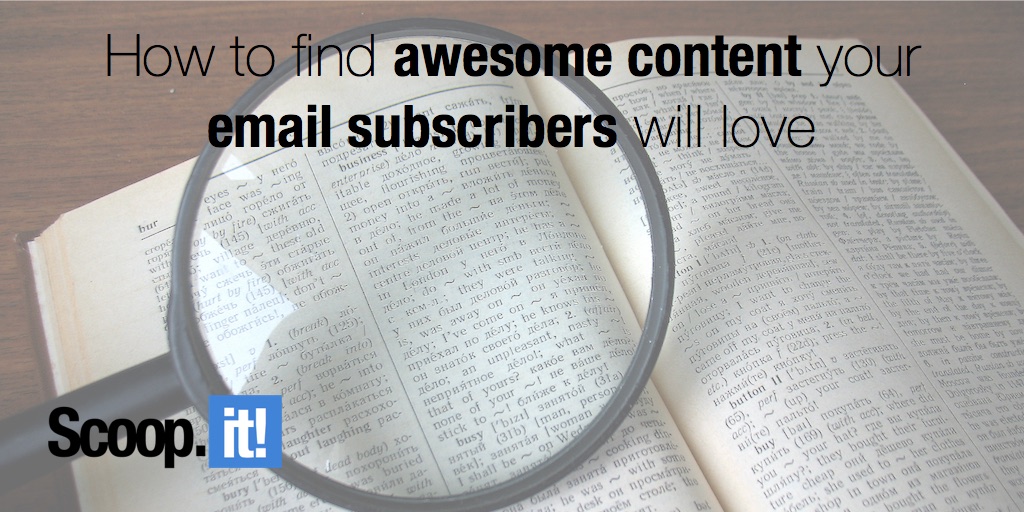 Are you sending out email updates to promote your new content? If you are, give yourself a pat on the back. Because most marketers aren't.
This was one of the biggest surprises we found after surveying 1,038 SMB marketers on their content marketing best practices and analyzing the results using our Content Marketing Grader tool.
Here's a more detailed view of how the numbers broke down:

You can check out the full recap of the results here.
If you fall into one of the categories of groups that isn't sending very often, or at all, don't feel too bad. You're certainly not alone. To help you and the many other marketers who aren't using email to announce new content, we've put together a strategy and a checklist for how to turn it from a chore to a snap.
With just a bit of practice, you can expect to be able to send out a weekly email in less than an hour. Some of you will be able to knock it out in half an hour or less.
Sound good? Let's get cracking!
It's easier than you think
If you're like most human beings, procrastinating things that seem challenging or undesirable is a very real struggle. I'm going to go out on a limb here and assume that most of you don't jump at the opportunity to do your taxes or clean your garages.
Sending out an email doesn't have to be a chore like doing your taxes. Here's a super-simple, unassuming email that announces a blog post.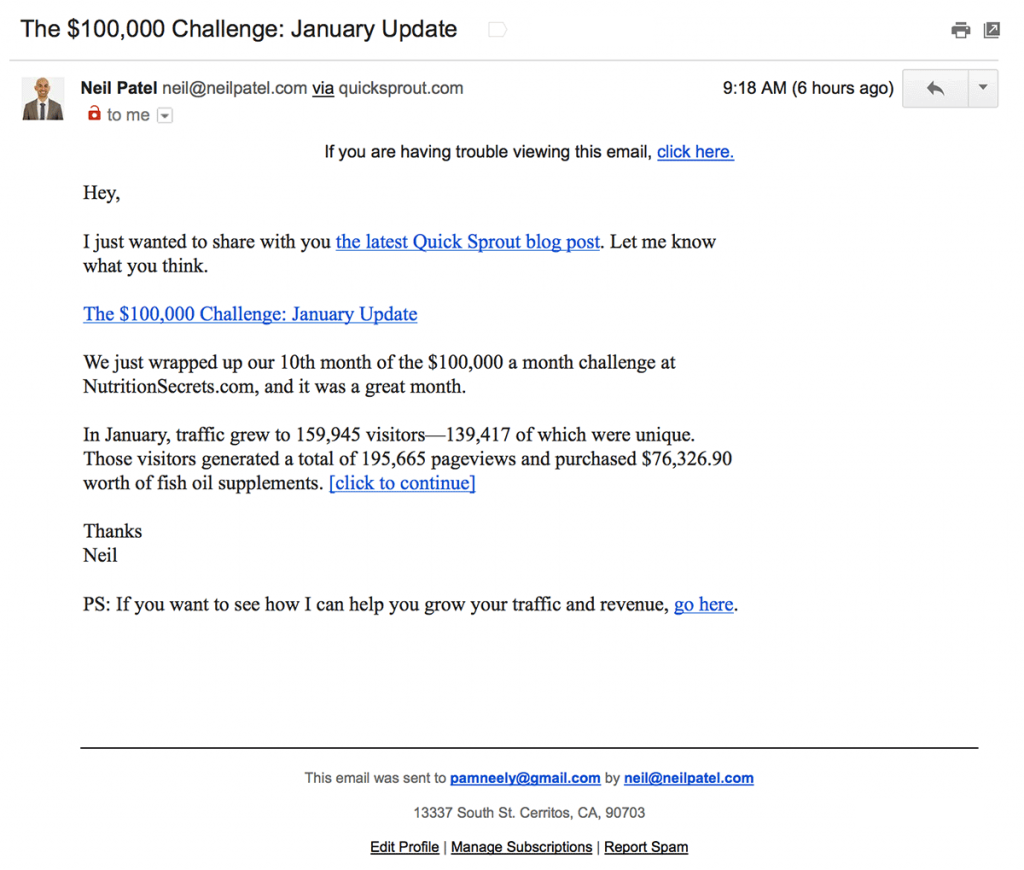 Here's all you have to do to send an email like this:
Pick the simplest template your email service provider offers. These are often called "blank" HTML-based templates.
Write a subject line. The title of your new piece of content is a perfectly good subject line.
Write 2-7 sentences. Notice how three out of the four "paragraphs" in this email are made up of just one sentence. The entire email is just 7 sentences, including the postscript. It's just 90 words. That's more than some people write for a social media post.
Add 2-3 links to your blog post. Neil has four links in this email. Three of them go to the new blog post. The fourth, in the postscript, goes to the homepage of his blog.
After knocking off a couple of sentences, perhaps Neil sent out a test email. Maybe he sent it to an intern or a coworker – just anyone besides himself (because we tend to miss our own typos).
The intern read the email and made sure there weren't any typos. They clicked the links to make sure none were broken. Then they told Neil it was AOK to send.
And so Neil queued it up to go out an hour later. Which took him a mere 3 additional minutes of time.
Not too hard, right? You can do this!
If you want to get fancy, you can even add an image and some other functionality, like Shopify has done here:
This is another email announcing a piece of content. It's for a new case study Shopify has published on their blog. It does look a bit more fleshed-out than Neil's email, but again – there's nothing you can't do here.
Extra elements here include:
A linked logo in the upper left-hand corner.
A call to action in the upper right-hand corner: they need to be in every communication you send
A photo. A simple, one-column photo.
A "More" button.
Note how this email also has four very short paragraphs. There's just one link to the content in the text. They could have added another link or two, but it still works fine. This single-width email design is also excellent for people reading the email on their mobile devices. The size of the type is also nice and large, again making it easy to read on mobile devices. Hopefully, the image they used was reduced to less than 20-30KB, so the email will load almost instantly, even via a slow connection.
Altogether, this is a lovely, simple, fast-loading, easy-to-read email. It may not win any design awards, but it does its job well.
If they wanted to add a bit of razzmatazz, Shopify could have also added:
Social sharing buttons
Social follow buttons
And if they wanted to be really clever, they could steal this trick from Marie Forleo. Here's the postscript from one of her recent emails:

That's a really simple way to get about 20% more people to share your emails, and to have your work shared with someone who's in your ideal audience. It's even got the personal endorsement of your work from the friend who sent it. That little postscript does a lot of work.
Check out this article for more tips on how to boost your click-through rates and make your emails more engaging.
How to find more content for your emails
Not having enough relevant content to include is one of the biggest hurdles marketers face in sending out emails. Integrating curated content into your email newsletters is a great way to send emails more consistently without degrading the quality of the content.
Now that you know how easy it is to send a content promotion email, it's time to consider other types of content to feature. You may find that at times one quality blog post is sufficient for a legitimate email. If you're hungry for more ideas, here is a list of alternative options to choose from:
Facebook posts: popular posts from your Facebook feed
Curated posts: from your Scoop.It account: If you're unsure of what to include in your email newsletter, curated content is a great solution that saves time without compromising quality. If you want tips for how to create exceptional curated emails, check out this article!
Recently liked images: these could be a fun quote you liked. Or a chart from new research in your industry. Or a picture of a happy customer.
If you've got a bit of time, you could even use an image from someone else's social media account. Just get their permission first.
Content from History.com's "This Day in History" page.
A word of the day from WordThink.com's word of the day.
Has a customer or client asked you an interesting question recently? Maybe it's not enough for a blog post, but if the answer is any more than a sentence long, it could make for great content in your email. Hint: Write these down as you think of them, and then keep them on hand. They make great social media content, too.
Have your kids said anything funny recently? Some audiences love a "Funny Things My Kids Said This Week" section.
Got a job opening? Add a couple of paragraphs about the open position, then link to a landing page for applicants.
Are you offering a discount or a coupon? This is one of the top reasons people sign up for email newsletters. The more discounts, coupons and deals you can give your subscribers, the better.
Has your company gotten any positive press recently? Write a few short sentences about it and link to the news outlet or magazine.
Have you gotten positive reviews on any sites like Yelp or Facebook? Include those kind words in your email, and link to the online review.
Got any new photographs of your place of business, or of your town? These are a great way to make your company seem more familiar and relatable.
Have you won any awards? This is the best kind of content to include. Even small awards matter.
Got any tips for your readers about how to use your product better? Or new ways to use your product? This type of content tends to do particularly well.
Got a new video you or one of your employees has just made? Don't embed it in the email message, but do make a static image of the video, slap on a triangle in the middle of the image (that's the universal symbol for "this is a video") and link the image to a landing page where it will play automatically.
Got the results from a poll or quiz you're running on your website? This is great content for an email newsletter. You could even include the results several weeks running, to let people know how the results change over time.
Compile a list of upcoming events. If you're a local business, try including a list of upcoming events in your town or neighborhood.
Are you running any contests? This is the type of deal-oriented information subscribers are hungry for.
Got any tools, apps, tricks or shortcuts you think your audience might like? This is exactly the kind of useful content that rewards people for opening your emails. The more useful and widely applicable it is, the better.
Do you have an easy way to find out which content has gotten the most shares in the last month? A "Most Popular Post of the Month" is an elegant way to point people to just one piece of must-read content.
Include a short biography of your "Employee of the Month".
Write an introduction to any new staff you've brought on (including their photograph).
Add any images or updates about in-person events you've hosted or participated in.
Show before and after pictures. These can work for housecleaners, organizers, decorators, gardeners, and even tailors.
So how's that for thinking outside the blog post? There's enough potential content there for an email update every day. You don't necessarily want to do that, of course, but sending an email once a week or every other week is a very good goal.
Don't forget to track what works in your emails, either. Your email service provider has reports that can tell you which specific links in your emails people tend to click. This is valuable information about your audience that you can use to continually tailor, personalize and evolve your content to improve your newsletters.
What do you think?
Do you struggle with ideas for what to put into your email newsletters? Or is there another reason why you don't send them out as often as you could? We'd love to know what's working – and not working – for you. Please share your thoughts in the comments.
If you want to get 30 effective techniques to master content marketing along with valuable insights from 10+ influencers like Mark Schaefer, Rebecca Lieb, Lee Odden, Jason Miller or Ian Cleary, download our free eBook now!
Image by Getty Images.