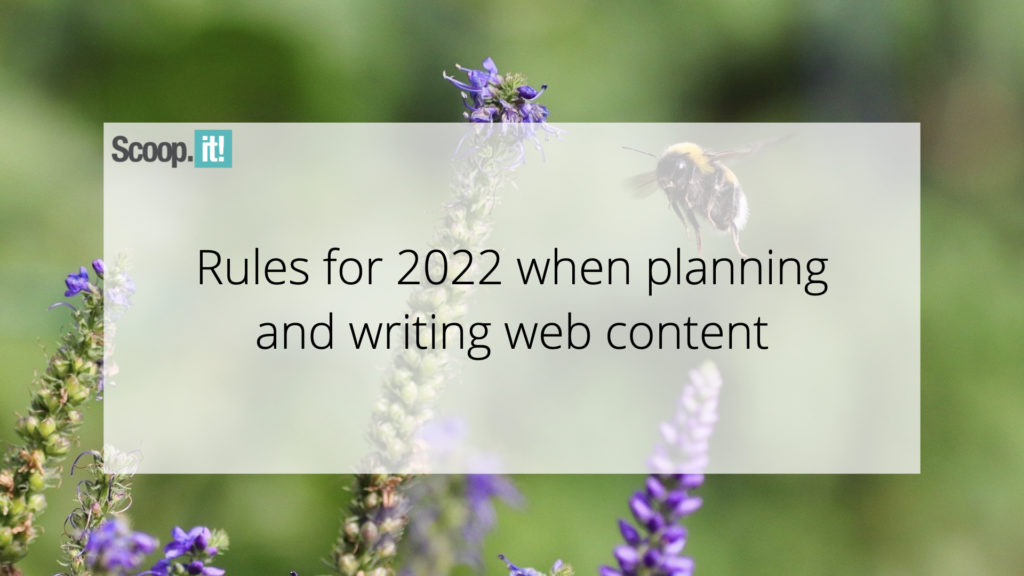 Your website is like a digital business card. It's the first thing people see online when learning about your company and what you have to offer.
Beautiful imagery and video content might be useful, but there is a reason why content is king. 2022 is already changing the way marketers and creators utilize content for their websites.
How has this changed? Let's take a look at some of the top rules for planning and writing content on your website.
Plan Your Content Out Ahead of Time
You can't succeed unless you have a plan. Strategizing your content is the first step toward creating powerful and effective content on your website.
To get started with a plan, you'll need to understand a few key details about your business and your audience.
There are four primary steps when planning out your content: Purpose, Audience, Keyword Research, and Competition.
Define Your Purpose
First, you need to determine the purpose of your content. Are you trying to sell a service or product? Are you looking to generate new leads? Is your focus to build a community and increase website traffic?
Clean Origin, a company that sells jewelry and wedding rings, is a great example of a website that clearly conveys its purpose. They want to change the diamond industry by providing ethical, quality diamonds to their customers.
Their content offers in-depth information to questions that can benefit their target audience that correlate not just to wedding rings but also catering to the bride's every need.
If your purpose is unclear, start by asking yourself a few questions to narrow it down such as:
What problem(s) are you trying to solve for your customers?
What sets your business apart from the competition?
How can you help your audience on both a micro and macro level?
Narrow Down Your Target Audience
Once you're clear on your mission, you'll want to determine your target audience. You can do this by narrowing down demographics and buying behaviors.
Certain demographics may include:
Age
Gender
Location
Marital status
Family status
Career
Income levels
Education levels
Buying behaviors, on the other hand, are what drive a person to make a decision on a particular product or service, and ultimately purchase.
Some examples of buying behaviors include:
Making an emotional decision to purchase based on something they saw on social media. While they may not need a certain product, an influencer may have persuaded them to feel as though they were missing out on something.
Making a logical decision to purchase based on an immediate need, such as cleaning products, food, or having a car repaired.
Understanding who your audience is and what motivates them is one of the biggest pieces of your content puzzle. You have to be able to identify any problems they're trying to solve.
As you start to plan out your content, you can start to strategize the type of content you'll share on your blog and social media accounts to better suit your audience.
Keyword Research
Understanding your audience and their needs will then help you with keyword research. These are words or phrases you use on your website that correlate with your purpose and help you rank in the search engines.
Let's say you're a yoga instructor in San Francisco and want more people to sign up for your virtual classes. You'll want to ensure various pages throughout your site utilize the words "online yoga classes."
However, this specific phrase has a high competition rate. With websites like Google Trends or Moz, you can research various keywords and phrases that are similar to what you want to rank for in the search engines.
Better alternatives would be to look at topics their audience are already searching for that have a lower competition rate, such as:
Yoga tips for beginners
Best yoga poses for flexibility
How yoga can help with weight loss
Yoga for strength training
Then, you can utilize your blog and pages to optimize for longer key phrases that are high ranking with lower competition, while still within the realm of what your target audience is searching for.
Scope Out the Competition
Your direct competition is one of the best resources you have at your disposal. It gives you the chance to learn from someone who is already making waves in your industry.
Look at the types of content they produce, how they promote their content on social media, and who they're targeting. See if you can pinpoint any gaps within their content that you can fill.
Certain things you'll want to look for to help fill the content gap can include:
Missing opportunities for keywords
Blog topics your audience is interested in but your competition isn't covering
Reading comprehension for multiple levels
Social posts your competition is making that aren't converting into engagement or sales
The most important thing is to never duplicate or steal content. This is a big red flag for the search engines. Instead, let content be an inspiration as you start to figure out what types should be shared.
Start Generating Content
Now that you've taken the necessary steps towards planning out your content, it's time to get to writing. According to a recent post from Hook Agency, the ideal blog post length in 2022 should be anywhere from 1,760 to 2,400 words.
However, length isn't the number one factor when trying to rank in the search engines. Make sure that you focus on creating quality content.
Google's algorithm focuses more on E-A-T. This stands for expertise, authoritativeness, and trustworthiness.
You have to set yourself apart as an industry leader (expertise).
You have to set the tone with your messaging that you know what you're talking about (authoritativeness).
You have to build your relationship with your customers and community (trustworthiness).
Remember what you've learned about your target audience and their buying behaviors. Today, more people are looking for authenticity and relationships. They want to feel a connection with the brand they're purchasing from.
Conclusion
If creating a content marketing strategy seems overwhelming, look into hiring a digital marketing company that can help. They have the knowledge and expertise to generate content for your website that meets the needs of both your customers and the search engines.
If you're looking for help publishing curated content, you can find out more about our helpful software here.