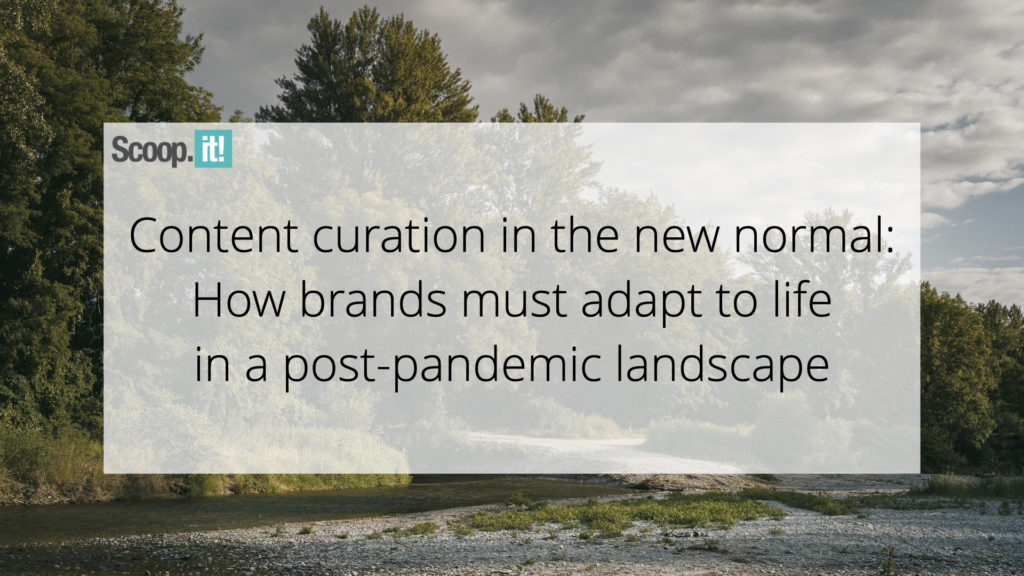 Customer expectations regarding their experience with brands have changed drastically since the emergence of the Covid-19 pandemic. Most notably, matters of sustainability and society have become more pertinent than ever before to the modern consumer. Whilst this can pose significant challenges for businesses, the fundamental impact on the daily routines of consumers has also created a window of opportunity for businesses to make a fresh start in their approaches to marketing.
In the wake of the pandemic, as we face the age of the 'new normal', content curation that appeals to changing consumer perceptions is of the utmost importance.
Different brands have treated the pandemic as an opportunity to undergo a cultural reset on company attitudes, and we've seen more businesses look to actively engage in newly digital consumers, whilst also seeking out more casual engagement online. Furthermore, brands have looked to adopt more outspoken stances on the virtues that are closest to their target audiences, as well as encouraging the use of social proofs to establish trust.
There have also been a number of more left-field changes to how content curation is being adopted to resonate better with customers in the age of the new normal.
Accessing a Predominantly Digital Audience
The pandemic has accelerated a pre-existing trend whereby online consumers have not only grown in numbers but also become considerably more active – presenting far greater opportunities for audiences in the process.
(Image: WARC)
As we can see from the data above, 2020 unsurprisingly saw eCommerce, social media, and online video activity rise significantly as global lockdowns led to widespread interruption across virtually all customer-facing industries.
According to Kantar research, web browsing increased by 70% during the later stages of the pandemic, with TV viewing figures increasing by 63%, whilst social media engagement grew by some 61%.
Throughout the pandemic, WhatsApp was the social media platform that experienced the greatest gains as users looked to stay connected remotely. With over a 40% increase in usage, the messaging platform demonstrated a clear growth in adoption that remained largely unparallelled.
These increases in time spent on social media messenger platforms was felt heaviest in Spain, with a 76% increase in time spent on WhatsApp, whilst Facebook usage climbed 37%. China also experienced a 58% increase in social media usage with platforms like Wechat and Weibo benefiting from the trend.
These increases in usage were felt heaviest in the 18-34 age group, whilst WhatsApp, Facebook, and Instagram all experienced an increase of over 40% from those aged under 35.
Significantly, Kantar's study found that a crisis of trust was brought on by the pandemic. National news channels spanning both broadcast and newspapers were recognized as 'trustworthy' by around 52% of surveyed people. Elsewhere, it was found that just 48% of people trusted government agency websites. Tellingly, only 11% of respondents claimed that social media platforms are a trustworthy source of information.
So this data tells us that more people are online in the wake of the pandemic, but they're also extremely wary of information shared on social media.
This presents an interesting dilemma for brands looking to make the most of more online-based audiences. Fortunately, content curation can be an excellent means of displaying social proofs for your company by compiling unbiased reviews and interactions.
Appealing to a Fickle Audience
The pandemic brought on a fundamental change in the daily lives of countless individuals around the world. In a matter of weeks, lockdown measures forced consumers to make life changes and essentially reset their perspectives on the brands they habitually bought.
Covid-19 also accelerated the volume of digital interactions consumers had with companies. According to Salesforce Commerce Cloud, over three million transactions took place daily in 2020 – a figure that's over 100% up on the year prior.
(Image: Salesforce)
As the table above shows, younger consumers in the US were the strongest in their mistrust of brands. With 70% of Gen Zers claiming that misuse of their personal information caused them to lose trust in a brand during the pandemic.
As consumers increasingly move online, brands have plenty of new opportunities to grow with their new audiences, but there are certainly new challenges emerging too.
If businesses fail to embrace digital transformation fully, it can lead to a poor perception of their customer service, and the misuse of personal information through data breaches and hyper-targeted marketing campaigns.
Social Proofs via Content Curation
Content curation enables businesses to avoid speaking directly to a wary audience, and instead use the voices of happy customers to ensure that its good quality of service is shared across social media channels.
This can present itself as an opportunity for businesses to demonstrate value in a way that doesn't even have to prove the quality of its products.
When a mother with an active Instagram presence shared her experience as a Starbuck barista offered words of support, Starbucks shared the story onto its own account in a post that amassed over 180,000 likes and a wide range of comments.
Because the story positioned the company in a sympathetic light, the online response – particularly from other mothers who related to the difficulties being discussed – the audience response was overwhelmingly positive despite there being no coverage whatsoever around any of Starbucks' products.
This shows that social proofs surrounding customer service can stem from simple heartfelt moments recorded via a prominent presence online.
Naturally, the best thing about this curated content is that it appears to have been very straightforward to share – showing that this approach to marketing is one of the most cost effective ways to build trust with customers who aren't as receptive to the voice of brands.
For brands looking to incorporate social proofs beyond the reaches of social media, python development solutions can help to incorporate the multimedia content produced by customers within a company's landing pages and various other web pages to help establish more trust in a more comprehensive manner.
Establishing Trust can Involve Self-Depreciation
Although it may seem counterintuitive, brands – especially those that offer low-cost products and services for customers can build positive online sentiment from audiences by acknowledging that their business model isn't prestige-level quality.
For budget airline Ryanair, the company's Twitter account is unapologetically active in engaging in self-deprecating curated content. For Ryanair, the brand's reputation as a low-cost, no frills airline is a badge of honor, and this means the company has free reign to find humor amidst social media posts that poke fun at the airline's restrictive baggage allowances – such as the example above.
As more consumers struggle with finding trust in brands in the wake of the Covid-19 pandemic, we're seeing more innovative approaches to content curation taking center stage. Where this facet of marketing was a popular time-saving form of resonating with audiences, it's now an effective way of earning trust amidst wary audiences.
With this in mind, it's likely that the companies that have the most refreshing approaches to content curation will emerge as the stars of marketing in the age of the new normal.