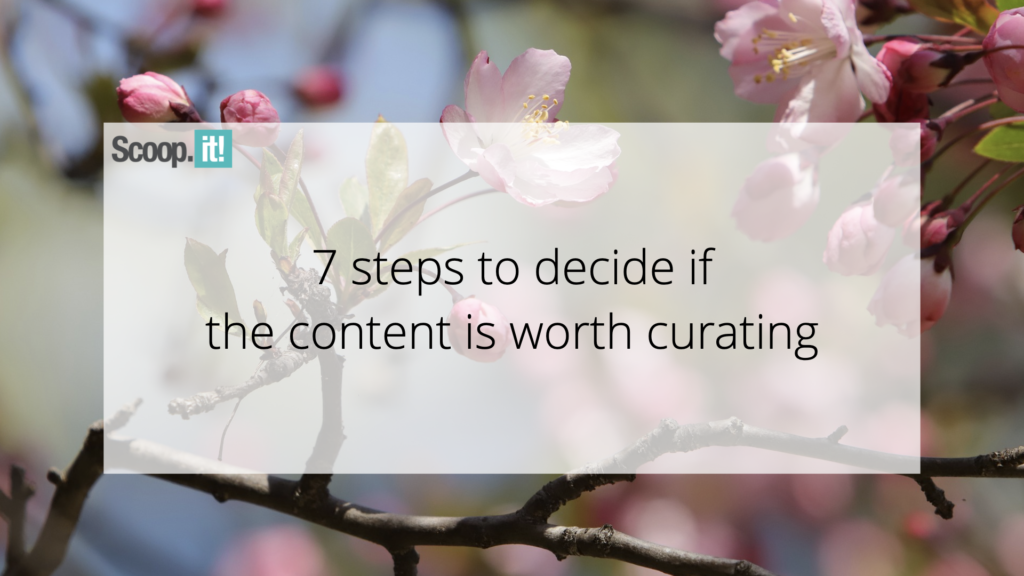 Content curation is an intricate process and the key driver of digital marketing strategy for many businesses that know how to do it right.
It's a process of sharing third-party content that aligns with the interests and preferences of your target audience to get more traction online.
Content curation enables you to cast a wider net and attract the top-of-the-funnel audience in your respective niche. You provide them with relevant and helpful information which in turn boosts your engagement and helps maximize your reach.
However, finding content worth curating isn't easy, especially if you're new to the process.
Here are the 7 easy steps that help you decide if the content is worth curating.
So, without further ado.
Let's get started.
Content Curation Explained
Content curation is a complex process that has different implications for diverse use cases. With respect to marketing, content curation refers to the process of gathering relevant information that best represents the interests of your audience.
Here, you are not the originator or the source of information. You just use the information from a third-party platform, add some value, and share the content with your audience to get more traction.
This is one of the reasons why businesses share curated content via social media with the intended users to boost engagement and maximize the reach with minimum effort.
Importance of Content Curation
Producing quality content at a consistent pace can be exhausting. It's reported that around 60% of marketers find it really difficult to consistently produce quality content. With that said, you need content to connect with a relevant audience and capture quality leads.
That's why marketers often use curated content to generate brand awareness and engage their respective audiences. Since the content you share is sourced from a third-party platform, it takes a lot less effort compared to creating and sharing original content day in and day out.
It's reported that an hour spent on curating content brings small-medium businesses 1.6x more leads compared to an hour spent on creating it.
That's why content curation is one of the preferred marketing strategies for marketers worldwide. Research by Curata showed that 95% of marketers curate content to connect with their current and potential customers.
That's not all. Content curation is one of the processes that fuel your social media marketing strategy.
With over 4.62 billion social media users worldwide and 43% using different platforms to research best-suited solutions, businesses consider social media marketing as a viable growth strategy.
Content curation complements social media marketing and helps you leverage diverse social media platforms to engage your target audience. Without it, just imagine the effort you'd have to put in if you were to share original content only via social media to get the desired traction.
Steps to Find Content Worth Curating
Despite all the great things associated with content curation, finding content worth curating is not easy. According to Buffer, 95% of your time in the curation process would be spent on trying to find relevant content and the rest on sharing it. So, let's explore the steps that will help you find content worth curating.
Explore Content's Relevance to Your Niche
Before you finalize the content for the curation process, it's important to know whether or not it's relevant to your respective niche. For example, if your niche is car accessories then your curated content should be about automobiles.
Content facilitates your reach and generates brand awareness so you can attract quality leads that fuel your conversions. So, sharing content not relevant to your niche would just kill the purpose entirely.
Explore Your Audience's Interests
Know your customer. It's the prerequisite to devising efficient marketing strategies. And content curation is no exception. So, before selecting content for curation, it's essential that you are familiar with the needs and interests of your respective audience.
This is more of an ongoing process. You can't just do your research once and be done with it. Customer preferences keep changing. So, you have to keep up with the ever-changing interests of your target audience to make this work.
Validate Information Authenticity
When curating content, it's essential that you always validate the authenticity of the information. And the quickest way to do that is by checking the credibility of your source. You should always consider authentic information sources from your respective niche and trusted names in the industry for content curation.
However, being a reputable information source and an authority in a respective industry doesn't make one immune to errors.
So, even if you are curating content from a credible source, it's best that you don't simply take everything at the face value. Always double-check the information before sharing it with your target audience.
Consider Content Obsolescence
Always consider content obsolescence before sharing it with your current and potential customers. This applies specifically to instances in which you share statistics, facts, or any other form of time-bound content.
For example, sharing an article titled "Content Curation Strategies for 2022" in the year 2023 may not be appropriate. The information holds little or no relevance. So, you might want to reconsider and share an article that contains the best practices for the latest year.
Consider Value Addition
Content curation is an excellent strategy for expanding your reach but it works best when you add something original to the curated content.
It can be anything. The summary of an article, a unique description for your social media post, a key takeaway, lessons learned, etc. Anything goes as long as you add some value to the original content.
People often mistake content curation for content sharing. It's far from it. Rather than simply sharing a particular post or link, let your audience know what's your take on the topic.
This way it'd be more likely for you to boost your reach and engagement via content curation as your target audience would get to connect with the real you.
Assess Content's Potential for Engagement
Assessing the content's potential for engagement in the curation process determines the results you'd likely get from curating respective content.
The purpose of curating content is to connect with a relevant audience and maximize engagement. So, it's best to know whether or not the content you share is capable of bringing the desired traction.
Assess the Likelihood of Consent
Consent is what makes content curation an ethical process. And not everyone would be willing to give it to you. So, it's best that you assess the likelihood of getting consent from the source of information before initiating the curation process.
You can't just use someone's research without their consent and share it with your audience either via your website or your social media page. It's an unethical practice that makes you susceptible to copyright and other regulatory violations.
So, always assess if you'd get consent to curate content and then reach out to the source for it. After all, that's the right thing to do.
It's a Wrap
There you have it. The 7 steps to decide if the content is worth curating. If you're new to the curation process, try out the steps recommended and start curating relevant content hitch-free.