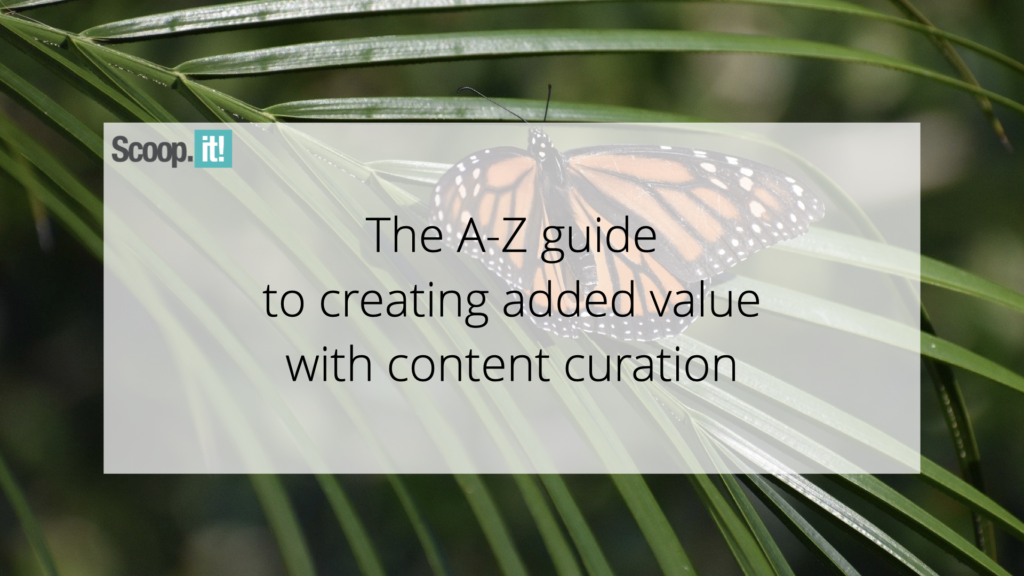 If you're looking to give your blog a little extra love and attention, content curation can be a great way to make it stand out from the crowd.
Finding the gems of knowledge from around the web and showcasing them on your blog helps you boost engagement with informative and interesting posts that save you time and energy in creating content yourself.
In this blog post, you'll learn how to boost your content curation by providing added value to your audience.
This is, quite literally, an A to Z guide on content curation to drive more value.
Keep reading to find inspiring material, share valuable insights, and some tips and best practices.
A – Awareness of your audience
You can provide value only when you help your audience get what they want. And sometimes, by providing them with content they don't even know they need.
Start by knowing who your audience is and what they're looking for. The best way to do this is by creating a buyer persona.
This helps you target the right people, at the right time, with the right content.
B – Build your brand
Building your brand adds value by allowing you to create and curate pieces of content that are unique and visually appealing.
By utilizing your brand colors, content templates, and logos in the pieces you organize, your audience will immediately recognize which brand is producing them.
This builds your authority, and it also increases the trust that your users have in you.
They'll also feel comfortable knowing they're getting good information from your business.
C – Content creation
The key to adding value is ensuring that you add more content regularly. This can happen in many ways:
Add fresh content in the form of curated blog posts, images, and other material to existing collections
Create new collections entirely
Refresh your existing posts and collections
So, you're not just collecting information from various sources on the web. You're also contributing by building information in the form of blog posts, social media content, and visuals.
Make sure that you organize and curate your content so that your audience can find and use them easily.
D – Diversify your content
By diversifying the type of content you curate and share, you can help your audience digest information differently and get the most out of their content-viewing experience.
So, don't restrict yourself to text-only posts.
Videos, podcasts, and infographics can all be incredibly valuable resources for your audience that provide an alternative source of learning.
Use a platform like Scoop.it to curate content. You can mix formats like videos, articles, infographics, and more. (Source)
Also, mix up different topics and subtopics and look for new sources. Doing so will add a unique perspective to your content and help you keep it fresh.
This will help you add more value to your content curation process and keep your audience engaged.
E – Engage with your audience
Engaging with your audience helps build a connection and trust between you and your readers.
Create calls to action on your posts, captions, and landing pages to get your readers involved.
Respond to comments and messages to show them you're listening and care about their needs.
If you include user-generated content (UGC) in your posts, that's also a great way to get your audience involved in the content creation process and make them feel special.
Fenty Beauty curates User-Created Content from Instagram to showcase how their products look. (Source)
F – Find your unique voice
Having a unique voice is key to standing out in the crowded content market. It's important that you develop a tone and style that is distinctively yours.
Whether you use a friendly, professional, or casual approach to your curations, add content that is recognizable as yours.
You can also create a unique aesthetic for your visual platform content, such as Instagram or YouTube. Develop a distinct color palette, use specific fonts, and include visual elements that are recognizable as yours.
By having a unique voice and distinguishable visuals, your content will easily stand out from the competition.
G – Grow your following
Including calls to action in your content is a great way to grow your following.
You can use CTA buttons, social media links, and landing pages to invite readers to subscribe and follow you. Remind users that when they follow you on Scoop.it, Pinterest, Tik Tok or any other platform, they'll get the most useful content at their fingertips.
Let people know they will save time, find exactly what they need, and achieve their goals faster.
With simple growth tactics, you can help your content curation process add even more value to your followers.
H – Highlight your strengths
If you run a business, especially B2B, you want to emphasize the strengths of your products and services. This is a great way to increase brand awareness and add value to your content curation process.
Create content that highlights the unique features of your product or service and how it can help people achieve their goals faster. You can also share thought leadership content that demonstrates your expertise in a certain area.
By using the right format and focusing on the benefits, you can make sure your content stands out and is easily found by your target audience.
I – Inspire your audience
Content curation isn't just about organizing resources; it's also about inspiring your audience and helping them achieve their goals. It's also about inspiring them with new ideas.
Leverage thought leadership articles, case studies, and more to show them what is possible and share stories of success.
You can also use carefully curated content to help your audience gain the skills and knowledge they need. Whether it's case studies, tutorials, webinars or any other resource, make sure you keep users motivated and inspired.
By helping them take the next step in their journey, your content curation process can add value to their lives.
Another way to inspire them is to give them interesting ideas. Take, for example, this curation of Valentine's day inspired manicures.
A collection like this is timely and also gets people motivated to learn from your curations and engage with it more. (Source)
J – Just be yourself
When curating content, it's important to keep in mind that your audience wants realness.
Show them the real you and use an authentic voice to get your message across.
From the topics you cover to the language you use, make sure that people can connect with you.
When recommending books on my blog, I try to give personal and authentic recommendations. Being yourself is key to connecting with others. (Source)
Also, focus on evergreen topics as part of your curation mix. That way, your content will be timeless and always relevant.
While updated information is important, you don't want to jump from trend to trend in a way that lacks consistency.
K – Keep it simple
Always remember that people go online looking for material that solves their problems quickly and easily.
When you create and distribute curated posts, don't overcomplicate it with too much material or too many subtopics or categories.
The key to creating value is balancing usefulness and simplicity.
You are in the business of organizing resources, so use language that is direct and to the point without getting unnecessarily technical.
By keeping it simple, you will be able to reach a larger audience, engage more users and add value to your curation process.
L – Listen to your audience
No person or brand ever really knows how to provide perfect information from the start. We make an attempt to create and curate information and then improve our work with the help of feedback.
So, make sure to listen to your audience and ask for their feedback through different means.
Let the comments you receive and the engagement levels inspire you. You could even ask your sales team to let you listen in on sales calls to learn what customers need and want.
Listening to your audience will help you understand their needs, which in turn helps you deliver better curations.
M – Measure your results
At the end of the day, you must ensure that your content curation efforts are paying off.
For that, you'll need to use a tool or platform with reporting and analytics capabilities.
If you're using a social media tool like Pinterest or Instagram, you'll have access to various metrics such as engagement rates and reach.
However, if you're a business that intends to be an authority or leader in your industry, then you need more robust options.
It's best if you use a tool like Scoop.it to manage your curation efforts. While it's a powerful tool that lets you share relevant content from multiple sources in one place, its real advantage is that you can learn what's working and what isn't.
Scoop.it's analytics features let you learn which pieces are popular versus which ones don't get any views. You can also search according to segments, for example, by infographics, articles, or other formats.
You can get a thorough breakdown of your best content so that you can provide more of the same. Don't forget to also test, measure and adjust your content curation efforts as needed.
N – Network with others
When curating content, don't forget to network with people in your industry as well as influencers and brands. This could mean asking an expert or a prominent influencer to come up with a niche curation that you can feature to your audience.
A special piece of content like this from a well-known person will intrigue and excite your audience.
Not only that, but it will also help you establish relationships with influencers and industry leaders.
At the same time, make sure to follow your best audience members. By doing this, you'll be able to learn more about their needs and get ideas for what kind of content to curate.
Networking with industry leaders, influencers, and your best audience members helps you boost engagement and build trust.
O – Optimize your content
Finally, make sure to optimize your content. On social media, use hashtags and captions to make it easier for people to find and engage with your content.
Also, optimize your content for search engines so that they can easily find and rank your content. This will help you get more organic traffic and reach a wider audience.
How can you do that? Use SEO-friendly keywords, create engaging titles and use descriptive meta descriptions.
Using relevant keywords in descriptions, titles, and so on increase the chances of search engines and social media algorithms showing your content. (Source)
Finally, optimize your content with visuals. Your audience will be drawn to striking images and videos in a sea of text content. It also signals to search engines that your curation will engage people.
P – Promote your content
Once you have curated your content, it's time to get the word out about it.
Promote your content across all channels, from Twitter and Instagram to your email list.
Also, consider doing a cross-publishing campaign where you move content from one platform to another.
For example, you can post an infographic from Pinterest to Instagram or a blog post from your website to social media.
This will help you reach a wider audience and get more views.
Q – Quality over quantity
Rather than curating lots of content that is irrelevant to your audience, focus on providing high-quality and valuable content.
Your audience is more likely to engage with content that is interesting, informative, and helpful.
So, while it may take you more hours to find helpful content, it will be worth it in the end.
You also want to create original items like infographics, reports, and more using tools like Canva or Piktochart.
This will help you stand out from the competition and establish yourself as a reliable source of quality content.
R – Repurpose your content
Don't be afraid to repurpose your content. You can take a blog post and turn it into an infographic or use snippets from a podcast for an article.
This will not only help you save time but will also serve new audiences or bring up existing material that older users may have forgotten.
The problem with content marketing today is not that there isn't enough content, it's that it doesn't get distributed well enough.
By repurposing content, you can make sure your audience is getting the most out of what you have to offer.
S – Stay up-to-date
Remember that content curation is more than just collecting content from other sources.
You also need to stay up-to-date with the latest news, trends, and updates related to your industry.
This will help you create content that is relevant and engaging for your audience.
However, it's not just about content, it's also about how you distribute and curate it.
Make sure to use the right channels, such as social media and email, so that your content reaches its intended audience.
You want to update your material so that your target market is aware of what's new and trending. Updated curations also affect how search and curation algorithms assess your work and it'll be more likely that you get more traffic and views.
T – Test your content
Do A/B testing to find out what type of content works best for your audience.
This will help you optimize your content and focus on creating the kind of content that resonates with them.
Using analytics and data will help you measure your content performance so that you can make changes and improve it as needed.
Scoop.it lets you analyze your curated content to improve its performance. (Source)
U – Use visuals
Many content curation platforms allow you to include visuals in your content.
Using images, videos, and other visuals is a great way to draw attention to your content and engage with your audience.
Plus, visuals can help explain complex topics and make them more understandable for your readers.
So, don't forget to include relevant visuals in your curation efforts.
V – Validate your sources
When curating content, make sure that the sources are from credible and trustworthy outlets.
You want to provide your audience with accurate information so be sure to validate your sources and double-check facts before publishing.
Also, don't forget to link back to the original source if you are using content from another website.
This will help you build relationships with other publishers and show appreciation for their work.
W – Write with a purpose
You want to ensure that every piece of content you create has a purpose and is aligned with your ultimate goal.
Whether it's educating, inspiring, or entertaining your audience, make sure that each piece of content serves a purpose.
X – eXperiment with new ideas
There's a lot of room for creativity when you curate information. You can build boards, collections, or categories based on funny themes, interesting topics, or fun facts.
You do not have to stick to formal and boring content – you can be creative and experiment with new ideas. Just as long as it serves a purpose with your audience.
Try new photo techniques, new text placement, and different captions to engage people. You'll know you're on the right track if your audience starts to interact with the content you post.
Y – Yield results
Never lose sight of the goal of content curation: it should yield results that you set out to achieve.
You need to keep track of the engagement levels and analytics so that you know what works and what doesn't.
Always track if your material is bringing new followers or if it's helping you generate more leads.
If the results are not in line with what you initially set out, you need to rethink your strategy and find some new tactic to work with.
Z – Zero in on your niche
Value happens when you provide content on specific topics that people can't find anywhere else.
By focusing on a particular niche, you can create content that is high-quality, relevant, and tailored to the needs of your audience.
You can also use content curation to build relationships with other publishers, influencers, and experts in your niche.
This will help you build your reputation and create a community around your content.
Create niche curations for your audience to build authority and provide value. Like this example where the curator scooped informed about decision intelligence for her audience. (Source)
Conclusion
There you have it; a veritable A to Z guide on how to curate content for added value.
By following the steps outlined, you can create great content that resonates with your audience and helps you reach your goals in the process.
While there are many steps you can follow here, making small changes at a time will build up and create a massive impact over time.