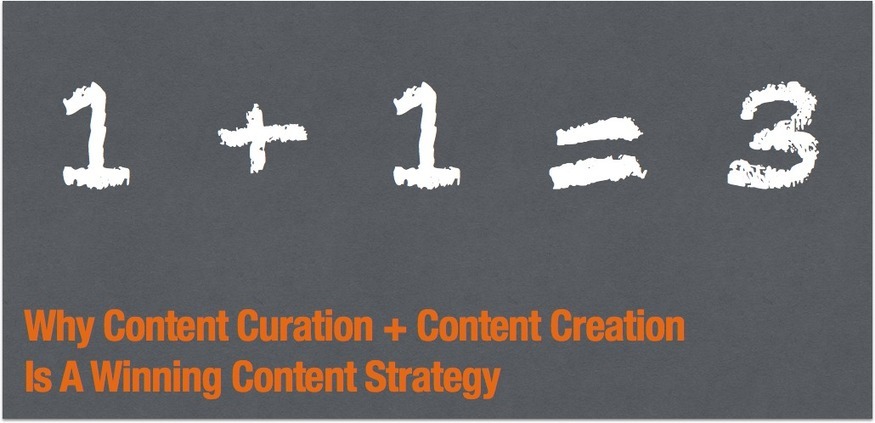 Content. Content. Content. There's no denying the fact that content is the leader of the online marketing pact right now. Now don't get me wrong. It's important. But the truth of the matter is that content has always been what great marketing was built on. Package it up. Call it something new. Do what you want. But when it comes to succeeding online, your content is the cornerstone of your strategy.
Content Creation vs Curation
Cast your net out there and ask around. Some will tell you that you need to curate content. Others will tell you that you need to create content. Ask me and I'll tell you that a solid content marketing strategy combines both creation and curation. And I'll tell you why. But first, let's look at the benefits of them individually.
Benefits Of Content Creation
Content creation is what you create yourself. It's usually hosted on your own site on your blog, in the form of an ebook, white paper, social media images, infographics, videos, or even landing pages. You create it. You own it. It's yours to do what you'd like with it. The benefits of creation your own content are endless. But the three most important things content creation can do for you and your business are: 1. Content helps you gain more traffic to your website. 2. Content helps you generate more leads 3. Content helps you increase your sales. Traffic, leads and sales are the three things that every business needs to survive in this new online ecosystem. Beyond that creating amazing content helps increase your SEO rankings, brands you as an expert, gives you a voice and it gives something for others to share.
Benefits Of Content Curation
Content curation on the other hand is presenting, organizing and sharing content that is relevant to you and your business. Scoop.it has made content curation easy, manageable and hugely beneficial to businesses and individual thought leaders. The benefits of content curation are also endless too. If used correctly it can also help you increase your traffic, leads and sales by helping you brand yourself as a thought-leader. As you know by now, traffic, leads and sales are the three things that every business should be aiming to increase. And content curation can help. Beyond that, content curation makes you an influencer. It makes you a tastemaker, it puts you in touch with other influencers by sharing their content and it makes you the person that others want to reach out to.
4 Reasons Why You Should Combine Content Creation with Content Curation
Yes, if you focus only on one of these things you'll be in good shape. But you'll be missing out on some of the most powerful benefits of them all. 1. It Helps You Build Relationships With The Right People By creating content and sharing other's content you are building relationships with other influencers and content creators. The thing is, bloggers and content creators have each other's backs. It's a community within a community. 2. Helps Build & Grow Your Network & Brand By branding yourself as a thought-leader in both spaces, you will be able to grow your network across many different channels. In addition, you'll also find that when you share other content, you'll increase your engagement with those content creators. 3. Gives You More Backlinks Links back to your site is a good thing. Once you start curating content, people will start to do the same for you. The more places your content is linked from, the better SEO results you can get. 4. Increased Conversion Companies that curate and create generate 10x more conversions than those who only share their own content. What benefits have you seen by creating and curating content?
And if you're interested in leveraging the benefits of content curation for SEO, check out our complete guide.