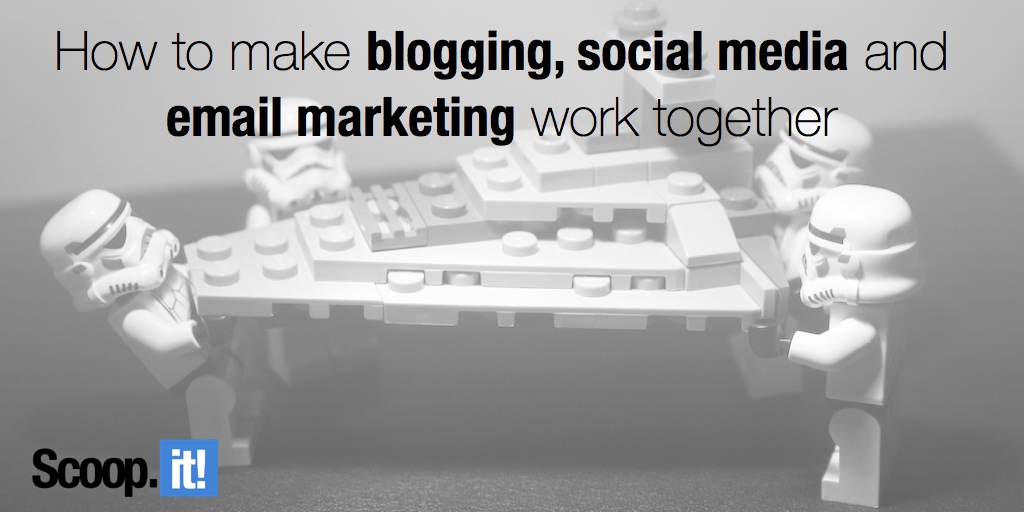 Does this sound familiar? You've got a blog. You're active on a few social media channels. You send out an email update every week. It's a lot of work. You wonder if you're getting enough results. And you've got this sneaking suspicion that there's got to be an easier way.
Good news: there is.
You're not alone. Most content marketers aren't doing as well as they'd like. 70% of B2C and 63% of B2B content marketers rate their marketing as "neutral" to "not at all effective".
There are ways to save yourself a lot of time.
All three channels (email, social and blogging) can work together to increase your ROI.
How to make blogging, social media and email marketing work together
Wanna know how? Keep reading. I've got a five-step plan to put you among the 30% of content marketers who do get great results.
Step 1: Set up some tracking
Let's start with the biggest problem: You're not sure you're getting enough results. That's the first thing to tie down. You need to set up some "goals" to see which actions are generating results. Otherwise, you're basically marketing blindfolded.
There are a couple of ways to do this. In Scoop.It Content Director, you set up "lead tracking". In Google Analytics you set up "goals". If you want, you can also hook up your Scoop.It account so it automatically feeds into your Google Analytics. That's usually the best choice.
In Google Analytics you can set up over a dozen different goals. That means you can tell which marketing actions generated email sign-ups, contact form completions or whitepaper downloads (for example).
Analytics also allows you to assign values for each of those goals. This helps a lot with measuring the ROI on ad spend, and for measuring the ROI on your time and content marketing efforts as well.
Your Scoop.It Content Director account can also show you which posts are generating leads, like this: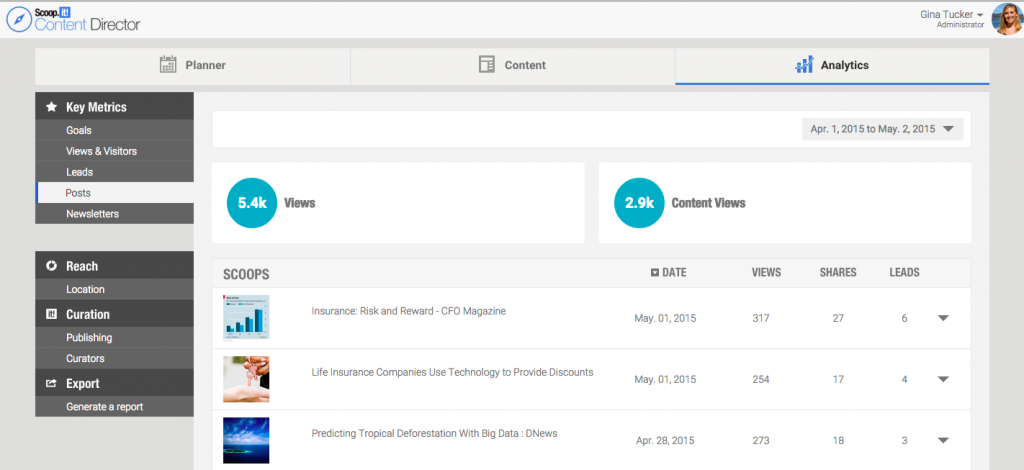 Step 2: Start with a blog post
Now that you can tell what's working and what isn't, let's talk content. I want to show you how to use one piece of content throughout the different phases of your content marketing. It's actually all a continuous loop, but the best place to start is with a blog post.
Why? Because blog posts:
are text-based, but usually have images or videos and other content formats
can bring you free traffic (if they're written according to SEO best practices)
break up well into other content formats… like social media posts
are a manageable size for content creation
The format you use for a blog post can help your efforts a lot. List posts and "round up" posts work particularly well. I'll use them as examples here.
Let's say you've got two blog posts – one a "list post" or "listicle" of 10 points. The other blog post is a round up of how five different influencers answered a question.
You've done everything right with these posts:
You did your preliminary research. You know your audience likes the topics these posts cover. You confirmed there are a good number of searches for the core keywords used in each post.
You wrote a post worth reading, with valuable insights backed up by data.
The posts are formatted properly so both scanners and readers can enjoy them.
You've included a few images (because readers love images, and images break up and illustrate the text).
You made sure your post is well optimized for SEO. You sprinkled (not stuffed) your core keyword and some keyword variations into your posts' page title, the headline, the subheaders and throughout the text.
After all that work, you published the posts on your blog. Let's say one on Tuesday and one on Friday.
Now things start to get interesting…
Step 3: Make blogging and social media work together by breaking those blog posts into social media updates
Notice how those blog posts both break up nicely into smaller pieces of content?
The listicle has ten specific points. Each one of those points makes for a great little social media update – especially if you have a nice, share-worthy image to go along with it.
So break up that post into ten social media updates. Queue them up to share on all the social platforms your business uses. Of course, you'll format those social posts so they perform well on each platform. The optimal format of a tweet, for instance, is different than the optimal format for a LinkedIn post.
For the round-up post, you do almost the same thing. But here, each expert's answer is it's own social media update. And don't forget to tag or mention each influencer in each post. If they re-share your post (which they might, because it's exclusively about them) you could get a big jump in engagement, traffic and even leads.
Bonus: Don't just share each one of those updates only once. Queue them up with a scheduling tool (like Content Director) so they get posted several times. For example, post once a week for the first few weeks after publication. Then once a month for as long as the content is still current.
Bonus bonus: Use a different headline or hashtags for the different social media posts. See which angle or topic appeals to your audience the most.
Step 4: Assemble your email newsletter
Take your blog posts and lay them out in an email newsletter. That's actually enough for an email update (even just one post is enough for an email update). But if you want to add more content, you could add any one of the following:
Your best-performing update from your primary social media account.
Your best-performing updates from two or three of your other social media accounts.
A call to action and a share button to share any of those updates or posts. Also remember a prompt and a button so people can follow you on those social networks, too.
Any curated posts that have done well for you that week
A teaser for what next week's blog post(s) will be about
Teasers for any other content or events you'll be participating in (Webinar? Trade show? Public talk?)
Step 5: See how it all did
Now it's time to go check the results of your work. Remember that analytics setup we did first? Check your reports for:
Which social media updates got the most engagement, traffic, and leads.
How the blog posts performed in terms of leads.
Clicks from the email newsletter. See which links in the newsletter got the most attention.
If your new blog posts have already been indexed by Google. If it's a yes, check your Google Analytics account to see how those pages performed. Also check your Google Search Console (previously called Google Webmasters) account to see where your new pages are in the search results and how they're performing. Who knows – maybe the inbound link report there might show a few new links you've picked up.
Take what you find from those reports and compare it to recent weeks' performance. Do you see any trends with which posts get the most engagement? See any particular topics your audience is really interested in that you could use for future blog post topics? And how about the all-important lead generation? Which types of content have gotten you the most leads over the last month, or months?
Conclusion
As you plan your content going forward, use the results of your prior content marketing efforts to build on what's been working.
But always keep an eye out for any strategy pivots you might need to make. Digital marketing is always changing. It's the smart marketers, with a strategy informed by their analytics, who know how to re-use and maximize their content to get the best results.
What do you think?
How do you use and re-use the content you publish? Are you adding a bit of content curation into your mix to make your in-house content last longer? Tell us what you think about all this in the comments.
And if you'd like to see how content curation can help improve your SEO, you should read this eBook!
Image by Chris Isherwood.