How long does it usually take you to write a good blog post? I'm talking about the entire process, from start to finish: the research, writing, sources, links, images, CTAs, reviewing, proofreading, publishing, etc.? We found that it can take an average of 4 to 6 hours in total. Creating good content is hard, we know. And it's often the first step many content marketing programs get stuck on.
The bad news?
Creating great content is just the first step.
To eventually produce results for your company, effective content marketing also requires a good strategy, excellent planning, optimized promotion and amplification of your content to maximize distribution and impact. But none of this matters if you don't understand what worked and what didn't: so ongoing analysis of your content performance is key.
In other words, content marketing is a cycle in which all the steps are important: failing at just one step will compromise success even if armed with great content.
This may seem a bit overwhelming, but don't panic. There is a bright side to the story: you can generate a lot of ROI (traffic, leads, better SEO rankings, etc.) from optimizing the various steps of the content marketing lifecycle. Better yet, focusing on the other stages of this cycle will also inform your content creation process. Or it might be that content production is not your #1 problem after all…
So in the webinar we recently presented with our friends over at Sprout Social, we looked at how to optimize the various steps of the content marketing lifecycle:
How to design a strategy that aligns investments and expected results
How to project manage your content marketing operations with a solid plan
How to produce good content at scale
How to maximize the reach of your content
How to prove and improve content marketing ROI with the right content marketing analytics
How to design a strategy that aligns investments and expected results
The best way to waste time or money with content marketing is to produce content that your potential customers don't care about. So to avoid this, strategize your content marketing and adopt a long-term perspective that keeps the end in mind:
start by listing the questions your customers have
align your content with those questions: give them the best answers you can provide that reflect your own angle or doctrine on that topic
align your CTAs (call-to-action) with these questions and answers: think about the next step you can ask readers to take that will move them down your marketing funnel
By doing the above simple exercise for each of your buyer personas, you'll minimize the risks of producing content that your prospects don't care about and you'll also get better alignment from your team: sales, content writers and management.
How to project manage your content marketing operations with a solid plan
Before you start creating content, you need a solid plan for how much content to produce. If you're thinking in units, think again:
As this study by HubSpot found, content marketing success does not come from quality alone: quantity matters too. In a world where Google and social networks prioritize fresh and good content, you'll need to repeat your message in different ways with varying context and updates over and over again. Concerned that you run the risk of boring your audience? Remember that no one reads 100% of your blog all the time. Attention is short. New people come on board. And existing readers may now be in a different context. So you won't get center stage attention from your target audience with just a couple of epic pieces of content, no matter how good they are.
So let's look at the numbers. Let's say you're aiming to be in that 11-15 bracket on the HubSpot chart above. That's 11-15 blog posts/month. Add maybe a dozen or so social channels (your company's but also yours and those of your team). Shoot for 3 posts/day on each of these channels. Add a weekly newsletter with 4-5 posts. We're talking hundreds of posts per month and that's just for a small to mid-size company – not even a large one.
That means one thing: you won't be able to manage that volume of content manually or through a static spreadsheet.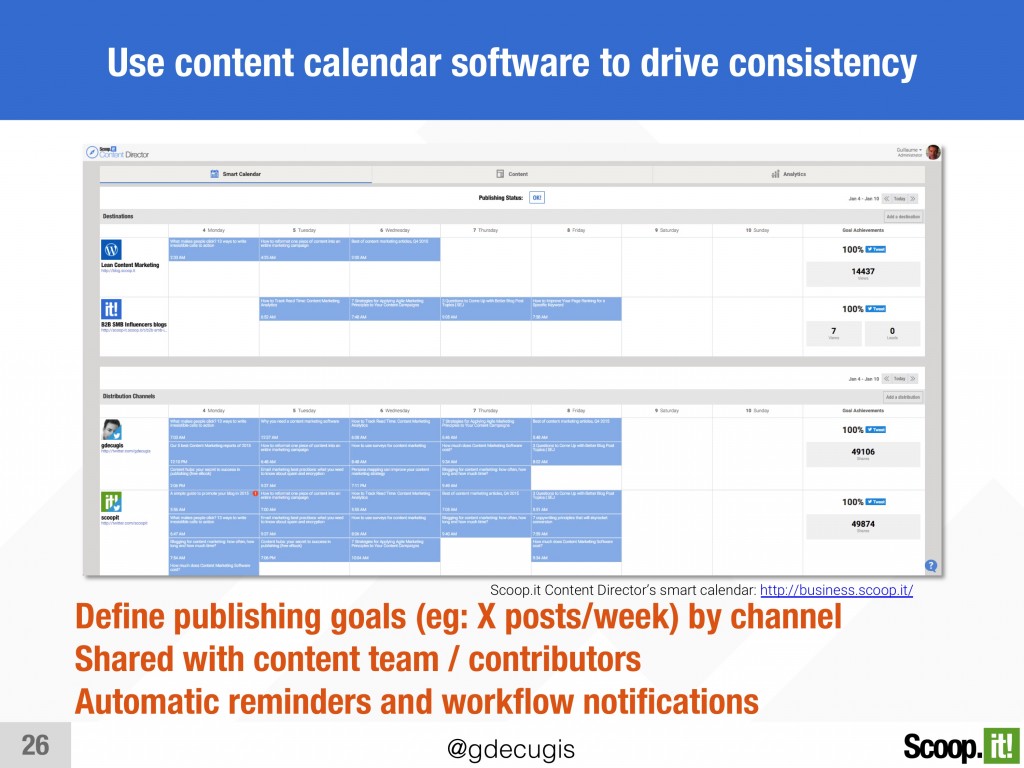 You need to leverage content marketing calendar software to help you do that in order to:
keep track of publishing goals
align your content team, contributors and management on these goals
manage draft submission, editing and approval workflows
get reminders automatically
How to produce good content at scale
After strategizing and planning your content marketing, it's time to start producing your content. While you shouldn't focus exclusively on content production, it is still nonetheless an essential part of the content marketing lifecycle: content, after all, is the fuel of marketing these days. So if production is the bottleneck of your content marketing lifecycle, you need to address that. If you can add more resources or budget, do it. But if you can't, the good news is that you don't have to create everything you need.
First, you can leverage content curation to supplement original content. No, we don't mean sharing third-party content directly on Twitter or Facebook: that's cool but it's not enough to drive SEO or traffic to your website and generate leads. We're talking about insightful content curation which is the process of turning a great piece of third-party content into a curated post. Doing this will not only cut down your production time by 4-8x but it will also make your blog more credible and trusted. For details on how to do this, download our eBook on how to blog consistently in 30 minutes per day.
Second, think about repurposing content you already have. Not just updating it but adapting it to a new format. Transform 3-4 existing blog posts on related topics into an eBook for instance. Or make a slideshare from a blog post. For more tips from great influencers on how to repurpose content, read this.
How to maximize the reach of your content
Creating great content is important, but it's not enough to succeed on its own. Even the most brilliant pieces of content are useless and inefficient without proper promotion to ensure it reaches the audience it was intended for. Find out how to promote your content successfully with these simple yet effective strategies. As more and more marketers embrace content marketing and compete for attention, getting maximum exposure for your content is going to become increasingly important. What's the point of having invested so much in your latest eBook or infographic if no one sees it? "If you build it, they will come" simply just doesn't work in this scenario. Assuming your content will go viral on its own is not just wishful thinking, it's downright dangerous. If you want tips for how to effectively promote your content, here is a simple guide to help.
In this webinar, we've covered 4 best practices to address that.
Ultimately, you want influencers in your industry to share your content. They have more reach than you do. And they're also more credible. This takes time to build but it's worth it so get started now. Start by identifying who they are and then focus on building a relationship with them – a great way to initiate interest being to "give before you get", i.e. curating and sharing their content as it will put you on their radar. As they get to know and trust you, they'll be more inclined to share your content. But don't stop there: ask them to participate and co-create content with you. Get them to put some skin in the game: you'll not only create better content with ease but they'll be more inclined to distribute it since it now also helps their own brand.
While the above takes time, a low-hanging fruit is to optimize your own distribution. If you're not sharing your own content multiple times, you're missing out. God helps those who help themselves and studies show that sharing your own content multiple times doesn't result in follower fatigue, but rather increases reach and traffic dramatically. Sure, it's time consuming but here again, you should leverage automation:
to automatically program your new content for distribution across multiple channels multiple times in the weeks after it's published – the same way a radio DJ does with newly released songs
to discover evergreen or successful content to re-share – the same way these same radio DJs keep playing back-catalogue hits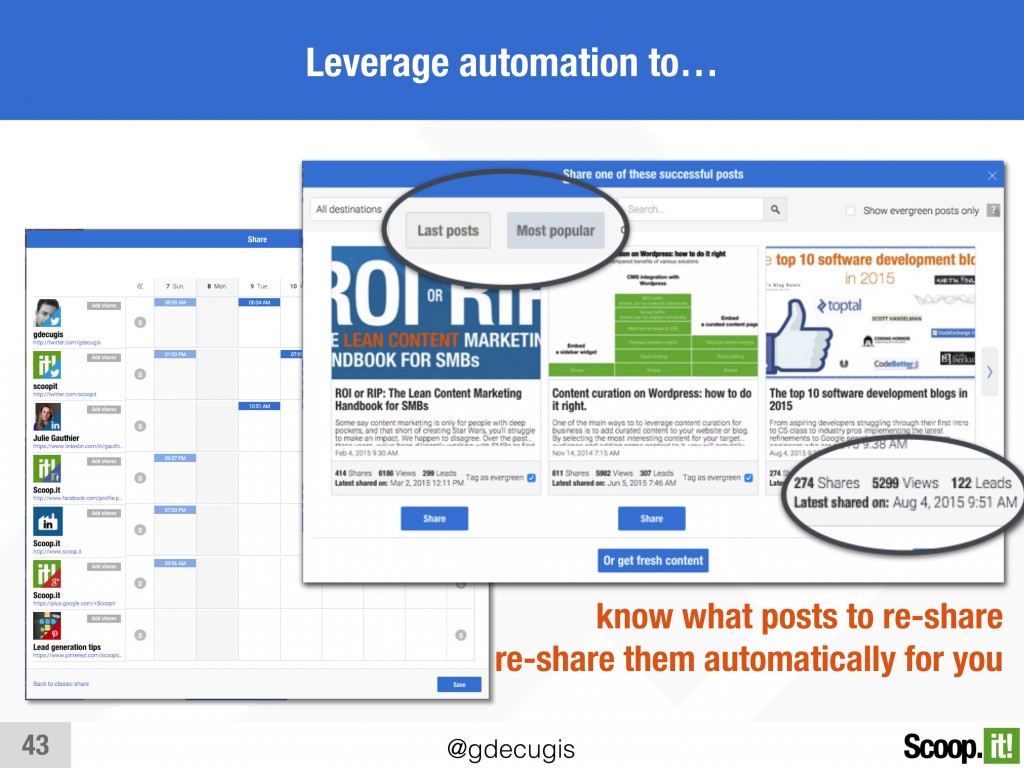 Get your team to share your content. For most companies, the combined reach of their employees dwarves that of their corporate social accounts. Add to this the fact that brands are currently experiencing a dramatic decline in organic reach on Facebook (who wants them to buy the missing visibility through promoted content) and you'll realize how big an opportunity this is. More on this topic coming soon on our blog.
Create email newsletters to distribute your content. Sure, promotional marketing emails suck. But content emails that educate your subscribers or inform them about new trends don't: they'll want to receive them. Make it your objective to create a weekly round-up with 4-5 pieces of content: Some of your own and some curated from influencers in your industry.
Content marketing analytics: how to prove and improve content marketing ROI
If your strategy is good, if you've delivered your content plan by following a strict content calendar, if you've produced good content and if you've distributed it well, everything should be good, right? In real life, chances are that you did some of these things well and others not so well. But how can you really be sure?
Only practice makes perfect. In order to deliver long term success and ROI through content marketing, you need to repeat the content marketing lifecycle so that your efforts improve at each and every new iteration. And to be better this week than last week or tomorrow than today, you need to learn. You need to analyze your content so that you know what worked and what didn't.
To address this, we recently introduced a simple content marketing analytics framework that makes it easy to cut through the clutter and take action based on the relative performance of each one of your posts. By comparing how each piece of content contributes to volume, traffic and leads, you'll learn how to improve from one post to the next: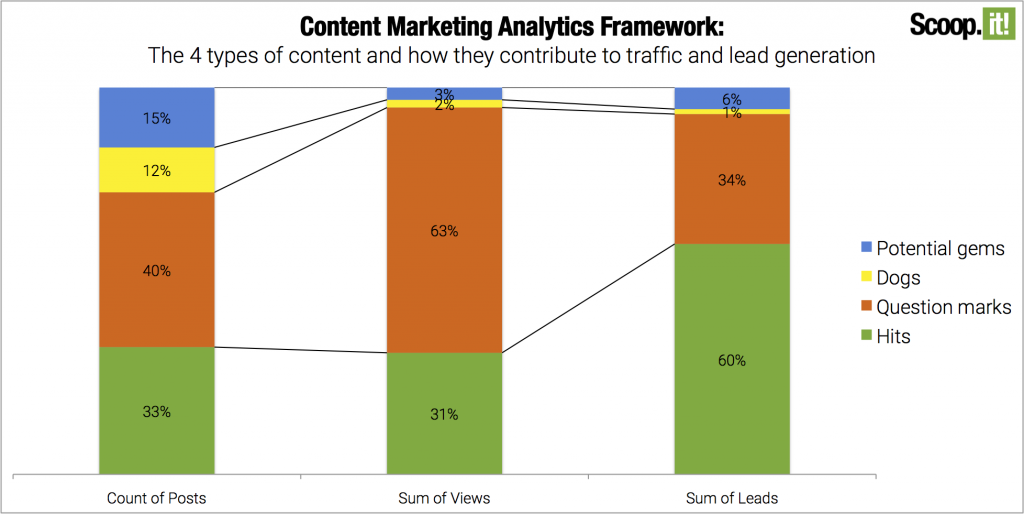 If you liked the above summary and want to get a deeper understanding of these best practices, sign up for a replay of our webinar with Sprout Social:

And if you're looking at software to help you automate a good part of the content marketing lifecycle, save time and generate more results, get a demo of Scoop.it Content Director.