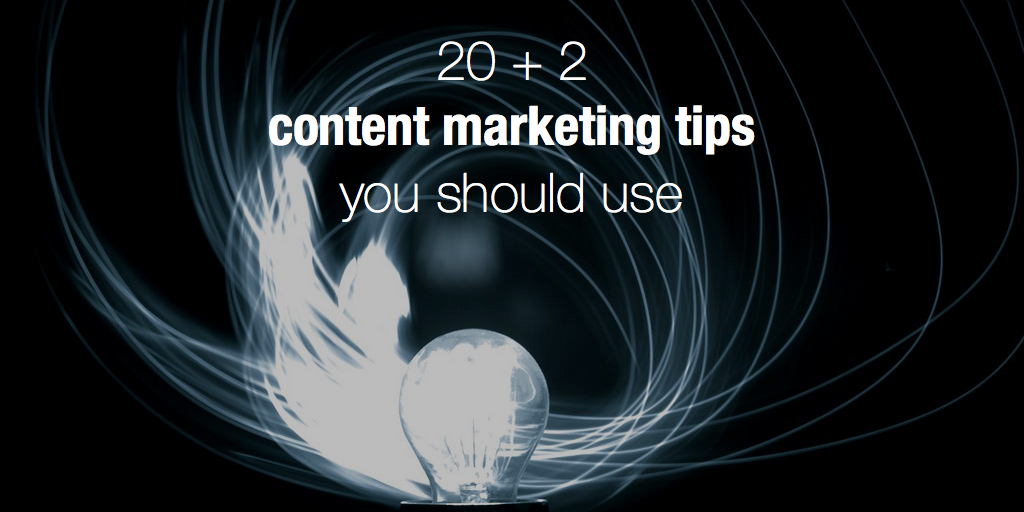 This list of content marketing tips is a must-read, including some that are often overlooked by many marketers. Find out what you could be missing out on.
Read the full article at: www.searchenginejournal.com
In this post, Julia Mc Coy, Founder of Express Writers, provides an amazing set of practices that you could – and should – be leveraging to drive more results out of your content marketing.
I find this list to be highly valuable: not only did it validate that some of the efforts I was putting to be a leaner content marketer were not for nothing (being a small marketing team, you kind of have to be lean if you want to drive results!), but it also gave me other insightful tips I had not thought of and will start implementing right now to become more effective!
Among the 20 tips, here are the two I like the most, because in our they've really shown results.
Answer your audience's top questions – and stop guessing their questions, they're right in your (or your customer success team's) inbox! 
Why it matters: 
Julia is so true. I can't believe I don't do a weekly check or why isn't there a 'bot in my Slack channel updating me every time one of our customers asks us a question we haven't answered yet.
Even worst!
Most of the time, you HAVE answered the question in an older blog post! But as a marketer, you can't take all of your work for granted. Sure, you've written or collaborated on writing your blog articles. you know the ins and outs of each blog post being published. But your sales and CS teams don't. And there is no way they could (unless they join the marketing team :)).
How to do it:
Don't take your team for granted. Make it easy for them to know what are your evergreen pieces of content they can refer to whenever a "big" question is asked (you can leverage a resource center for that).
Keep a document with some of the most important data points, quotes, research, and don't forget to include the url link to the piece. This can easily be done by sharing a Google Spreadsheet!
Finally, communicate with your team:
Set up a Slack (or any other messaging tool) channel called "customers and prospects questions" where sales can give you these insights easily
use part of your sales and marketing sync meeting to go over these questions
And if you don't do a weekly sync between sales and marketing, then start doing one right now. 
Create – and share over time – evergreen content
Why it matters: 
We can't stress it enough, creating (and identifying) evergreen content is one of the leanest content marketing practices of all. And sometimes you'll create a piece you don't think will become an evergreen, and after a few weeks of promotion you'll realize that it helped you audience in ways you can't imagine.
That's why you need to monitor your content marketing efforts and keep track of your KPIS on a regular basis. Of course, there are tools to help you with that!
How to do it: 
If you read the previous tip, you should know what your audience cares about. You're going to have to create content that isn't centered around your brand or your product, but really find ways to create value for your readers. If you do, you'll eventually get more of those readers since you'll grow your search traffic!
Once you've identified an evergreen piece of content, you have to share it over time to make sure your new readers read it.
Now that's the tricky part if you don't have a tool. Since they might have been written a while ago, it can be time consuming to manually dig them up and share them. Here are two ways to share your evergreen posts on a regular basis:
– Use a set of free tools: Google docs, Google sheets or Evernote to maintain your list of evergreen articles and their urls. Then Google Analytics to keep track of how much traffic these posts are generating. Then share them on your company's social media channels. Don't forget to ask your co-workers to share them on theirs too.
– Get a content marketing tool in which you can identify your evergreen posts to find them in one click. Then use the same tool to prepare and schedule the messages on all your social media channels (including those of your co-workers):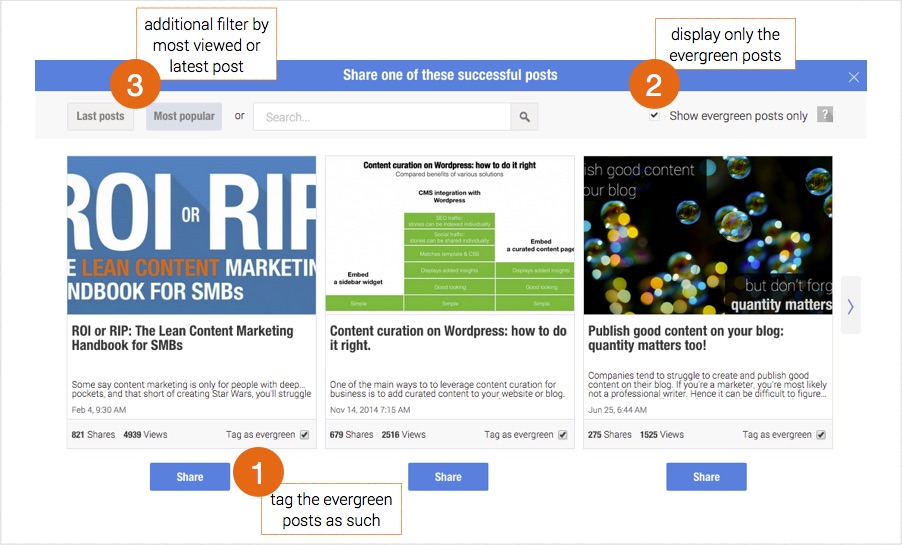 Two other things you might not be doing that could help you improve your content marketing results
I would  like to add my two cents to Julia's post. I hope she finds those valuable too!
1. Leverage content curation to publish quality content more frequently
Why it matters:
Everybody talks about the importance of content quality and most tend to forget that quantity matters too.
Why? Because if you create a great piece of content every month or so and you haven't built an audience by publishing content on a regular basis, you'll fail at reaching the amount of people you'd like to (and should!), creating completely legitimate frustration to invest time and efforts for nothing.
Marcus Sheridan, founder of The Sales Lion, says it:
"Some 'just ok' content that is published will crush 'awesome content' that never gets published. You have to produce average content to learn how to produce great content."
And a great way to help you publish fresh content that your audience likes, on a regular basis, is to curate content. Not share content that links to others' websites, but use (completely legally) an existing piece of content and create your own from it. Just likeI'm doing right now. I'm giving credit to Julia for her post, increasing traffic to her article thank to the backlinks, using a quote of her article and then adding my insights to the post.
It takes 4x to 8x less time to curate content rather than create it. Simply because the existing piece you're starting from is the introduction to your post!
Here are 4 reasons why you should combine content curation and content creation to step up your game.
How to do it:
Here are a set of tips to help you curate content the most effective way, here is a great post you can read.
And by the way, to name a few, here are the benefits of content curation:
better SEO rankings (study here)
more traffic to your website
builds relationships with the authors you curate (you're helping them by creating backlink and putting them in a thought leader position, why wouldn't they share your content in return?)
more content on your website
2. Use "smart content marketing automation"
Why it matters: 
You know that content marketing takes a lot of time. And there is so much content out there to help you in your content marketing quest that it can become overwhelming. Knowing what to do and when can quickly become a nightmare, even for the best markets out there.
How to do it:
There are two ways smart content marketing automation can help.
First, by smart we mean "content marketing intelligence". Putting processes in place to help you remember which piece of content should be shared and when is one of them. For that, softwares will me more reliable than humans. you can still put alerts in your calendar not to forget to share or analyze the performance of any given piece of content.
Second, automation. We're not talking about machines taking over content marketing. The importance of taking the time to research your audience's needs and create great content accordingly is now even more important as 2 million blog posts are written every day.
But creating content is the tip of the iceberg. You need to consider the entire content marketing lifecycle if you want your content to be seen and shared.
And that's where technology can help: by automating some of the tasks that take up a lot of time and in the end are very repetitive (social media scheduling, content discovery) you will save valuable time you could dedicate to where human intelligence is the most needed.
I hope you'll find these tips valuable. If you have others that work and you'd like to share them with us, don't hesitate to write them in the comments!
And if you'd like to see how content curation can help you improve SEO, you should read this eBook!
Image by Patrick Brosset.