Content strategy has a reputation for being complex. It's so complex, people have even written books and articles simply defining what content strategy is and isn't. The gist of these definitions comes down to how content marketing strategy differs from content strategy.
For the sake of clarity, let me give you one of the best of those definitions: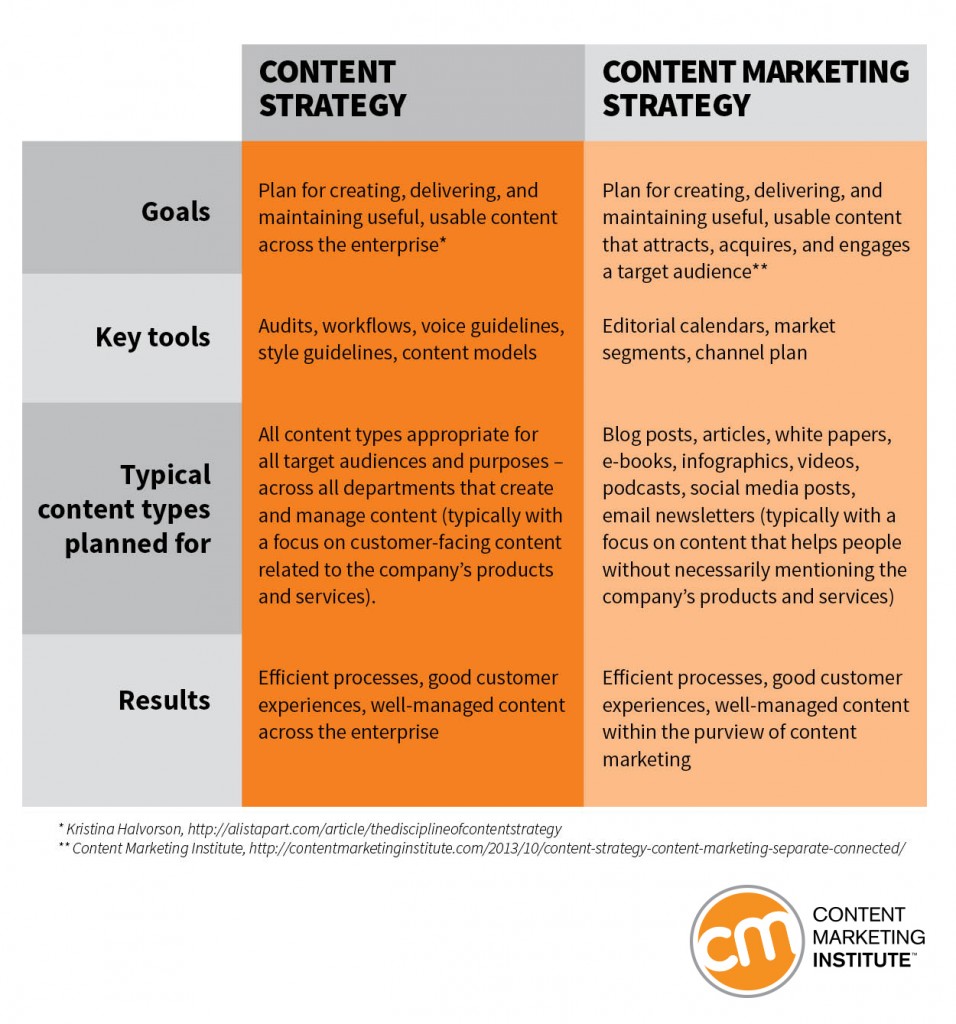 Because we're focused on content marketing, I'm going to focus on how to define a content marketing strategy. As you read in the definition above, "content marketing strategy" goals are the "plan for creating, delivering, and maintaining useful, usable content that attracts, acquires, and engages a target audience." That'll be our working definition of what we want to do.
And right there, in that definition, is the kernel of why you should be defining your content marketing strategy – not an agency.
Why? Because of the audience. Your audience. Because if your business (much less your content) is successful, it's probably because you understand your audience.
That's valuable knowledge. It's also unique knowledge. And so while an ad agency might know about content marketing strategy, and have lots of fancy things to say about content, you're still the one with the most valuable knowledge: You know your audience best. And it just so happens that all thinking about your content marketing strategy should start with your audience.
Of course, we can't forget about the ROI – and we're not. You've got to get results from your content. But if you prioritize business results over the needs of your audience, you'll fail.
That last sentence might have raised a few eyebrows. And there's a whole post's worth of discussion about why this is so. Let me point you to Joe Pulizzi's recent post, "Content Marketers: Your WHAT Doesn't Matter if Your WHY Is Lacking" for the extended argument of why your audience's needs have to come first. Or you can watch the video he and the Content Marketing Institute made to describe this mindset.
Why your audience needs to come first
Your audience doesn't care about your business results. They aren't interested in reading sales collateral. Nobody is going to share sales collateral or content that is strongly slanted to generating direct revenue. They're only going to consume and share content they care about, that helps them or entertains them.
If you've been posting content and it's been getting near zero engagement, it's almost certainly because you've been thinking ROI-first, not audience first. How you prioritize those two needs – your business's and your audience's – is a core content marketing strategy decision. It will shape every other content marketing decision you make.
But it doesn't have to mean you're going to have to ignore either need. The sweet spot of a content strategy is where those two needs complement each other.
So instead of thinking like this: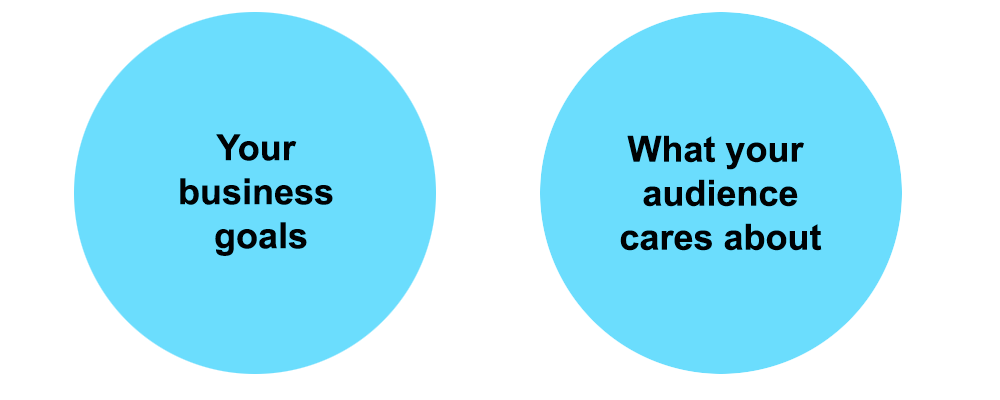 Think like this: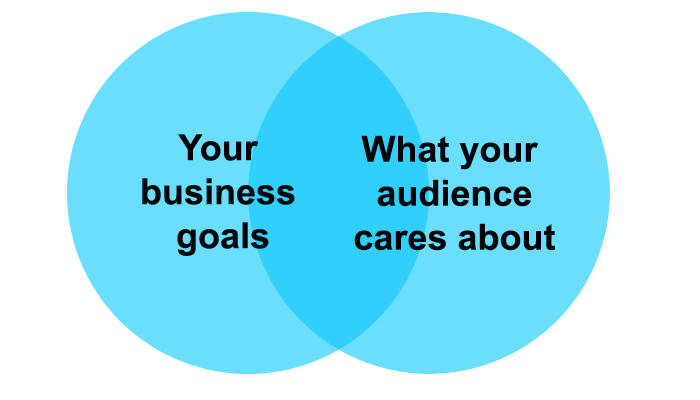 And build your content marketing strategy accordingly.
Understanding your audience is the key to your content marketing success
Alright. So you know your content marketing strategy should start and end with your audience. But your audience isn't always a homogenous group. They are typically a mix of different types of people with different goals, problems, and fears. That's why most content marketers create personas.
If you haven't created personas before, or if you haven't updated your personas recently, this is the first step to retooling your content marketing strategy. There are a bunch of tools that can help, like HubSpot's "Make My Persona" tool.
Or you could use our Persona Development Worksheet. Just click the image of it below to download it. Print out 3-5 of these – one for each persona. So few? Any more than five personas gets unmanageable, though some marketers do have complex audiences.
Assess the content you have – and don't have
Once you've got that information down, the next step is determining where your content gaps are. This is often called a "content audit", but don't let the name scare you. While some companies do go in for extended, detailed content audits, it is possible to get a basic one done in a day or two.
Just ask yourself:
Do I have at least one piece of gated content (i.e., content worth asking someone's email address for) for each step in the buyer's journey for each persona?
As you can imagine, this gets complicated fast. So we write things down. Here's a grid to help you map that out, with the first example filled in:
You can get a blank version of this grid here. Just click the image to download it.
Pat yourself on the back, as you've now successfully mastered the following:
Determining where and how to get leads, and how to nurture them through the sales funnel
Now it's time to measure. Namely, to set up tracking so you can measure which pieces of content are performing best. You can do this easily with a tool like Scoop.it Content Director.
What "best" means will vary from company to company. So while you're running your reports, dig out that old sheet you made about what your content marketing goals were. Don't have one? Now's the time to get one. Here are the most common content marketing goals, according to the 2016 Content Marketing Institute and Marketing Profs B2B and B2C North American Content Marketing Benchmarks, Budgets and Trends reports:
The business goals you pick will decide which metrics you want to track. They will also, in turn, determine which pieces of content you define as "good".
This will show you where the leaks are in your content marketing, and in your sales funnel. It's the first step to improving your conversion rates, and to seeing a genuine return on investment for your content marketing work.
If you've already got tracking set up, you're in an even better position. Haul all that data out and see where the holes are in your content funnel. Ask yourself:
Do certain types of content seem to perform best? Then consider creating more content like those pieces.
Do certain content formats seem to perform best? Consider making more content in those formats.
Which social media platforms perform best? Or which pieces of content on those platforms perform best? Is there a platform that's underperforming so badly that you could cut it?
Which blog posts perform best? Do they share any characteristics – long, short? Round-up post? Curated posts? Does your data show any clues about whether you should publish more often, or if you could publish less often and get mostly the same results?
Which email messages have performed best? Can you discern if your message frequency is working?
That's just the beginning of the questions to ask. I bet you can come up with a bunch more on your own. Basically, this is a cross-examination of your content from every possible angle. While you do it, hold three things in mind:
What your analytics data is showing you
Your audience (and those persona worksheets)
How well each piece of content ties into your business goals – including the all-important goal of audience building.
Content ideas brainstorming, idea evaluation, and planning
Whew – don't give up yet. You're in the last stage of revamping your content marketing strategy. And now it's even time for the fun part: Developing content ideas.
You made the first run at this when you filled out the content gap analysis worksheet. But after looking at your analytics reports, hopefully you'll have a lot more information about how your content should look.
Spend an hour – or a day – rattling off every possible content idea you can come up with. Aim for at least a hundred ideas. This is the brainstorming phase, so don't dismiss any idea because it's too crazy, too frivolous, or too hard. Just run up an amazing list of content ideas.
About a day later, go back and rank all those ideas based on a scale from one to five. Five is best, one is worst. Consider factors like how well you think the content will do, how much time and resources it will take to create, and how well it fits into both your business goals and what your audience cares about.
Next, break out an editorial calendar and start filling it up. You'll probably want to stick to only the 4 and 5-level content ideas. Plan out your calendar about 3-6 months in advance. Bonus idea: leave a couple of empty spots for great ideas you'll have between now and then.
Just one more step… the promotion part. Now that you've got that editorial calendar, and you've got your analytics/reporting still out, make a plan for how you're going to promote every single piece of content you'll create.
Please don't skip over this. Content without promotion rarely turns a profit. And it doesn't have to be hard, either. You could make up a simple promotion checklist for every content format you've got. Then add some special content promotion tricks for extra-important pieces of content. Having a plan like this will keep long-term goals like building relationships with influencers top of mind. Any little action you can take towards those goals will add up over time.
And there you have it. A completely revamped content marketing strategy, complete with the plan to execute it.
Back to you
Got any ideas for how to make this content marketing strategy revamp better? Willing to share any tactics for developing a content marketing strategy that have worked for you? Share your ideas in the comments.
If you want to get 30 effective techniques to master content marketing along with valuable insights from 10+ influencers like Mark Schaefer, Rebecca Lieb, Lee Odden, Jason Miller or Ian Cleary, download our free eBook now!

Image by Matt H. Imagery