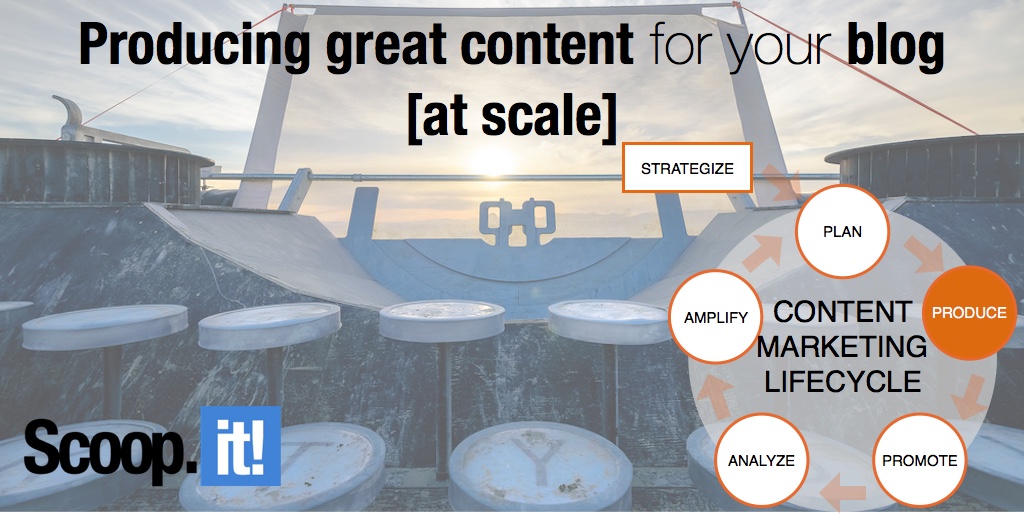 Content production remains the #1 challenge for most marketers when starting out with content marketing, where a lack of good content continues to be a hurdle many struggle to overcome. While it may seem basic, content creation is a vital component of effective content marketing, yet it isn't enough. Unfortunately, it's just one of the phases of the content marketing lifecycle, which requires optimization at every stage in order to be successful. Done the right way however, it can help.
Quick recap: The last series in this six-part installment on how to optimize the complete content marketing lifecycle focused on the second phase of the content marketing lifecycle: How to plan your content marketing to set you up for success. Here, you learned why it matters to plan ahead, how to plan your content the right way, keeping track of your content goals and the importance of always evaluating your analytics. 
Now that you've successfully mastered how to strategize and plan your content, you're ready to move on to the next phase of the content marketing lifecycle: producing the actual content itself. Hold onto your keyboards, because things are about to get exciting: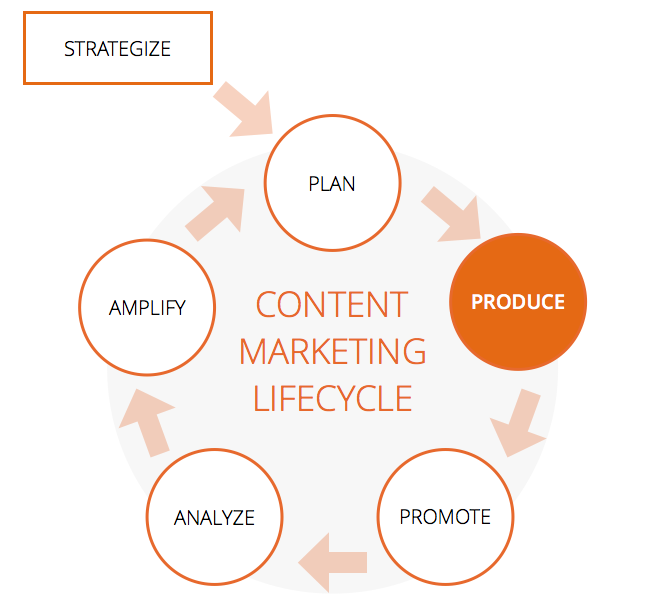 Things to know before producing content
We know, you're just itching to start creating your content. You're almost there. But before you begin, there are a few important points from the previous phases of the content marketing lifecycle (strategizing and planning) that you need to keep in mind before you launch into creating your content:
Audience, audience, audience
We can't emphasize the importance of this enough. Your audience is the reason you're in the game to begin with, and therefore their needs and questions should be top of mind when creating your content. Find out their pain points, the biggest challenges they face at their daily jobs and what questions they would ask if you were in front of them. In other words, define your buyer personas.
Always respect the 80/20 rule
Only 20% of your content should be about your product or brand. The rest should serve to educate and help inform your audience. The good news is, you can still talk about your brand- your prospects can still be interested in your new features, the evolution of your company, and any other brand related articles.
Make sure 100% of your content is optimized for conversion
Remember to organize your content framework to convert: each piece of content you publish (whether it's original, curated, repurposed content) should be optimized for conversion.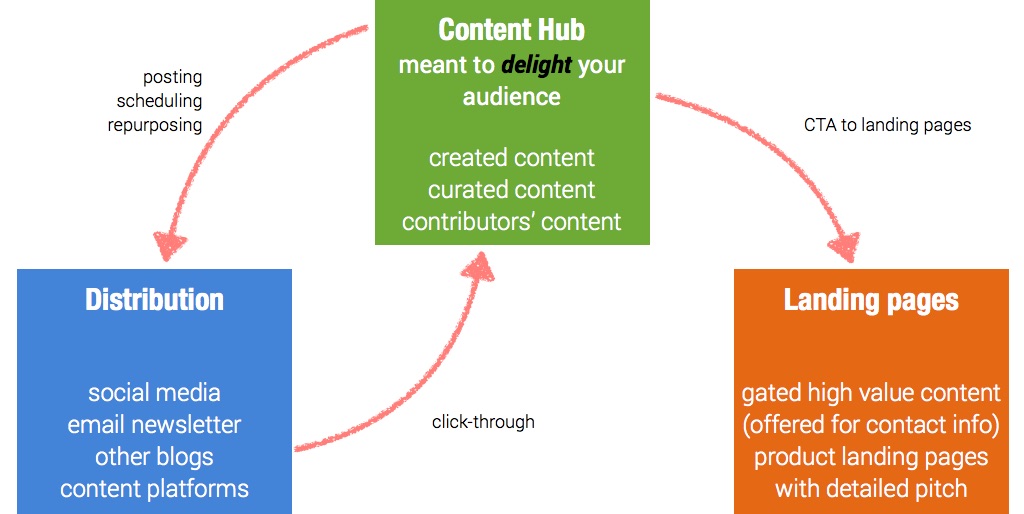 Building blocks of content: how to create good content the right way
Start by publishing content
As you learned in the planning phase, it's essential to establish a consistent publishing frequency to maximize the impact of your efforts. As demonstrated in the below HubSpot study, publishing more regular content generates more leads.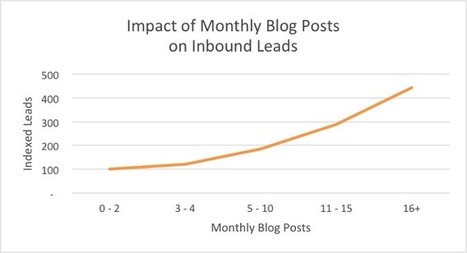 The findings represented in the above graph prove that content marketing success does not come from quality alone: quantity matters too.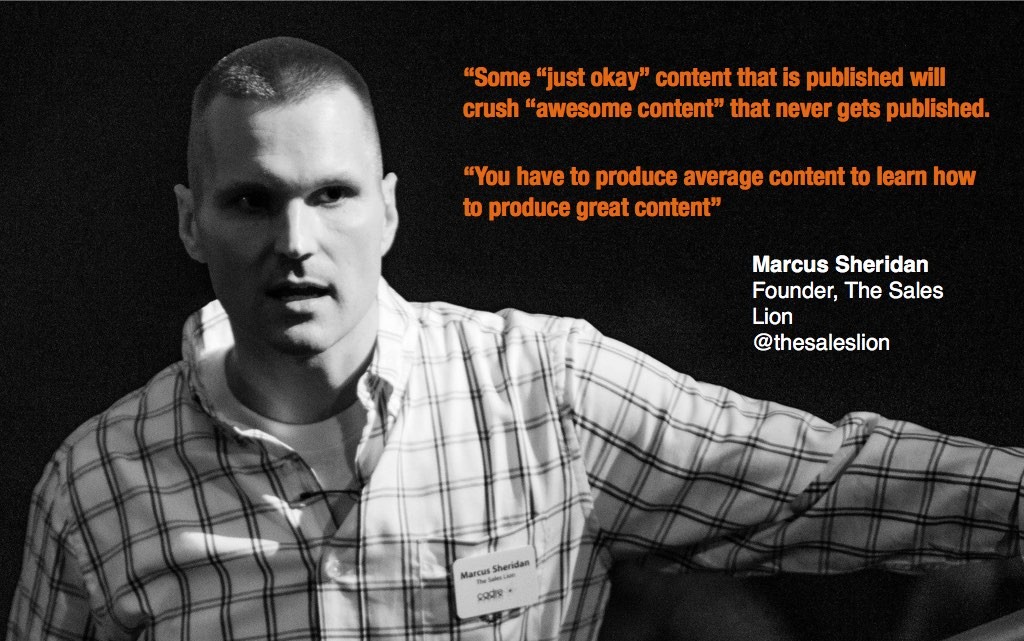 Don't bet all you have on a few big pieces of content
Should you focus on short-form or long-form content? What types of content are more effective, generate more leads and overall ROI? Here's a great article that explains which types of content work best.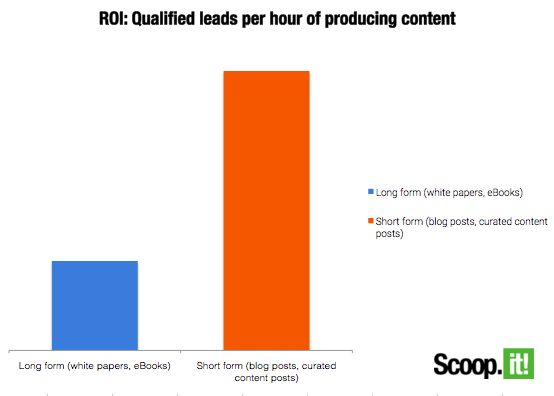 How to write great blog posts for your audience (and SEO)
Use this handy checklist to ensure you create awesome blog posts for your audience.
You need to publish more content regularly, but it's going to get very complex
Publishing good content isn't enough if you aren't doing it regularly. And the more content you produce, the more complex and challenging it is to manage your content processes. Especially when you're doing it all on your own.That's why you need to enlist the help of an editorial calendar to help you keep up with your goals. Another great way to increase your content production and extend your reach is by leveraging co-workers and contributors in your efforts.
Optimize your content for SEO
How can you make your content even more impacting so that people will end up on it when asking themselves the very question you're answering? Find and identify relevant focus keywords you think your audience would type into Google, and then use them in your heading, URL, title, content, meta description, etc.
Lacking resources to scale the production? Effective ways to help you produce content faster
If you're scrapped for resources to scale your content creation, have no fear. Here are some effective ways to publish more content without using up additional resources:
1. Leverage content curation in your mix
Content curation is the most effective lean content marketing strategy that exists today, and the best technique to publish content regularly. Content curation generates 3.7x the amount of content for the same amount of time & 5.2x the amount of content for the same costs. If you're limiting your content curation to sharing third-party content on social media, you're missing out. While creating a good, original blog post can easily take up to 4-6 hours, building on curated content is much faster, especially if you use a curation tool to source industry content automatically. Content curation is also a great way to enrich your blog or website: don't just list great resources on your home page, turn them into curated posts. Research has shown that third-party content is 4x-7x more trusted than your own, and 4x-8x faster than writing a blog post. 
And if you're in the camp of people who believe that the only type of content that reflects subject matter expertise and thought leadership is content created by you and you alone, be prepared to be convinced otherwise. The below data collected from a study conducted by the CMO Council proves that using third-party content intelligently is critical to winning over prospects:
This doesn't mean that you should stop creating your own content by any means. It simply shows that you can be exponentially more convincing if you can publish curated content that supports your overall message.
What's a curated post, you ask?
Effective curated posts highlight amazing content that readers have never seen in a way that adds value and impresses the original source. Adding curated content to your blog or website is about more than just haphazardly slapping on a few titles and links. You can turn each link you curate into a blog post with its own unique URL (aka permalink) that will be indexed in search engines, contribute to your SEO efforts and be shared individually by your readers on social media. Just like any regular blog post, a curated post is a blog entry in your blog platform or your content management system. Its content consists by default of a title, an image and a quote from the original piece but to be effective, you shouldn't stop at that.
The [many] benefits of curated posts
The advantages of curated posts extend beyond just saving you precious time and money, and helping you to publish the same amount of content for less. They also add to your original content's results in terms of traffic, SEO and leads as well as add credibility and build trust with your audience in a way your own content cannot. By mixing your own thoughts with excerpts from the original article, you'll add more value to search engines and get SEO benefits for your website as explained by SEO expert Jayson DeMers. The SEO benefits of content curation in general and of value-adding curated posts in particular have also been demonstrated by the experiment Bruce Clay ran comparing various content curation methods' performance in Google rankings.
"Content curation not only alleviates the pressure of having to devote valuable time to creating original content, but it also adds credibility and third party validations to your efforts."

Jason Miller – Senior Content Marketing Leader, Linkedin.
How to publish awesome curated posts
Savvy content curators go beyond just mechanically selecting and sharing content: they add value and new meaning to the original piece of selected content by offering their own unique perspective or opinion. Simply hitting the share button isn't going to help you build an established brand in your space. Instead, rewrite any default text provided by the share buttons to share in your own brand voice. This provides a new contextual frame or lens through which to view the original author's opinion or analysis. Add it as an insight to ensure your readers see the value you bring them as a trusted thought leader in your industry. To make the most of content curation for your own website or blog, you can use the infographic in this article as a checklist before publishing a curated piece.
If you're interested in learning more about content curation, we have created and curated thousands of articles on the topic. Here are a few of our top selections:
2. Automate content discovery
Capturing and repurposing the content you discover is smart, but it's only the beginning of your content curation strategy – making use of what you're already doing. While this is a step in the right direction, it's not sufficient: an effective editorial line requires density, regularity, and rhythm. You need relevant and rich content to sustain your presence across different media channels throughout the day. Case in point? You need predictability in your content sourcing in order to generate ROI.
How can you start automating content discovery now? To do this, you need to consider content discovery tools that can automate content discovery for you, provide you with a consistent stream of fresh, relevant content and save you considerable amounts of time over other serendipitous content discovery approaches. An example of this type of tool is Scoop.it Content Director, which has a powerful content suggestion engine that browses the web for you, listens and watches for what is published and exchanged within your topics of choice, and suggests relevant content for you to curate. Having a tool like this to automate content discovery allows you quickly and easily find content to curate from across the web, and then use it to automatically create and publish your curated posts to your blog, social media accounts, or email newsletters, as shown in the below screenshot: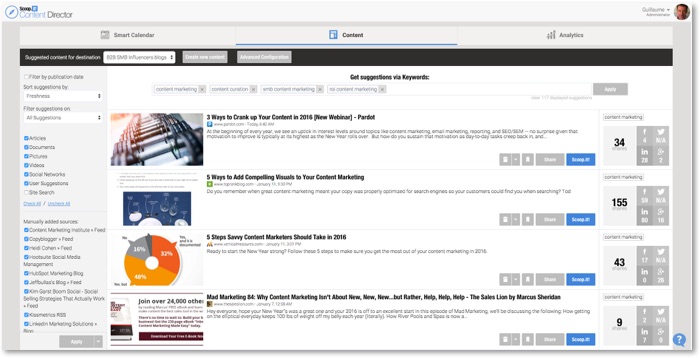 3. Repurpose content
Repurposing content is a key lean content marketing strategy for producing and publishing more content with less resources. According to Julie Gauthier, Director of Inbound & Content Marketing at Scoop.it, "Repurposing content is the art of doing more with less." 
Why should you repurpose content? Content repurposing enables marketers to create new content at marginal costs, helps to increase the lifetime of a piece of content, and helps to reach a larger audience through multiple channels. Repurposing allows you to save time for the same performance. According to content marketing specialist Megan Marr, "Repurposing content has a number of benefits, such as: reaching out a new audience, dusting off forgotten tales or making the most of your efforts."
How do you repurpose content? You can transpose a piece of content into other formats, breaking down a large piece of content into smaller ones or aggregating individual pieces of content into a larger one. If for example you want to repurpose blog posts into an ebook, find the 5 blog posts that talk about the same topic, figure out an overall answer they respond to and use the content to build your eBook. One example of repurposing content is making a Slideshare from a blog post. For insights from top marketing experts on how to effectively repurpose content, we recommend you read this article. Here's a visual summary of ways you can efficiently repurpose content:

4. Involve influencers
Ultimately, you want influencers in your industry to share your content. They have more reach than you do. And they're also more credible. This takes time to build but it's worth it, so we advise you get started now.
Why get influencers involved? Getting influencers, co-workers and contributors involved in your content production is a great way to create more content but also serves to validate your message, grow and amplify your reach.
Lee Odden
The CEO of TopRank Online Marketing, Lee Odden (@leeodden), is a big advocate of involving influencers in your marketing.  repurposing content. According to Lee,
"Co-creating useful content with your community incentives participation, engagement and promotion. Influencers get exposure and you'll get relevant content they're inspired to share."
How to find influencers and get them participating: Start by identifying who the influencers in your space are, then reach out to them and focus on building a relationship with them – a great way to initiate interest being to "give before you get", i.e. curating and sharing their content as it will put you on their radar. Here's a great article with tips and strategies for finding influencers and subject matter experts to help contribute to your content production efforts: "How to get influencers and subject matter experts to contribute to your blog."
Conclusion
Producing great content for your blog can be challenging, but it's not impossible if you understand how to do it correctly. Stay tuned for our next installment where we'll discuss the best content marketing tools for the production phase of the content marketing lifecycle.
Questions? Comments? Successful practices you'd like to share with us? Feel free to add your comments below. We'd love to hear your thoughts!
If you want to get 30 effective techniques to master content marketing along with valuable insights from 10+ influencers like Mark Schaefer, Rebecca Lieb, Lee Odden, Jason Miller or Ian Cleary, download our free eBook now!
Image by Chris Miele.