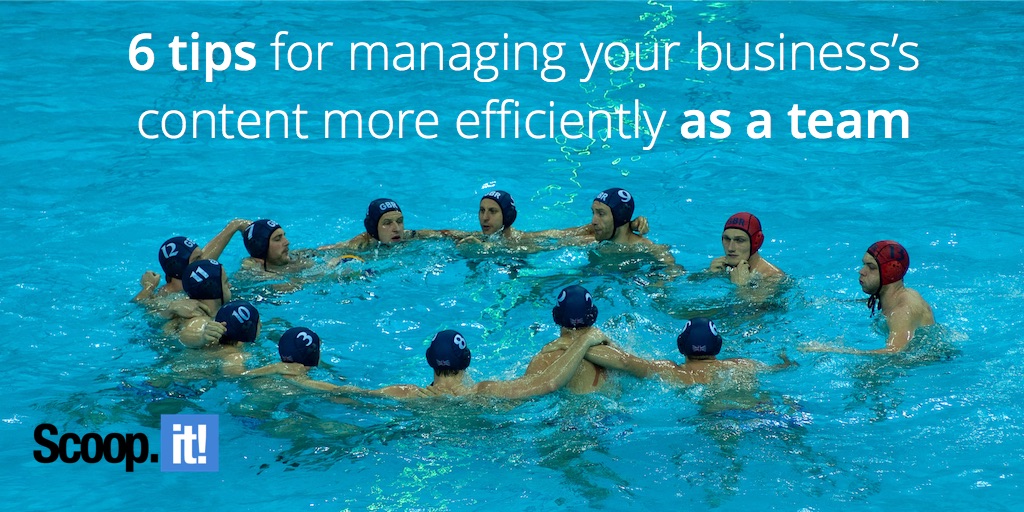 Content is an important part of getting the word out about the great work your business is doing. Whether you run an online retail store with a national reach or a local service-based firm, the right content marketing strategy can make all the difference. However, a business owner can't do everything alone and as a company grows, it's important to have help posting updates and responding to customer comments.
Once you're ready to delegate some of those duties, though, things can get confusing. Unless you have a plan in place, you may find no one is entirely sure who is handling your various accounts. As a result, two team members could post the same update simultaneously, confusing your followers. But with the right plan in place, your team can manage your accounts without crossed wires. Here are a few tips to help your team efficiently manage your online content.
1. Put protocols in place
Before you designate a team to work on content marketing for your company, first establish a set of protocols to govern how the work will flow. This type of teamwork generally works best when someone is designated to serve as content manager, approving and posting content on behalf of the business. When this person is unavailable to serve as manager, have a secondary person who can act as backup.
2. Set a strategy
Before you can start work, you need to have a strategy in place. Consider your long- and short-term goals and decide what you want to achieve through your content marketing efforts.
As part of this, create buyer personas for your target market and set up a way to consistently remind your team about these personas. In doing this, you'll likely need to get to know as much as possible about your current buyers and the type of customers you hope to attract.
3. Automate
Your team has access to a wealth of tech tools that can help you seamlessly administer your various social media accounts. Using a dashboard service, or a tool like Scoop.it Content Director, you can schedule and promote your posts weeks in advance, giving your social media manager plenty of time to review each post before it goes live: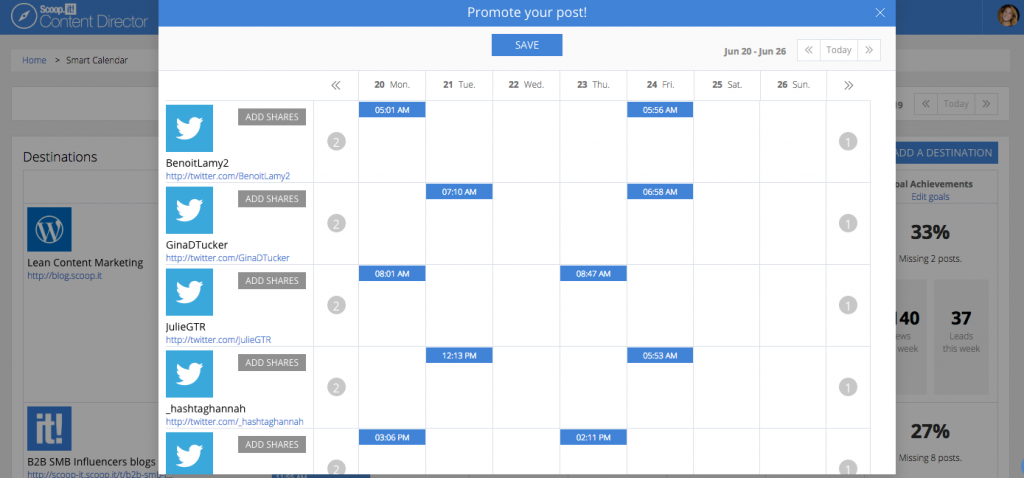 For your blog posts, use a CMS like WordPress and have your employees write their content and save it as a draft in the system so that your editor can approve and schedule it to go live.
4. Provide feedback
As with other areas of your business, employee morale can make a big difference in your effectiveness. Make an effort to follow up with your content marketing team on an incremental basis to review your goals and measure your results. Provide feedback to let team members know how they're doing with their content creation efforts. Try to avoid being negative and instead offer constructive information on how they can become better at the work they're putting in each day.
5. Use an editorial calendar
Publications have long used editorial calendars to plan content well in advance. This is especially valuable for a business that likely has specific events to promote. If you have a new product release or a special service promotion, you can schedule content to accelerate in the days surrounding the big day. Best of all, you don't need any special tools to create and manage a calendar. Using these tips, you can use Google Calendar to plan your content. You can also of course use Scoop.it Content Director's editorial calendar as well!
6. Measure results
Any marketing strategy needs careful measurement. Set up analytics on each of your online accounts and monitor them on an ongoing basis. Present the results to the rest of the team and brainstorm ways to improve your results. When the team works together to refine your plan, you'll likely find that everyone feels invested in the results. Not only will this help you with your current campaign, you'll have the information you need to coordinate future campaigns.
Conclusion
Content marketing can be time-consuming but with a great team in place, you can get better results. Coordinating a group effort can be challenging, but fortunately there are tech tools that can help. Over time, your team will learn more about which activities are most effective when trying to reach your target market. This will help you avoid wasting time and ensure that you get the best results possible.
If you want to get 30 effective techniques to master content marketing along with valuable insights from 10+ influencers like Mark Schaefer, Rebecca Lieb, Lee Odden, Jason Miller or Ian Cleary, download our free eBook now!

Image by Alex Lomas.