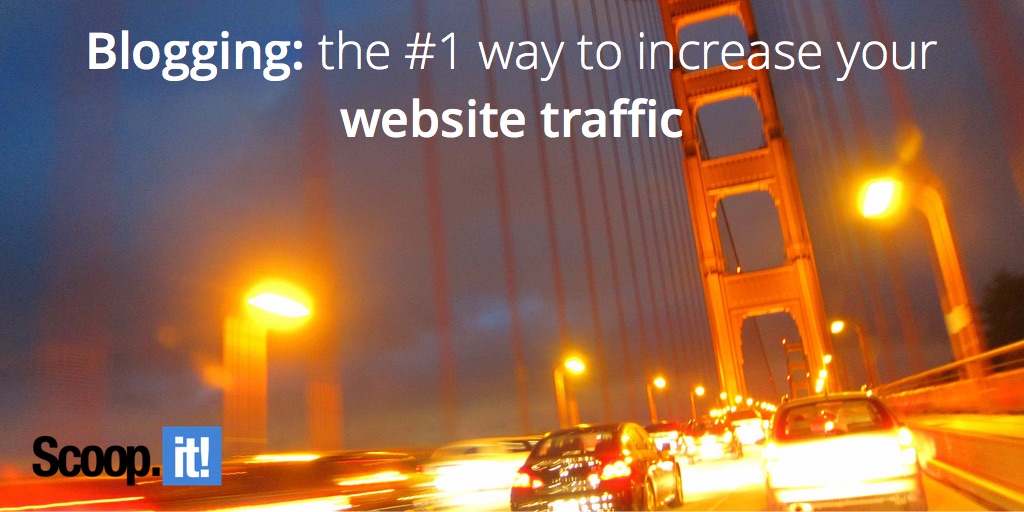 Want more website traffic? Then blogging is your best choice. No other tactic is as effective at attracting an audience.
Take marketing superstar Neil Patel's word for it. He says "blogging is the #1 traffic-increasing factor." And he backs that up with research from HubSpot from way back in 2013.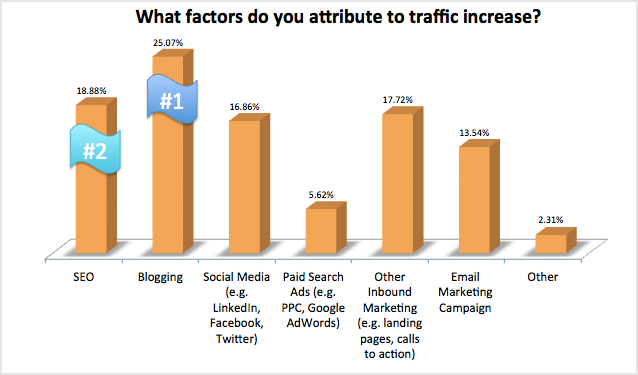 Does 2013 seem like too long ago for you? That's okay. There's plenty of more recent research. HubSpot itself did another study just last year, based on 13,500 company blogs. Here's what they found:
"Companies that published 16+ blog posts per month got almost 3.5X more traffic than companies that published between 0 – 4 monthly posts."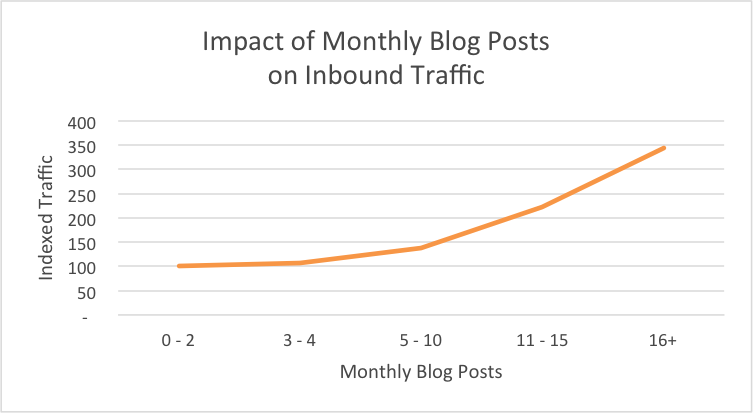 It's not low-quality traffic, either. This traffic brings in leads.
"Companies that published 16+ blog posts per month got about 4.5X more leads than companies that published between 0 – 4 monthly posts."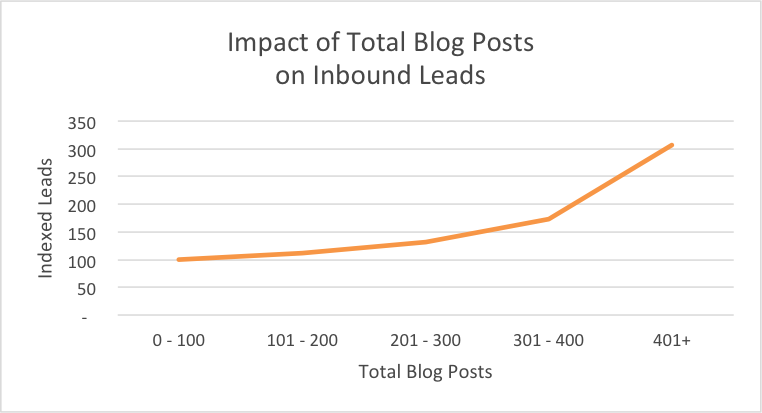 Still skeptical? Worried this doesn't apply to you because your company is small?
Fret not: Even tiny companies got boosts from blogging. Whether they were in B2B or B2C.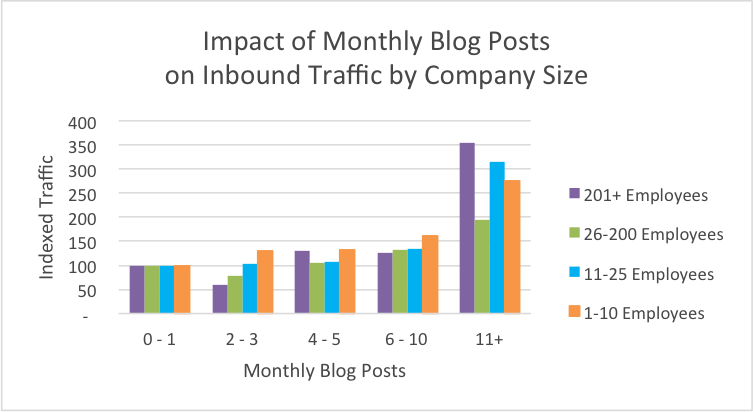 That's quite a lot of data to back blogging, but it's just the tip of the iceberg.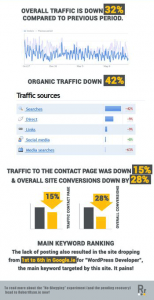 To give you a different view, let's flip things around. Consider what happened to blogger Robert Ryan. After blogging regularly for about two and a half years, Robert decided to see what would happen if he stopped. So he did: For 8 months and 7 days he published nothing on his blog.
Did he lose traffic? Leads? Revenue?
Yup – all three. Not only that, but Robert's site fell from position 1 in Google for "WordPress Developer" all the way to position six.
It even affected his conversions… Robert's site's conversion rate fell 28% during the blogging lull.
Most content marketers use blogs, but they may not be publishing frequently enough
Clearly, blogging for content marketing helps significantly with boosting website traffic. It's also key for generating leads, and even for supporting your site's conversion rates (perhaps because it builds trust?).
But most of you probably already know this. Or you've guessed it. But either way, you've committed to blogging for some time now. Most content marketers have.
Here's how we know: Back in February of this year, we released the results of how marketers had been answering the questions posed in our Content Marketing Grader. The results gave us some important reads on what's going on with content marketing. One of those was which best practices marketers are using the most. As you can see below, blogging came in at the number two spot.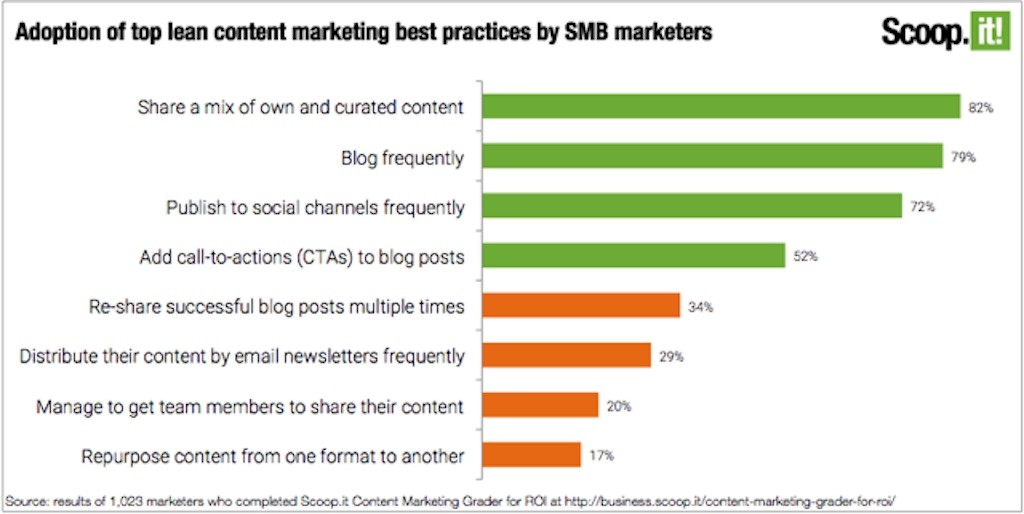 Not only were these marketers blogging, many of them were blogging frequently – more than four times a month. About 40% of the Marketing Grader users said they blogged four times or more per month. 39% said they blogged one to three times a month.

That's good, but it is quite a bit lower than the 16 times per month HubSpot says is required to get the big leaps in traffic and leads.
As you can see in the graph below (it was also near the beginning of this post), there isn't much of a lift in inbound traffic with 3-4 blog posts a month. In terms of traffic and leads, publishing 3-4 times a month gets you roughly the same results as if you published only 0-2 posts per month.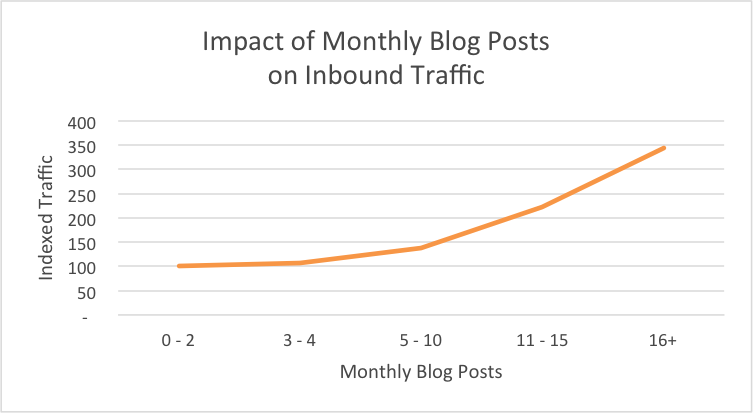 Even when you look at the sites publishing 5-10 posts per month, there's "only" about a 40% increase in inbound traffic. That's certainly not nothing – I'll take a 40% lift any day – but it's low compared to the gains you see with 11 or more posts published per month.
Key takeaway here: Publishing even once a week can definitely help you, but the more often you can publish, the more likely you are to see major improvements.
The quality versus quantity dilemma
We've written about content quality versus quantity before. Basically, balancing the two comes down to finding the sweet spot for your particular company and your particular audience. Smart content amplification can also maximize the results what you do publish.
It's possible your audience may not need world-class content every time, so long as it's useful and entertaining. But you do have to maintain a certain level of quality. Otherwise, you'll start seeing poor results – no matter how much of that so-so content you put out.
High-quality, low-time investment blog posts
The challenge of optimizing quality while minimizing time spent is hardly a new problem for content marketers. Everybody wants to create more content while still preserving quality. And we'd like to do it according to our business strategy, too – because, ultimately, more content isn't really what we need. What we need is more effective content.
Curation is one way to create good content in less time. It's especially good for blog posts. This is an easy way to deliver highly useful content to your audience, all while making yourself look like an expert – and creating a blog post in less than half the time it would have otherwise taken.
Here's a post that does a great job of explaining how to create an effective curated post. And if you want more ideas for how to develop great blog posts, we've got an eBook packed full of ideas for how to produce quality content in a snap.
Republish existing posts
Another technique that can help with blog post production is republishing posts. You can do this both on your site, or on other websites.
Republishing posts on your own blog is basically just a way to refresh and update your existing content. But it ends up working beautifully for increasing inbound traffic, increasing leads, and even for boosting conversion rates.
This really shouldn't be a surprise, actually. Keeping content "fresh" is a proven way to improve your rankings in the search engines. It's also a way to build trust with your users, and to make sure you're maintaining the content assets that are generating the most business for you.
Every blog post you write can be reformatted into more content
Let's switch strategy from talking about publishing more often to better amplifying what you do publish. In addition to attracting more inbound traffic, your blogging work is generating other good results.
For instance, every blog post you write means you've got more content for your newsletter. It also means you've got content for dozens more social media posts. Not just on the day you publish, but for months afterward. Because you're sharing your blog posts more than once, right?
Your blog posts are also creating the germ of content for other formats. Every blog post can be converted into many different content formats. See our blog post, "Revamp, reuse, recreate: 5 [simple] ways to repurpose your blog content successfully" for ideas on how to do that.
These are all just some of the ways to get more mileage out of your blog posts, and to find ways to publish more frequently. For more ideas on how to publish more often – and to get more results from what you do publish, see:
Don't just publish more, publish smarter
As I'm sure you know, simply publishing on any topic isn't going to get you closer to your goals – whether they're inbound traffic, more leads, or anything else. You have to be strategic about the content you publish.
Part of this means publishing blog posts that align with your content strategy. We don't want to be making the mistake of publishing "random acts of content".
So before you start just publishing more, think about how to publish smarter. That's usually a blend of
Defining your business goals and how you'll meet them
Defining your audience and understanding what they want to know
Then finding the common ground, like this: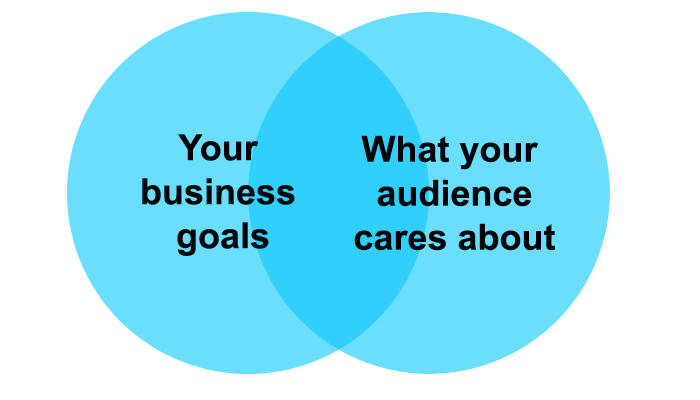 Make sure your posts are optimized for SEO
Ready to dive into creating all this high-quality, high-volume, on-strategy, audience-centric content? Great, but wait a sec. All that content also needs to be optimized for the search engines. The first step with that is choosing the keywords / concepts that will get you traffic. You need to use the same terms and phrases your audience is using if you want them to find you online.
So what would be the right keywords and topics? They'd be keyword-focused ideas your customers care about. You can find them with a keyword tool, or by paying careful attention to which terms and phrases your customers use on social media, forums, blog comments and elsewhere.
If you want to rank faster and more easily, focus on long-tail keywords (keywords of three words or more). They tend to have lower search volumes, but they make up for that by being highly targeted. They also tend to convert better.
After you've got the core keywords (and keyword concepts… keyword usage is getting blurrier and blurrier as the search engines evolve), then there's the standard on-page SEO work.
"On-page SEO" refers to all the ways to optimize your posts for the search engines. Stuff like:
Write smart title tags
Write enticing meta description tags
Add H1 and H2 tags to your content, with related keywords sprinkled in
Use at least one image per page
Add Alt tags
Have 500-1500 words on each page
There's more, of course. Much more. For the deep dive into how to make your blog posts – and all your pages – more SEO friendly, see our blog post, "Understanding SEO: 4 blog posts and 1 infographic every content marketer should read". SEO expert Brian Dean also has a pretty nifty on-page SEO guide.
Worried you'll over-optimize your blog posts, and maybe make them less friendly to your readers? That's something marketers have gone back and forth over for years. But it is possible to write great content for both your audience and the search engines. Julie Gauthier explains how in her blog post, "How to write good blog posts for your audience and SEO and make sure they perform".
Conclusion
For sites that want ample inbound traffic, blogging is pretty much an essential tactic. But you can't just start publishing anything, at any quality, willy-nilly.
Pick topics that are both on strategy and of interest to your audience. Then do keyword research to make sure you're using the same language your audience does. After that, leverage some of the blogging tactics we've mentioned to create more posts, more easily. Tactics like content curation, finding guest writers, hiring freelancers, republishing posts and more.
Then finally, before you publish, run through some basic on-page SEO to make sure your content is optimized for the search engines. Give the whole process some time – at least three to six months – and you'll start to see results.
Back to you
Are you blogging for your business? Have you seen any increase in traffic or leads after you started blogging more? Share your thoughts in the comments. We want to know what you think. Read our eBook on how to blog consistently in 30 minutes per day or less.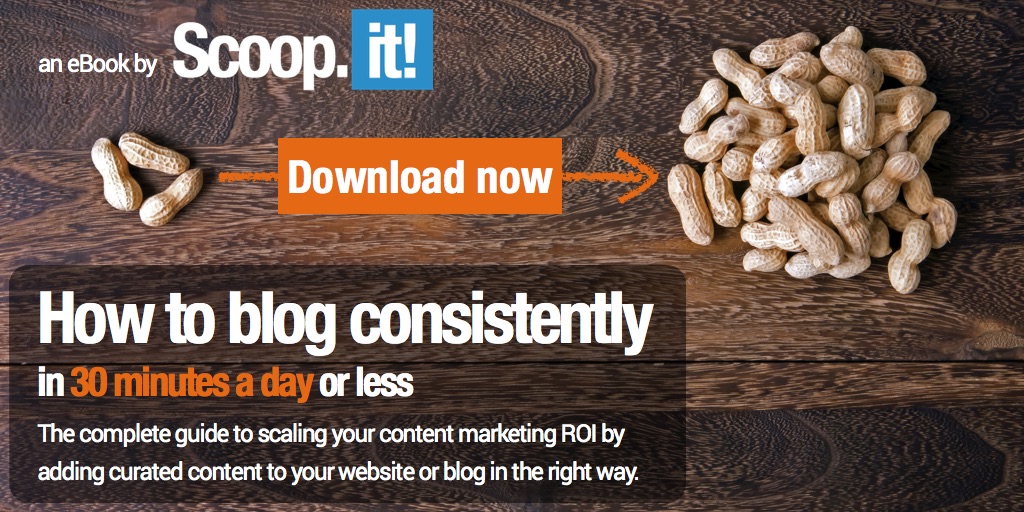 Image by Betsssssy