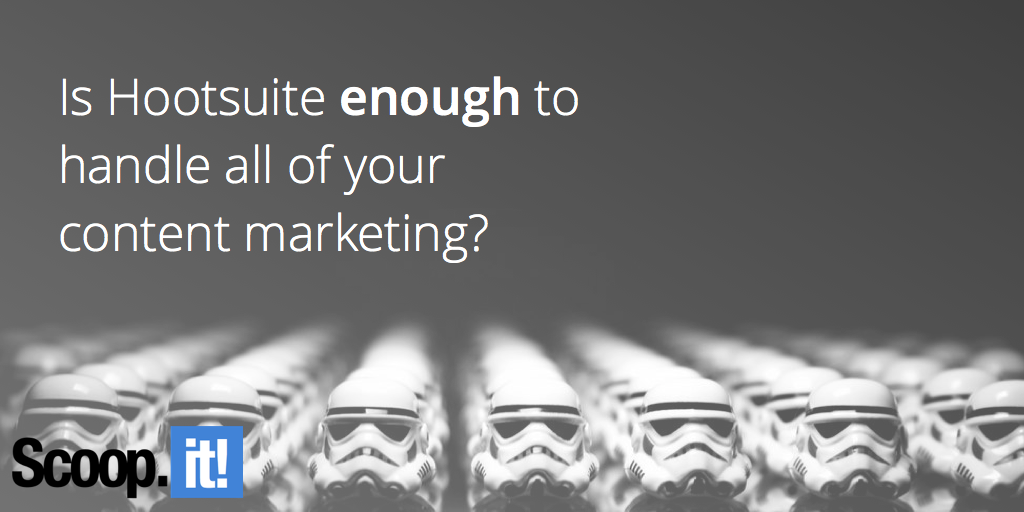 With so many different marketing tools and software solutions out there, it can be hard to know which one is right  for running your content marketing strategy. Today's digital marketing world is overwrought with many expensive and complex tools that were never designed for content marketing. From marketing automation software like HubSpot and Marketo to social media marketing platforms like Hootsuite and Buffer, there is an overwhelming number of options. Admittedly, things can get a little confusing.
So how do you know which one makes the most sense for your content?
If content marketing success is a critical mission for you and you're leaning towards a social media management software to run your content strategy, there are a few things you should know before you make the investment.
The value of social media management software
Let's use Hootsuite as an example.
Hootsuite is the leading social media management platform on the market. And for good reason. It's inexpensive, offers an array of different useful features, allows you to communicate with followers and friends across social platforms (and it's possible to post content to social media as well, provides broad social media analytics, and in general makes social media management much, much easier. We use it ourselves for social media monitoring and social conversations happening across the globe. As busy marketers, the appeal of this platform is a no-brainer.
So why not do everything with Hootsuite?
Let's take some time to dive into what marketers need to do to succeed with content marketing, what the limits are with social media management tools are when it comes to content, and how dedicated content marketing software like the new Scoop.it Content Director can help.
Over the course of this post, we're going to walk you through why top social media management  platforms like Hootsuite aren't sufficient if content marketing success is your top priority.
1. You need to produce better content faster and easier
Creating engaging and effective content is easier said than done, and remains the number one challenge for most marketers. While there is software that helps with automating various aspects of the content marketing lifecycle, content creation in and of itself is still a very manual (not to mention complex) job. That's not to say that social media management  solutions like Hootsuite don't tackle some areas of content production.
Here are some ways Hootsuite helps make some elements of the content production process easier, as well as a few drawbacks:
While Hootsuite does bring you content suggestions, they are not based on the keywords or topics you define. Being able to source content on certain specific topics – especially in the case where you have different companies/websites under one umbrella but with multiple topics – is critical to ensuring you have not just ok but outstanding content.
Hootsuite allows you to schedule these suggestions to WordPress.com –

but not to your self-hosted WordPress blog.
WordPress.org is supported as a stream but you

can't take a suggestion and publish it there.

 The new post creation window in Hootsuite is pretty basic and not very helpful for either new content creation nor curation. The stream is also very slow to update as they don't use caching and full synchronization as we do.
Scoop.it Content Director lets you both import Google Docs in WordPress or publish any curated content (either from our engine or from any web page) and automatically format it as a WordPress post.
2. You need to be more systematic about content distribution
Sharing your content once is not enough to engage an audience. You need to promote it. Thus, the software you choose should help optimize your distribution efforts and make it easy for you to re-share your content multiple times.
From a content distribution standpoint,

Hootsuite mostly allows you to share a piece of content across multiple social networks only once

. You can share a post to several accounts or even schedule it. But because organic reach is so low – 1.5% for Facebook pages, 2% to 5% for Twitter accounts, sticking to that won't generate the results you're looking for. If you're focusing exclusively on social media engagement as your primary KPI (which is what Hootsuite is designed to optimize), then that might be ok. But if your goals are leads and traffic, then as a content marketer, that won't work.
WordPress integration: Hootsuite's integration is not cached so

retrieving your WordPress posts to share them from Hootsuite takes time

. Messages scheduled automatically from their WordPress stream are

poorly formatted

 and don't let you retrieve the picture for higher engagement.
Scoop.it Content Director lets you re-share your content multiple times 

responsibly and automatically

 on each of your channels. Which is a very effective technique to drive more traffic to your content. That means you can schedule 10 tweets with various messages over the next 5 weeks for the same post. And be done in 2 minutes.
Scoop.it Content Director also

detects what content you failed or forgot to promote

 and generates a reminder automatically.
HootSuite doesn't help you with

email distribution

 while Scoop.it Content Director helps you generate an email newsletter from your blog posts or curated content in just a few clicks.
While Hootsuite does allows you to distribute content to some extent, Scoop.it Content Director ensures your content promotion is optimized and systematic, and guarantees your content attains maximum reach.
3. You need to measure, understand and improve content ROI
In order to get better results from your content, you need a system that goes beyond measuring content performance and that shows you actionable opportunities for you to improve.
While Hootsuite is very good with social media analytics (better than we are, admittedly)

they don't have content marketing analytics capabilities

, which indicate whether or not your content is successful in generating leads and moving them down your funnel. They also don't track conversions or conversion rates.
Scoop.it Content Director not only does content marketing analytics and keeps track of conversion rates, but it also uses content marketing intelligence to automatically detect

opportunities to improve based on analyzing content performance.

 It uses predictive insights (such as successful content you can re-share or keywords you should use because they did well with your audience in the past) to help you generate more from your content investment.
4. You need to know what successful content to amplify
Hootsuite helps you create ads and run paid promotion on social networks but it doesn't help you identify which content needs to be boosted nor does it help with organic amplification.
Because our system combines analytics and distribution tools, it lets you identify successful content to re-share and program it multiple times on each of your channels. This method generates 2-3x more traffic and leads by extending your content investment.
Conclusion
This is just a short list and I could go on to other topics such as performing content audits or collaborating on content creation but don't get me wrong – Hootsuite is a great platform and we love using it. But it was not designed to optimize the content marketing lifecycle as Scoop.it Content Director – and other content marketing platforms – are.
Does this mean you can't run your content marketing strategy on Hootsuite? No. But it all depends on the investment you're making into content marketing and the return you expect. If investing in a content marketing platform triples your content marketing budget, it means you're not investing much and you could run with Hootsuite.
But if it's around 10% or less, then the ROI of a content marketing platform will come fast: just being able to publish more consistently, optimizing distribution and iterating based on lead conversion data will pay for the investment pretty fast. As one of our clients commented on the Content Marketing Institute's website: "With Scoop.it Content Director, we have already increased traffic by four fold in only 7 weeks!""
Want to work smarter and start generating real results from your content marketing? Find out how to use the new Scoop.it Content Director to help you become a smarter marketer!
Image by leg0fenris.