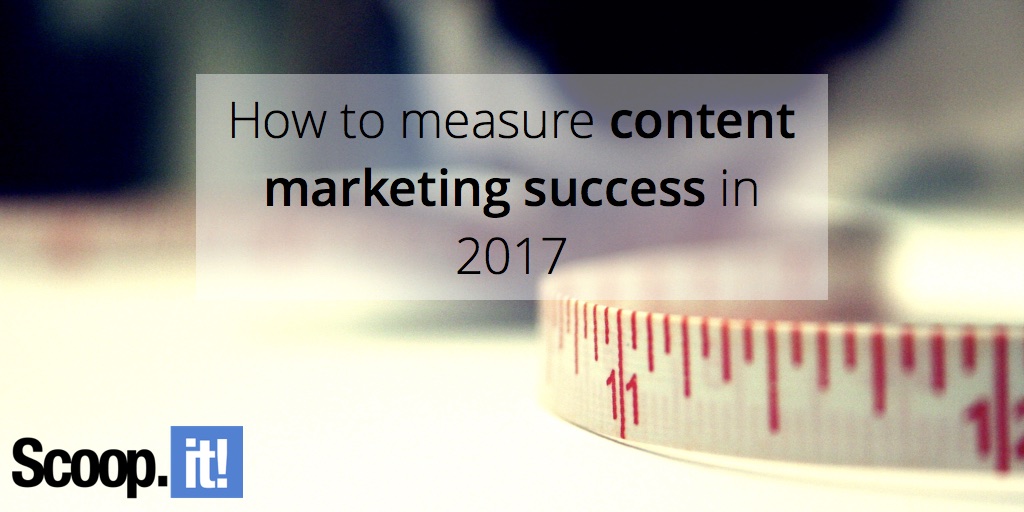 How are people finding your content, and what are they doing once they're on your pages? What are your most effective audience acquisition channels, and which of these are driving the most significant business performance?
Whereas marketing professionals in the trenches were once exempt from such strategic modeling, today we're under so much pressure to drive ROI that we need to be able to answer questions like these at the drop of a hat.
As the discipline of content marketing has evolved, so have the solutions for tracking content marketing success. We now have the technology to measure more aspects of the buyer's journey than ever before, and we can even segment content marketing activity according to audience members' progress along this journey.
When you're able to track your marketing impact effectively, you're in the best possible position to keep the value of our efforts top-of-mind among both internal and external stakeholders. You have what you need to periodically review the effectiveness of your strategies and iterate accordingly.
Measuring your content's success can be a major challenge, though. Incomplete referrer data in Google Analytics is rampant, and in many cases, it's exacerbated by the rise of "dark social."
What's more, many companies lack sophisticated models for attributing and benchmarking success. If you don't know your customer lifetime value (CLV) and lead-to-customer conversion rates, for instance, then you'll find it impossible to discern the monetary value of every captured lead, and you therefore can't know if you're being cost-effective with your lead acquisition priorities.
To complicate matters further, as your business grows, the number of apps and tracking programs you need to use increases proportionately, and some team members and business units are known to horde their own metrics. This can make it difficult to achieve a big picture view of the total process. It's super important to consolidate all of the performance data you need in order to benefit from the insights it has to offer.
Let's take a look at how to make the coming year a measurable marketing success.
Key performance indicators for content marketing
When it comes to content marketing, too many of us focus on vanity metrics like social follower counts and article page views. What we should really be emphasizing most is attention and conversions. After all, publishing isn't an end unto itself for most of us – it's a means to driving business. For measurement success, you'll need to make sure you're tracking the right key performance indicators (KPIs).
Each acquisition workflow and each brand touchpoint has its own call to action (CTA) that should be tracked. Blog posts that are read and valued lead to email sign-ups for later nurturing via smart follow-up messaging. If the content in those emails offers a white paper or free course, for example, the number of people who take advantage of the offer indicates the level of success in your content marketing approach. If, upon completion of your gated resource, your prospect makes a purchase, that's success that can be measured.
When mining your performance data for these numbers, it is important to look beyond the total conversions for each channel over a given time span. You'll also want to peruse your individual post metrics to learn which content was the most effective within each funnel. Post-level metrics allow you to determine what is most appealing and aversive to your audience, so you can replicate and iterate the strategies that you find to be most effective. The duds can be refined, redesigned, or disposed of altogether.
But no matter what you do, keep your vanity metrics in perspective. Even your conversion tallies need to take visit volume into account, because everything is relative – if you have a post with a high number of conversions and a low number of views, it is possible that you need to refocus your distribution efforts. The page might have some SEO issues, or it might not have been properly promoted via paid social, for example.
Pages like that deserve a second chance. Tinker with the item's meta data, point some internal links to it and share it again on social media. If there is high traffic and a low conversion rate, it is possible that your CTA has room for improvement. Make sure you've given the people who find the content an obvious and compelling way to connect with your business in the future.
Create an effective framework
You may need to look beyond basic analytics programs in order to truly understand how well marketing endeavors are working.
If you're already using Scoop.it to collect and distribute curated content, you're likely to find the platform's solution for post-level analytics extremely useful in your efforts to fine-tune your assets for maximum return.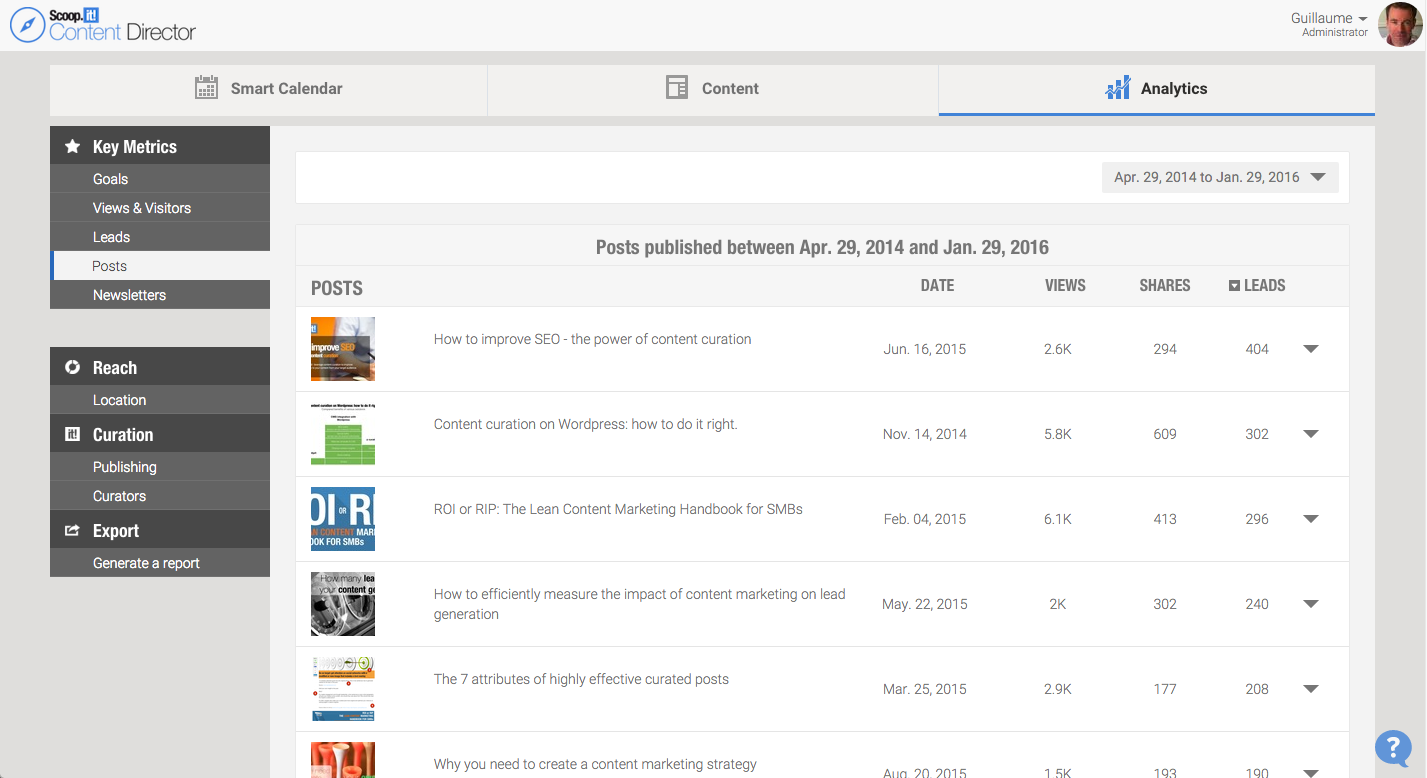 For channel-level analytics, custom dashboard tools like Cyfe allow you to see the big picture of all the data that is being available.
It is likely you will need to utilize more than one analytics service to optimize and track the efficacy of your content. That doesn't mean that these services need to remain separate from one another. In fact, failing to consolidate your data will likely make the entire process less effective.
Integrating as many of your data collection points as possible allows you to spend less time monitoring and more time implementing changes. Cyfe, for example, features pre-built widgets for top tools like Google Analytics, Twitter, Facebook, LinkedIn, as well as several solutions for brand monitoring, invoicing, project management, email marketing, ecommerce and CRM. You can even use the integration magic of Zapier to add a widget for lead conversions on Scoop.it to your Cyfe dashboard.
The right metrics for the right stages
When you create marketing content assets, it's important to diversify, so that you have items optimized to appeal to people no matter where they are situated in their journeys to conversion.
Some people are just starting to be curious about the various products that might or might not address their pain points (top of the funnel, or "ToFu"). Some have begun to get familiar with you and your competitors and want to learn more about how you differ (middle of the funnel, or "MoFu"). And others are almost ready to close a deal (bottom of the funnel, or "BoFu").
As your prospects advance along the funnel, different types of content will resonate with them and the interactions that indicate success will be different too, so you need to measure your effectiveness according to stage-specific KPIs.
ToFu is somewhat of a volume game

, because it hinges on your ability to attract a large audience and obtain their contact information by providing content that educates or answers specific questions – without any sales pitches. Here, the top performing conversion mechanism is generally an informative blog post that includes the option to sign up for a newsletter in order to receive a "content upgrade," such as a white paper, worksheet or checklist.
MoFu is the trickiest stage

, because there is no universally useful way to qualify the exact interest of the prospects. Here, your content should continue to emphasize providing value to the audience in order to build your authority and credibility. Nurturing these leads often involves promoting advanced ebooks, webinars or free courses.
BoFu is the critical final stage

, wherein the audience is already familiar and comfortable with the tone and style you offer and are potentially interested in learning more of the nitty gritty specs surrounding your products and services. By providing free assessments, trials or demos, it is possible to engage the most interested prospects into a more productive dialogue.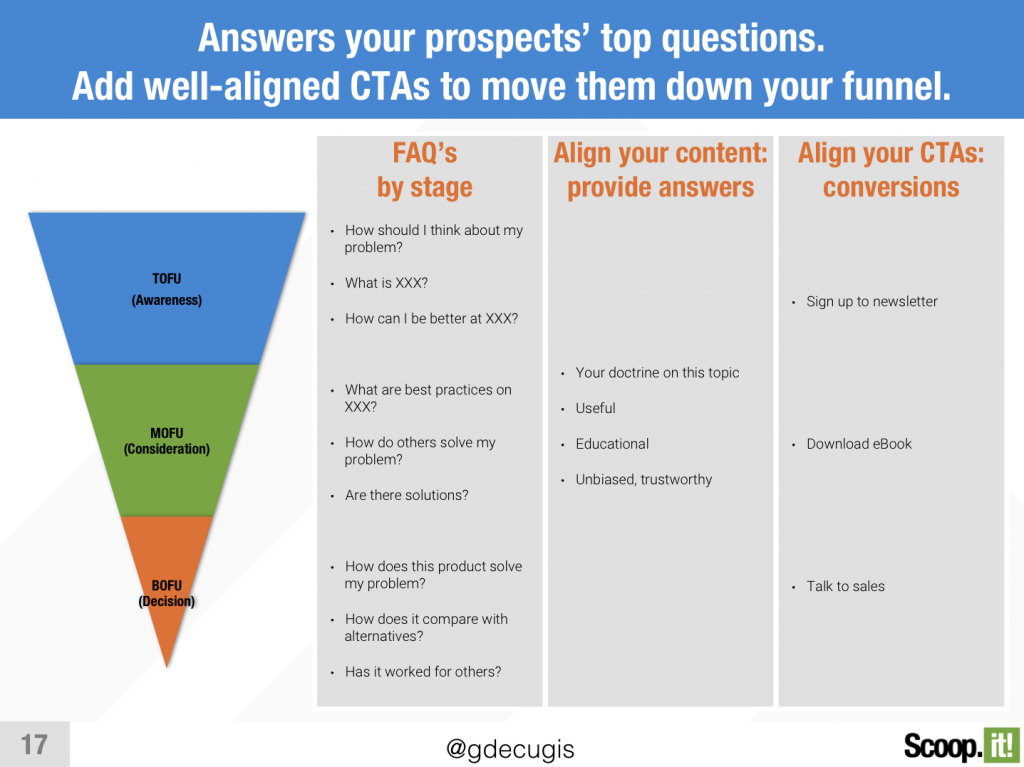 When building content assets and conversion strategies for each funnel stage, create a list of questions potential buyers would have. Next, develop your content to provide those answers, and create a CTA that can be integrated in the content to facilitate conversions.
As long as the action you're asking audience members to take aligns well with the funnel stage they're in, you'll be in great shape for measuring success. What's more, if you set up lead tracking in Scoop.it and custom goals in Google Analytics for all of your various micro-conversion types, you'll be able to track performance of each funnel stage on its own.
Better measurement for better performance
As 2016 comes to a close, now is the time to begin looking at ways to more effectively gather and analyze the data you have available. Identify the processes that will help achieve your marketing goals for the coming year and get them into place so they are ready to roll on January 1.
Not only will you be better able to measure your content marketing success in 2017, you will also be able create greater success by using the information to quickly revise strategies that are not producing optimal results.
If you want to get 30 effective techniques to master content marketing along with valuable insights from 10+ influencers like Mark Schaefer, Rebecca Lieb, Lee Odden, Jason Miller or Ian Cleary, download our free eBook now!
Image by Shereen M