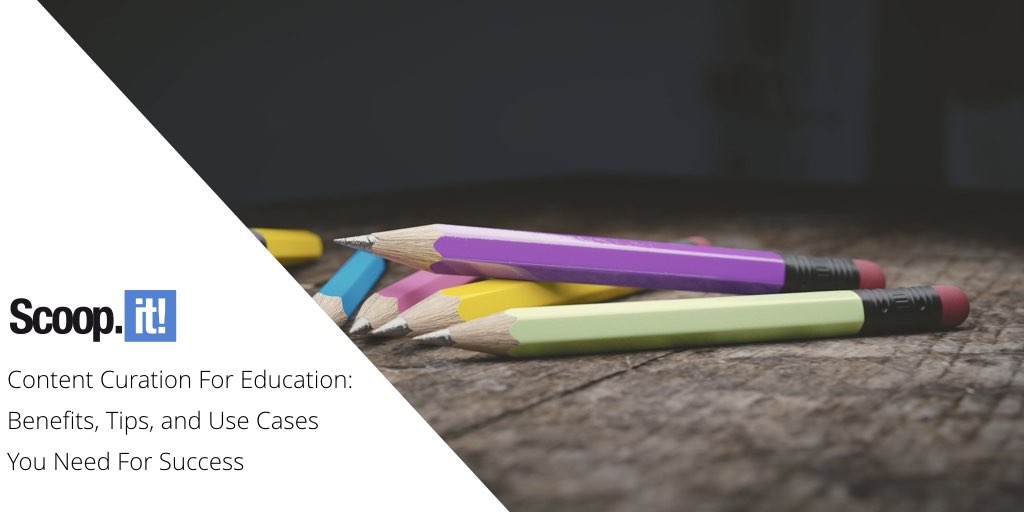 We've witnessed a massive shift in the way teaching and learning takes place in the last decade.
Knowledge and information used to be a limited, protected resource. For teachers and students alike, textbooks and libraries have been the only source of learning and development. In other words, options for finding new content to research, analyze, and learn from has conventionally been limited.
Luckily, online content and many formats it comes in have completely transformed that. More than ever before, educators and students can expand and deepen their curiosity on a topic in the matter of hours—wherever they're located.
However, this comes with a downside: there is a lot of content to sort through. According to IBM, 90% of all data has been created in the last two years. Here's what happens in just one minute on the internet, as of 2019: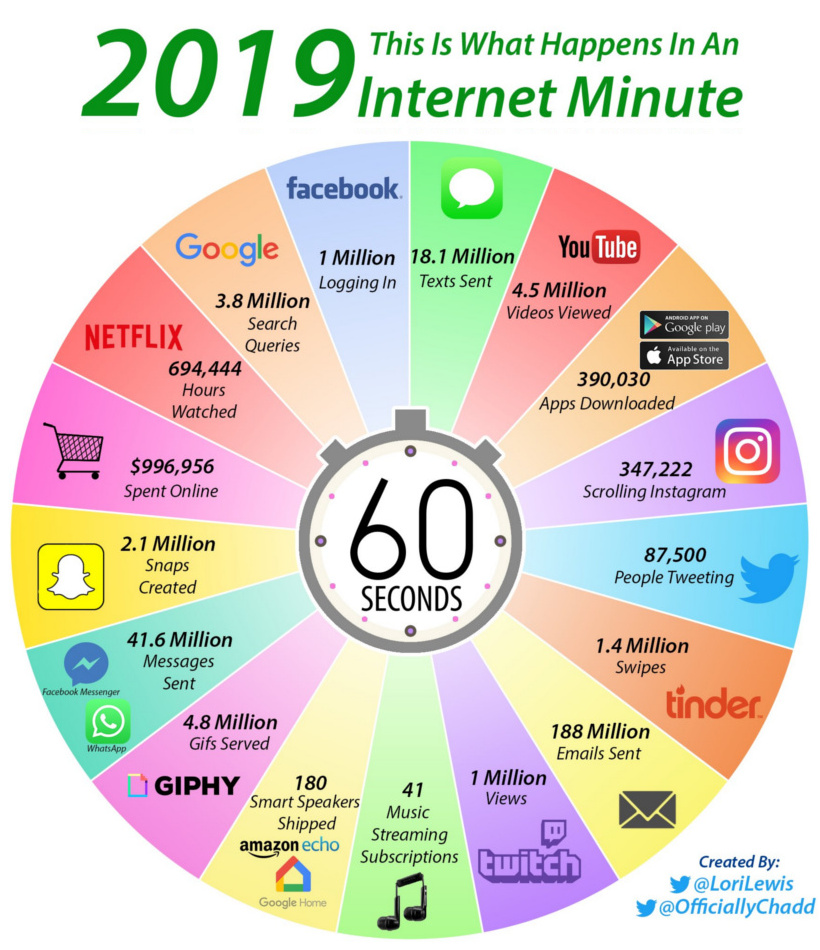 This can be overwhelming. Instead of bringing more value, going through hundreds of articles, research papers, videos, podcasts, interviews, and news reports can actually distract you from your goal and actually repel you from the idea of using online content for education.
This is where content curation comes in. In this guide, we'll show you how content curation is a great fit for educational projects, both if you're a teacher and a student.
Why content curation works so well for educational projects
Simply put, content curation is the process of sorting through content and presenting it in a meaningful, organized way around a specific theme or category. To learn more about the essentials of content marketing, check out our resources on:
Let's dive into reasons why education can greatly benefit from curated content.
Curated content is instantly useful and practical
Unlike the process of searching for the right books and research papers (which can mean hours in the library for just one great resource), content curation provides immediate access to deep insights.
When you curate highly valuable content, you enable yourself and your peers to make more sense of a certain topic, make better decisions, and develop critical thinking.
Curated content emphasizes collaborative learning and ongoing conversations
This benefit is simple: when there's a central, online place for the best content on a topic you're currently covering in class, everyone can contribute with their thoughts and insights.
Similar to a social media post that lets people comment on it, a great content curation platform will make it easy for the whole class to participate in meaningful discussions.
Curated content makes learning mobile
Many books and other standard academic resources are now available digitally. However, you still need to know exactly what you're looking for or have access to a library, which can be a struggle.
Content curation makes the most relevant insights accessible anywhere, anytime. You could be in your home, office, on a train, or anywhere else—as long as you have an internet connection, you're good to go.
Curated content surfaces trends you otherwise wouldn't notice
Another benefit of content curation is that it helps you monitor your field of expertise in real time. That's difficult if you're only relying on textbooks and curriculums that have been around for a few years.
With curated content, you can identify new methodologies, approaches to certain challenges, emerging strategies, and other up-and-coming trends.
Curated content helps teachers keep examples relevant and current
One of the best ways students can learn is to see what they've learned in real world situations.
Content curation enables educators to create and maintain custom learning hubs. These hubs packed with relevant, current examples help students to deepen their understanding of the topic.
For example, let's say you're leading a marketing strategy course. While your curriculum and textbooks are the foundation, you can expand your students' knowledge with a learning hub packed with:
Presentations from leading marketing speakers

Best product positioning examples, categorized by industry

Articles that analyze marketing strategies of Fortune 500 companies

Examples of marketing strategies from fastest-growing startups
While the foundation of what you're teaching will remain the same at its core, the examples and practical applications of it will always evolve. Content curation allows you to remain up to date with supporting materials for your students.
What you need to know about content curation in education
Content curation isn't as simple as doing a Google search on your topic and adding anything you come across to your curated topic.
An excellent content curator is someone who can:
Find the most relevant material for the topic

See patterns and trends

Identify groupings and contexts for the topic

Navigate the complexity of available information
This applies both to educators and students who are curating content (we'll get into specific use cases in the next section).
To curate content for educational projects successfully, here are a few things to keep in mind:
Focus on quality over quantity; plenty of mediocre content won't be more useful than a few carefully selected pieces

Curate content regularly, not just as a one-and-done task

Know who you're curating for

Curate content that helps contextualize information and connect the dots

Content can come in form of website pages, blog posts, PDFs, news articles, research papers, social media posts, video and audio of any length—don't neglect any of it if it's valuable
Use cases of content curation for education
Wondering how you can put the above insights into practice? We've listed our favorite use cases for curated content in educational projects below. We've also noted which ones are applicable to students, and which are aimed at educators.
Side note: If you want to take any of the use cases and apply them to your own work or studies, you'll need a content curation platform that's equally flexible and easy to use. Scoop.it is exactly that, with the possibility to:
Build multiple topic pages

Add your own insights to everything you curate

Have others comment on a piece of content and share it

Embed your curated content elsewhere and integrate with dozens of services using Zapier
Manage permissions and roles

 so that the right people can access the right content
Want to see a real-life example of an education hub on Scoop.it? Check out Geography Education (with over 2 million views so far!):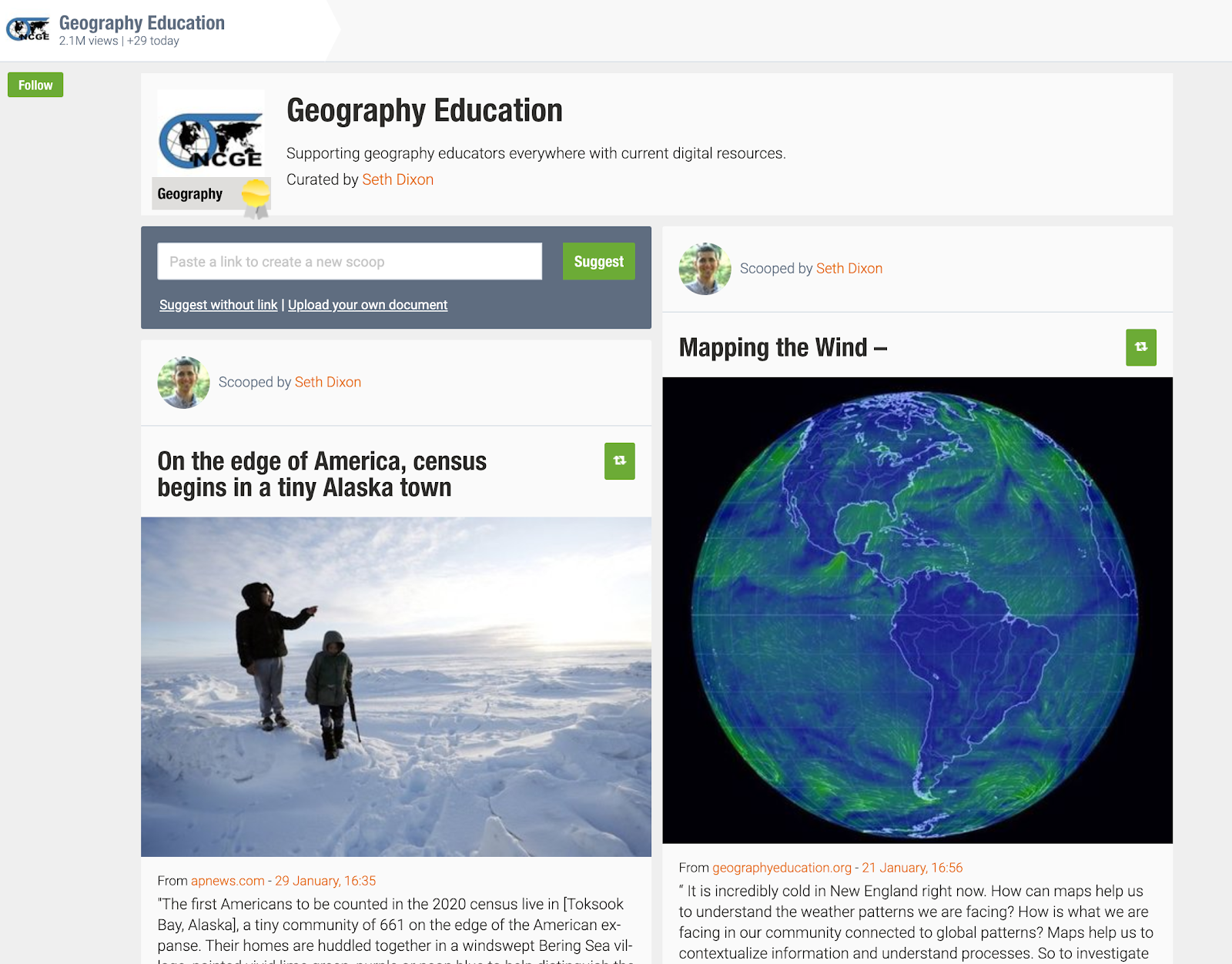 Let's dive into some great use cases you can implement right away.
Host your lesson resources
Who can curate this way: Educators
Sure, you can always simply provide your students with a printed list of resources they can look for in their own time.
But a better way to do this is to provide them with just one link: the one that hosts all of these resources, readily available in a single click. You'll increase the chances of your students actually consuming that content.
Lesson resources can include written, audio, and video content; speeches, checklists, slide decks, templates, tutorials, and much more.
Curate a weekly/monthly reading list
Who can curate this way: Educators
Another way to approach the creation of resources for your lessons is to build an ever-evolving reading list.
Depending on the frequency of your lessons, you can update this on a regular basis, with newly curated content related to the specific subtopics you're covering in the next lesson (or the ones you've covered in the most recent lesson).
You can have all of these lists hosted on a single page (in Scoop.it, it's called a topic page), or you can build a separate one for each of your lessons.
If you want to ensure your students actually go through this list in time, you can:
Add a note with the approximate reading time for each item on the list

Add your insight on who will find each item most appealing (especially if you present the same lessons to different groups of students simultaneously)

Make sure you're not adding too much content each week/month, but enough to keep your students curious and engaged
Host your student projects and associated resources
Who can curate this way: Students
Student projects are typically written, linear documents that present your idea and your approach to solving a problem.
A hub packed with curated content lets you enrich that idea. It lets you play with opportunities and helps your teacher, as well as your fellow students, to visualize your project and make it come to life.
Create your digital portfolio
Who can curate this way: Students
When you're about to enter the workforce, you need a way to not only demonstrate your skills, but to set yourself apart from other candidates you're competing with. Without any work experience, it can be a real challenge to showcase your skillset.
This is where a curated online portfolio can help. You can use a content curation platform to present:
The projects you worked on as a students

Your insights and notes on projects and reports from relevant companies or people

Your thought process around crucial topics and challenges in your field of expertise
Going this extra mile to present what you're good at and what you've worked on during your years in education will help you leave a great impression on potential employers.
Wrapping up
Thanks to content curation, you can stand out in your educational journey as a student, and in your career as a teacher.
With the internet at your disposal, you can enrich any topic, lesson, and curriculum thanks to the rich, extensive, valuable content other people and companies have created. It would be a waste not to make the most of that.
Take one of the use cases we've outlined in this guide to start curating the most relevant content on your topic of expertise and studies. You will become an indispensable resource for your industry. It will set you apart and help you lay the groundwork for a successful, fulfilled career.