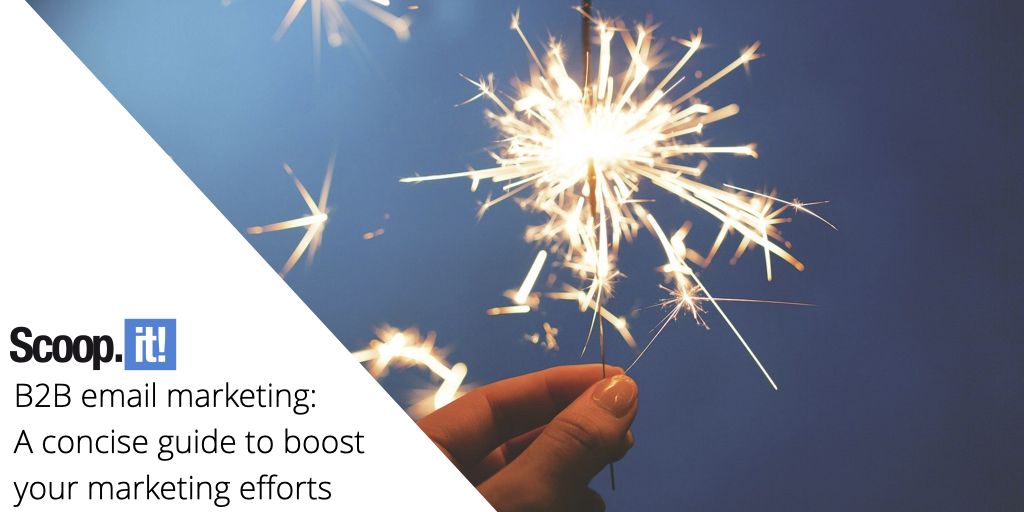 B2B companies are making use of several digital marketing strategies to communicate with their target audience more effectively. Despite the mushrooming of so many digital channels to choose from, email continues to remain one of the most preferred channels for acquiring customers and retaining them.
Interestingly, 87% of B2B marketers and 85% of marketers use email for content marketing. Furthermore, 86% of businesspeople choose to communicate over email rather than any other channels.
All these facts and figures make it clear that email marketing can work as a great tactic to enhance your subscriber engagement and get more qualified leads for your business.    
While B2C businesses strive to create emotion-based messages, B2B companies essentially aim to have a logic-oriented and data-oriented pitch that will inform the customers about the benefits of the products or services and emphasize better ROI.
Here's a chart that throws light on how brands carry out B2B email marketing and its best practices.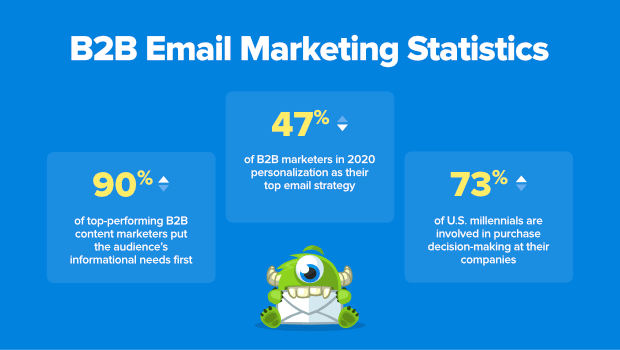 Source: https://optinmonster.com/b2b-email-marketing-best-practices/
We will now understand how can you carry out effective B2B email marketing:
Choose the right tool
You must pick appropriate tools to assist you with B2B email marketing.
These tools are:
i. Automation tools
With the help of automation tools such as Drip, Convertkit, and SendinBlue, you can create customized email workflows and send relevant emails according to the subscriber's actions.
ii. Email deployment tools
In the B2B sector, users are more likely to trust business domain email addresses rather than Gmail, Yahoo!, Rediffmail, or Hotmail. For example: meredith@scoopit.com will work better than using meredith@gmail.com. By using powerful Email Service Providers (ESPs) like HubSpot, Mailchimp, and Marketo, you can reach out to several subscribers at a time without the risk of getting blacklisted or blocked by the Internet Service Providers. (ISPs)
iii. Lead capture tools
To carry out effective B2B email marketing, you must have access to valid email addresses of qualified leads. Besides, you must also have information about the name of their business, number of employees, geographical location, and contact number. OptinMonster works as a robust lead capture tool that allows you to set different pop-ups and create signup forms.
iv. Tools to create landing pages
Landing pages help you leave a deeper impact on your prospects and customers. You can use tools like Unbounce, LeadPages, and Instapage to create beautiful landing pages. You can try out Mailchimp if you are looking for free landing page creation tools.
v. Customer Relationship Management (CRM) tools
HubSpot and Salesforce are popular CRM tools that allow you to collect customer information and monitor their buyer's journey. Based on the insights gathered through these tools, you can optimize your email strategy or the marketing plan as a whole.
vi. Content curation tools
Since 85% of marketers use email for content marketing, you must have a useful tool like Scoop.it that would help you curate content and build a credible professional brand by sending it in your email newsletters.  Scoop.it also offers a newsletter feature that will allow you to create, send & analyse your newsletters.
 vii.  B2B ecommerce tools
Shopify, BigCommerce, and WooCommerce serve as the best platforms that facilitate B2B ecommerce operations.
viii. Analytics tools
To get a clear picture of whether your email campaigns are working or not, you must monitor the metrics like open rate, click-through rate, bounce rate, etc. All this information will be accessible from the ESP you are using. Besides you can also Google Analytics to learn about customer behavior and the frequently visited website pages. It will also shed light on when your subscribers are most active. Based on these details, you can schedule the emails at that time.
Chalk out a plan
Once you have all the tools in place, you must formulate a plan to carry out your B2B email marketing.  
Determine the right audience
At the outset, you must determine the right audience for your business. Accordingly, create individual customer personas taking into consideration parameters like:
Challenges faced by the client

Their objectives and expectations

Their competitors

How they define success
You must tailor the email communications based on these criteria rather than batch and blast email messages. Your subscribers will appreciate personalized messages more than random emails that are sent to the entire list.  
Set S.M.A.R.T goals
You must aim to meet S.M.A.R.T goals with your email campaigns.
This implies that your objectives must be specific, measurable, attainable, relevant, and timely.
For example:
Specific: Get at least 25% open rate
Measurable: Use hyper-personalization to get a better click-through rate
Attainable: The click-through rate must be 5% at the minimum
Relevant: More people should book a demo
Timely: At the end of Q2 2021, there must be a noticeable change in results.
Carry out effective lead generation strategies
As mentioned previously, you must use lead generation tools like OptinMonster for lead generation.
Incentivize the subscriber in lieu of their personal information and email address.

Set exit intent pop-ups.

Take help of retargeting ads.

Create lead magnets and insightful resources like case studies, whitepapers, and ebooks.

Organize free webinars to collect the email addresses.
Figure out the customer journey and segmentation criteria
In a B2B setup, the sales cycle is longer than that of a B2C company. There are three main stages in the customer's journey:
Awareness, Consideration, and Decision.
Once the prospect becomes a customer, you must aim for retention and advocacy.
Here's a detailed diagram that will help you understand how you can execute B2B email marketing more effectively.

Source: https://i2.wp.com/www.business-to-you.com/wp-content/uploads/2018/04/Customer-Journey-e1523885784930.png?resize=1024%2C351&ssl=1
For B2B email marketing, you must make sure that you understand where the prospect is exactly placed in the sales funnel.
To illustrate, suppose a user is still in the awareness stage. It makes no sense to send out a price quotation email to such users. You need to introduce your products or services to the clients, nurture them with relevant information, and convince them to make the decision. You must offer free trials or allow them to book a demo to get a hang of your products and services. After all, having a hands-on experience with your product will alleviate any hesitation that they might be having before making the final purchase.
Set the right automation workflows
Set the right automation workflows to get the desired results from your B2B email marketing campaigns.
Whenever a user signs up, you must send a welcome email. Gradually, you must share more information about your products or services and try to convert them with persuasion.
In case a prospect or customer has stopped engaging with your emails in the last 90-180 days, you can send a re-engagement email to prompt them to take action yet again.
Now, I shall share some B2B email examples to inspire you and help you take your email marketing to the next level.
Welcome email
Calendly sends out an engaging welcome email giving an overview of their product and how it will help the users save 208 hours. Including such facts will encourage the user to get started and make the best use of their 14-day free trial.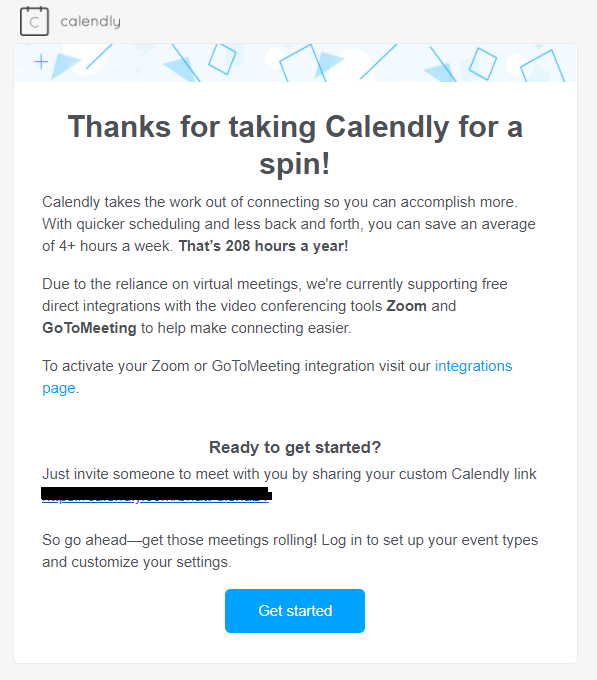 Nurture email
After the free trial ends, Calendly sends out a series of nurturing emails that would compel the user to purchase the Premium version and extend their membership.
Take a look at this email that sends out a guide that would help the client use Calendly in the best way possible.
Update emails
                        Whenever you introduce a new feature to your business, you must share these exciting updates with the subscriber. It would keep your brand at the top of the subscriber's mind and tempt them to check out the updates.
Take a look at how Wistia piques the subscriber's curiosity by announcing their podcasting feature.
Also, see how they have included a clearly visible CTA that draws the subscriber's attention: "Meet podcasting".
Interactive emails
Add visual appeal to your emails and experiment with interactivity to make your emails conversational in nature.
Let me prove my point with a classic example.
Take a look at this email by Moo, in which they have used animated scissors with the CTA "Snip the string".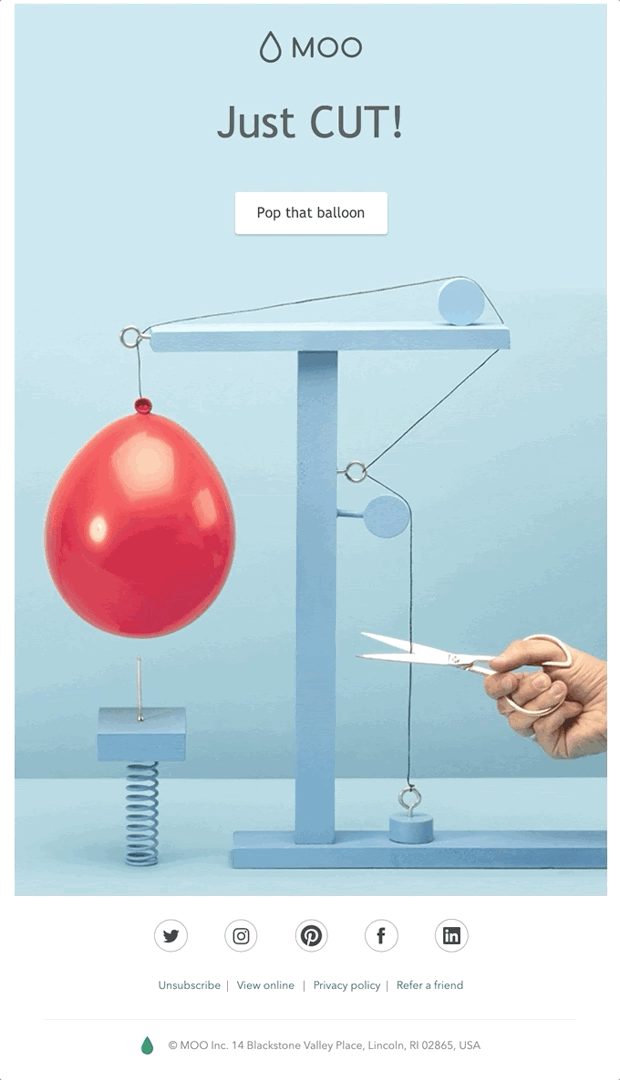 Clicking on the CTA will redirect them to a relevant landing page with a popped balloon that reveals the 15% discount offer.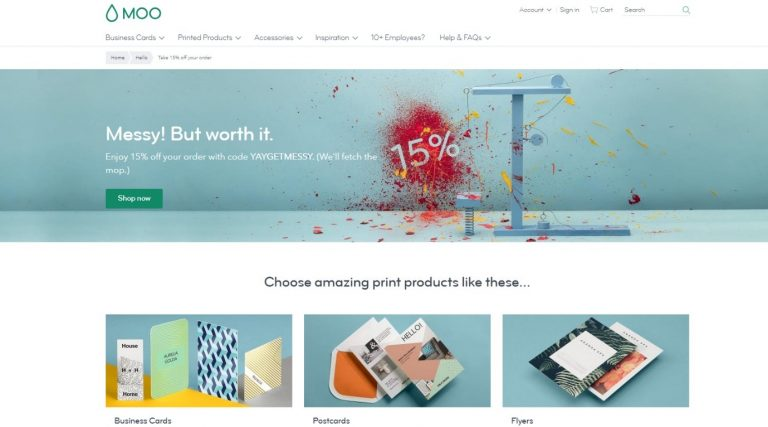 Another lesson it teaches is that you must always have a relevant landing page that matches the email campaign.
Your email should be created in such a way that the customer is tempted to click-through and the landing page must take that temptation further and close the deal.
Re-engagement email
Here's an email by Animoto that tries to win back the inactive subscribers. They have included an honest copy with a CTA that allows the users to update their email preferences.
It will help to maintain the list hygiene and reach out only to the interested subscribers.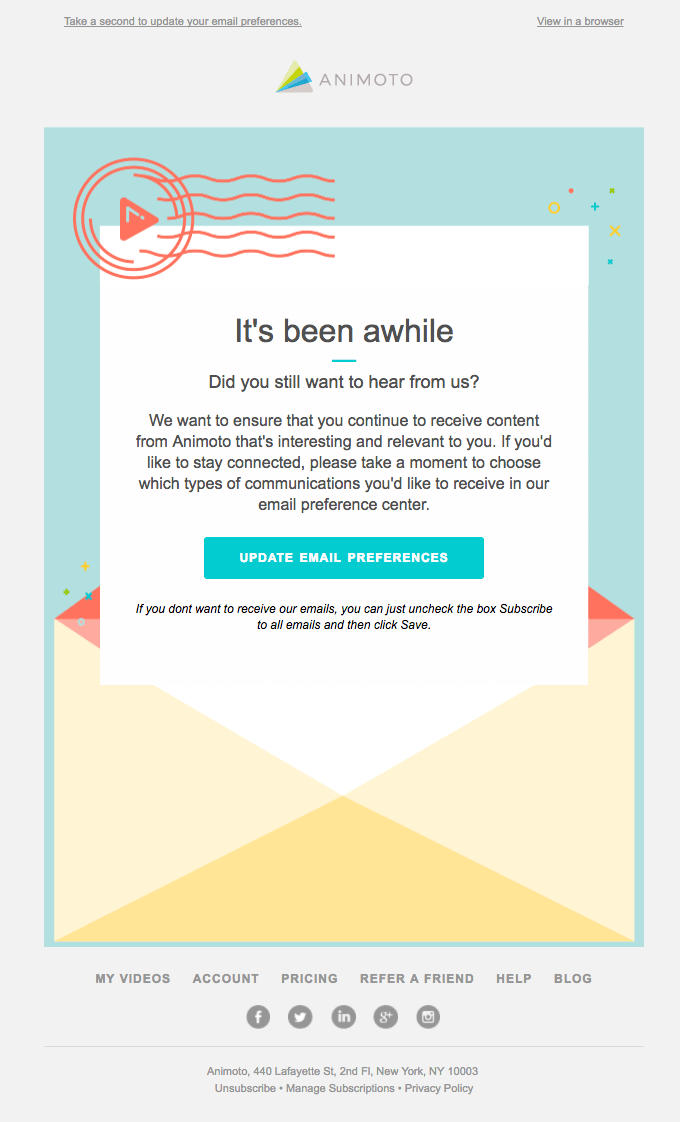 Wrapping Up
That brings us to the end of B2B email marketing guide but this marks the beginning of a winning B2B email strategy for you. Get inspired by these facts, figures, insights, and email examples to build your next B2B email campaign.
If you have any other hacks to drive faster business growth with email marketing, we would love to hear you out in the comments below.