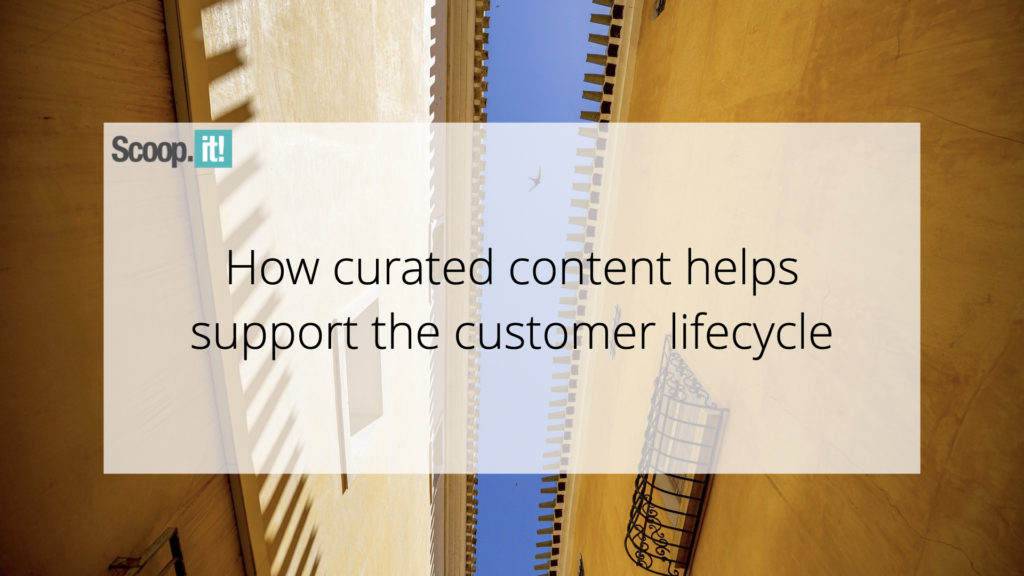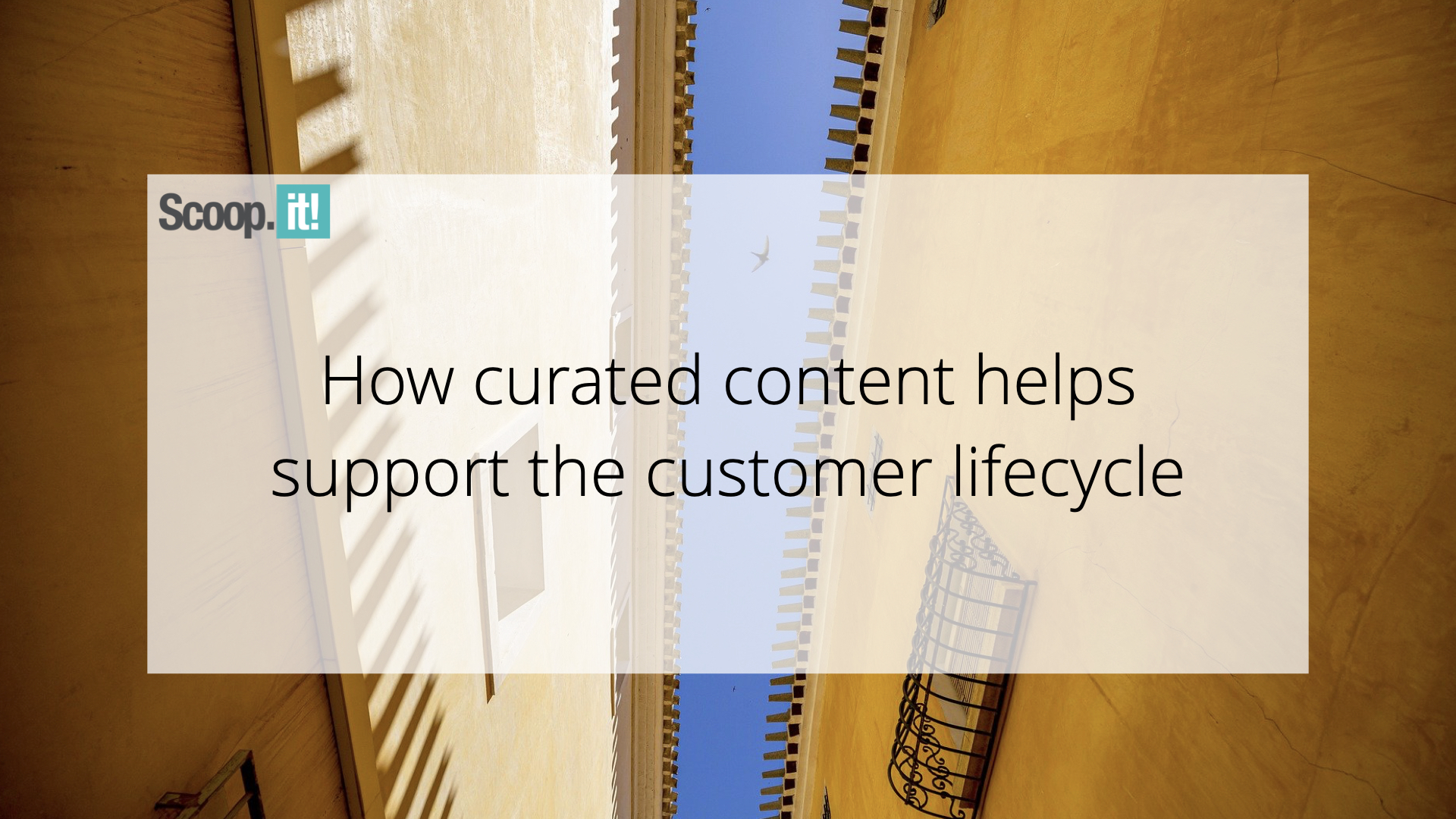 There's a lot of information out there on the internet – it can be hard to know where to start and who to trust. That's where curated content comes in.
The primary purpose of curated content is to provide your audience with content that is in their niche and saves them precious time. In some ways, content curation can provide more useful information than original content because it gives readers additional viewpoints.
To answer these needs and create content that will interest your customers and help your ranking on search engines, you can use an AI writing tool.
In this blog post, we'll explore how curated content supports the customer lifecycle – from reaching new customers to developing loyalty among them. Excellent content can boost conversations and help customers self-serve their problems.
Customer Lifecycle Overview
The customer lifecycle starts with a business getting a potential customer's attention and covers the steps they go through until they become a loyal, returning customer.
There are generally five stages to the customer lifecycle:
Reach – This is the step where a customer will become aware of a product or service. Awareness can be through social media, advertising, webinars, online content, or the ever-important word-of-mouth.
Acquisition – At this stage, potential customers gain more information about the product or service. They might compare prices, read reviews, and try features before making a purchase.
Conversion – Consumers make the buying decisions at this stage. This could be a one-time purchase or the start of a subscription.
Retention – Once a customer has made a purchase, the next goal is to keep them as a satisfied customer who will continue using the product or service and make repeat sales.
Loyalty – This final stage is where customers become brand advocates. They aren't only satisfied with the product or service but also recommend it to others.
Content creation shouldn't just be targeted at reaching customers. It should also aim to keep them active, engaged users of your product or service. At every stage, curated content can play a role in how successful a customer relationship is.
What is Curated Content?
Curated content is a key part of a digital marketing strategy that's specifically targeting a particular audience. It provides your target audience with the most relevant, trustworthy, and timely information available on the internet.
It can come in many forms, including blog posts, social media posts, and email marketing. Curated content supports the customer lifecycle by providing customers with the information they need on your network instead of making them search for it.
There are many ways to curate content, from simply adding high-quality pieces to your content calendar or extracting quotes and statistics to discuss in more detail.
For example, Canopy offers parental control products, and they use curated content, like this article on internet safety for kids, to guide potential customers to their app.
This specific article may be considered part of the reach stage of the customer lifecycle as it provides general information on keeping kids safe on the internet.
Why Care About Curated Content?
Businesses should care about curated content because it's important to establish a broad online presence. It's not enough to just create original content – you also need to be active in sharing and curating content from other sources.
Show that you care about the niche at large and not just promoting your product or service. Content curation is a great way to build and nurture relationships with customers by showing them that you understand their needs.
Curated content shows customers that you are an expert in your field. Curating content from reliable sources demonstrates that you've done your research and are up-to-date on the latest industry news, which builds trust.
Anticipate their pain points and get the solution out to them before they've even realized they had a problem. It also allows you to organically create new engagement opportunities by joining in discussions about the content you're sharing.
Make sure to schedule your regular and curated content in advance to save time and fill any gaps you might have in your content plan. For this purpose, you can use a social media management tool or an online database to keep all the data you need in one place and create a seamless workflow.
How Does Curated Content Support the Customer Lifecycle?
Curated content can be used to support every step of the customer lifecycle and gives your brand a reputation as an industry expert. Not only does this help to attract new customers, but it makes your loyal customers want to promote your business to their friends and colleagues.
Let's take a deeper look at how curated content can help support each stage of the customer lifecycle.
Stage 1: Reach – How curated content helps you reach customers
If you want to reach new customers, curated content can be a great way to do it. Join the discussion that your audience is already having by curating content from reliable sources and adding your voice to the conversation.
Content will help you build relationships with potential customers and show them that you are a thought leader in the niche. These customers may not have heard of your brand before, but if they are interested in the topics you're sharing, they'll be more likely to engage with your content.
Using highly reputable sources can help you create original content that expands on stats or quotes from industry professionals. One piece of curated content can be turned into multiple blog posts, social media posts, or infographics that can fill up your content calendar.
Curated content helps brands ensure they stay visible and engaged with their target audience. It also saves valuable time by providing ready-made content to share.
Stage 2: Acquisition – How curated content helps customers choose you
Reaching new potential customers is only the start of the customer journey. It's time to start thinking about how you can use curated content to acquire them as well.
When prospects are researching different options for products or services, they'll often look to review sites, social media, and even search engines to see what others are saying.
If you're regularly sharing curated content that's relevant to their needs, it's more likely that they'll come across your brand during their research process and choose you over the competition.
For example, Affinda creates content to explain to potential customers what their product is about and what can be done with it. By including information about other products and backing it up with statistics, their brand becomes more trustworthy, and potential customers are more likely to choose them.
Stage 3: Conversion – How curated content helps solidify the purchase decision
While curated content can't directly sell your product or service, it can be used to support the conversion process. Good content does this by helping customers understand what they're buying and why they need it.
Regularly sharing helpful and relevant content will build trust with prospects and make them more likely to do business with you when they're ready to buy. It's also important to remember that even if a piece of content isn't directly about your product or service, there will exist an opportunity to upsell.
For example, MannequinMall created a buyer's guide that anticipates and solves problems that retail stores have. The entire guide is filled with useful information that isn't pushing the customer to buy. However, they include a call to action at the end of the article directing potential customers to get in touch.
Stage 4: Retention – How curated content can help retain consumers and ensure the company remains top of mind and relevant.
Even after a customer has made a purchase, curated content can still play an important role in the relationship. If you're active on social media, sharing curated content gives customers an incentive to follow you, which gives your business an opportunity to upsell or cross-sell in the future.
For example, if you sell software products, regularly sharing content that helps customers get the most out of your product will keep them engaged and using it regularly.
Sharing relevant content also ensures that your brand remains top of mind and relevant to your target audience. When they're ready to make another purchase or need a related product or service, they'll think of you first.
Stage 5: Loyalty – How curated content can boost customer loyalty
Curated content can also be used to boost customer loyalty and turn one-time buyers into lifelong fans. If you can turn customers into brand advocates, they'll do your marketing for you by sharing your content with their friends and followers.
By sharing empathetic and helpful content, you can build a strong relationship with your customers and make them feel like they are part of a community. This sense of belonging will encourage them to continue doing business with you and referring others to your brand.
For example, if you sell pet supplies, sharing content from a trusted vet on a regular basis will show your customers that you care about their pets and want them to get the best possible care.
Conclusion
Curated content helps support the customer lifecycle by providing helpful information at each stage of their journey. From reach to loyalty, curated content can play a vital role in building relationships with customers and ensuring they remain engaged with your brand.