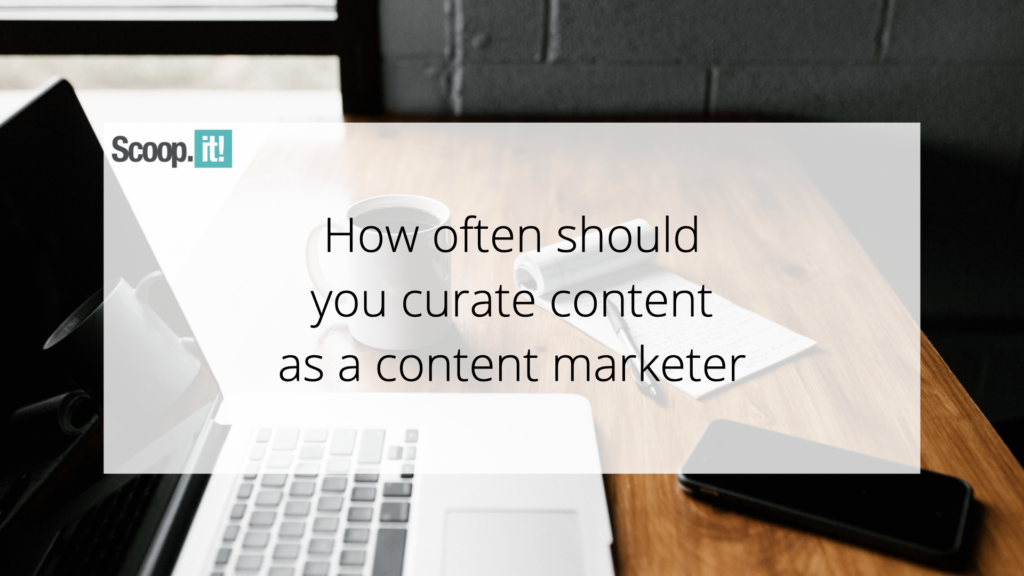 Content curation is one of the most effective ways to keep your audience engaged without overwhelming yourself.
It's a process of exploring relevant content from reliable sources and sharing it with your audience to generate more traction.
Content curation saves you the time and hassle of creating content from scratch. It enables you to keep up with the frequency of content shared by your competitors without having to add additional content creators to your team.
However, you can't simply rely on content curation to engage your audience. You have to find the right balance between content creation and curation in order to ensure optimal results and make the most of your efforts.
Therefore, it's essential to know how often you should curate content as a content marketer.
And this article can help you with that.
Content Curation Explained
Content curation is a process where you gather relevant information from third-party sources and share it with your target audience to foster engagement.
It can be difficult to match the content production and publishing frequency of your competitors, especially when you've just gotten started.
You have two options here. Either you onboard an army of content creators or start curating content to keep up with the content production capacity of other players in your respective industry. The second option seems more viable than the first.
Content curation helps save time and enables you to connect with the intended audience. It enables you to get more eyeballs and also helps boost your reach, requiring minimal effort from your end.
All you need to do is consider moderation when curating content and don't get carried away to reap the maximum benefits.
Importance of Content Curation for Content Marketers
Did you know that 60% of marketers find it very difficult to produce quality content at a consistent pace?
Content creation is an intricate process that requires a well-thought-out plan and seamless execution to work its magic.
This is one of the reasons why content marketers resort to content curation, especially when the purpose of the content to be shared is to generate awareness and educate the intended audience.
However, that's not the only benefit content curation has to offer, as marketers share curated content on social media to keep their audiences engaged and stay relevant hassle-free.
With more than 4.62 billion users and 43% of them using social media to research fitting solutions, content curation is one of the most efficient tactics that's been helping content marketers increase their reach and generate traffic.
Plus, content curation helps you utilize your time more efficiently and saves you from the hassle of hiring more people to meet the production requirements in your respective industry.
Content curation also serves as a great PR tool and helps expand your network. As you mention or tag third-party platforms in your posts, it gives you an opportunity to interact with other businesses and build fruitful relationships.
Lastly, content curation solves a problem. Neal Taparia from gaming site Play Minesweeper explains, "There is so much information available online today that it takes time to sift through what matters. You can solve a real problem with your content marketing by curating content that matters to your users."
Content Curation Best Practices
Content curation is not rocket science. However, if you're not careful, it may cause more harm than good. So, there are certain best practices that you should follow in order to maximize your gains.
Know Your Audience
Knowing your audience is essential to reap the maximum benefits from curated content. Without being acquainted with the needs and preferences of your target audience, it won't be possible for you to share relevant information and valuable resources that can help them find answers to their questions.
Validate Information
Always validate information before sharing it with your audience. Even when you've gathered it from credible sources, it's best to check its authenticity to rule out the possibility of human error.
Plus, content gets obsolete with time. So, you can't take everything that the originator says at face value.
Therefore, to prevent yourself from accidentally spreading misinformation, it's best to verify the details before sharing curated content.
Ask for Permission
When curating content, the rights to the information you're about to share don't belong to you. So, it's advised that you ask for permission from the originator to avoid copyright issues and prevent yourself from committing regulatory violations.
Credit Sources
Just asking for permission when curating content isn't enough. You should also credit the sources and add links to the original content.
There are many reasons why you should do it. First and foremost, it's what makes the process ethical. Second, it ensures your audience that the information you've shared isn't fabricated or made up.
Third, it saves you from posting plagiarized content. And finally, it allows you to connect with other brands.
Add Value
When curating content, it's not advised that you share information as it is. You should always consider adding value to curated content in order to personalize it and make it resonate with your audience a bit better.
Factors Dictating the Frequency of Curated Content
Content curation may be an excellent strategy to boost your reach and generate traction, but it's important that you find the right balance between created and curated content to get the best results.
The following factors can help you decide how frequently you should be sharing curated content with your audience:
Industry Dynamics
The first factor you need to consider when deciding on the frequency of curated content is your industry's dynamics.
The implications of marketing strategies may vary from one industry to another and content curation is no exception.
So, it's advised that you explore the best practices followed in your respective niche and decide on the frequency of your curated posts accordingly.
For example, news sites have more freedom to share curated content since they share content about diverse topics compared to sites that target a specific niche.
Competitive Landscape
If you're struggling to find the right balance between original and curated content, exploring your competitors' strategies may help.
If the majority of your competitors share curated content no more than twice a week, then it's best to take inspiration from their strategy and devise a publishing schedule in accordance with it.
Of course, you can run a few experiments and see what works best for you. But if most of your competitors are following a similar content-sharing strategy, it's something you should probably consider as well.
Audience Profile
Sometimes, it's your audience that dictates how frequently you should be publishing original or curated content.
It's not something you can figure out right off the bat, but something you learn as you share content with your audience.
If your curated posts are getting you more eyeballs and higher engagement than the original content published, it's a no-brainer that you should publish curated posts more often.
However, don't let it distract you from exploring the reasons why your original content is comparatively getting less traction.
Platform
The platform you use to share content with your audience plays a key role in helping you decide on the frequency of publishing curated content.
Take social media platforms for example. Almost all leading businesses readily share curated content on their social media pages but when it comes to their main sites, they prefer sharing original content with their audience.
This is because social media platforms are better suited for reaching out to the masses, whereas your main site is the face of your business.
You can still share curated content on your site, but the frequency of it would be much lower compared to social media platforms or online communities.
Final Words
Content curation comes with many benefits. It saves time, helps you generate traction, allows you to keep sharing relevant content with minimal effort, and enables you to expand your network.
However, no matter how efficient content curation as a strategy may be, you can't solely rely on it to achieve your goals.
It's important to know how often you should be curating content as a content marketer and find the right balance between original and curated content in order to drive optimal benefits.