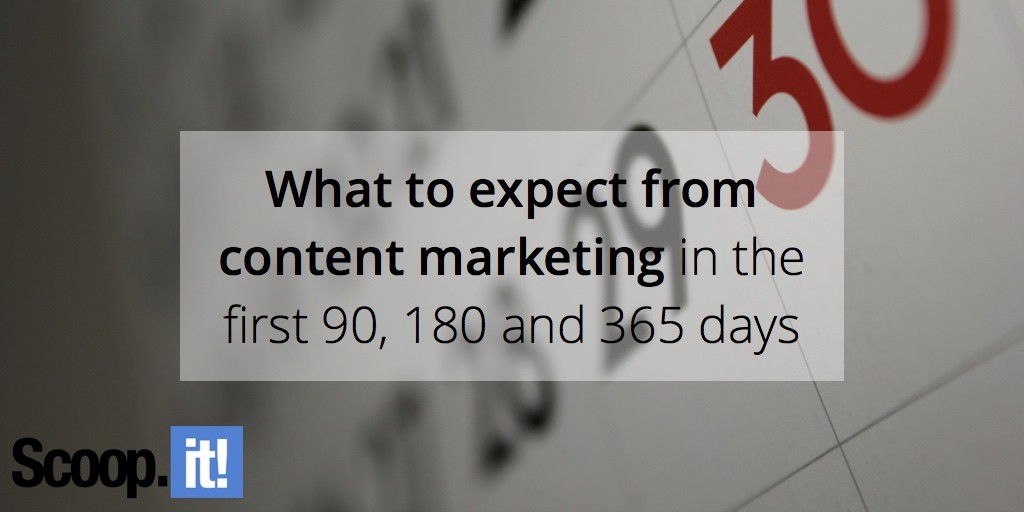 So you want to do content marketing. You're going to put up a blog, start publishing once a week, and the new customers will just start pouring in.
Alas, no.
Alright… I suppose it is scientifically possible your world-class prose will bowl people over so completely that they'll share every word you write. Just a mention of a blog post from you will inspire thousands to buy your company's products and services.
But that would not be a normal result. Most blogs – even good blogs – take time to gain traction. So do most content marketing programs, and even most SEO efforts.
I don't want to turn you away from content marketing (it works, and we love it, and it's getting more effective all the time). But you shouldn't launch into it expecting miracles. Outsized expectations are bad for business. They can be hard on staff and company morale, too.
So don't expect an immediate return on investment with content marketing. It's the sort of thing that builds upon itself, growing in phases.
To help you set some expectations for each of those phases, we thought it might help to define the phases of development for a typical content marketing program. That way you can know what to expect at day 90, 180 and 365.
So here's how to build a bridge from a starting position you're in now to a full-fledged content marketing program.
Walk: The first 90 days
For the first 90 days, you're basically just developing and refining consistent content production. The primary KPIs you're after in this phase are content volume and audience growth.
You'll:
Congratulations. You are now running a nice little content machine.
Jog: Days 90 to 180
By now you've got a base of content. Let's get some more traffic from it.
Congratulations. Your content marketing system is probably more effective and efficient than most of your peers'. Already.
Run: Days 180 to 365
By now you've learned a massive amount about how to systematize content creation, promotion, and analysis. You've got the bones of a successful content marketing program. Now it's just a matter of optimizing what you've done so you can amplify your results… all the way to a positive return on investment.
And, sure enough, your primary KPI for this phase is conversions. For most of you, that'll be leads. We're also going to try to maximize the life of your content while keeping all those other content marketing balls in the air (whew!).
Here's your to do-list:
Congratulations. You've hit the optimization and amplification stage. You're probably at a point now where you won't even want to publish more often. Instead of publishing more, you'll be publishing smarter. And your reformatted and republished content will fill up a lot of your content production. New content will keep coming, of course, but it will probably be about a third or less of your overall content assets.
The ROI Finish Line: Sometime around (but hopefully before) day 548
Hopefully you'll achieve positive ROI for your content marketing program long before day 548 rolls around on the calendar. But be ready – not all companies make a profit in the first 18 months of their content marketing. And it's not unheard of to take two or even three years to see ROI.
How can this be? Well, because building an audience takes time. And while there are plenty of people to tell you it's easy (simple, but not easy) and that there are shortcuts (there are)… there are just as many people who are smart and work hard and still need 18 months or more to see a profit.
So what does this mean for you? For starters, it means budget. Can your content marketing budget last 18 months before it sees its first return on investment? Can it hold out to two years? More?
This is where the content marketing long game really matters. It's this sort of long view and preparation that can keep you from putting your company's business needs ahead of what your audience wants. With the right expectations and a sane budget made to last 2 or more years, you can hold to your content strategy plan and stay true.
Otherwise, when you're a few months in, and there's no ROI yet, you'll be vulnerable to panic.
I have yet to see panic serve anyone well.
Conclusion
Does this all seem like a lot of work? It is – I cannot lie. But if you step back, all we're really talking about is this:
When you first start out, you're progressing through that cycle with just a little bit of content. Then the next time around, you've got more content – hopefully better-targeted content and better-performing content.
And then around and around you go. Constantly optimizing, amplifying and getting better returns. Minus all the little human mistakes along the way, of course. But hopefully we learn from those.
Back to you
What kind of results were you seeing from content marketing at day 90, 180 and 365? How long did it take your company to see a positive ROI? Tell us about it in the comments.
If you want to get 30 effective techniques to master content marketing along with valuable insights from 10+ influencers like Mark Schaefer, Rebecca Lieb, Lee Odden, Jason Miller or Ian Cleary, download our free eBook now!
Image by Dafne Cholet