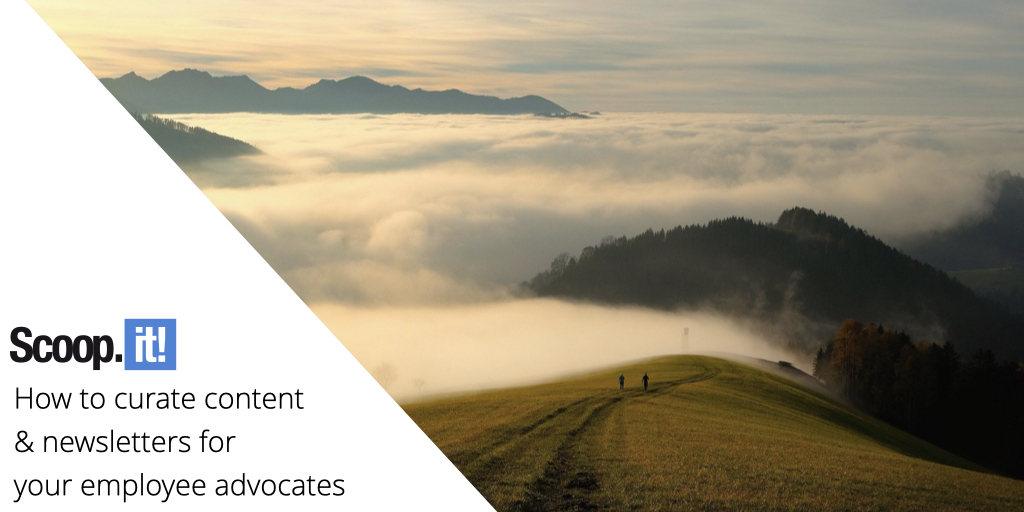 Knowing how to improve your communications through content curation and employee newsletters is essential if you want to have a successful business. Setting up an employee advocacy program that adds value to your employees can have an important effect. Such an effect that you can reach your goals easier and faster through your employees.
Why Curate Content?
Employee advocacy implies that you promote your business through your employers. Content and newsletter curation by your staff, on the other hand, means that you provide sources for your employees to be promoted.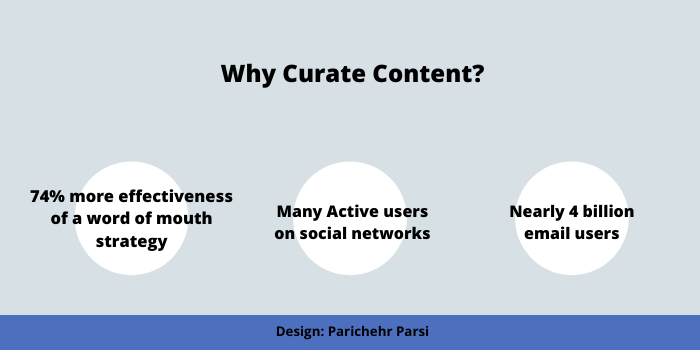 Think of social media for example. Imagine that you have 10k followers on Instagram and you have 10 employees. Each of the employees has an average of 300 followers on Instagram. If each of your employees shares your content, promotional content, for instance, you will get an average of 3000 more views of your content. But, this is not the end of the story!
People would rather read a business-related post from a friend than from a business itself. Is it more likely for you to buy a product from a TV advertisement or from your friend's word of mouth? There you go! According to statistics, 74% of buyers get influenced by the word of mouth.
In addition, online channels and platforms have many active users. Instagram, for instance, has 1 billion monthly active users. On the other hand, there are nearly 4 billion email users worldwide which implies that emailing is perfect for achieving your marketing goals. Consequently, turning your employees to advocates and using content curation advocacy can thrive your business significantly.
5 Mistakes to Avoid With Your Employee Advocacy Program
When you have finally made up your mind to start an employee advocacy program, you should be aware of the typical mistakes and avoid them. Here is an infographic that tells you what we are going to talk about in detail: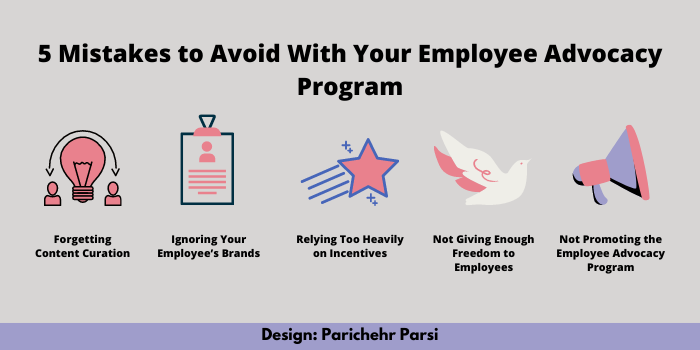 1. Forgetting Content Curation
Your employees, in any section, devote some time during the day to read the work-related content produced within the company. This content can be recent news, articles, blog posts, emails, posts on social media, etc. As there are many other tasks that require a demanding amount of concentration, they may not focus on the most important content or news.
The truth is, not all your content and news can be shared or considered important. Because firstly, the volume of curated content should be reasonable, and secondly, the important content gets lost among the unimportant ones. Your content team has to highlight the content for the right employee advocates who should transmit it to their own audience in their social networks. If they curate the unimportant content, there would be no benefits or returns.
2. Ignoring Your Employee's Brands
One traditional habit of some managers that should be abandoned very soon is to limit the public discussions of employees together. Well, this strategy would not work in the modern era, obviously, due to the huge changes in societies and moods. If you are going to organize an employee advocacy program and content curation advocacy, you should stop controlling and restricting your employees. Instead, you should let them share their ideas together. You must support your employee's personal brands and encourage teamwork and regular team meetings.
If your employees feel that you are supporting their personal brands, they will feel more self-important and consequently will be more engaged. Because it means that you care about their personal growth, ambitions, and goals, and not just about your business. When you start an employee advocacy program and content curation advocacy, you should consider your employees' brand-building factor from the very beginning.
Support them by training them and letting them discuss various issues with each other to broaden their horizons. For instance, you can teach them the strategies they should carry out for each social media and how to use content to grow and engage a community on social media.
3. Relying Too Heavily on Incentives
Incentivizing your employees in your employee advocacy program and content curation advocacy does not always have a positive outcome. Like any other model, too many incentives may raise the expectations of your employees in the way that they always expect incentives even if they do not actually deserve them.
It is necessary to encourage your employees to participate in content curation advocacy using incentives. However, relying too heavily on them can ruin your plans. Rewarding employees all the time is not a sustainable move for your business. Therefore, you need to be careful about how and when to give incentives to your employees in order to encourage them for what you want them to do for your business.
4. Not Giving Enough Freedom to Employees
Your employee advocacy program should not be a strict one. Content curation advocacy and employee newsletter should be open to personal comments. In other words, if you ask your employees to curate your content on their social media exactly as they are, you are making a mistake. Instead, you should allow your employees to share their own thoughts and opinions of the content they curate.
It is an important step toward making the process more similar to a word of mouth kind of content. Therefore, they can be more trusted by the audience as it is not shared by a business. In addition, the concept of employee advocacy necessitates elbow room for your employees. So, you are making your employees liable to curate content by actually granting them the advocacy power.
5. Not Promoting the Employee Advocacy Program
As your employees have several tasks to do in a day, it is highly probable that they forget the advocacy program. If the content curation advocacy is important to you, you should always remind your employees to pay enough attention to the program. Provide a plan and a set of weekly or monthly goals. Make it a weekly or monthly task so that they cannot forget to curate your content.
Promote the program using the different channels available to you; social media, newsletters, emails, broadcasts, messaging platforms, ad campaigns, etc. Ask your staff to curate your content through these tools and highlight the importance of the content.
5 Pro Tips to Win Content Curation for Your Employee Advocacy
Having known the mistakes on the way to have an efficient employee advocacy program, it is now time to read about the pro tips to win content curation for your employee advocacy. Let's take a look at the infographic of this section and then go through each tip in detail:
1. Onboard Properly
Effectively integrate the qualified employees into your organization and make them familiar with your content and newsletters. Provide a clear role description for each staff and emphasize the task of content curation advocacy. Tell them that they should curate content related to subject X two times a week/month/etc. This way, they will not forget to share your business content on their social networks due to the overload of other tasks.
Moreover, value your content and your employees simultaneously through your employee advocacy program. This means that you should both care about the content production procedure and leave your employees free to curate them the way they want. In addition, prepare the content of any employee to introduce your products and services so that they thoroughly know what they are going to promote on their social networks.
2. Get Your Team Involved
Engaging your employees in the matters of your company is crucial for your success. Employee advocacy programs are flawless tools for engaging your staff in company affairs. The reason is that you put all your employees in line together by asking them to curate your content. In other words, you provide them all with a common goal and encourage them to work together closely.
When you tell your employees that they should curate the company's content, they would engage because they would feel important as they should act as a channel for the business as a whole. Therefore, an employee advocacy program can positively engage your employees and make them more responsible even towards their other tasks. Furthermore, it is better if you use content to engage your employees and make them happy to have them involved in your program.
3. Use Content Calendars and Share at Best Time Possible
Having a plan is the most important part of any project. Without schedules and calendars, your content curation advocacy program is condemned to failure. Accordingly, you should either provide a content curation calendar for your employees or encourage them to have a calendar based on the knowledge they have of their followers and friends. Well, they know their followers and friends better than you!
Furthermore, ask them to curate content and send employee newsletter at the best time possible. By best time, we mean the time that the majority of their followers or friends are online and the content has a higher chance to be seen. Such time can be either understood through searching, or by relying on past experiences. For instance, if they always get a lot of views on Friday afternoons, they can keep on posting on the same day and time.
4. Remember to Add CTA Buttons/Phrases
Call to action buttons or phrases are the final prompts that your employees can use to guide the prospective lead to the conversion funnel. Curating content is a task that would be unfinished without proper CTA buttons or phrases. Better to say, curating content without adding or writing CTA buttons or phrases is a waste of time and effort.
Ask your employees to pay enough attention to these buttons or phrases. For instance, they can lead their followers on Instagram to the link in their bio in the caption of their curated content. The followers can participate in the promotion, for example, by surfing through the link. In case they have a small number of followers, tell them to use Instagram follower apps.
This is how content curation can lead to an increase in your website traffic. New leads will visit your landing page and if you have worked well enough on your conversion funnel, you can easily convert them into customers, perhaps loyal ones.
5. Strengthen Newsletter Subject Line
Employee newsletter is another kind of content curation advocacy you can adopt to boost your business. Create engaging newsletters that are well-structured, captivating, and to-the-point. Your employees should also optimize their email content for conversion so that the conversion process gets easier and more efficient.
One strategy that your employees can carry out to make their audience open their emails and read the content is to add creative and eye-catching subject lines to their emails. Email subject lines are the first things that the recipients see in the first place when they receive the emails. So, subject lines can determine whether your employees' email is read or deleted immediately. To avoid the danger of the deletion of your employee newsletter, they should strengthen their newsletter subject lines as well as work on the idea and content of the newsletters.
Conclusion
Knowing the fact that social media and other online platforms are remarkably popular nowadays, you can use them to get your business more triumphant. Social networks can play a significant role in the success of your business. Employee advocacy programs can both curate your valuable content and increase the engagement of your staff together and to your brand.
Therefore, content curation in the social networks by your employees can have dual effects on your business. Who would say no to that as a business owner?! Start an employee advocacy program if you have not yet and check out the results. Wish you the best of luck!