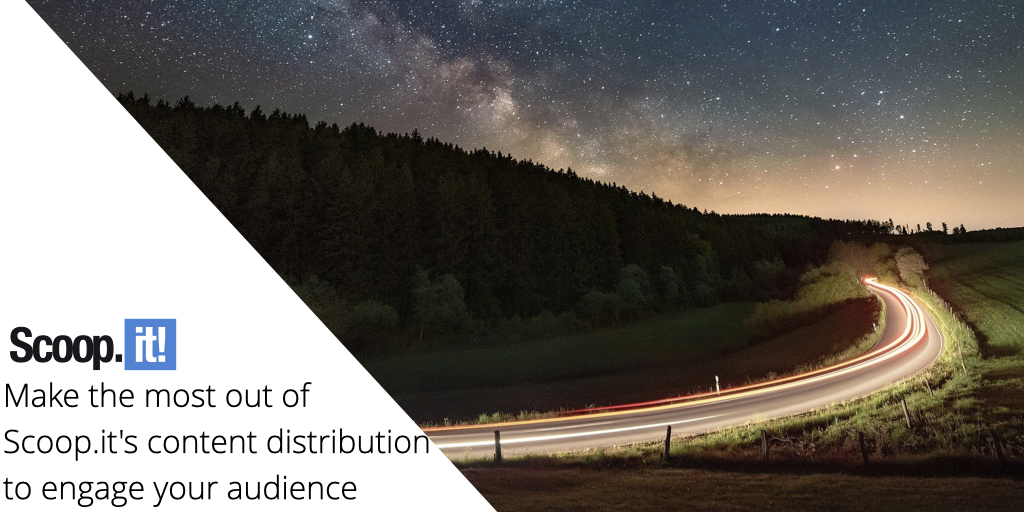 Think about this: 50% of all content goes completely unused, and only 22% of pages that are currently in the top 10 results on search were created within one year.
Creating new content is a huge bet, and curated content helps, but only if you put in the effort to distribute it.
If you want to make sure you're doing everything you can to get your curated content in front of your target audiences, both internal and external, you're about to learn many techniques you can use to make it happen.
Let's dive in.
Internal content distribution strategies with Scoop.it
Internal content distribution to your coworkers is essential for several reasons, including:
Building up your company's market intelligence
Driving employee engagement

 and retention

Embedding company values and vision into everything the company does

Bringing all relevant company documents and news to a single place, instead of sharing them through individual emails and without version control
As you build up and organize your internal content hubs on Scoop.it, here are some easy ways to distribute the right content to the right people.
Embed topics to your internal wiki, Microsoft Sharepoint, and other CMS solutions
Use Scoop.it's Integrations section to generate your own HTML embed code and add it anywhere your employees frequently visit and look for most recent, accurate information.
You can generate the embed code after defining the number of posts per page and selecting or deselecting the options you want to customize for your embedded topic: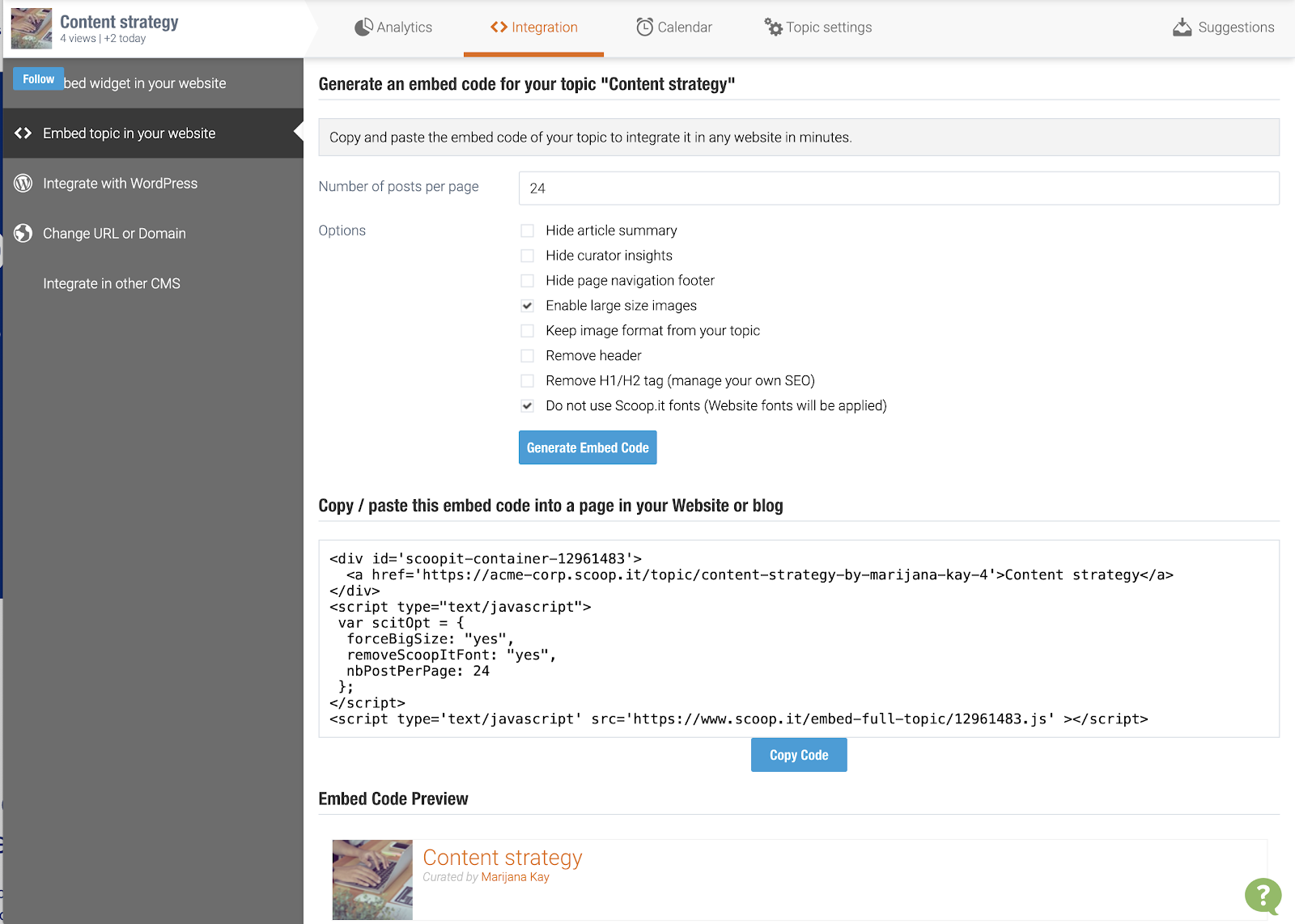 Use this code in platforms and hubs like:
Company intranet

Internal company wiki or knowledge base

Microsoft SharePoint
Then, whenever your topic gets updated or further customized, these places you've embedded it on will update in real time, too.
Generate internal newsletters in the matter of minutes
Scoop.it makes it easy to generate and track your internal newsletters from a single place:
This ease of generating an internal newsletter comes from two excellent features:
Templates you can create yourself or have Scoop.it's team custom-build them for you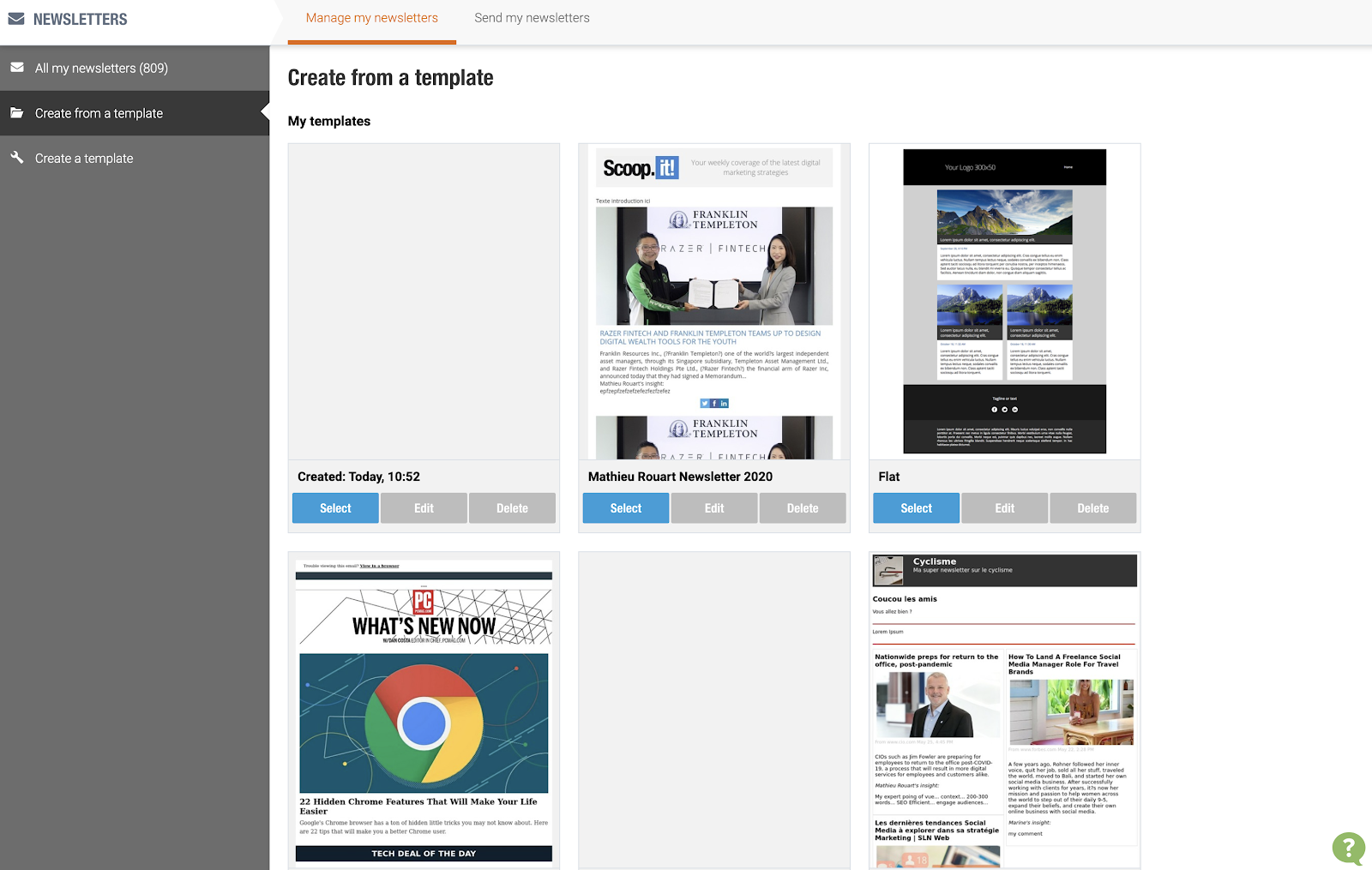 Already curated content you can just drag and drop into your emails from your Scoop.it topics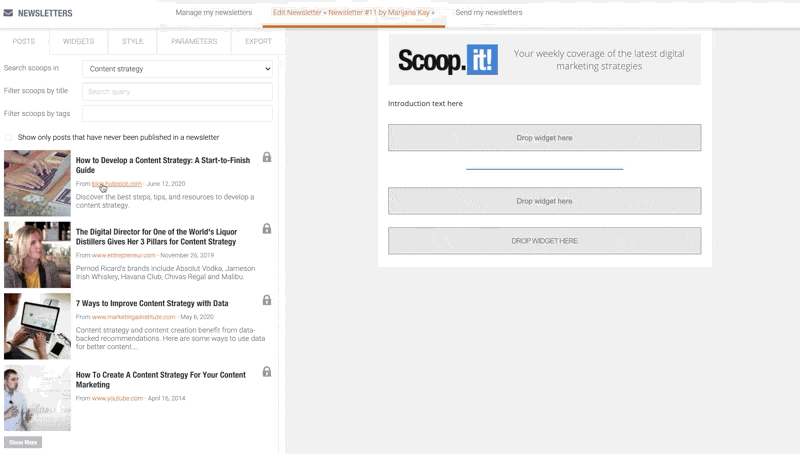 From the newsletter editor, you can also further customize each newsletter by:
Adding other widgets like HTML blocks, text, images, and separators

Enabling or disabling link tracking through custom Scoop.it links

Adding UTM parameters to track your campaign analytics

Switching links to original articles on or off
To send your newsletter, you can build your campaign inside Scoop.it, including a list of recipients, email subject line, your From name and address, and scheduling…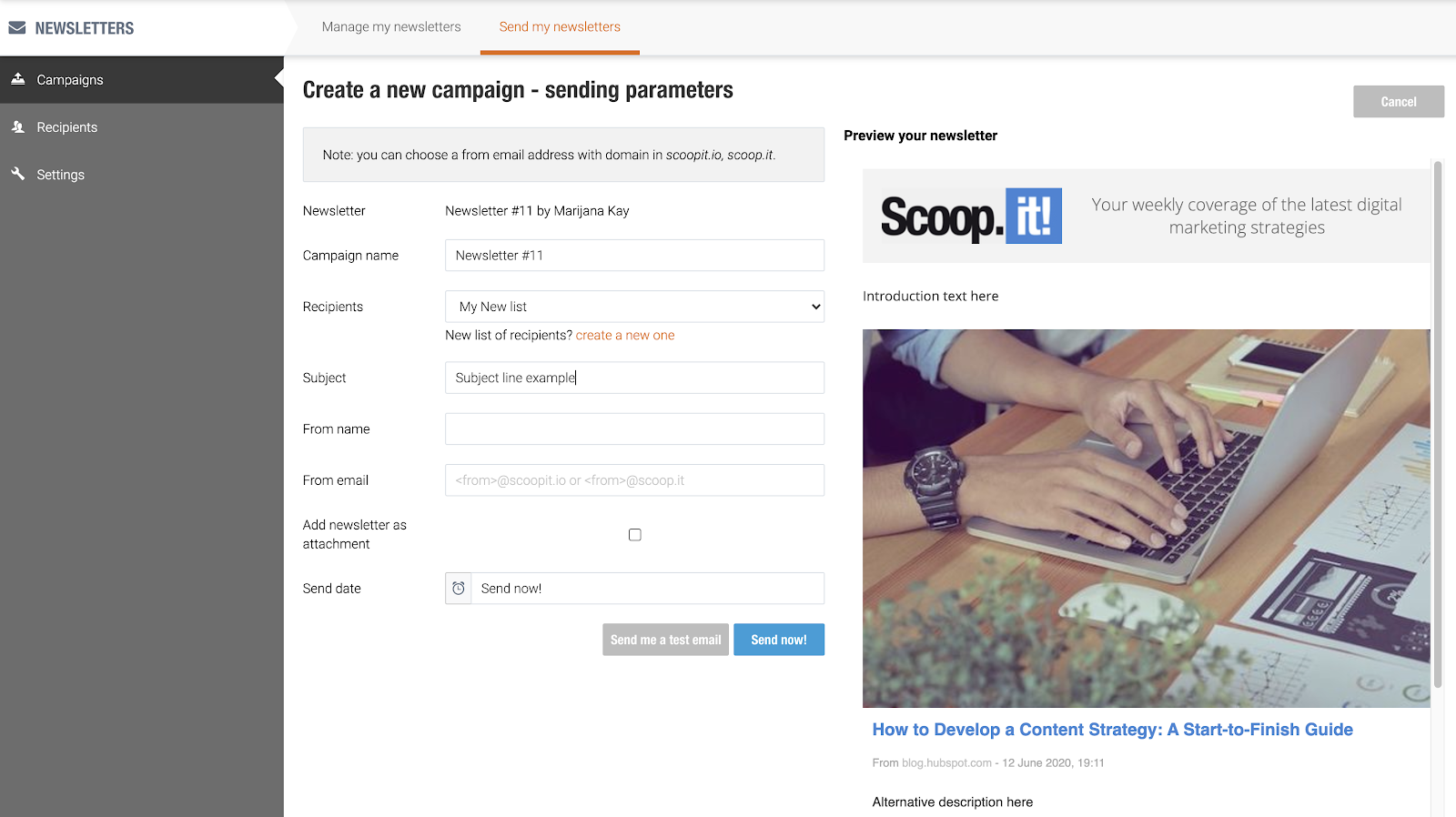 …or you can export it as HTML to upload to your own email marketing platform, and even integrate with your Mailchimp account and send your newsletter from there.
Build a reader platform for your employees
Another great way to disseminate your valuable content hubs is by making them the end destination for your employees and partners.
In other words, instead of embedding your content hubs to your internal wiki or knowledge base on another domain you own, you can turn your Scoop.it into a central platform for every employee to find what they need.
This is a private, branded space for your entire company to access and share market news, sales information, and other critical information from the web or from your internal documents.
A reader platform on Scoop.it will benefit a range of teams and roles, including:
Sales and marketing

Human resources

Product development

Market analysts

Managers and executives

Partners and partner relations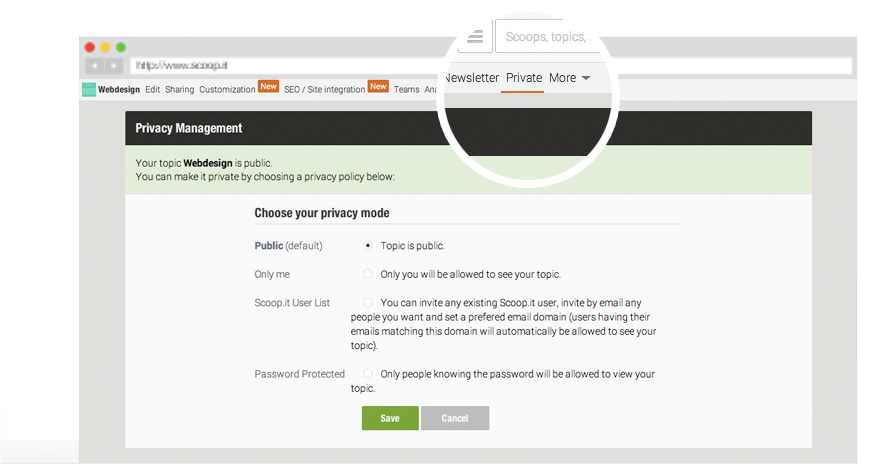 Scoop.it also lets you implement single sign-on (SSO) through Okta or Google SSO, which means you can provision an internal content home with maximum security.
External content distribution strategies with Scoop.it
External distribution of your content will fuel your branding, positioning, and reach. It will help you establish yourself on the market in an intentional way and reach your ideal readers and potential customers.
Here are the best ways to make it happen with Scoop.it.
Create an engaging, valuable newsletter
Writing and designing a public newsletter takes time. In fact, producing a single newsletter edition from scratch can take up to 10 hours each time, according to the campaign calculator from Blocks Edit.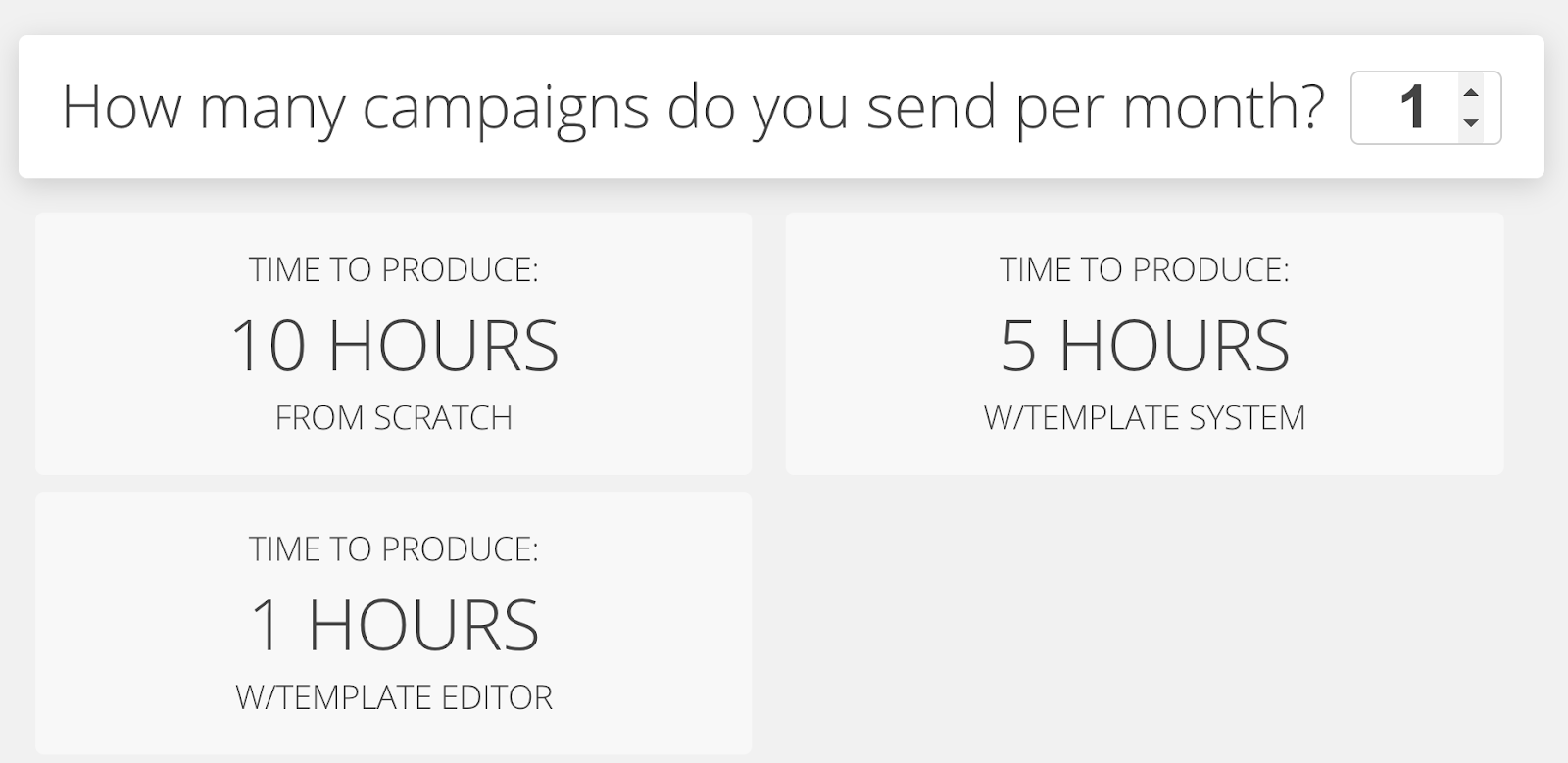 This is why starting from templates and content hubs gives you an advantage. As we covered in the internal distribution section earlier, you can use Scoop.it to build a newsletter in minutes, and manage it from Scoop.it.
Alternatively, you can add it to your email platform using a simple embed code, or integrate it with your Mailchimp account and get all the benefits of email marketing without spending dozens of hours every month building each newsletter edition.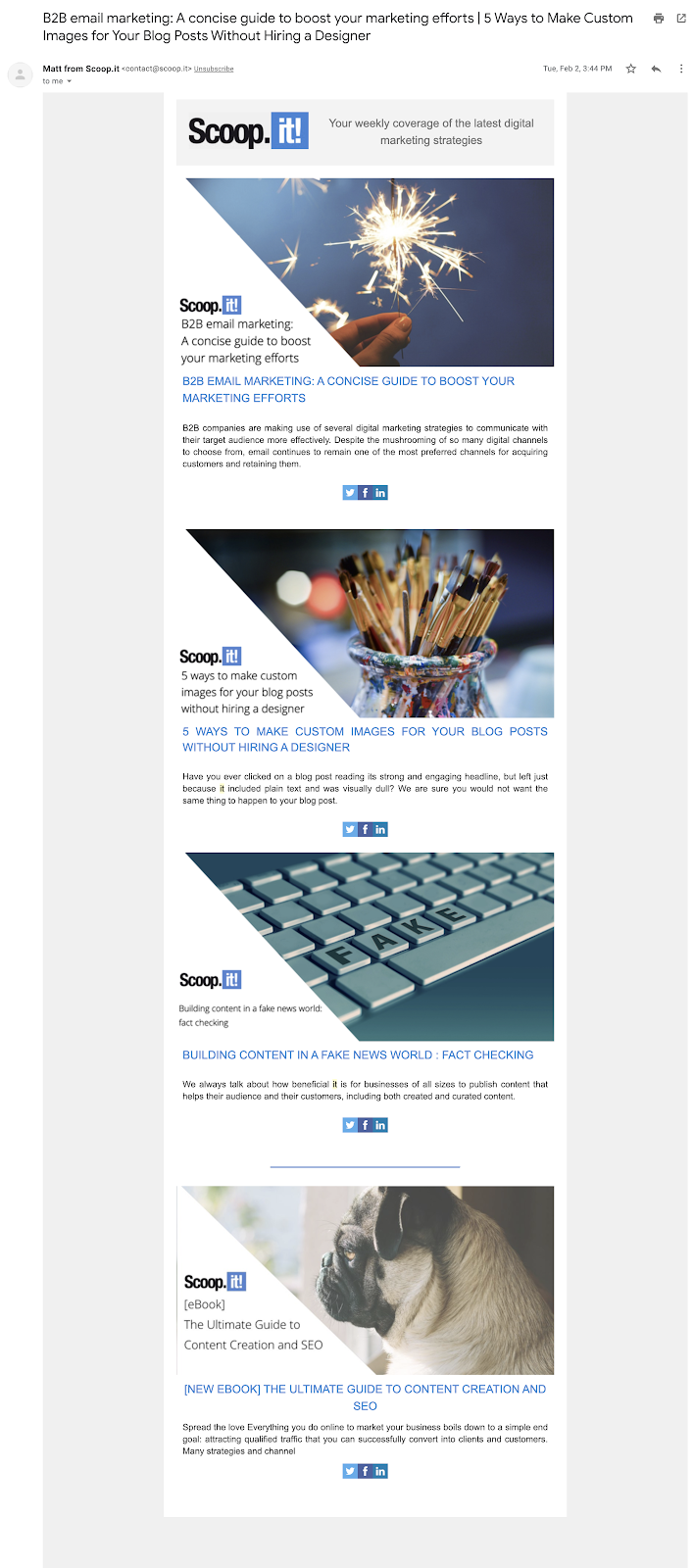 You can also use Scoop.it to track the most important metrics of your newsletter campaigns: views, clicks, and clicks on your scoops, so you can do even more of what works well and tweak what doesn't.
Integrate Scoop.it with your WordPress website
Do you have a WordPress website? You can integrate your curated content to WordPress with Scoop.it.
It's another great way to create impactful content without starting from scratch every time. You can turn each curated piece of content into a standalone post on WordPress. The post gets its own permalink on your website, and you get the chance to add your own insights, expertise, and context to it.
After connecting Scoop.it with your WordPress account, you can configure your settings, including category, excerpt length, featured images, and inline images.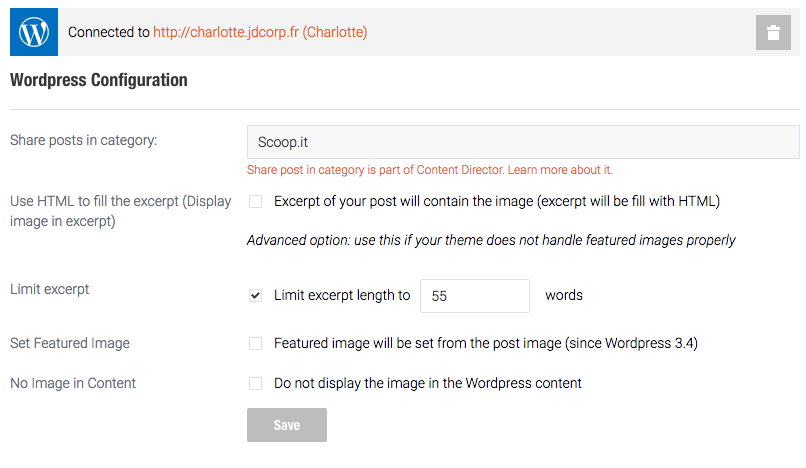 This is an efficient way to automate and streamline content curation so you can serve your audience even better.
If you need ideas on how to find ideas for content to curate through this integration, you'll love this post about content curation and WordPress with a list of ideas to get you started.
Add Scoop.it to your apps and solutions
Do you have your own app, a solution, an LMS, or similar, and want to integrate white-labeled curated content from Scoop.it to it?
You can do so thanks to Scoop.it's content API. It allows you to add Scoop.it topics and posts to your unique context for your visitors, users, and customers.
This is exactly what Scoop.it's customer Saint-Gobain does on their website, including news about their company, the industry, and more: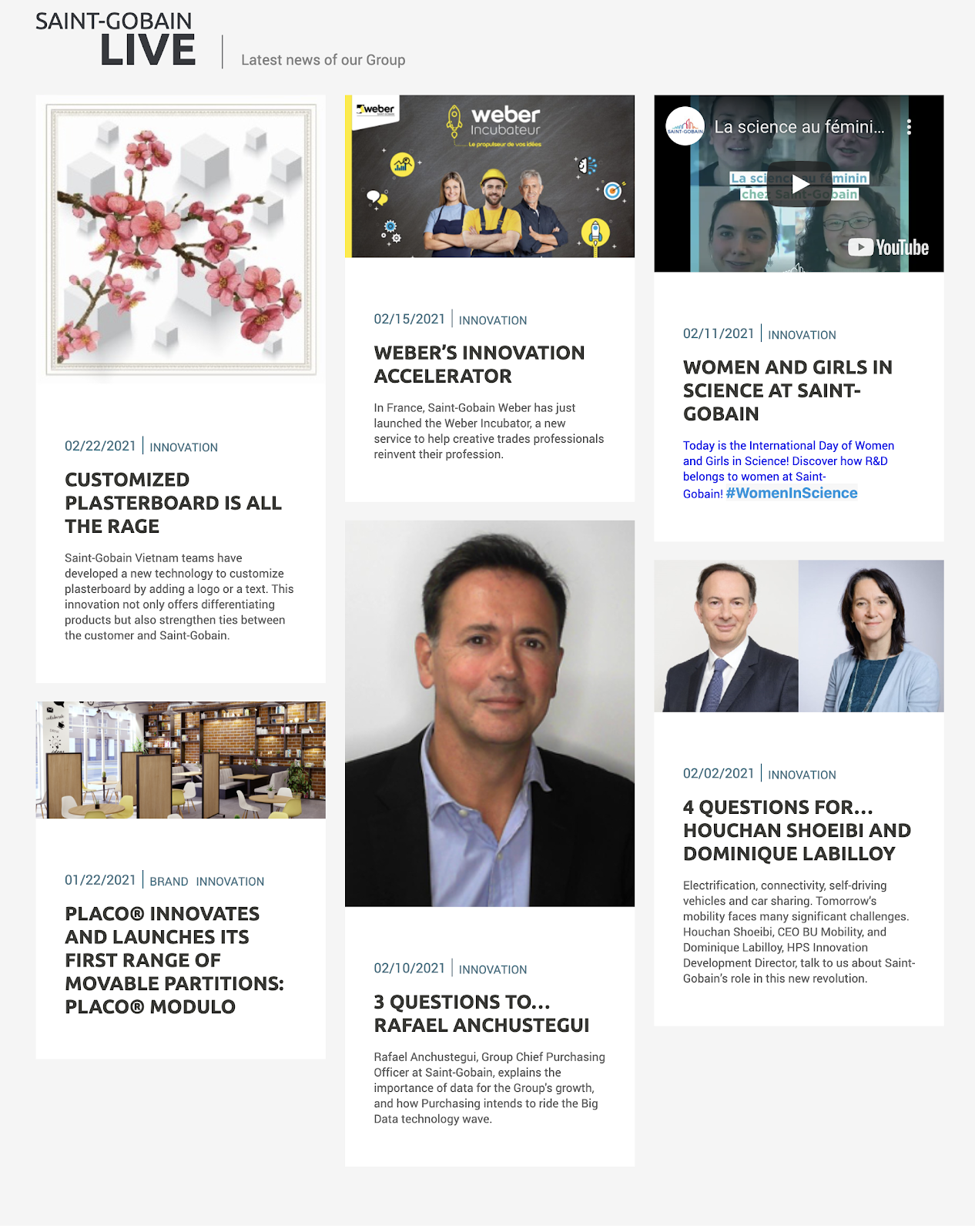 This gives you an advantage with your competitors and lets you share valuable information in your own digital environment.
Maximize your social media reach
Make the most of the built-in social media sharing features in Scoop.it.
For each scoop (post) you add to any of your public content hubs, you can click the share arrow below it to access sharing features: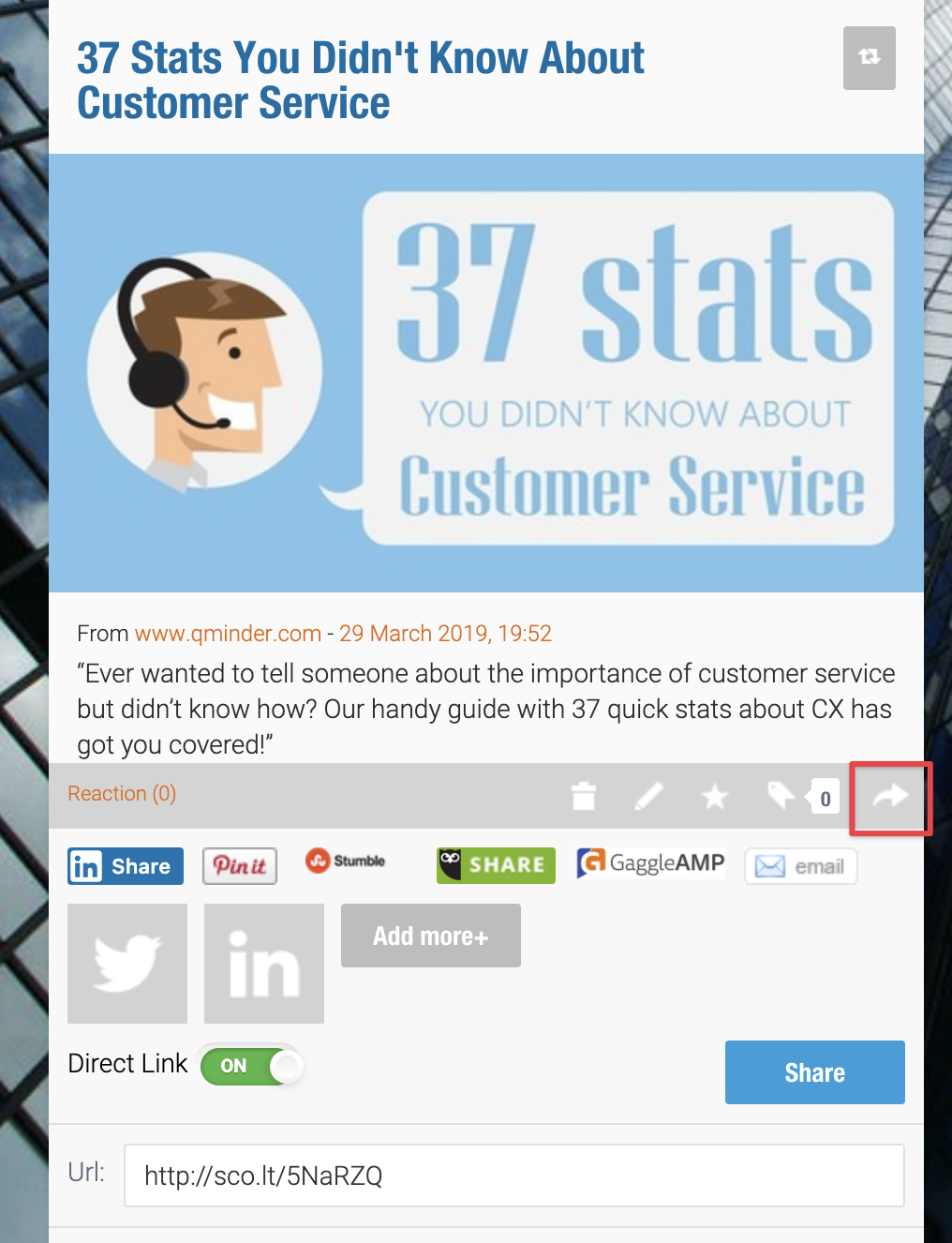 From here, you can share to Pinterest, LinkedIn, Mix (formerly StumbleUpon), Hootsuite, GaggleAMP, and email.
By clicking on the Twitter, LinkedIn, or 'Add more' button, you can connect your social media accounts with Scoop.it and share them manually from your hub pages, or automatically as you add each new scoop to your hub pages.
You can connect your:
Twitter

LinkedIn profiles and company pages

Facebook pages

Buffer

Pinterest

Tumblr

Yammer and Yammer groups
You can also use the scheduling feature and the calendar that comes with it. If you're doing your content curation in batches, instead of publishing all of them right away, you can stagger them out throughout days and weeks to come: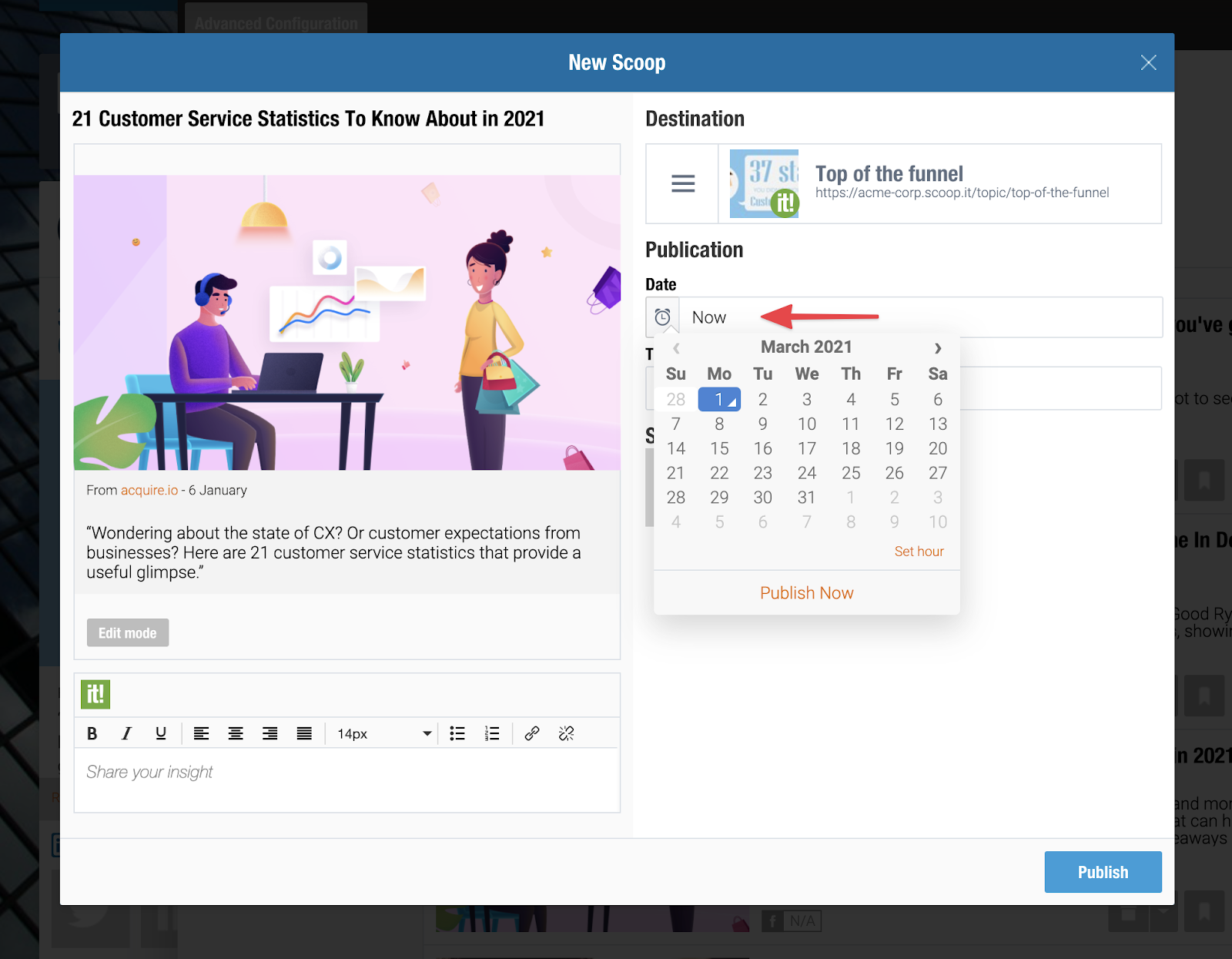 As you add more content, it will become visible in the Calendar tab of your Scoop.it topic: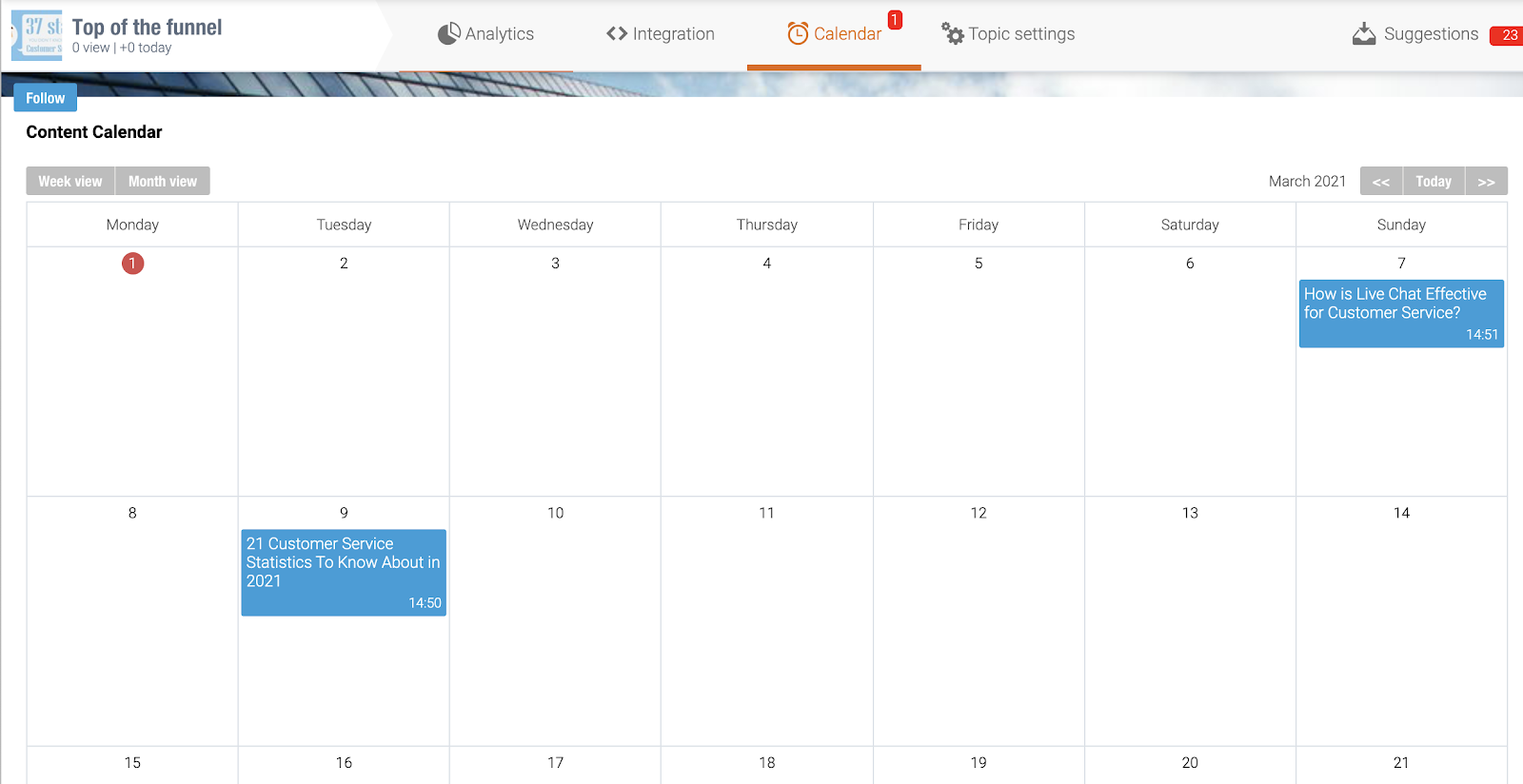 You can click into each piece to review it, add more details, reschedule it, label it, and more. You'll have a streamlined, visual way of sharing exceptional content with your audience across all relevant channels.
You're ready to distribute your content to people who need it most
You now have the tools, tips, examples, and inspiration you need to start placing the right content in front of the right people, both internally and externally.
Be sure to check out part 1 if you need a refresher on building content hubs as your main way to store important content, and part 2 to find the best ways to find, edit, and organize your content.
Want to try this process out with Scoop.it's help? Get your Scoop.it demo today.