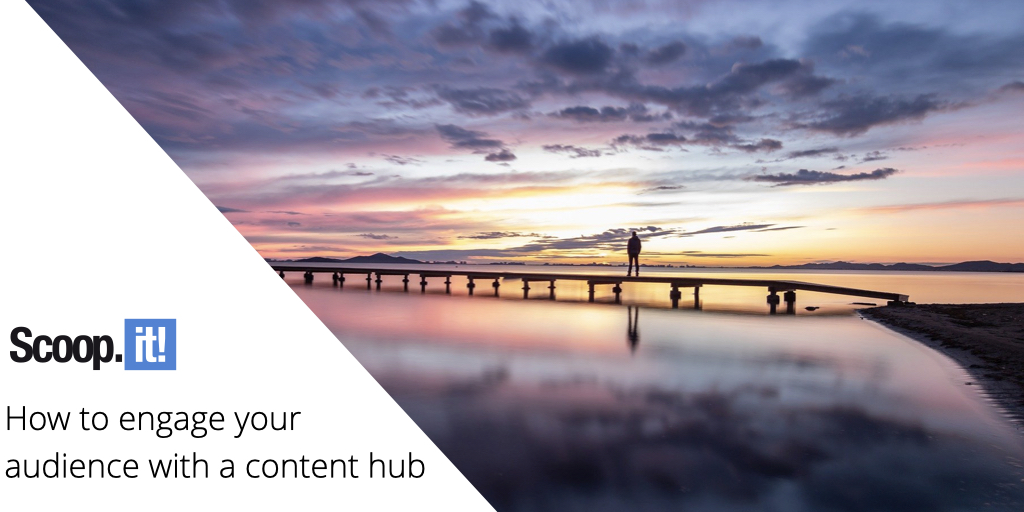 In 2021, what you do online defines how people perceive your business.
This is good news: it means you have plenty of control over your reputation and your brand image.
The bad news? To gain this control, you need to get intentional about the content you publish and curate.
This includes both the content you publish to external audiences (your partners, leads, customers, and more), but also your employees. What your employees see from you—and share from you—matters because your online image depends on their behavior, too.
Starting from scratch to deliver this content is hard, but you can build a strong content process to stay connected with both your internal and external audiences at all times. This guide will show you how.
Pssst! There are two more parts to this series of guides. Check out part 2 on content organization and curation, and part 3 all about content distribution.
Make content hubs the backbone of your content system
A content hub is an online destination that houses content about a specific topic in one place. Content hubs are excellent building blocks for a content system you can always easily reference, add more content too, and share from.
Your content hub isn't a blog page, a YouTube channel, or a podcast. Instead, it's a standalone page you own where you can add both your original content and content from third parties, in many different formats, such as:
Blog posts

Ebooks

Videos

Infographics

Podcasts

Whitepapers

Webinars

User-generated content

Native social media content

Case studies

Original research
Here's how a content hub may look like if you're using it to collect news and thought leadership within your industry: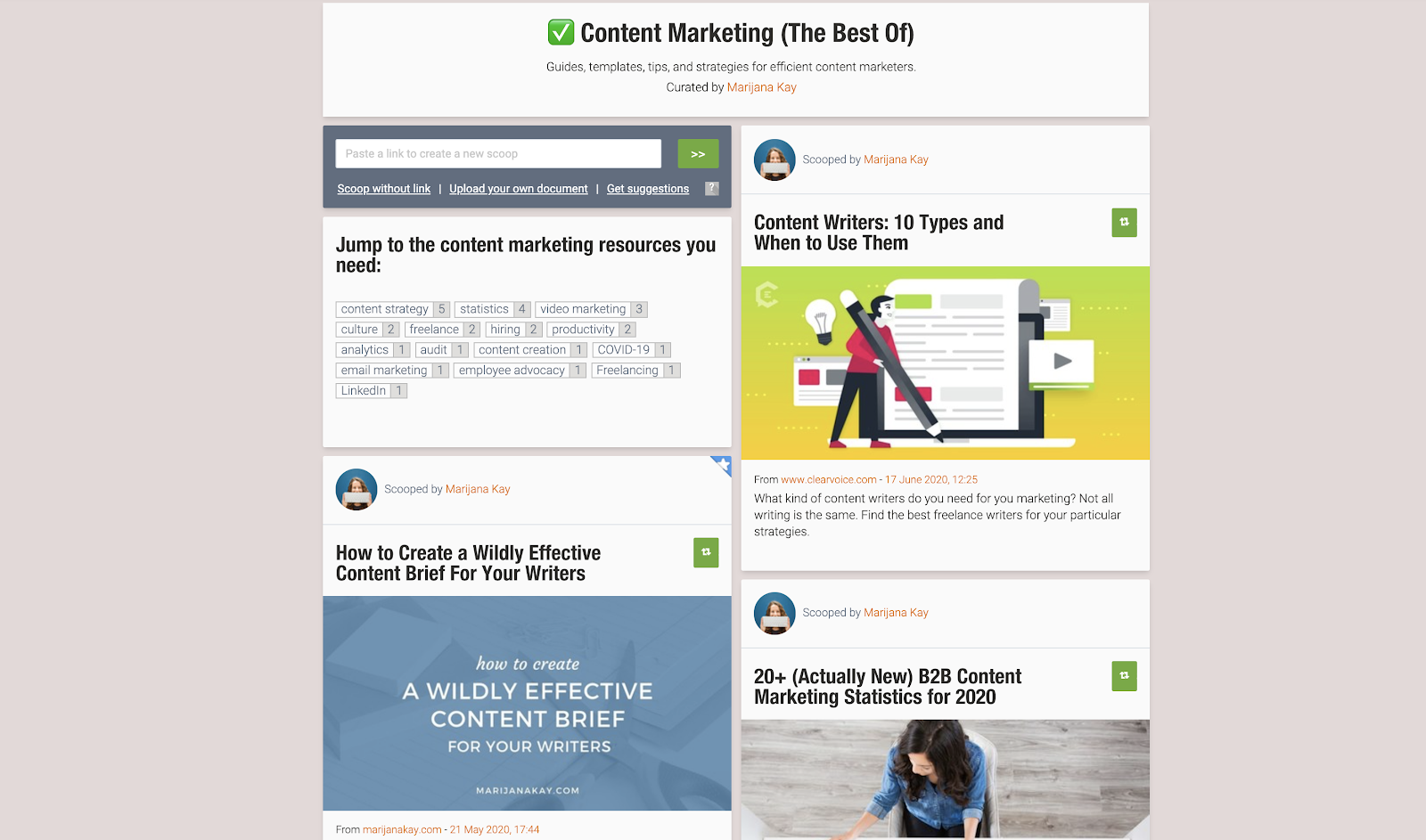 For internal communication, an example of a content hub might be a Press mentions page, where every employee can find and share a press mention they like: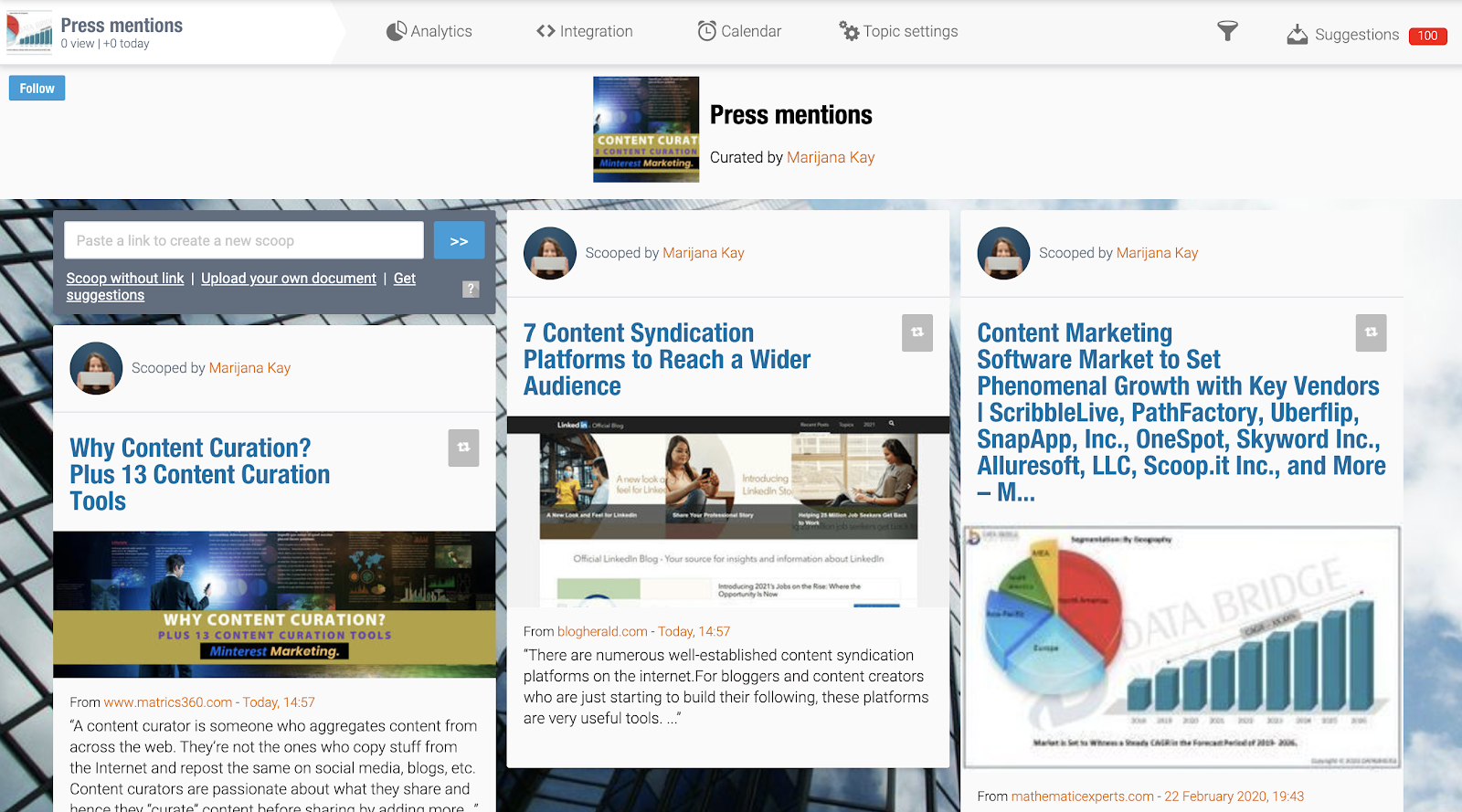 Content hubs help you centralize your expertise and become the go-to resource for the area you specialize in. Here are some of the benefits of this:
Keeping traffic to yourself.

 Even though your content hub will feature content from different platforms and publishers, your audience will want to come back to you because you're the central place where they find valuable information.

Building brand loyalty through repeat visits.

 By sharing the best content there is—both your own and from other companies and people—you'll build trust and strong relationships, both with your audience and with those whose content you feature.

Prolonging the lifetime of your content.

As much as 72% of impressions on an average blog post happen within its first month. Content hubs will help you ensure your content doesn't lose momentum and relevance.

Providing content formats you can't create frequently enough from scratch.

 What content format has worked the best for you in the past? Curating third-party content in your content hubs will help you serve more of that format to your audience, without producing that content yourself.
How to build your content hub
Creating a content hub in Scoop.it is as easy as a couple of clicks. Once you click 'Create a topic' from your dashboard, you'll be able to add a name, customize the URL, select the language, and set the privacy for your content hub—your Scoop.it topic: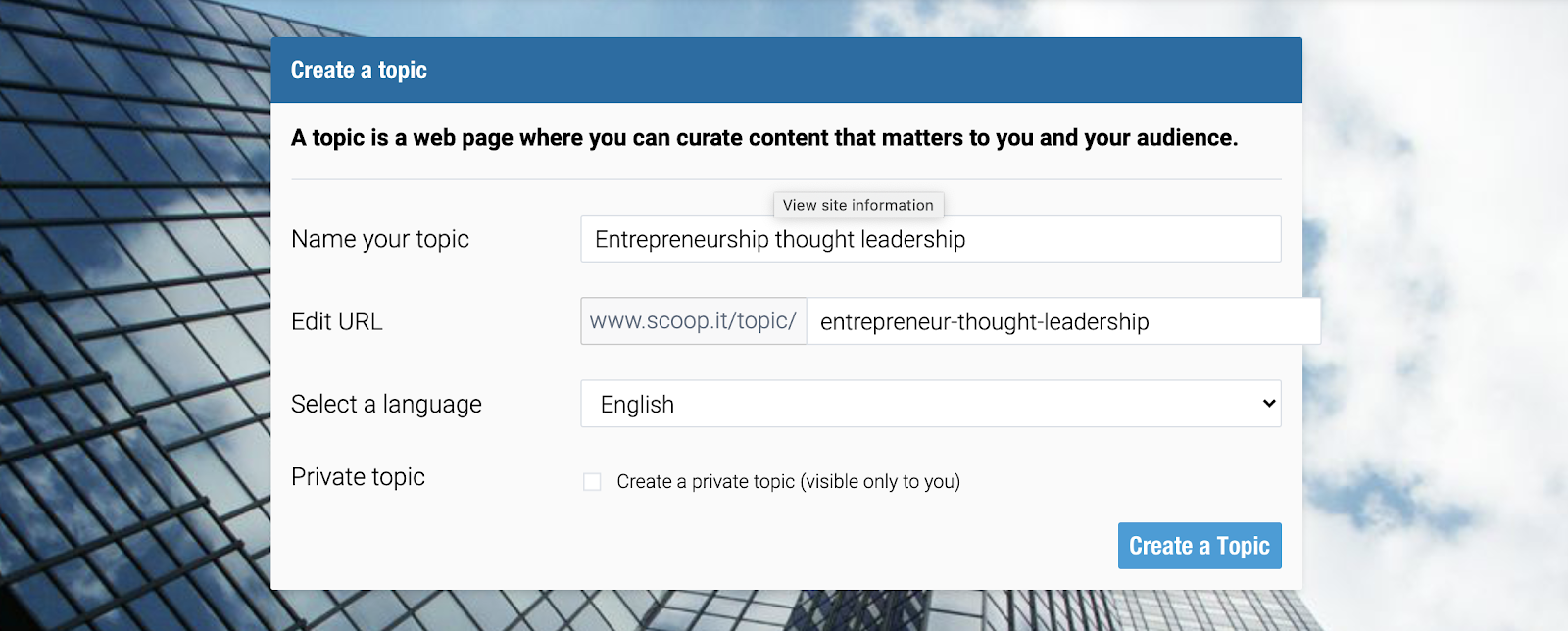 You can further customize your topics through the Topic settings option at the top, including settings for:
Privacy settings and permissions for others to make suggestions, share from your topic, and comment on posts

Sharing through accounts like Twitter, LinkedIn, Facebook, Buffer, and Yammer

Design of your content hub, including icons, background, header, and custom HTML

SEO through topic keywords

Automatic content import using RSS or a sitemap

Teams that can contribute to your content hub

Lead generation forms and integration with Mailchimp

Grouping your content hubs based on a larger category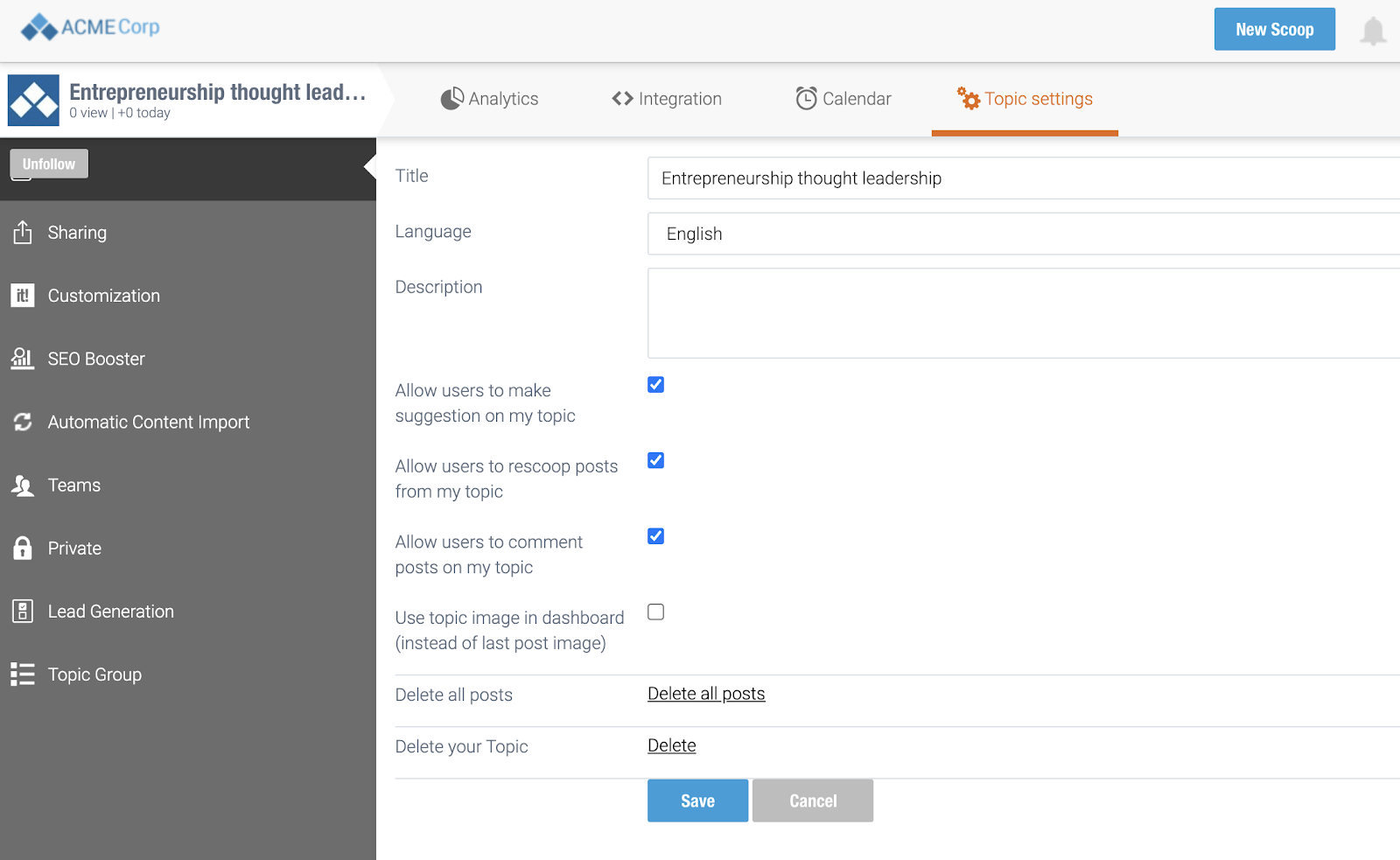 As you start adding pieces to your content hub, you'll also want to tag them for easy filtering later on. Tags in Scoop.it are simple to generate and add to each piece:
Once the pieces in your content hub are tagged, you can add a list of tags to your content hub. This will be a section with clickable tags so you can always quickly reach the piece you need:
The best use cases for a content hub
The ideal approach to content hubs combines your efforts for external audiences (think marketing and PR) with internal communications (such as employee engagement, company vision, internal company events).
Let's jump into examples for both.
Content hubs for external audiences
Here are some examples of using content hubs to hit goals that include your external audiences, such as your leads, customers, partners, and press coverage:
Education and thought leadership on topics that match your audience's interests.

 For example, if you're marketing agency, you may have topics like marketing strategy, buyer personas, social media planning, influencer marketing, and freelance writing.

Press releases.

 Create a hub for people like journalists and creators to reference if they're writing about you or looking for recent information about your business.

Industry news.

 Sharing industry news

 makes you the go-to resource for relevant, timely, fast-moving information about your field. This can include industry trends, events, original research, webinars, and interviews that you know your target audience cares about.
Content hubs for internal audiences
When you use content hubs for internal communications, you can create the ultimate place for all company-related content. Your employees won't have to dig through emails or Slack to find an important piece of information, and you'll also drive genuine employee advocacy.
Here are some content hubs to consider for internal audiences:
Company culture

. Information like mission statement, values, and vision.

Product roadmap

. Internal wiki discussions, product mockups, a timeline of upcoming launches and large projects.

Active campaigns and promotions

. Everything the company is currently focusing on from a marketing and revenue perspective.

We're hiring

. Links to all active job listings for your company.

New hires

. Links to profiles, about pages, and extra information for new hires that joined you over the last one or two quarters.

Recent press

. Links to articles, videos, podcasts, interviews, etc. where your company and employees were featured over the recent months.
Time to build
Now you know how to establish your content hubs as main building blocks for your internal and external marketing and communication efforts.
Want to organize and distribute these pieces effectively? Upcoming parts of this series are for you. Part 2 is all about organization and curating the best content, and part 3 focuses on efficient distribution.
Want to try this process out? Get your Scoop.it demo today.