As the volume of content published on the Internet continues to grow, consumers can help shield themselves from the noise that doesn't matter to them by curating only the content that matters on interest graph platforms
Guillaume Decugis's insight:
Content curation and the Interest Graph are two different things but are deeply connected. While some content curators like Maria Popova are great at being eclectic, a lot of value to readers come from being able to discover and read from publishers who address the specific niches they're interested in.
Chad Politt from Digital Relevance clearly establishes that connexion in this contribution to the Huff Post and I would draw the following conclusions for content strategists and content curators:
Read More
---
---
---
---
---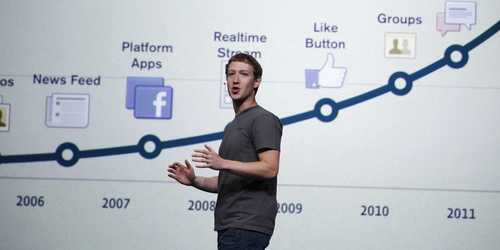 In 2008, Mark Zuckerberg laid out his theory about people sharing content on Facebook. "I would expect that next year, people will share twice as much information as they share this year, and [the] next year, they will be sharing twice as much as they did the year before," he said.
Guillaume Decugis's insight:
This article reminded me of my own post on Business Insider predicting that the Facebook people-centric model will see its limits. Two years and one IPO down the road, we're exactly there: with 1,500 potential stories to show to an average user news feed every time they visit, Facebook has a tough time determining what's really important.
Perhaps more importantly, Facebook lost its raison d'etre
Read More
---

This is a talk that I gave at LeWeb 2013 and at the Cristal Festival in December.
While we've now seen the power of brand content, it remains very hard for even the largest brands to implement successfully. In addition, it doesn't solve the question of how to engage an audience on a daily basis. To do so, brands have to become media.
But how?
Read More
---
The "trending topics" section on Twitter has always been a fascinating example of virality to me. Sometimes, you get the weirdest combination of stuff (Pandora, women, and Christmas?), and it makes me wonder "how on Earth did that make it into the trending topics?" But, because of the power of trends on social media, I've begun to wonder how current events can impact content strategy. For instance, if I were to produce and publish a brilliant infographic and publish it on the same day that Kanye throws another Twitter tantrum — how does that affect the engagement on my post? How much traffic do I lose because the social web has its collective eyes turned toward Chipotle? It's definitely an interesting (and possibly depressing) subject to ponder.
Read More
---
Before today, imitation was the greatest form of flattery. If your idea was good enough to be copied, then you were golden. But now, with the state of the web in our lives, this balance is shifting. While "copying" still does exist online, the concept of "copying" is now simply a way to bump your own Google ranking by farming someone else's content. This, is not flattering. Even if correctly cited, 100% republished work is simply cheating to get ahead. Curation, on the other hand — the meaningful selection, enrichment, and sharing of existing media — combines imitation and creation. Curators have to create a new perspective or idea on top of the existing media which supports the content in the original.
Read More
---
In less than 24 hours, households around America will be setting tables, gathering 'round, feasting on turkey, and talking about what they're thankful for. While these are typical family activities during the month of November, it's easy to forget how important it is to spend time with the people around us and appreciate what we have during the rest of the year.
For businesses, remembering to give back to your community is equally difficult. With the constant focus on earning revenue, brand marketing, social media and content strategy, and simply clearing out those emails, who even has the time to think about giving? Scoop.it would – quite literally – not exist without our amazing community of curators sharing smart content across the web, and similarly, most businesses would be nothing without their consumers.
Read More
---
Communications from branded properties, celebrities, or anyone with a "following" can often come of as false, contrived, and sometimes insensitive, even if they have the best intentions. This article was inspired by a recent email campaign I received, where the "reply" email address was "no-reply@redacted.com." This gave me pause. I don't know why this particular email campaign set me off, but I was genuinely irritated that they would really prevent me from interacting with their brand. Who wants to be told they actively can't reach out to someone who is proactively talking to them. That's basically a brand saying "you don't matter and we don't want to talk to you."
Read More
---
Our knowledge sharing institutions of today are beginning to "humanize," to focus more of their resources on creating readable, shareable media than on reporting cold, hard facts, simply to stay relevant and on top of peoples' online radars. To make facts more palatable, many medias will interpret ideas with respect to their own unique brand Point-of-View, one only has to consider CNN versus FOX news here in the USA. But, do institutions who stand and a major knowledge source for world readers have a responsibility to keep bias out of their findings? Is "fact omission" or "spin" an appropriate way to interact with vital facts? Or, as I seem to see it, has major marketing technique got its claws too far into our knowledge sharing institutions and our own lives (because, really, we as readers are the ones who perpetuate this problem).
Read More
---
When you hear the word blogger, what image comes to mind?  A sacred group of people anointed by the All Mighty with special powers who unleash their acerbic editorial tongue lashing from 40-story skyscrapers in major cities around the world?  Or is it men and women in pajamas scattered across the country eating cereal while pontificating on vacuous subjects?  Maybe it's paparazzi celebrity stalkers with 50MM zoom lenses camping out in a rental car waiting to assault a model cheating on her husband with a sports star.
Read More
---
Recently, I've noticed a spike in the rate at which pop cultural current events get picked up in both major and minor media. A quick google search for "Miley Cyrus VMA" yields a shocking 71,600,000 results, many from massively influential media sources, such as CNN, the Huffington Post, and Mashable. Many of these sites don't even include a commentary or any original content at all, choosing instead to simply re-post the notorious video. I also recently came across this post, where the author was so frustrated by the lack of views on his other, much more brilliant content, that he falsely labeled an article with "Miley Cyrus," simply to get his content in front of people.
Read More
---
I'm a child of Descartes. I grew up in a rational world where logical thinking was the best weapon against ignorance, the right way out of dogma, and I still think today that it's a decent objective.
I had believed in rational behavior when it came to my credit card, too. I had never considered lining up for two hours (let alone two days) for the privilege of buying an expensive phone bearing a fruit logo. At least, not because of the fruit logo. I had believed that specifications, performance, price and ROI should be essential contributors to my buying decisions just as math, physics and other sciences are essential contributors to my understanding of the world.
Read More
---
The quest to effectively share knowledge within a company is one that still appears elusive.  How do you keep on top of your competitors' developments?  How to do you monitor articles that mention your brand?  How do you make sure your teams get the information they need to make decisions and to learn?
Read More
---
Eric Wittlake uses a provocative title to list four reasons why content curation is not a silver bullet in b2b content marketing. While I agree with him there are no silver bullets in marketing, he makes some points which I disagree with.
Read More
---
Studies have shown that our brain reacts positively to our content being "liked" or shared on social media. Social gratitude, and notoriety among a peer group, are really the only reasons individuals post content to social media. If no one likes your post, it even can bring you down, or make you feel like no one cares. This is especially prevalent among the youth, with 52% of the teenage Facebook users of the iGeneration (born in the 1990s) clicking "like" daily or even several times a day. Generation Y were a close second with 45% daily "like" clicks, followed closely by 32% of Gen Xers and 24% of Baby Boomers.
Read More
---
Let's start out by addressing the giant elephant in the room. Yes, brand journalism is one of the most recent buzzwords to have taken over the world of Internet and content marketing. A brand journalist has been defined in many ways; from "one who tells journalism-style stories about a company that make the reader want to know more," to "one who records what happens to a brand in the world and creates communications that, over time, tell the story of the brand."
Chances are, your startup or SMB is unlikely to find a specialized brand journalist, let alone one you can afford. This leaves most businesses between a rock and a hard place. How will you be able to supplement your traditional content marketing with brand journalism that tells interesting stories and keeps your audience interested?
Read More
---
I recently got back from some travels, and as I walked around Germany, Italy, and my hometown near Washington, DC., I could not help but think about my relationship with technology and how it has evolved throughout the years. Living in San Francisco and working in Silicon Valley, I often forget that other cities are not as inspired by technology. Not so long ago, I too did not quite comprehend how technology could and would change my life.
Read More
---
---
Author and entrepreneur Seth Godin once said that "Marketing is no longer about the stuff that you make, but about the stories you tell." Even for those folks who've never so much as heard of lead-gen or nurture programs, the importance of relevant content and compelling narrative has never been so necessary as it is today — especially because the digital sea is brimming with the wreckage of too many voices with far too little exposure.
Read More
---
The age old to-do list — a common tool to help get $#&T done. In my years of to-do listing, I've discovered that it is often this common productivity trick that actually prevents me from being optimally productive. Yes, counter-intuitive, but true. This oft bottleneck-in-disguise make me feel like I am a super hero, that in fact, yes I can finish 2908329874 tasks in the next three hours while simultaneously cooking for a dinner party and writing my novel.
Read More
---
Social media has had an impact on both business and people's personal and private life. The impact on business is not as massive as many people assume, but this does not mean that many businesses have not adopted social media, as it is a free resource after all. Here are a few things that social media has taught us all.
Read More
---
Editor's Note: At Scoop.it, we are equal opportunity and support learning and  entrepreneurism of all stripes. This article is written with a female audience in mind, but we believe the core messages and takeaways apply to all people. 
Women start businesses at one-and-a-half times the national average. And, although women now comprise roughly half of American workers and earn nearly 60% of university degrees,1 only 24% of the people heard or read about in print, radio and television news are female.
Read More
---
Brands, companies, and individuals — I think it's time for some real-talk about content and social media.
Read More
---
What the heck is a Personal Branding Illusion? That's a good question, but it begs the question "What is a Personal Brand?", so let's start there.
Read More
---
As you've undoubtedly discovered during your time as a professional, it's not just about what you know — it's also about who you know. There are people out there that can make your dreams come true by exposing you to the world in ways you never imagined or give you access to markets you didn't think you could reach.
Read More
---
Google Reader is slowing down. Over the past few days, buttons have broken, marking feeds as read seemed to take a bit longer than usual, and the Android mobile website on some devices shifted over to the desktop view with no way to change things…
Read More
---
Editor's Note: This is a guest post for the #learningtolearn series. Finding and collecting inspiration from unexpected places is an integral part of staying motivated and expanding the scope of your knowledge.
Read More
---