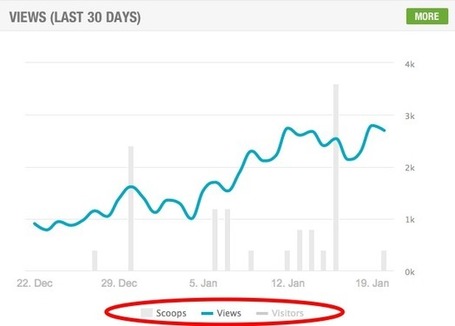 In a survey last year of more than 1,500 professionals using content curation, 76% of them said content curation helped them reach their business goals. As content becomes more and more important to achieve success, it also becomes critical to measure how it effectively helps. In fact, as renowned businessman & author Peter Drucker put it, "If you can't measure it, you can't improve it."
Having data is is one thing, but being able to analyze it is a completely different ballgame. Data needs to be visual in order to have an impact and guide future actions, and that is why we have created a beautiful new interactive Analytics center within Scoop.it. We've taken into consideration some of the most important data points that guide content marketing strategies, including whether or not content resonates with an audience, times of day the audience is online, and work division between team members, and based our redesign off of them.
The bottom line is that today, we're excited to announce a complete revamp of our analytics dashboard bringing not only better looking, easier to use analytics but also new metrics and KPI's to better understand the impact of your content curation.
Read More